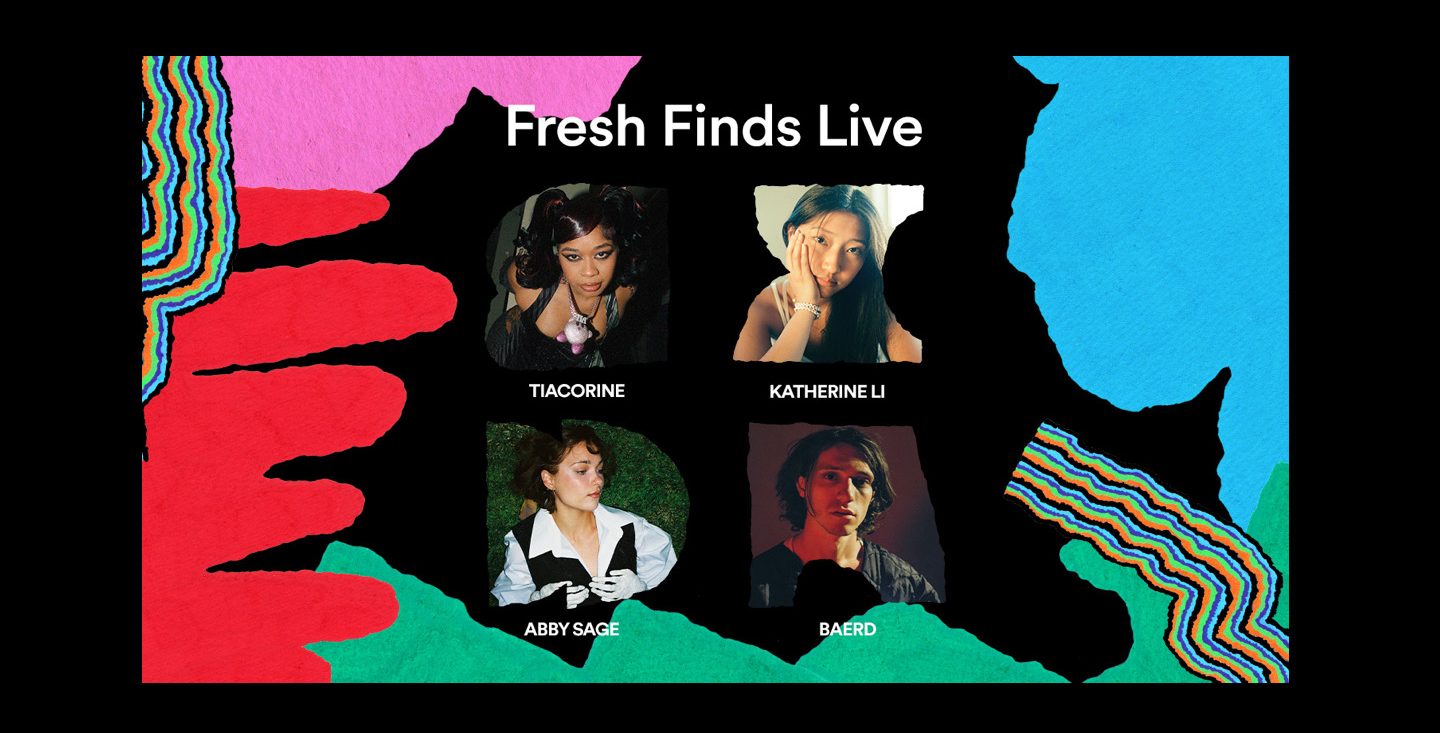 PERFORMING LIVE
Fresh Finds Artists Jump From the Playlist to the Stage in New Spotify Stages Showcase
Since 2016, the Fresh Finds playlists have introduced music fans to some of the most promising independent artists, and now Spotify is bringing them to the stage.
On March 23, we're coming to the Los Angeles Arts District for the inaugural Fresh Finds Live show. The showcase is hosted by Spotify Stages, a team dedicated to producing live event experiences for emerging artists found by Spotify. It will spotlight four talented acts who have been featured in our Fresh Finds playlists: genre-blending rapper TiaCorine, rising singer-songwriter Katherine Li, alt-pop's budding Abby Sage, and progressive folk project Baerd. For fans wanting to attend the showcase, tickets go on sale February 17 at 9 a.m. PST here.
On the platform, Fresh Finds consists of 11 genre playlists and 18 local-market playlists, which have served as a launch pad to success for artists like GRAMMY-nominee Omar Apollo, Clairo, Steve Lacy, and more. With this event, we're creating a new experience to connect artists with listeners.
"As more new artists make their first forays into live music following the pandemic, this show allows us to bring Fresh Finds into the live setting to assist in that discovery and growth process, with the goal of amplifying these talented artists to the right audiences to build lasting careers," shared Jesse Jacobsen, U.S. Indies Lead for Artist & Label Partnerships at Spotify.
In addition to the concert, Spotify is inviting the artists to take part in a five-day residency program at Spotify Studios in LA. As part of this experience, they can use the state-of-the-art facilities to work on new music.
While the showcase may not be until March, you can get to know these artists now.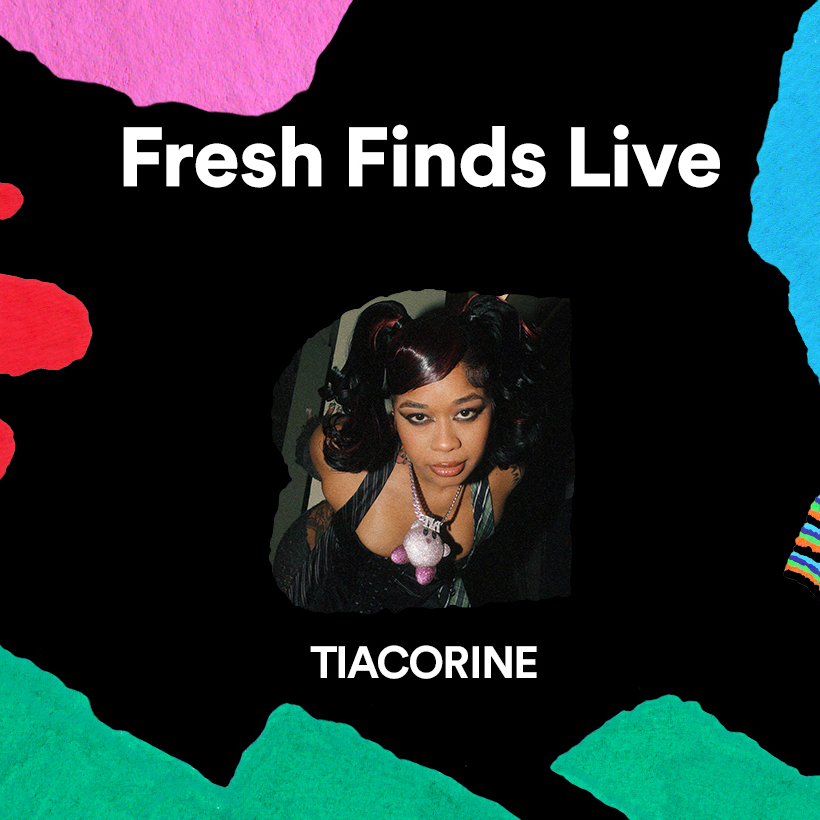 Born in Winston-Salem, North Carolina, Tia grew up exposed to a range of music thanks to her Japanese and African American father and her Shoshone Native American mother. When Tia released her first single, "Lotto," she caught the attention of local radio stations, DJs, and clubs, and the internet. Last year, Tia released the album I Can't Wait, which includes the single "FreakyT." Now the artist is preparing to share her unique sound with more audiences.
"Performing live gives you the opportunity to connect with fans on a different level. The feeling you get from it is electric, and I wanna share that with my fans at every show," explained Tia.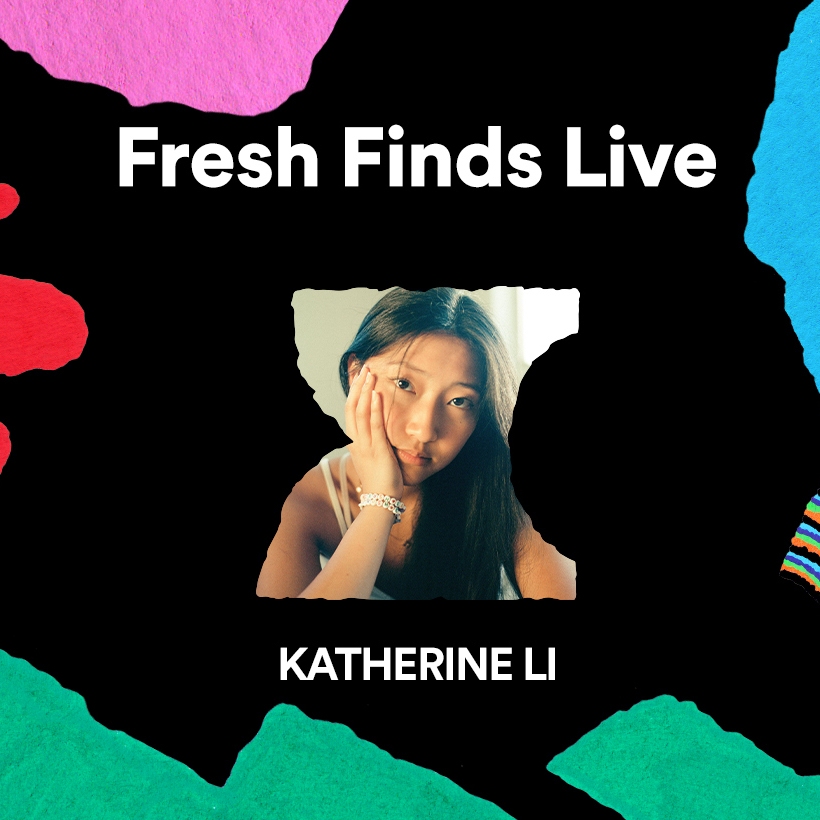 The 19-year-old singer-songwriter's music features themes of love lost and relationships that never were, and Katherine has amassed a fan base of hopeless romantics who identify with her lyrics. Last year, she released her debut EP, Crush(ed). The Toronto native is also featured as the cover artist of Spotify's Fresh Finds: Class of 2022 playlist. Next, she's gearing up for a series of concerts across North America.
"I used to think that the unrequited love I talk about in my songs was something no one else dealt with, but after sharing them [my songs] with a community of people who turned out to be just like me, I realized I wasn't the odd one out," shared Katherine. "I hope that after my set, the audience feels the same comfort I felt in knowing there is a whole community of people that have experienced, and relate to, the same things as you."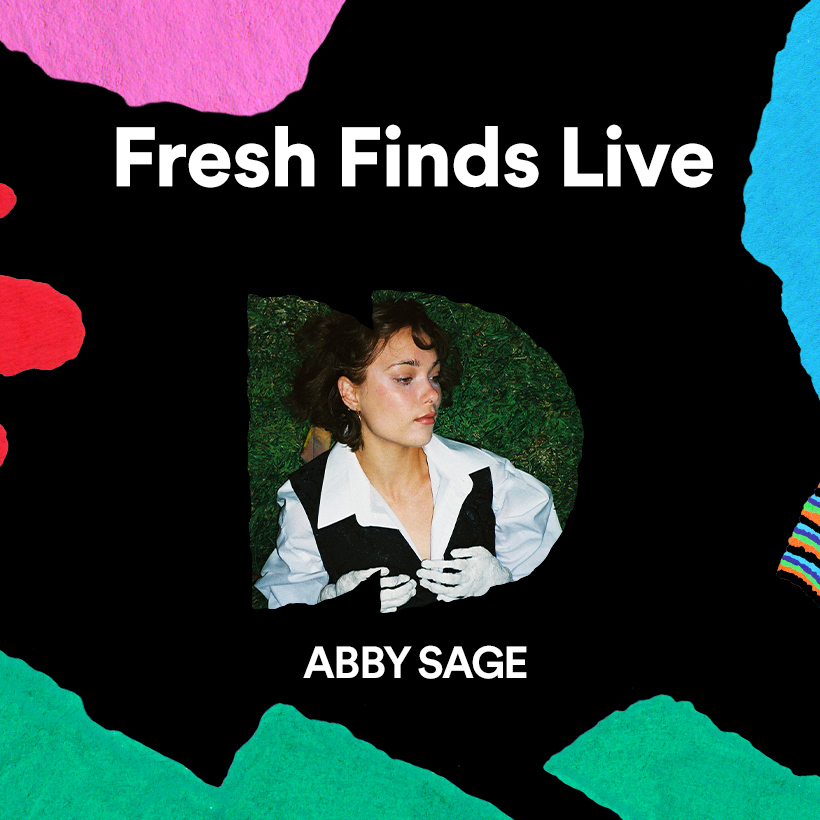 A tender soul with an observational eye, Abby Sage draws comparisons to Florence + The Machine and Clairo. Brought up in Toronto, music-obsessed Abby eventually moved to LA, where the singer-songwriter released her debut EP, Fears Of Yours & Mine, in 2021. After Abby relocated to London last year, her sound shifted, and listeners can hear the evolution in her latest EP, The Florist. 
"I always hope that people can take something away from my performances, whatever that may be. Of course, I hope people enjoy the show and leave feeling tingly and excited!" said Abby. "The visual components of my shows and my work overall are very important to me, so I hope people enjoy that as well."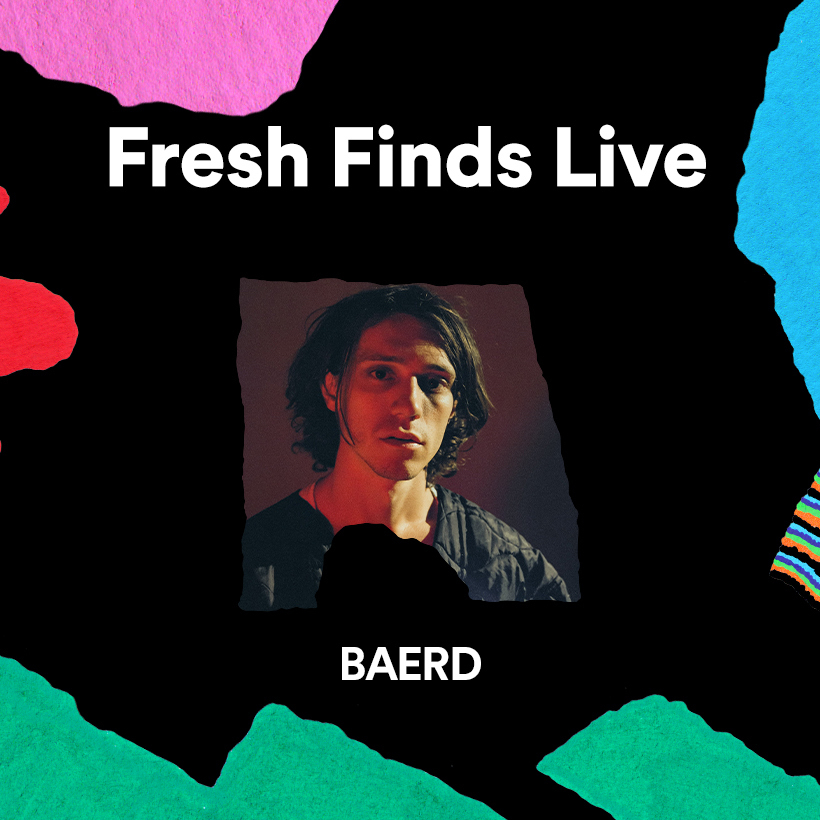 Baerd is a seven-piece progressive folk and Americana band spearheaded by Isaiah Beard. Incorporating jazz, Americana, classical, and R&B, Baerd's indie-folk sound is influenced by Joni Mitchell, Bob Dylan, Punch Brothers, and Radiohead. 
On performing live, Beard shared, "The spirit of music in its purest form is live. To share attention with others and exchange more than words or notes with strangers, friends, and fellow artists animates my being more than anything."
Hear more songs from top emerging talent in our Fresh Finds flagship playlist.