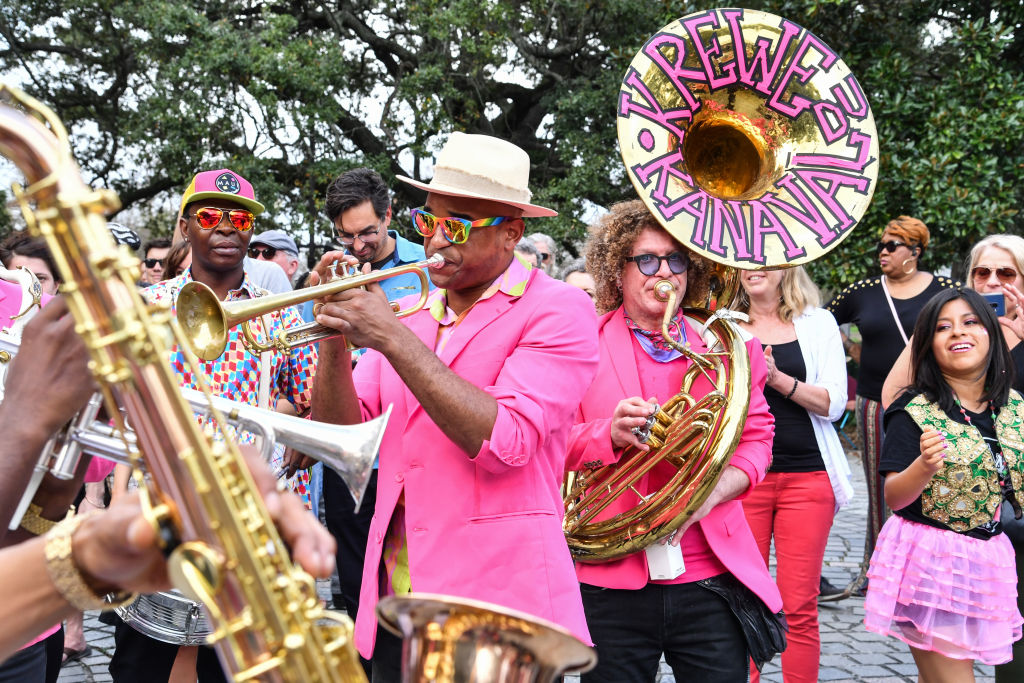 LET THE GOOD TIMES ROLL
Stream the Music of Mardi Gras As if You're on Bourbon Street
Most people associate Mardi Gras with masks, parades, and projectile beads. But in New Orleans, the annual U.S. celebration before Ash Wednesday is all about beats. While similar celebrations—including bigger, louder, and older ones, like Rio de Janeiro's colossal Carnival—are packed with parades and music, only New Orleans reflects the sounds of the celebration in their daily streaming.
According to our data, revelers in the Big Easy blast music by some of the city's well-regarded local artists from Saturday straight through Fat Tuesday. Only New Orleans has a continuous soundtrack of sorts. In several of the world's other Carnival hot spots—Rio; Venice, Italy; Quebec City, Canada; and Binche, Belgium—the locals stream popular international hits from the top 50—as opposed to music specific to the celebration.
If you want to feel like you just spent the day shuffling through the crowds in the French Quarter, look below to see some of the most popular songs that have been streamed consistently in New Orleans during Mardi Gras over the past five years.
This version of a classic, much-covered 1953 song is from the 1972 album Dr. John's Gumbo (a tribute to New Orleans), and was named by Rolling Stone to the list of 500 greatest albums of all time. Dr. John's "Right Place Wrong Time" also enjoys heavy streaming during Mardi Gras.
This song, as its title suggests, is dedicated to celebrating the festival "down in New Orleans where the blues was born." Originally recorded in 1953, this cover by New Orleans funk icons The Meters is considered a Mardi Gras anthem. "Hey Pocky A-Way," "Fire on the Bayou," and "Cissy Strut" are also streaming favorites in New Orleans during the festivities.
Since they formed in 1983, Rebirth has become and remained one of the most prolific New Orleans jazz artists. Fast-paced and upbeat, their music is perfect for Mardi Gras. Rebirth songs "Casanova" and "I Feel Like Funkin' It Up" also enjoy a Mardi Gras bump.
Basically a parade for your ears, this song has been covered countless times, including by Dr. John. The original, though, was written and recorded by Earl King, who was born and raised in New Orleans.
First released in 1949, this song's title says it all. Professor Longhair's upbeat, blues-driven piano style earned him a spot in the Blues Hall of Fame in 1981, the year after his death. That's him on piano on "Big Chief," listed above.
Although the revered funk band is from Chicago, not New Orleans, this disco classic is essential for any party playlist.
Bo Dollis was Big Chief of Mardi Gras Indian tribe The Wild Magnolias, which also performs as a New Orleans funk band. The song was originally written and recorded by singer and pianist Al Johnson, a New Orleans native. Here's his original version of the song.
Looking for more music to party in the streets with? Check out Spotify's Mardi Gras Party playlist.