A GENRE REAWAKENING
The Wave of London Musicians Making Jazz Their Own
"I was 19 years old and got to travel Europe with a rapper—a dream come true," says Femi Koleoso, drummer and bandleader of Ezra Collective, one of a growing number of London-based jazz groups bringing newfound global attention to the genre. Speaking by phone, he shared the story of his first big gig, when he was spotted at a jazz club and asked to support the acclaimed Queens, New York, rapper Pharoahe Monch on tour six years ago. Today, Koleoso is gearing up for the release of Ezra Collective's debut album, You Can't Steal My Joy (out April 26), while on tour drumming for Brit Award-winning singer Jorja Smith.
Like many of their peers on the UK jazz scene, Ezra Collective have been making their way to increasingly bigger stages of late. The quintet were included on last year's celebrated We Out Here compilation, a project organized by DJ and broadcaster Gilles Peterson and released through his label, Brownswood Recordings. The album is a sweeping collection of offerings from across London's vibrant jazz revival, from the cosmic sounds of Shabaka Hutchings, member of the Mercury Prize-wining band Sons of Kemet, to the Afrobeat-influenced grooves of eight-piece band KOKOROKO, whose self-titled debut EP was released earlier this month.
With Hutchings as its music director, the critically acclaimed compilation serves as a pivotal document of the scene, and Peterson recently announced a festival of the same name taking place on August 15-18 in Cambridgeshire. The fest is yet more evidence of the growing interest in new jazz in the UK, especially among young people. Just last year, the number of UK users aged 30 and under listening to Spotify's Jazz UK playlist increased by 108%.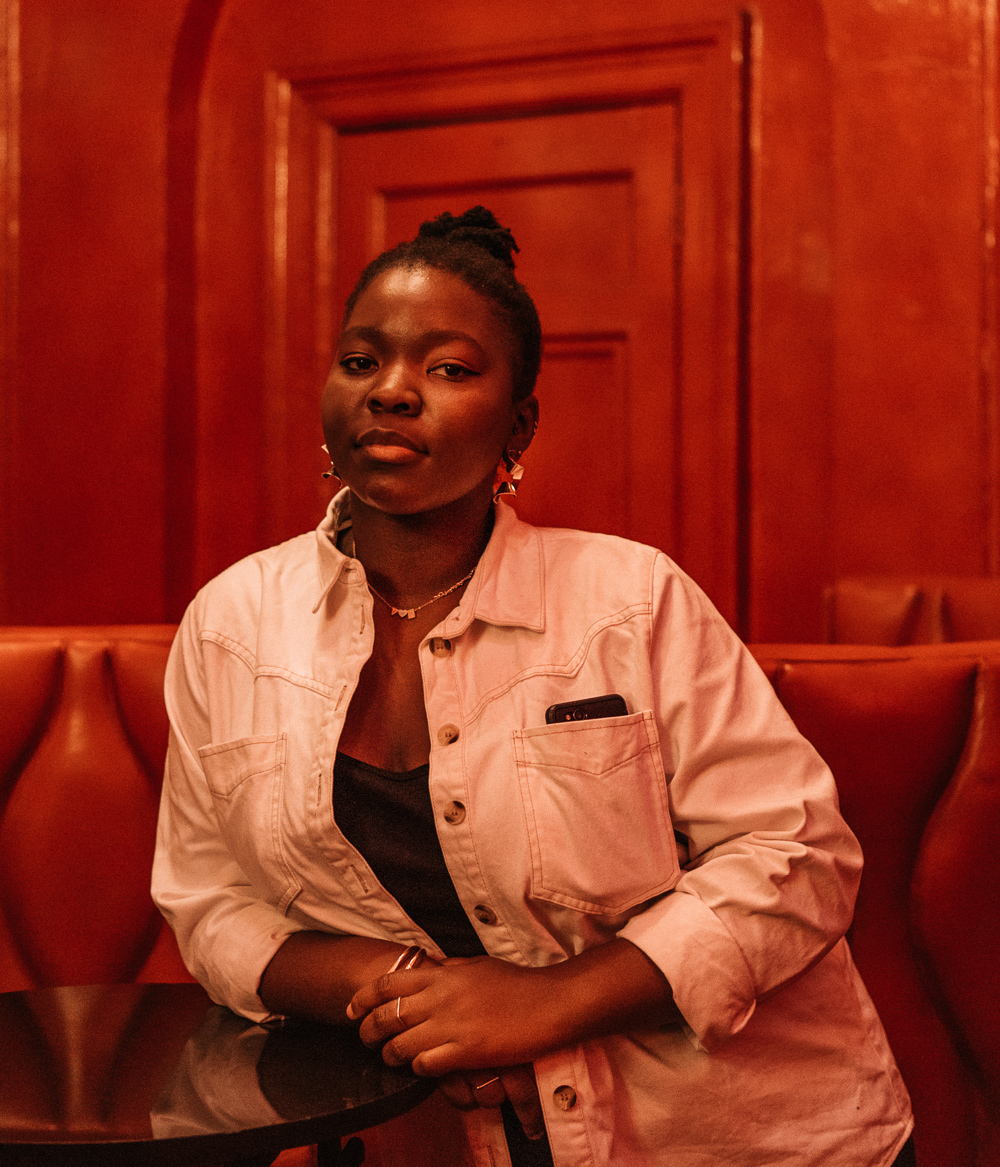 In addition to being prominent members of the scene, Ezra Collective's Koleoso and KOKOROKO's Sheila Maurice-Grey (pictured) are both part of the faculty at Tomorrow's Warriors, a community organization through which many of London's young jazz pioneers met and began collaborating. "We won the opportunity to play at a jazz club called Ronnie Scott's and support Terence Blanchard when we were just kids," Koleoso shares, elaborating on the moment he and his bandmates, whom he met through Tomorrow's Warriors, decided to run with the idea of forming a group.
"A lot of us would literally see each other a couple times a week through those programmes, performances, or rehearsals," adds Maurice-Grey. "That's where the love of creating music and learning music stems from for me."
Maurice-Grey started KOKOROKO with percussionist Onome Ighamre while the two were in Kenya working with an arts-focused charity program. "I feel like it's important to understand that for us, we grew up listening to the music of Fela Kuti, and when we first started the band, most of the music we played was the music of Fela Kuti and Ebo Taylor," she says.
While in Kenya, Maurice-Grey and Ighamre would stay up at night talking about the Afrobeat scene in London. "We need to see an Afrobeat band that represents us as young, Black British musicians," she says they told themselves. Koleoso also grew up listening to Fela (his dad's a big fan), and Ezra Collective eventually found its genre-bending sound through covers of Fela, Herbie Hancock, and Roy Hargrove.
When asked if it's fair to even call the music these emerging musicians are making "jazz," Koleoso cites tradition. "For me, what Ezra Collective's playing is jazz because, for me, jazz at its essence is a combination of improvised music, reference to the tradition and the history of it, and telling a new story every time," he says. "Within those parameters, jazz has always evolved and mixed in other influences, whether it's Dizzy Gillespie listening to Afro-Cuban vibration, or Robert Glasper mixing in the R&B tradition, or even people like Horace Silver mixing in Baptist church tradition."
Watching bands like Ezra Collective and KOKOROKO perform is akin to eavesdropping on a spirited conversation between close friends. Synergy radiates through common experience, shared passion, and harmonious mastery. "I think people are attracted to the honesty of [what we do]—not trying to mold or make it malleable for consumption," Koleoso pointedly explains.
In addition to audiences getting to see women horn players at a KOKOROKO show, Maurice-Grey similarly reckons that "the music is being played in such a way that it's accessible for everyone, for anyone to listen to and get something from. People want to feel like they can relate to something." From this simple yet genuine approach stems the effortless brilliance of London's jazz movement—and the rest of the world is catching on.