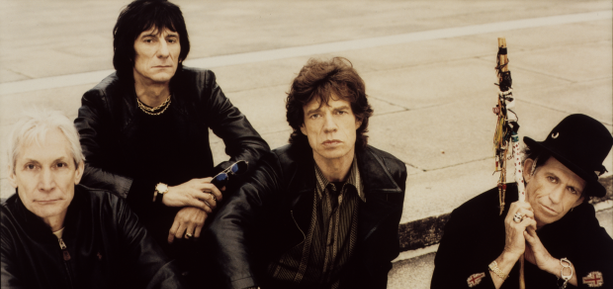 LOVE THEM LIVE
Charting the Onstage Evolution of The Rolling Stones
In the 1960s, The Rolling Stones were on the frontlines of a musical revolution that elevated rock 'n' roll from good-time party music to dangerous countercultural force. But from the 1970s onward, they've been a phenomenon unto themselves. Having long outlasted their '60s British Invasion peers, The Stones have continued to set new standards for stadium-sized spectacle and dogged, age-defying perseverance well into the 21st century. And though Mick Jagger's recent heart surgery forced them to postpone their 2019 tour, fans still have an opportunity to take part in the live Stones experience—vicariously, at least—via the release of the deluxe edition of their latest compilation, Honk.
The album's bonus disc is the latest entry to a concert-disc canon that stretches back to the mid-'60s but has become more abundant since the late-'70s, with live albums essentially serving as de facto souvenir programs commemorating the band's major tours. Each Stones live record has preserved a specific moment in the band's history through their own singular mix of contemporary selections, surprising obscurities, and throwback covers.
Given Honk's emphasis on The Stones' latter-day catalog, let's take a closer look at their live albums over the same period to see how The World's Greatest Rock 'n' Roll Band have been able to hold onto that title for over a half century now. (Note: In recent years, a number of archival Stones live releases have been brought to market; this survey sticks to the official live albums available on Spotify that came out shortly after the tours or special performances they documented.)
The story: Love You Live captures The Stones in all their hedonistic mid-'70s majesty. Recorded primarily on their 1975-76 arena tour of North America and Europe, this double-album set serves up venerable warhorses like "Honky Tonk Women" and "Jumpin' Jack Flash" and proto-disco workouts like "Hot Stuff" and "Fingerprint File" with equal amounts of grit and spit. But the band dig deep into their blues roots on the album's famed third side, a set of old-school covers culled from a secret club show at Toronto's El Mocambo where the band corrupted classics like Muddy Waters' "Mannish Boy" and Chuck Berry's "Around and Around" with their singular brand of sleaze.
Standout performance: "You Can't Always Get What You Want," which swaps out the original's uptempo gospel groove for a slow 'n' low bluesy sway.  
Nicest surprise: The closing "Sympathy for the Devil," which The Stones had reportedly not played since 1969 due to its sinister associations with the tragedy at Altamont.
Does it include "Satisfaction"? No.
The story: A snapshot of the American tour for 1981's Tattoo You, Still Life marks the dawn of Mick's spandex-joggers phase—a telling sartorial indicator of the increasingly vast stadium stages he now had to sprint across on a nightly basis. But aside from a late-game appearance of the insta-classic "Start Me Up," the setlist mostly forgoes Tattoo You to touch on all corners of the band's career, from the 1964 ballad "Time Is On My Side" to the punky 1978 rave-up "Shattered."
Standout performance: A toughened-up rendition of Smokey Robinson & The Miracles' 1965 soul standard "Going To A Go-Go," a song that had never appeared on a Stones studio album, but became Still Life's Top 40-busting lead single.
Nicest surprise: The rambunctious Emotional Rescue deep cut "Let Me Go."
Does it include "Satisfaction"? Yes—and it's a version that manages to be both twice as fast as and longer than the original.
The story: The Stones' 1989-90 Steel Wheels tour featured their most elaborate set to date, a post-industrial assemblage of towering bridges and spark-shooting pipes that looked like something from a Mad Max film. Likewise, their onstage ranks expanded to include two keyboardists, a trio of backing singers, and a horn section. Marking original bassist Bill Wyman's final tour of duty with the band, Flashpoint is also the first Stones live album to feature two tacked-on studio tracks (the Gulf War-inspired commentary "Highwire" and the somewhat less political but infinitely more funky "Sex Drive").  
Standout performance: A cover of Willie Dixon's dirty blues classic "Little Red Rooster" featuring some guest soloing from Eric Clapton—a harbinger of the celebrity cameos that would become a defining feature of future Stones live albums.
Nicest surprise: A faithfully rustic rendition of the Beggars Banquet country serenade "Factory Girl."
Does it include "Satisfaction"? Yes—a rollicking five-and-a-half-minute version that adds a little shuffle to its step en route to a call-and-response brass breakdown.
The story: By the mid-'90s, it seemed like every rock artist of note was strapping on the acoustic guitars for an MTV Unplugged special. And while The Stones didn't follow suit, they did release Stripped, a (mostly) live set that isn't so much unplugged as laid-back. Recorded during a special intimate European tour of small clubs and theaters, the set list favors the rootsier, more soulful side of The Stones catalog. Interspersed among the concert performances are studio recordings of old tracks remade in a similarly casual spirit.
Standout performance: A vivacious cover of Bob Dylan's "Like a Rolling Stone" where the band claim it as their own unofficial theme song.
Nicest surprise: A rare airing of the slinky blues number "The Spider and the Fly" from 1965's Out of Our Heads.
Does it include "Satisfaction"? No.
The story: Coming on the heels of their 40th-anniversary tour—and its companion best-of compilation, 40 Licks—Live Licks presents the most comprehensive career-spanning survey of any Stones live album. But while the hit-after-hit procession of the first disc essentially functions as the musical equivalent of a Super Bowl winners' parade, the second disc veers off the beaten path to excavate some less obvious selections.
Standout performance: "Gimme Shelter," in which backing singer Lisa Fischer takes center stage with a gusty wail that threatens to blow the rest of the band off the stage.
Nicest surprise: Tattoo You's "Worried About You," a falsetto-sweetened boudoir ballad where Mick forges his spiritual kinship with Prince.
Does it include "Satisfaction"? Yes—a classic take that sees the band skating atop Chuck Leavell's smooth organ lines.  
The story: On March 25, 2016, The Stones played their first-ever concert in Cuba, and you could say it was kind of a big deal—an estimated crowd of 500,000 people came to the free show at the Ciudad Deportiva de la Habana sports field. As such, this document of the event finds the band in pure crowd-pleasing mode, with all but one of the 18 tracks hailing from their 1965-1981 imperial phase. But in true island-time fashion, they stretch out many of these familiar tunes to unprecedented epic lengths.
Standout performance: An eight-minute version of disco delicacy "Miss You" that essentially becomes an extended dance remix of itself.
Nicest surprise: A mid-concert double-shot of the Keith Richards-sung classics "You Got the Silver" and "Before They Make Me Run."
Does it include "Satisfaction"? Yes—10 gloriously jammed-out minutes of it.
The story: The expanded edition of The Stones' latest greatest-hits set includes a bonus disc of live recordings where the band is joined onstage by a parade of contemporary pop stars including Ed Sheeran, Brad Paisley, and Dave Grohl.
Standout performance: Florence Welch bringing her powerhouse pipes to the eternally graceful ballad "Wild Horses."
Biggest surprise: "Dancing With Mr. D," an underrated gritty glam strut from 1973's Goats Head Soup.
Does it include "(I Can't Get No) Satisfaction"? No— but maybe after 50 tours Jagger finally got some satisfaction.
Stream This Is Rolling Stones for all the "Satisfaction" you need.