FOR THE RECORD PODCAST
Get in the Holiday Spirit with Dolly Parton, Jose Mari Chan, Black Pumas, and More
In a year that's brought unprecedented challenges, Spotify data suggests that listeners may be seeking comfort from holiday music earlier than usual in 2020. While festive playlists usually snowball in December, we're seeing our most popular holiday playlist, Christmas Hits, streamed at a higher rate in September and October compared to previous years. Many think it's never too early to crank yuletide tunes, and it shows: Listeners have already streamed more than 6.5 billion minutes of Christmas tracks this year.
In this episode of our podcast, Spotify: For the Record, we look at which songs are making it to the top of our listeners' Christmas lists. One favorite is "Last Christmas," which was originally released in 1984 by Wham! To date, there are about 1,200 covers of the hit on Spotify.
In addition to digging into the data, we also get in the spirit by chatting with some iconic artists about their holiday hits, including Dolly Parton, who recently released her first Christmas album in 30 years. In the episode, the country legend joins us to talk about the inspiration behind A Holly Dolly Christmas and what it was like to duet with Michael Bublé in the song "Cuddle Up, Cozy Down Christmas."
Aside from Parton, we also chat with beloved Filipino artist Jose Mari Chan. Known as "The Father of Christmas Music" in the Philippines, Chan shares the inspiration behind his iconic holiday tunes, which have been a staple of festive celebration in the country for the last three decades.
This episode is no longer available as of November 2021, however you can get more great stories and news delivered audibly by following our podcasts, Spotify: For the Record, Spotify: Mic Check, and Spotify: Discover This.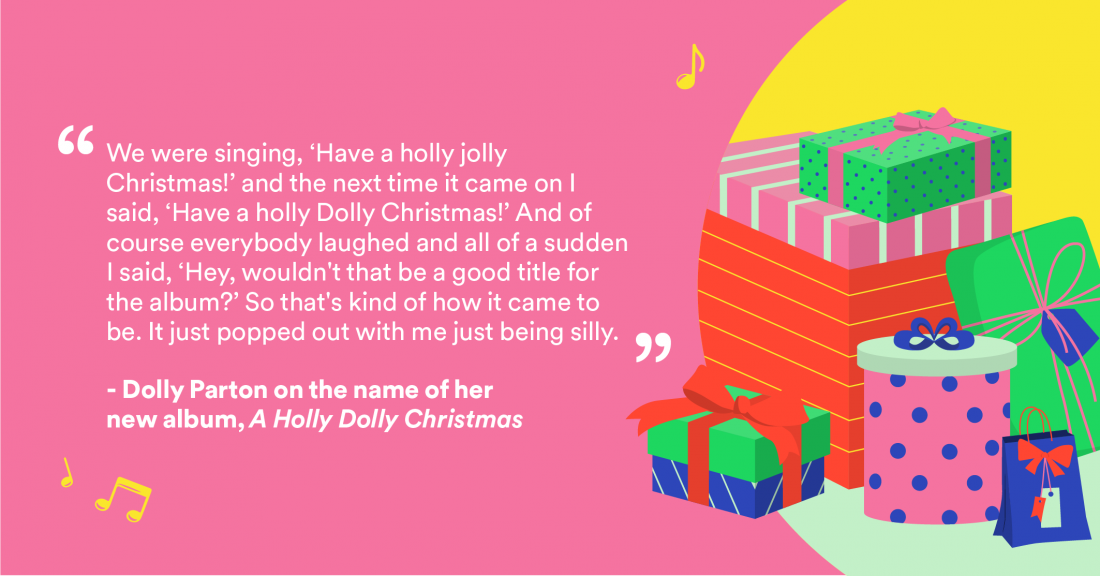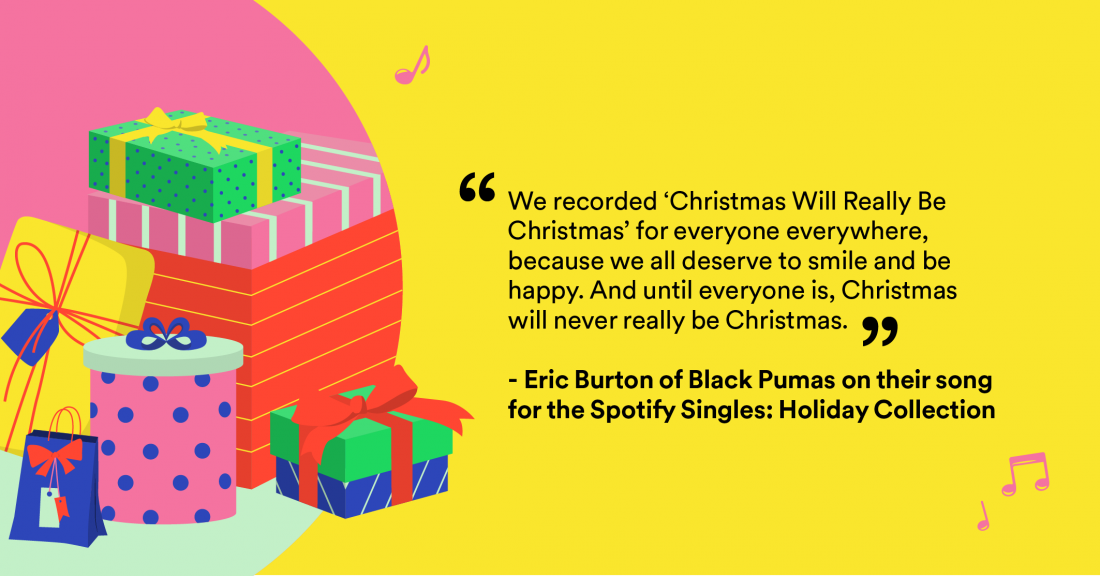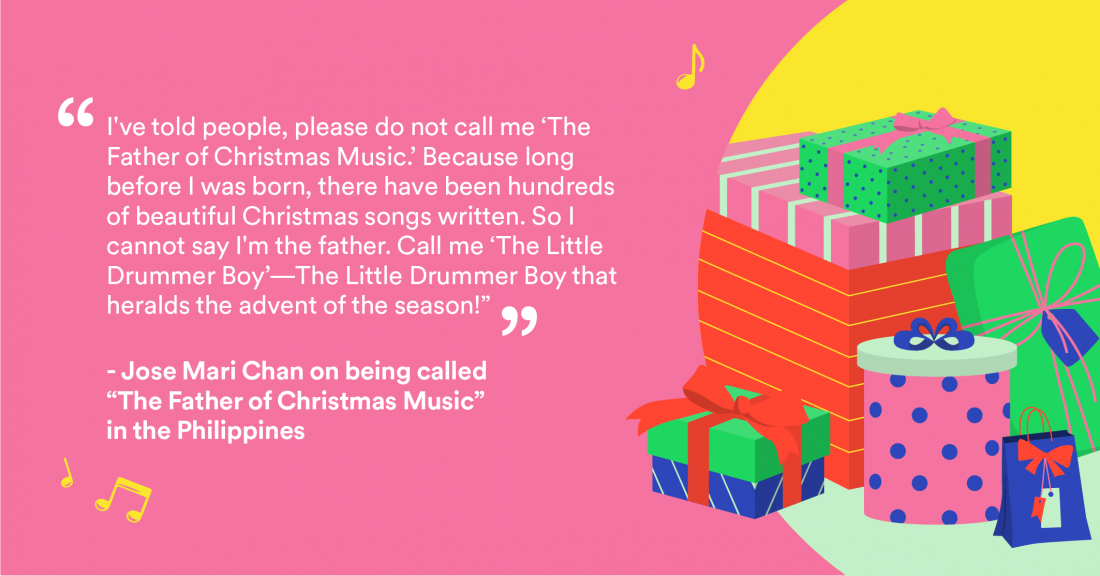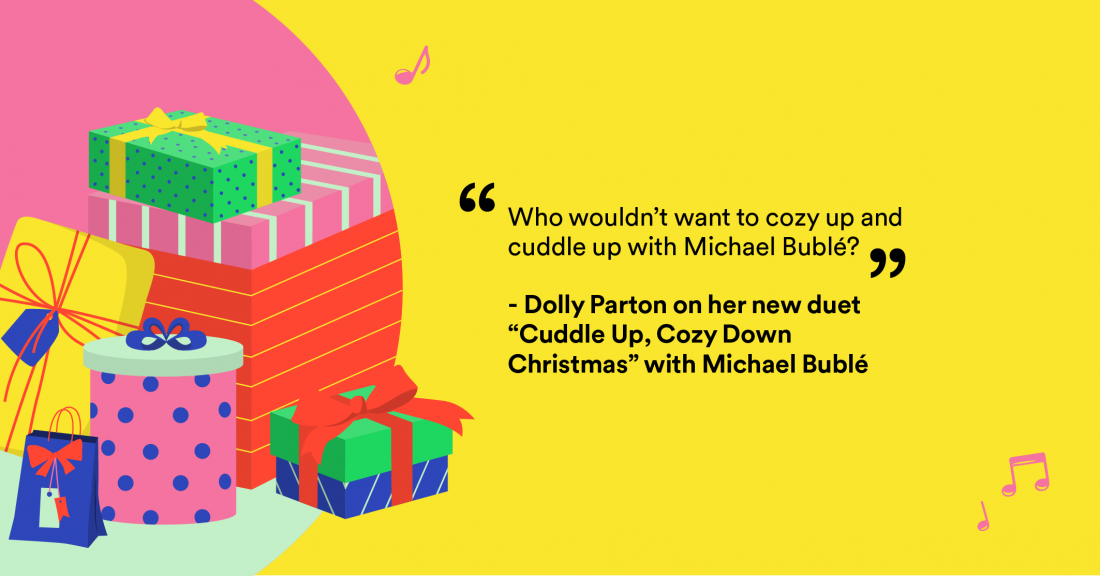 We end our sleigh ride with the Black Pumas. The Texas soul band is one of 12 artists who released a reimagining of holiday songs (plus one original track!) for this year's Spotify Singles: Holiday Collection. This is the third year we've worked with artists from around the world to spread the holiday cheer with both covers and original songs for the season. In addition to the Black Pumas, this year's artists include Camilo, Julien Baker, Jazmine Sullivan, Sasha Sloan, Ruston Kelly, VÉRITÉ, Dashboard Confessional, Ryan Hurd, Patrick Droney, Betty Who, and Vistas. Scroll through the carousel below to learn what inspired each artist's jingle.