SURVEY SAYS
New Insights Reveal Podcast Patterns in India
In this 24/7 world, people often feel stretched for time. How do you balance your schedule with the things you want to do and what's necessary? To gain a better understanding of how people are spending their days, Spotify conducted a survey with YouGov* in India. 
The November 2020 survey findings revealed that 46% of the respondents felt that they have only a bit of time, or none at all, to do the things they liked. And nearly two-thirds of the respondents wished they had more time for activities like general entertainment, relaxation, or learning new things.
Podcast listening is growing in India, and this medium is a great way for listeners to discover the enriching and entertaining content they want. Whether in the car, cooking, exercising, or doing household chores, with podcasts there's an opportunity also to use that time to listen to a riveting story, catch up on the news, get in a laugh, or learn something new. Here are a few other things we learned in the survey: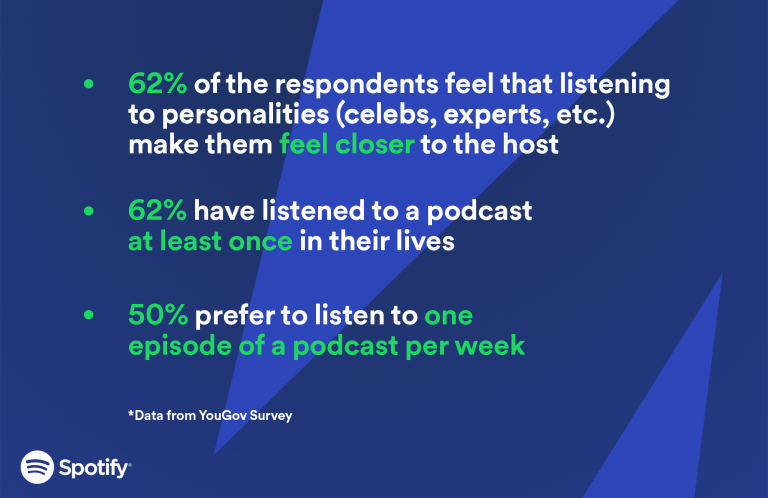 With these survey results in mind, we set out to see which shows Indian listeners were most drawn to on Spotify in 2020. Our annual Wrapped campaign, which looks at what listeners have been enjoying over the past year, shows that the country's podcast listening trends align closely with the YouGov survey results: Indians prefer inspiring content that teaches them something new. Take a look at some other listening trends we saw on Spotify in India: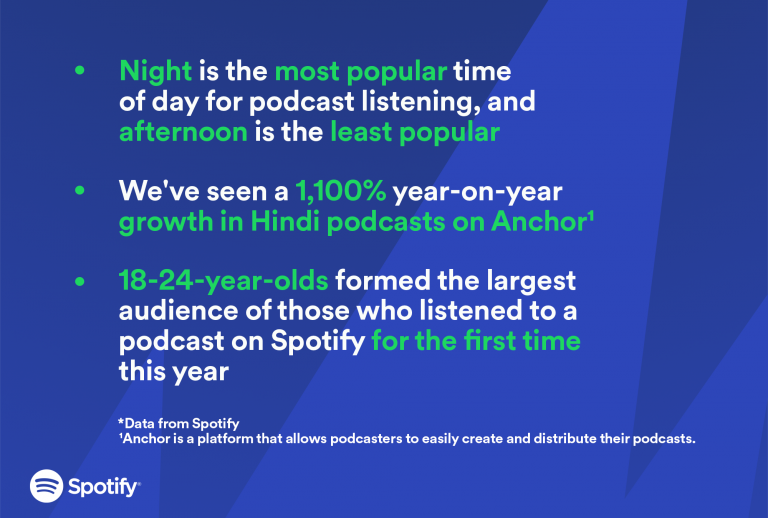 While Spotify has been present in India since 2019, some of our listeners explored their first podcast this year. For this group, the most popular genres were Arts & Entertainment, Education, and Lifestyle & Health. Not sure where to start? Try our top Spotify Original Podcast in India, Maha Bharat with Dhruv Rathee. 
*All figures, unless otherwise stated, are from YouGov Singapore Pte Ltd. Total sample size was 1,035 adults. Fieldwork was undertaken in November 2020. The survey was carried out online. The figures have been weighted and are representative of all Indian adults (aged 18+) nationally.