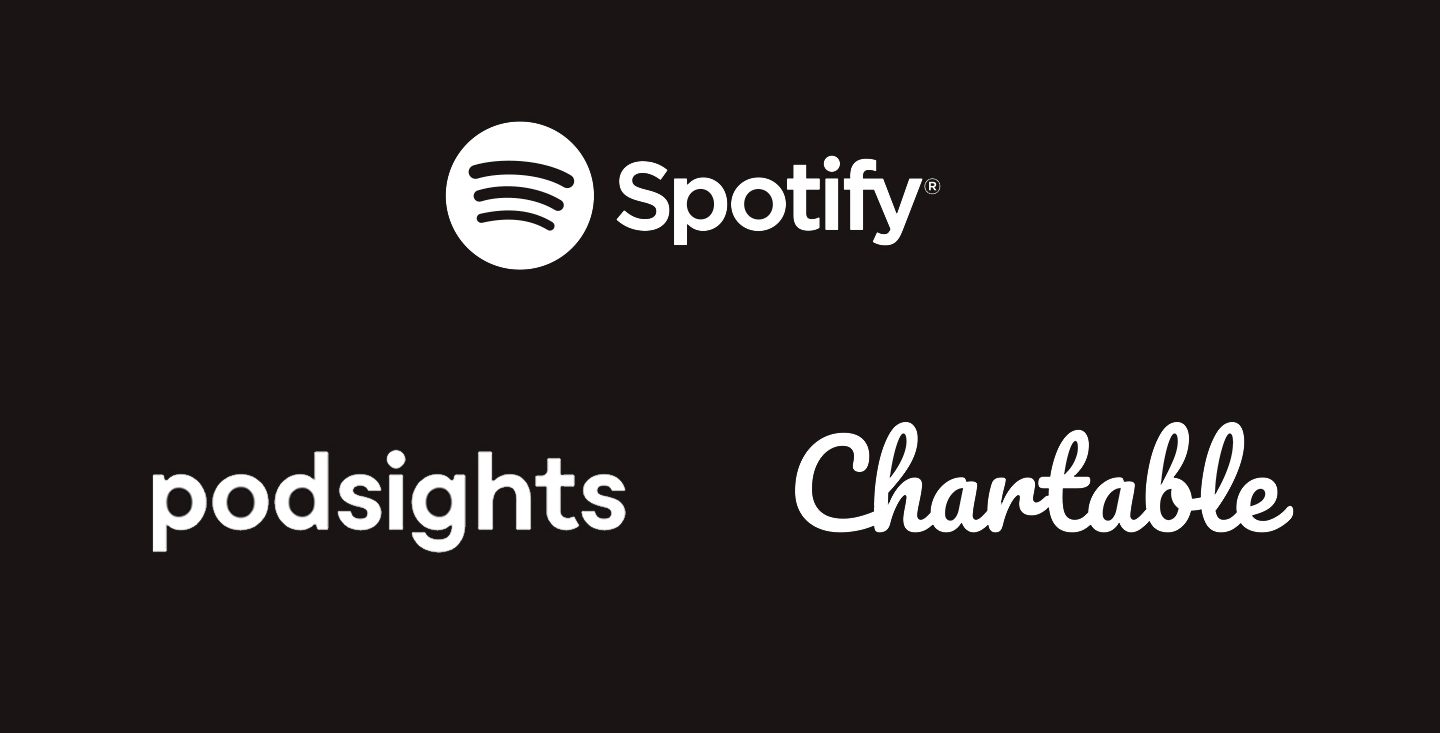 PUMP IT UP
Spotify Acquires Podsights and Chartable To Advance Podcast Measurement for Advertisers and Insights for Publishers
In 2020, Spotify set out to modernize podcast advertising with the launch of Streaming Ad Insertion. Then, we built on this game-changing innovation with the introduction of our audio-first ad marketplace, the Spotify Audience Network. Just last month, we expanded even more through an interactive ad experience called call-to-action cards. With these investments, we're delivering impact for advertisers and growth for podcast publishers like the Wall Street Journal, ViacomCBS, and AdLarge.
According to eMarketer, annual U.S. digital audio advertising revenue is poised to grow to nearly $8 billion—and of that, $2.7 billion for podcast advertising alone—by 2025. We believe the next step to unlocking this growth is demonstrating audio advertising's impact through innovations in measurement and attribution for advertisers and audience insights for publishers.
That's why today we're excited to announce our acquisitions of two podcast technology companies, Podsights and Chartable. 
Podsights is a leading podcast advertising measurement service that helps advertisers better measure and scale their podcast advertising. Chartable is a podcast analytics platform that enables publishers to know and grow their podcast audiences through promotional attribution and audience insight tools.
Here's what these acquisitions mean for advertisers and publishers.
Upleveling Measurement for Podcast Advertising
Advertisers come to Spotify to reach our engaged and immersed audience. But, according to a recent Advertiser Perceptions survey, measurement and attribution remain the two biggest unsolved challenges for podcast advertisers. Spotify plans to solve this pain point through the acquisition of Podsights. As part of Spotify, Podsights will be able to utilize Spotify's technology and intelligence to bring more accurate measurement and actionable insights to podcast advertisers around the world.
In short, with the acquisition of Podsights, Spotify will be able to help advertisers understand how podcast ads drive actions that matter to their businesses. Over time, we plan to extend these measurement capabilities beyond podcasts to the full scope of the Spotify platform, including audio ads within music, video ads, and display ads.
Helping Publishers Grow Their Businesses With Robust Insights & Promotional Tools
Over the past year, we've been strengthening Megaphone's already robust offering—most recently with the acquisition of Whooshkaa and its broadcast-to-podcast technology—to ensure it's the best place for podcast publishers to create, monetize, and measure their podcast businesses. And now with the acquisition of Chartable, we will be further enhancing Megaphone's suite of tools with the integration of Chartable's audience insights and cutting-edge promotional tools, SmartLinks and SmartPromos. These tools will make it easier for publishers to turn audience insights into action and expand their listenership while ultimately growing their businesses.
The Future of Digital Audio 
We believe the opportunity for digital audio and podcast remains significant. With these acquisitions, we're taking a big step in upleveling digital audio measurement and insights to help the entire industry scale to new heights.
Check out a Q&A with Podsights Founder Sean Creeley and Khurrum Malik, Head of Advertising Business Marketing on Ads.Spotify.com. For a deep dive on Chartable, head to Megaphone.fm.