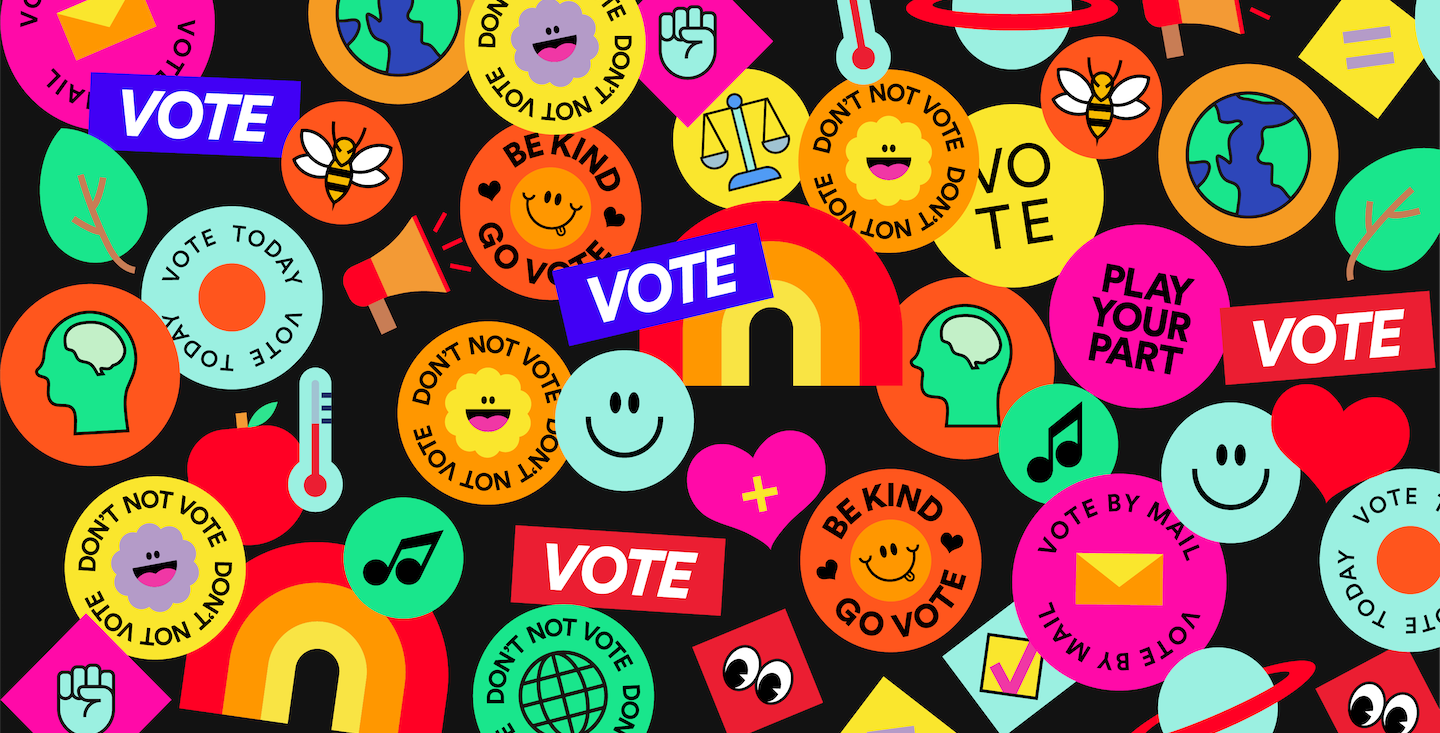 PLAY YOUR PART
Spotify Is Encouraging Voters To Make Their Voices Heard Ahead of the 2022 Midterms
In 2016, Spotify began using the power of our platform for the important work of civic engagement, and in 2020, we unveiled Play Your Part ahead of the pivotal U.S. presidential election. Our nonpartisan campaign encouraged eligible voters to get out and vote, and supported potential first-time voters in getting ready to do so. Now, two years later, as the U.S. heads into a midterm election cycle, we're once again encouraging listeners to make their voices heard through the power of voting, and supporting artists and employees who wish to do the same. 
Voting in non-presidential years is critical to ensuring your voice is heard at the federal, state, and local levels, yet, on average, turnout for midterm elections tends to be lower than presidential years, especially among young voters. So ahead of the midterms, we're focused on helping "second-time voters" return to the polls for the first time since 2020 and continue to build their voting habits. 
We've reached tens of millions of Spotify users worldwide to encourage them to vote in their local elections in France, Germany, Brazil, and elsewhere through Play Your Part. This year in the U.S., we're utilizing our platform to showcase civic engagement opportunities and educational resources, as well as support artists and podcasters who want to remind their fans of the importance of heading to the polls. We'll be driving listeners to a custom resource hub created by HeadCount that utilizes BallotReady and TurboVote tools to help them make a plan to vote and learn what's on the ballot they'll cast in just two short weeks. 
Where it counts
Andy Bernstein is the Executive Director and Founder of HeadCount, a nonpartisan, nonprofit organization that works in the music and culture space to register voters and get people generally participating in democracy. He created it in 2004 after realizing "if I can get people who go to the same concerts I go to to vote, maybe that's a change I can make in the world." 
"Civic engagement is really essential because it's really foundational," Andy explained to For the Record. "It's at the core of so many other issues and causes, so when people get out there and vote, their values are reflected. Programs like Spotify's that get people voting—getting their customers voting, getting their employees engaged, and really using their reach to make participation a social norm—are really important."
Andy notes that this is particularly the case in a midterm election. "In most midterm elections, only one in five young people turn out. And even in 2018, which was a historically high election turnout, it was one in three. So you still have the majority of young people who are sitting on the sidelines for the midterm elections. So the opportunity to create awareness and create a culture of participation is really, really great." 
As part of Play Your Part, we're not only creating a custom resource hub with HeadCount, but we've also worked with shows like Call Her Daddy and Not Past It to encourage listeners to vote through tools such as PSAs, social content, and in-show integrations. Listeners may even hear voting-related PSAs in other podcasts they love over the next two weeks. We've also created an original playlist, Focus on the Midterms, to help keep voters on task while they're studying their ballots and updated our Play Your Part: Civic Engagement Hub. 
Furthermore, going into the election, Spotify in partnership with PLUS1 sponsored an off-the-record, invite-only virtual salon to encourage artists and podcasters to use their platforms to help their fans vote. Attendees will also receive custom, unbranded assets to use on their platforms. 
For Spotify employees, we've created a program in partnership with Power the Polls and Invisible Hand to help guide our employees to become poll workers. "This year we continue to see jurisdictions struggle to staff polling places—especially with bilingual and tech-savvy poll workers," says Casey Acierno, Media Responsibility and Civic Engagement Lead on Spotify's Social Impact team. "Poll workers are critical to operating our elections and ensuring all eligible voters can cast a ballot. Our employees can help fill this need, ensure their community votes, and get a front-row seat to the democratic process."
Casey herself has been engaged in civic engagement and voting work since she was a teenager. "During elections in the early 2000s, I was too young to vote and I remember feeling helpless—and that not enough people were paying attention. So I found a way to get involved by making phone calls to encourage people to get out and vote," she shared with For the Record. Casey's just as involved now as she was then—and she's still working to spread the message about the importance of voting and democracy to younger voters.
"You think of elections as something you do, you vote, and that's that," she said. "But when you think about it more deeply and you realize what people have fought for to have the right to vote, you realize how important it is to help people understand that it's such a privilege to live somewhere where our vote counts. We're able to make a real impact on the issues we care about. It's so critical to vote all the way down the ballot, because sometimes those smaller elections that you don't even think about are the ones that make the most impact on your day-to-day life."  
We're proud to promote safe, secure, responsible—and engaging—information on Spotify about the U.S. midterm election and how creators, employees, and fans can take part. But we can't do it alone—it takes all of us to make an impact. 
"HeadCount has been such an incredible partner in this space," says Casey. "They thoroughly understand how to talk to artists, how to talk through culture, and how to do it in a way that really moves young people to take action. Voting is super complicated, it's so different in every state, a lot of the information is super dry, and they've really cracked the code on how to use artists and creators to make voting cool and fun, and something you do with your community."  
So don't wait: Join the conversation and make your voice heard on November 8.