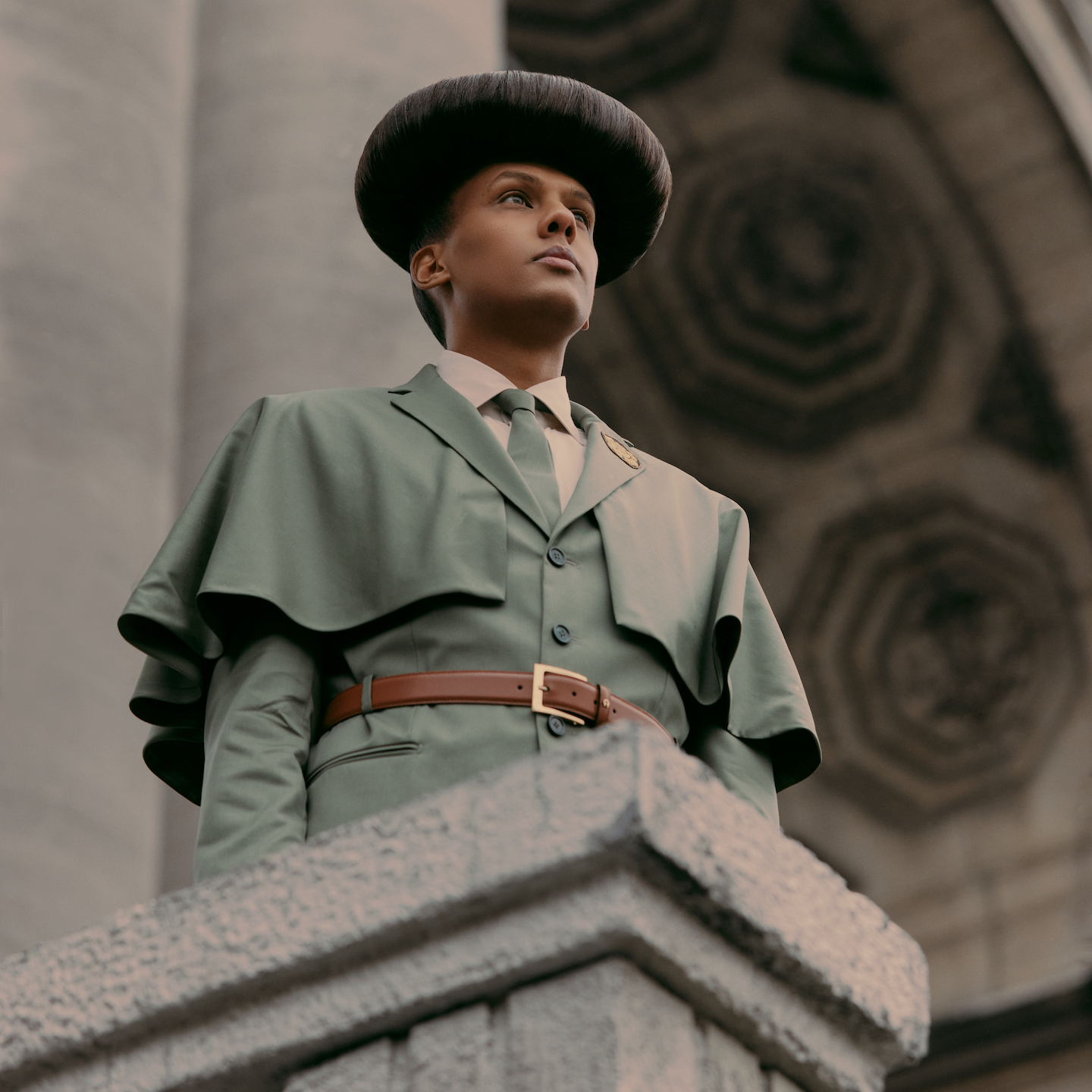 THEN WE DANCE
Belgian Artist Stromae Returns With New Music and Nominations
In 2010, Stromae emphatically introduced himself to the world with his electropop track "Alors on danse." The song reached number one in 12 countries across Europe. The Belgian artist, who has a knack for blending hip-hop and dance music, followed with 2013's "Papaoutai," a hit in France, Germany, and Switzerland, among others. But after releasing two successful albums, receiving multiple awards, and performing on stages worldwide, the singer stepped away from the spotlight.
In 2022, Stromae returned in a big way with the release of Multitude, another chart-topper in Europe. He collaborated with Spotify to create a video for the third single off the album, "Fils de Joie." Four nominations—and two wins—followed at the Victoires de la Musique, a premier music awards ceremony in France, including a nomination for best audiovisual creation for "Fils de Joie." 
On Spotify, more than 425,000 playlists mention "Stromae," and more than 25 million playlists include at least one track by the Belgian. Listeners often discover his music on party- and dance-themed playlists. And while his songs are sung in French, after France, the top countries streaming Stromae include Germany, the U.S. the Netherlands, and Mexico.
For the Record caught up with Stromae to learn more about his return to music, the video he created with Spotify, and how it feels to be the most-nominated artist at the Victoires de la Musique.
Multitude was your first album release in nine years. How has your sound evolved since the start of your career?
For this album, I wanted to go further in my musical inspirations and extend them to the whole world. I wanted to use folkloric, traditional sounds from all over the world, no matter what continent. It's also the first time I collaborated with so many different musicians. I really enjoyed it, and it allowed me to enrich what I already had.
Can you tell us about the "Fils de Joie" music video and its creative direction?
The idea for the video came from Coralie Barbier, my stylist and creative director. We wanted to create a national tribute to a missing sex worker. The idea was to make her a national hero in an imaginary country. The lyrics of the song came to me while watching Faustine Bollaert's show, Ca commence aujourd'hui, which talked about the children of sex workers. 
I was very touched by their stories and shocked by the violence of some of the comments made about them. I started from that, and I wanted to take everyone's point of view (the son, the client, the pimp, and the policeman) except his own [the son's] because he is never asked for his opinion. It's a way of highlighting these women who have a very difficult job and who are completely invisible. 
What was it like working with Spotify on the music video?
Spotify's help allowed us to make a video that lived up to our ambitions. We are really grateful for that. Thanks again to them for their support, and especially to Spotify's Global Head of Music, Jeremy Erlich!
Why do you think music videos are such a powerful addition to a song? 
I've always been a big fan of music videos. It's a passion I share with Coralie and Luc Van Haver, who is my other creative director and longtime executive director. For us, it's a way to add an extra dimension to a song and to immerse the audience in a unique universe. 
What was your reaction to your four nominations for the Victoires de la Musique?
I was very honored to learn I was nominated in four categories. It's the maximum you can get, so it's very gratifying. I would like to thank all the people who voted for me. It's very heartwarming.
Mosaert, the creative label you co-founded in 2009, fuses music, visual design, and fashion. Is it important for you to have a creative outlet that expands beyond your music?
Mosaert has allowed me to keep a lot of artistic freedom since I started. My label produces everything I do—all the content we create, the videos, the live shows, the outfits, etc. We love to imagine unique and complete universes that go beyond the music; it allows us to amplify it and add an extra dimension to each creation.
Check out the latest music from Stromae on Spotify:
Photo credit: Lydie Bonhomme