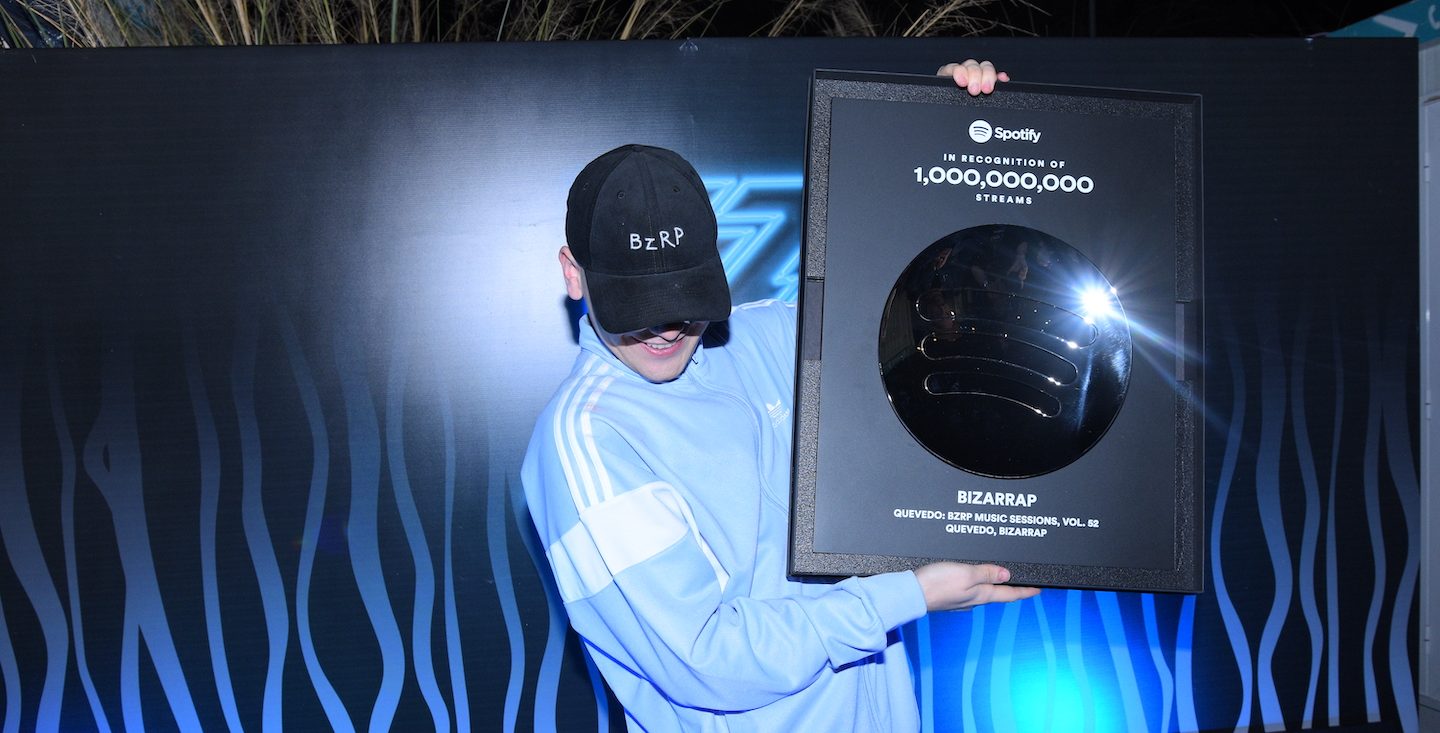 MIL MILLONES
Bizarrap Racks Up 1 Billion Streams for "Quevedo: Bzrp Music Sessions, Vol. 52"
Bizarrap is the latest artist to reach the Billions Club. The Argentinian producer has racked up more than 1 billion streams on Spotify of his track "Quevedo: Bzrp Music Sessions, Vol. 52," which features Spanish rapper Quevedo. We awarded the coveted Billions Club plaque to Bizarrap following the conclusion of his "BZRP Live Tour," a three-night performance that took place at Hipódromo Argentino de Palermo in front of more than 60,000 fans. 
From Argentina to the world
This recognition of Bizarrap's achievement is a reflection of his incredible success on Spotify and of the global respect and admiration he's earned through his music.
When his single with Quevedo first released last July, it only took 10 days for it to reach the top of Spotify's global charts, and it made Bizarrap the first Argentinian artist to go number one globally. It later became Argentina's most-streamed song in 2022, capping off a momentous year for Bizarrap and Quevedo, who also received a plaque for his contribution to the smash song.
The Bzrp Music Sessions series has been a hit on Spotify, with the top 10 most popular sessions featuring some of the biggest names in music. Shakira, Tiago PZK, NATHY PELUSO, L-Gante, Villano Antillano, Eladio Carrion, Nicky Jam, Nicki Nicole, and Aleman have all contributed, helping to catapult the young producer to fame.
Bizarrap's growth is evident in his Spotify numbers. In just seven years, he went from 1.2 million streams to more than 2.9 billion in 2022. He was also the most-streamed Argentinian artist in the world last year.
View this post on Instagram
Spotify 'opens up' for the show
Prior to Bizarrap's performances in Buenos Aires, Spotify teamed up with the artist and helped fans get in the spirit by launching a collaborative playlist. Listeners were invited to submit songs they wanted to hear for the warm-up, creating a new way to interact with fans before the concert kicked off.
Bizarrap's success is a testament to his talent and hard work. Congratulations to Bizarrap and Quevedo for their historic achievement—we can't wait to see what the future holds for these two talented artists.
Hear more from Bizarrap's music sessions below: