OULULULULU
Cristobal Tapia de Veer, Composer of the Viral 'White Lotus' Theme Song, Reveals His Process and Expectations for Season 3
Plenty of TV sitcom theme songs stand the test of time. The singability of The Fresh Prince of Bel-Air, clap-infused pop of "I'll Be There For You" from Friends, and nostalgic harmonies of "Where Everybody Knows Your Name" from Cheers each holds a notable slot in the cultural zeitgeist. It's less common for a drama's theme song to meet the same reception. And that picture is even more complicated when the theme is a wordless instrumental used—in the first moments of the show—to set the scene for dead bodies washing ashore.  
Yet composer Cristobal Tapia de Veer's "Aloha!" and "Renaissance," which serve as the theme songs for first and second seasons of The White Lotus, respectively, have reached such success. Each track features a consistent melody with high-pitched instrumentation, a  danceable beat, and breathless vocals. Each is also tailored to reflect its season's location—Hawaii in the first and Sicily in the second. 
Each season, The White Lotus offers colorful, suspenseful commentary on exploitation, wealth, class, and race with a backdrop of murder and dysfunction set in a fictional luxury resort. The combination of Cristobal's masterful composition, the show's alluring storytelling, and a rabid global fan base has propelled both themes to viral fame and millions of Spotify streams, and raised the profile of their composer.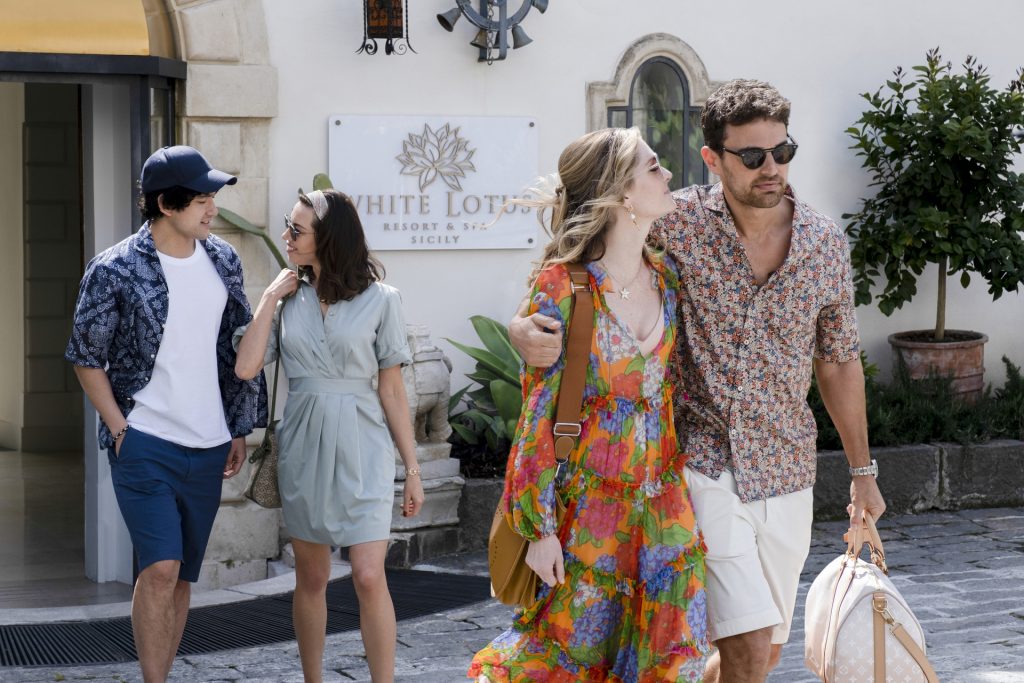 Fans on the prowl 
Since its July 2021 release, "Aloha!" has been streamed most by fans in Warsaw, Berlin, and Paris. The song's popularity only grew in the lead-up to the October 2022 premier of the second season, with fans taking to the internet to share commentary on the song. 
One popular fan theory was that its repeated notes created a musical allusion to the Gregorian chant "Dies Irae," or "The Day of Wrath." In a rare interview with For the Record, Cristobal explained that this is but a coincidence. "Those melodies are the result of chanting with voices and finding a melody that works with the sound. For lots of reasons, I ended up with those types of harmonies, but I wasn't specifically inspired by that music or trying to use it intentionally." 
Following the debut episode of the second season on October 30, 2022, searches for "White Lotus" on Spotify increased more than 500%. But to the chagrin of fans, "Renaissance" wasn't released on Spotify until December 11, the end of the season. 
Even so, dedicated fans steadily played "Aloha!" on Spotify while they waited, and on December 12, streams of "Aloha!" jumped 200% compared to the month prior. Searches for "White Lotus" soared to 4,800% compared to two months prior. 
Once released, daily streams of "Renaissance" hit an all-time high on December 13, 2022, with fans in Paris, Oslo, and Berlin leading the charge. And as for Cristobal? The composer saw a 162% lift in his own catalog's daily streams following season two. 
Even after the season came to an end, fans continued to circulate the song, using it as the musical background to their viral videos. On February 17, 2023, Dutch DJ Tiësto put out his own remix of "Renaissance," which became a favorite among fans in Sydney, New York, and Oslo in particular.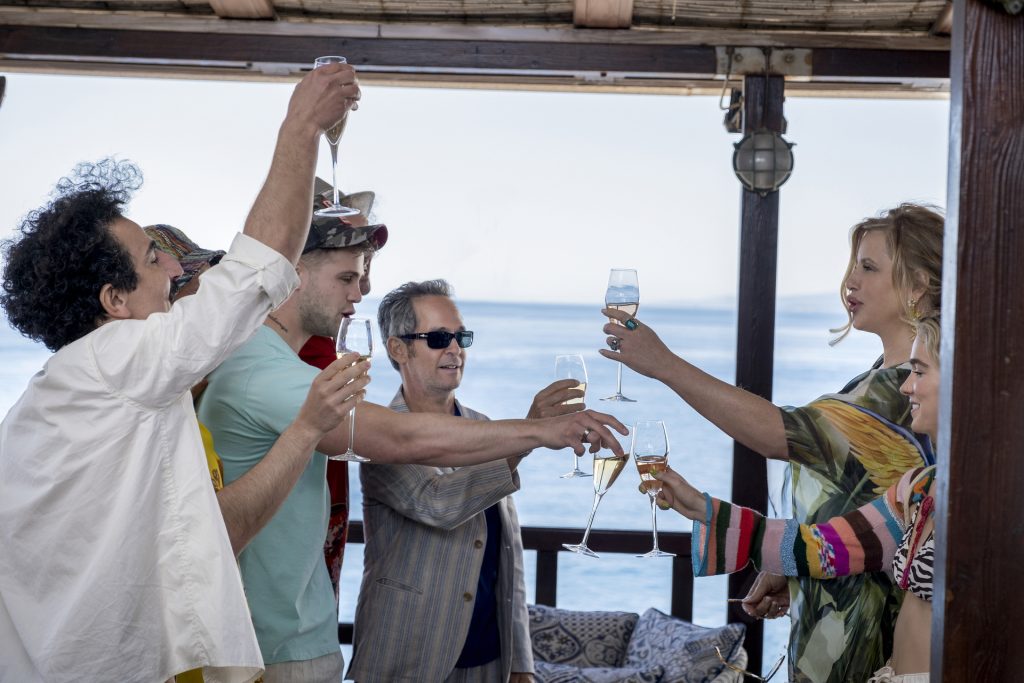 Soundtracking suspense
So what went into creating the right soundtrack? Cristobal employed wind instruments to create the whirling bird sounds on "Aloha!" "For the first season, I wasn't trying to make Hawaiian music. It was more about making something about nature kicking the characters in the ass, and the wild stuff coming for the characters," Cristobal explained. To hit his mark, he combined bird calls with tribal chants for an island feel with a spooky tropical depth.
"The temp score was this loungy, rather soft thing—something that would be playing in a nice luxury cafe when you're on vacation somewhere," he recalled. "It was very different from what I came up with. I went with a tribal, rather aggressive screaming, and drums and flutes." 
That "screaming," which seems to be the best way to describe the vocal sounds, became a driving force behind the song's virality when it came time to adapt it for the second season. Cristobal knew he wanted to match the vibe of the location and utilize disconcerting vocal tones.
"The 'oululus' are the most important thing," said Cristobal, using his tongue heavily to propel the sound from his own mouth. "For the second season, I was trying to fit into the Italian and the Sicilian vibe. We spoke about having some renaissance sounds, some harps, mandolin, violin, things that we'd connect with Italian music and opera. I did a demo of some classical Italian music, something operatic, and that's the beginning of the track. From there, I wanted to somehow bring back the sound of the first season, which is these screaming voices that are so recognizable." 
He also wanted to evoke a different journey for a new cast of characters. 
"In the first season, there's a lot of conflict in the music," he said. "It feels very stressful and more tense than how it should; it has more dissonance. But this was something calculated. And I think the second season is funnier because things become dark later, towards the end of the show. So the song keeps it more playful, more light and harmonious." 
A trip to Thailand
Cristobal finds the composing process as tumultuous as life is for the White Lotus patrons at times. "I don't do anything particular to get into the zone," he notes. "Sometimes people try to have the best conditions—relaxed and with a view—but surprisingly, for me, I like to see the stuff that results from being in a bad situation, a stressful situation, not having the right equipment, or not being in the right place." 
For Cristobal, discomfort is more impactful, motivating, and conducive to creativity than pleasure or perfection. "When I feel that I'm in danger, it feels like I'm gonna probably come up with something better, a more original idea—as long as I'm surviving a situation—than if I'm too comfortable."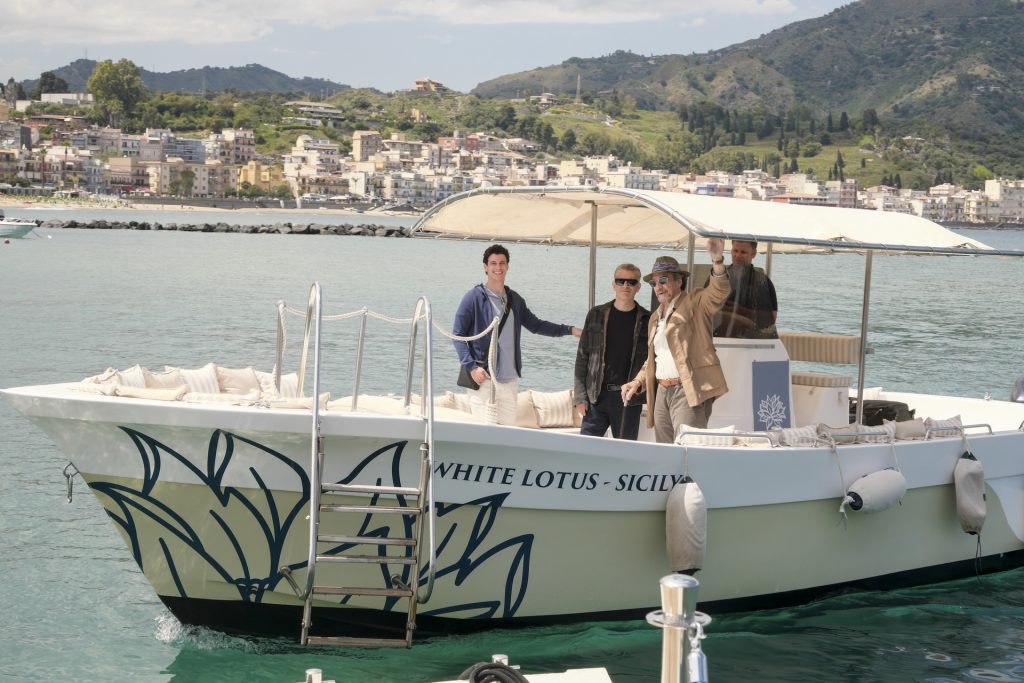 With the third season of The White Lotus confirmed for Thailand, we asked Cristobal to hint at some musical elements fans might expect when the show debuts.  
"For Thailand, I want to bring in some Eastern philosophy, something a little bit spiritual," he said. "I love the Buddhist temples there, and funnily enough I have a collection of Thai gongs. I have 36 Thai gongs to make melodies with, so you can expect to hear some of those. I'd really like to go deep with it, make it take a journey." 
Prepare for the third season of The White Lotus with The White Lotus Official Playlist on Spotify.