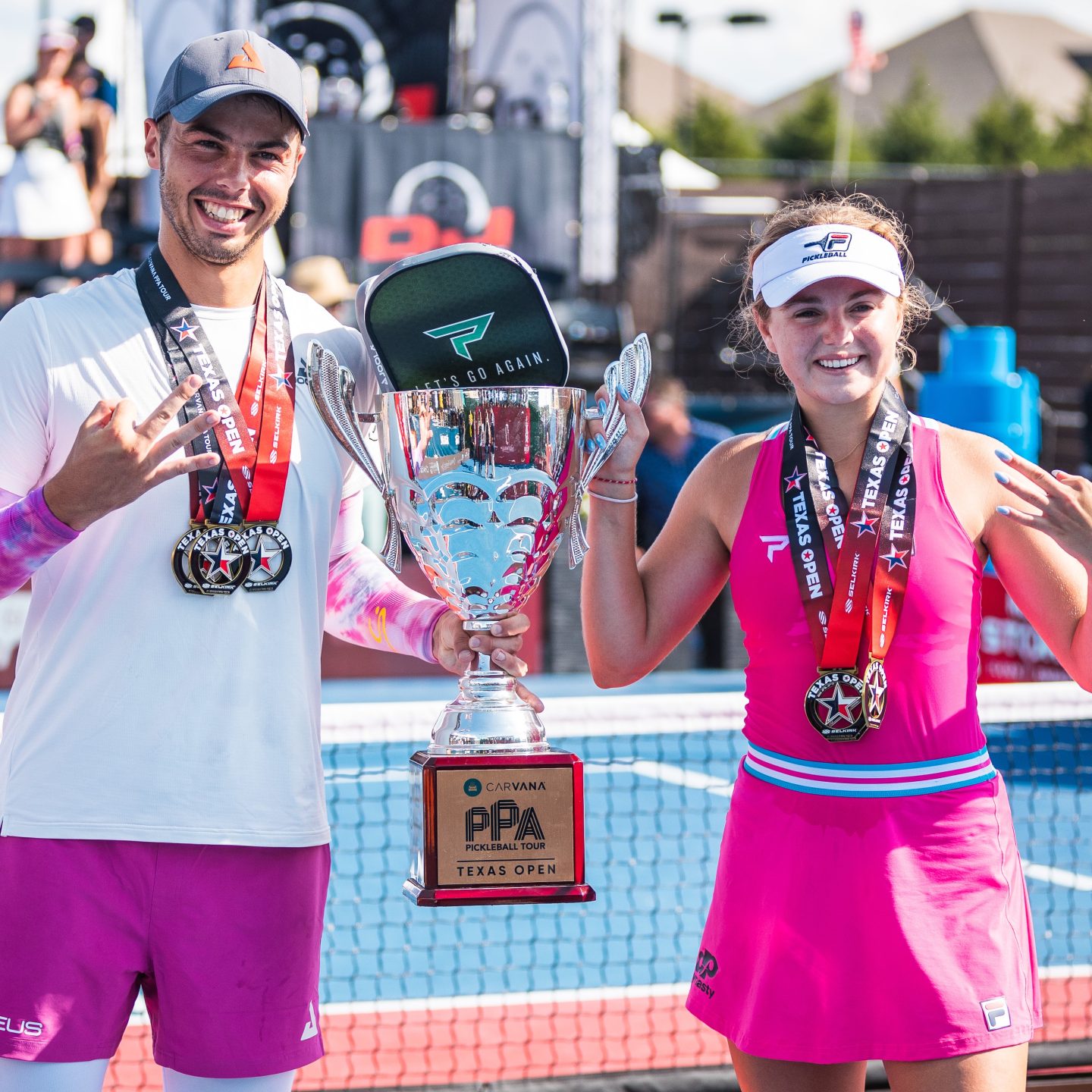 BOUNCE IT
Pickleball Champions Ben Johns and Anna Leigh Waters Team Up for a Mix to Get Your Head in the Game
Pickleball has seen a massive rise in popularity over the last several years. What was once a game held in backyards and parks is now a thriving international sport with leagues, tournaments, and television coverage. 
The pickleball frenzy has even reached Spotify, where we've seen a more than 930% increase in "pickleball" playlist streams in May 2023 compared to May 2020. Among some of the category's most popular game day tracks are "Don't Stop Believin'" by Journey, "September" by Earth, Wind & Fire, and "Sweet Home Alabama" by Lynyrd Skynyrd. 
As many professional players will tell you, pickleball is an easy game to learn, but a hard one to master. It requires staying in the right frame of mind to prepare for anything that happens, including long waiting periods. That's why we're excited for the launch of the ultimate pickleball mindset playlist curated by two of the sport's biggest stars, Ben Johns and Anna Leigh Waters. Since the first Professional Pickleball Association event of the 2023 season, Ben and Anna have each won numerous triple crown titles, including last week, at the Selkirk Texas Opening Rockwell, where Anna Leigh won her third triple crown in a row. In his career, Ben has won more triple crowns than any male professional pickleball player in history.
From the high-tempo and high-confidence Macklemore track "Can't Hold Us (feat. Ray Dalton)" and "Pump It" by Black Eyed Peas to that renowned Survivor sports banger, "Eye of the Tiger," the Gameday – Ben J & AL Waters playlist is all you need to get pumped up for your time on the pickleball court.
For the Record caught up with Anna Leigh and Ben to talk about the rise of pickleball and what music gets them ready for a game.
How did you two first get interested in pickleball?
Anna Leigh: My mom actually went pro herself when I started playing sometime in 2017, and I just wanted to be like her. So I decided that I wanted to play pro with her and we began to compete together when I went pro in 2019. Now we play women's doubles together.
Ben: I first started playing in 2016, when a pickleball court was near where I was playing tennis, and I figured it would be fun to try. At that point I thought of it as more of a game than an actual sport, and when I entered the pro division in my first-ever U.S. Open, I couldn't believe there were so many good athletes playing this funny game. But as I got better, I grew and I began to get more serious about it in 2017.
What does a day in the life of a pickleball athlete look like?
Anna Leigh: We travel to so many tournaments. It's crazy. But if I'm not traveling away on a tournament, I'm usually home, training on the pickleball court, training at the gym, or doing some schoolwork.
Pickleball has grown to be quite the international phenomenon! What's it been like watching from the inside?
Ben: It's been kind of crazy to compare the scene from when I first started to where it is now. There was some point where I was so used to the explosive growth in pickleball's popularity that you'd see more news and massive changes week to week or month to month. It's so great to see how that hasn't really stopped, but looking from the start of it to now, it's worlds apart.
Anna Leigh: I kind of like to say that I kind of grew as pickleball grew, because the older I get, the bigger pickleball gets and the more people know about it. So it's been kind of cool to see its growth as an international sensation, and I feel so grateful to be able to be part of that.
What attributes make a champion pickleball player?
Anna Leigh: One thing I don't think people really understand about professional pickleball is how mentally tough you have to be to win matches.
Ben: Yeah. There's some tough breaks in the game and pressure can get to you very easily, and that can lead to a real struggle to play your best. So the more you can rise above that, the more mentally strong you are as a player. And I think Anna Leigh particularly does an amazing job with winning week after week and not letting the pressure get to her. She manages that really well and is amazing with positivity. All things I consider to make a very mentally strong athlete.
Anna Leigh: Also, pickleball tournaments are really long. You could be waiting 30 minutes or  five hours before you start the match, so you have to keep that active mindset up all day long.
What can we expect to find on the Gameday playlist?
Ben: I listen to predominantly late seventies and early eighties classic rock, and I'd say that "Don't Stop Believin'" by Journey is my all-time favorite song. It absolutely had to be included. Also my favorite rap song of all time is "Forever," so that's why that one's on there. I mean, you have Drake, Kanye West, Lil Wayne, and Eminem. That's just a collaboration of some of the greatest artists of all time.
Anna Leigh: A couple of ones for me have some meaning to them. One of them is "Eye of the Tiger" by Survivor. In 2019, my mom and I won our first major pickleball tournament together and it was played right before the finals of our match, so it's something that I had to include. Another one I added is Justin Timberlake's "CAN'T STOP THE FEELING!," and that one was played during that same match. We lost the first game, won the second game, and then it played just as we were about to go into the third.
What piece of advice would you give folks who are starting to pick up the pickleball paddle?
Anna Leigh: I would say just try it. Go to a park, you don't even need a paddle or even a knowledge of the rules. Pickleball players are very welcoming, especially to newcomers, and we really want to grow the sport. So just go to a park and a lot of people will teach you the game and I'm sure you'll be hooked from the beginning!
Pick up the paddle and get ready to play by listening to Ben and Anna Leigh's playlist now.