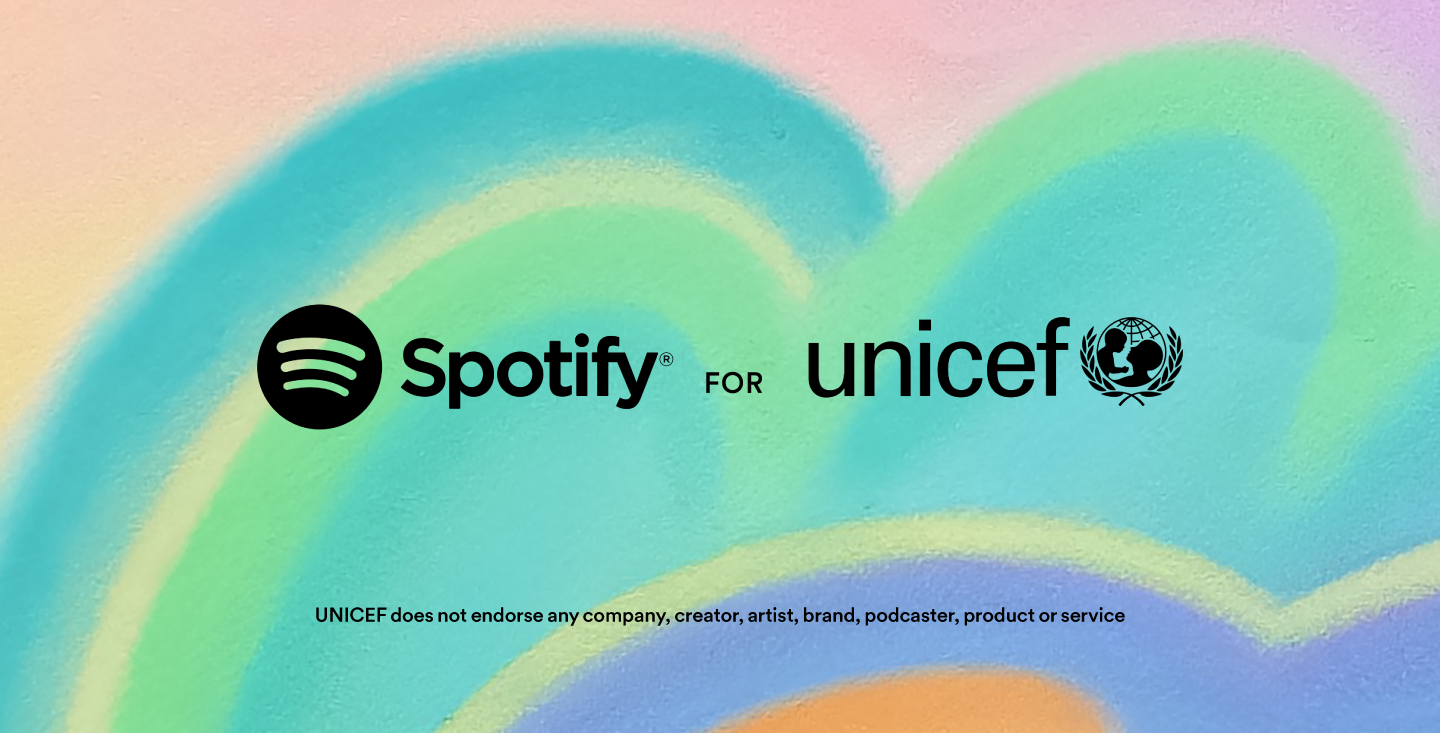 SUPPORTING MENTAL HEALTH
Spotify and UNICEF Partner To Support Mental Health by Bringing the Power of Audio to Millions
At Spotify, we know that music and audio can help support mental health, so we're dedicated to using the power of our platform to bring resources to people directly where they are. Today, we are embarking on a three-year partnership with UNICEF to help ensure that young people, including refugees, displaced people, and migrants, can access trusted and engaging mental health audio content. 
To start, our focus will be on responding to the urgent mental health needs of young people who have been affected by the war in Ukraine. UNICEF has been supporting mental health and psychosocial support interventions for over 2.6 million Ukrainian children and caregivers since before 2022. Going forward, we'll explore opportunities to expand our impact across other emergency and nonemergency contexts around the world.
"Our goal in partnering with UNICEF is to help young people, including refugees and migrants, find the support they need to optimize their mental health and well-being online and offline," says Elizabeth Nieto, VP, Global Head of Equity and Impact at Spotify. "Our collaboration will particularly focus on harnessing the power of music, audio, and other innovative digital content to deliver trusted and engaging mental health content for young people, their caregivers, and communities." 
Evidence-based resources for mental health and well-being
Our partnership will kick off with the youth mental well-being destination Our Minds Matter on Spotify, where listeners will be able to access a combination of existing music and talk playlists. These engaging playlists can provide support for a wide range of mental health and well-being needs—and give young people resources right at their fingertips. 
Understanding the everyday mental health needs of young people directly affected by the war in Ukraine is key to being able to support them. That is why UNICEF, with our support, has been collaborating with a group of Ukrainian and Polish youth to cocreate a new youth-informed, evidence-based mental health podcast called On My Mind. Season one will initially be available in Ukrainian, Polish, and English, with new languages coming online later. 
From episodes on breaking down the stigma around mental health to nurturing healthy relationships, to coping with grief, stress, and loss,​ this co-created podcast will support tangible progress in improving access to mental health services and fostering a nurturing environment for young people. 
Going forward, Spotify and UNICEF will work together to cocreate, adapt, digitize, and translate additional mental health content. We'll also continue to curate new music and talk playlists that support mental health and well-being and can be featured on this platform.