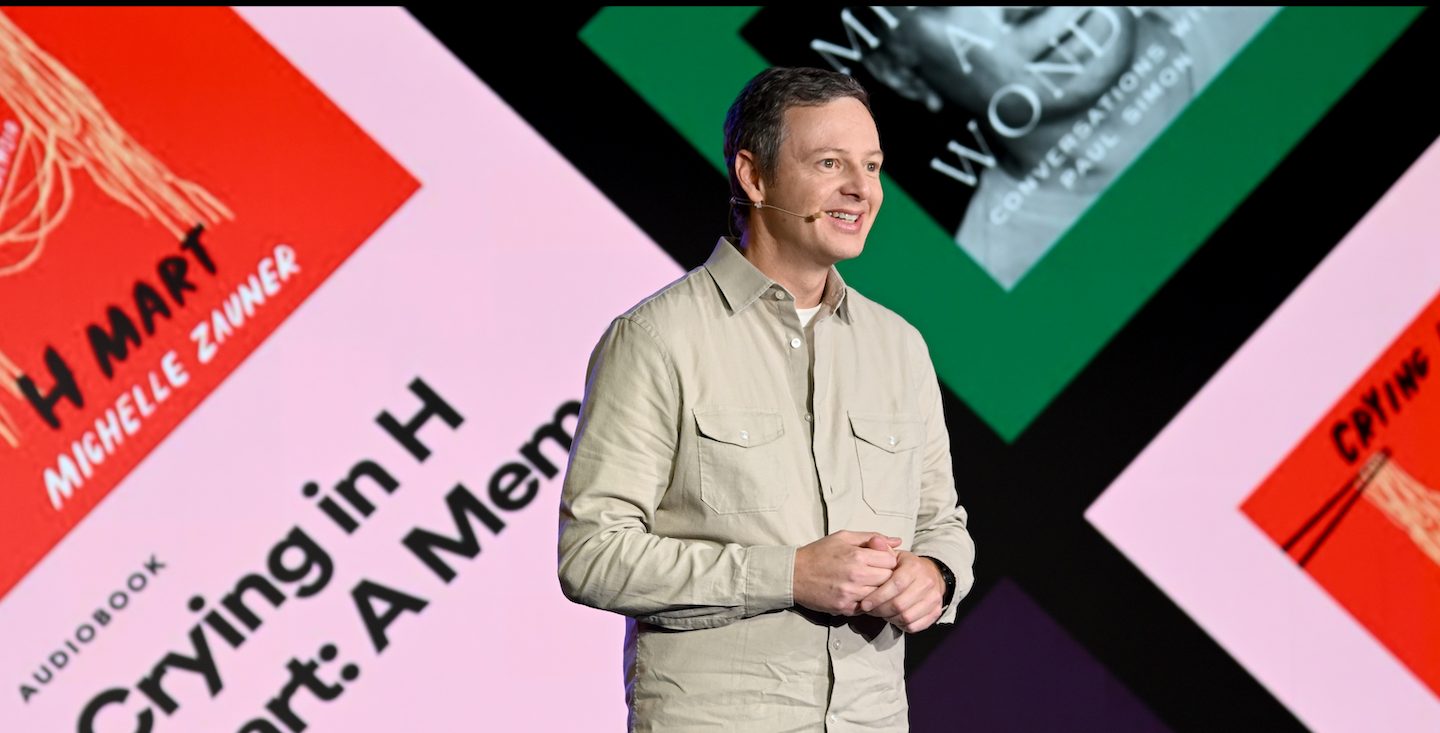 OUR NEXT CHAPTER
Spotify's Audiobook Leaders Explain Why You Should Listen to Books on Spotify
For many years, audiobooks have had limited distribution avenues, leading many book lovers to overlook the medium. But our rollout in the U.K., Australia, and soon the U.S. means that tens of millions of Spotify Premium listeners will soon be able to access 15 hours' worth of audiobooks from over 150,000 options each month, dramatically expanding the audiobooks market. 
In anticipation of this expansion, both David Kaefer, Spotify's VP of Business Affairs and the Audiobooks Business, and Owen Smith, Spotify's Head of Audiobooks Product and Tech, have been working diligently with their teams, as well as publishing houses, authors, and narrators, to bring audiobooks to our platform in a seamless way. 
Below they explain to For the Record how the combination of Spotify's extensive catalog, world-class content discovery capabilities, and Premium offering will result in a magical experience for audiobook lovers and newbies alike. 
Today is a big day for our audiobooks business, but it's also a big day for our users. What can they look forward to? 
Owen: At launch in the U.K. and Australia, and soon in the United States, listeners will have over 150,000 titles available to them. And they can listen however they would like. So they might focus on one title and finish it, or have ten books open and make their way through all of them slowly. That flexibility is a real benefit of our product. And they'll have 15 hours a month in which to listen to that mix of content. If they love it and want to listen to more, they can head to our website, where they can buy top-ups so they can get more hours and continue listening. 
David: We really have a top-rate catalog. If you take a look at the top publishers in the book industry, they're all working with us here at Spotify in some fashion. We don't have every audiobook—because some audiobooks are exclusive and there's a couple of pieces of catalog we've not licensed—but you're going to find that most of the top authors, most of the top titles that are available as audiobooks are there, unlocked, in Spotify Premium for you to enjoy. I'm especially excited that we currently have over 70% of books from the New York Times bestseller list. 
I think a lot of people have not seen the mix of flexibility that the hourly listening model gives you with the catalog quality that we've been able to assemble. Then you add our investments in discoverability and that's sort of the trifecta, that's really a magical combination. 
What excites you most about listeners' accessing audiobooks in the same place where they already have so much audio content? 
David: This is uniquely Spotify, this opportunity to bring multiple forms of amazing content together and make it seamlessly easy to discover and enjoy them. Compare that to a standalone audiobook app, for example. That experience today still feels a lot like it did 10-plus years ago. I'd buy a book and I must just listen to that book and perhaps be stuck with it. That's a very different customer proposition.
We want our customers to have flexibility in what they listen to. If I want to dive in and out of music or pods or audiobooks, that's all possible. 
Owen: These formats can also really borrow from one another. The book industry is particularly excited about using an author's appearance in a podcast to help promote how people discover and ultimately listen to an audiobook and vice versa. So the opportunities to reinforce and discover across our different formats are definitely going to be there. 
What have we learned from launching other verticals—podcasts, for example—that's informed this launch? 
Owen: First, you have to have amazing content that people want to listen to. Second, you have to help people find that content. In some cases, book titles will drive discovery themselves. There's often a cultural book of the moment and people want to go find it. But we also really want to expand what audiences listen to, and to do that we've had to invest in recommendations for discovery. So just as we did in our podcasts journey, we'll do that for audiobooks. 
We've got a great initial product that will include audiobooks across all our core surfaces. Our personalized Home feed is certainly one of those and will serve up recommendations based on what you like, as well as some suggestions for your next favorite book; while if you already know what you want, then you can just type it into Search. Then with Browse you'll find some of our editorial booklists, where we will help you explore the huge catalog available. For example, we will take a genre like mysteries and serve up a curated selection so you can find just the right mystery book for you. 
David: We also have a lot of experience and learnings from our work with labels, music publishers, and podcast studios. The most important thing to remember is that these relationships are partnerships. It's not about the first time you do a deal, but about building a lasting relationship. For book publishers, podcasters, and people in the music world, it's important that we can grow the market. That's our mission for the book industry. So they're going to be assessing whether our offering is adding listeners and adding revenue that benefits the authors they represent. 
At the same time, we're looking for the types of product flexibility that we need to be able to really delight users. We want to be able to use exciting new technologies to help people find that perfect book. We might want to evolve the format in a way where it looks fresh and gets people excited to engage.  
Why should someone who's never listened to an audiobook before start now on Spotify?
David: I think a lot of people were originally surprised by how much they were into podcasts. They were on our platform listening to music, and they decided to give podcasts a try. The rest is history.
For booklovers who've never listened to an audiobook, they'll be thrilled to see that audiobooks are awesome for multitasking moments. When I want to read a physical book or I want to read an e-book, I'm often curled up on the couch during focused time. But if I'm working out or I'm on the drive in to work or I'm dropping off the kids, those are awesome moments to think about "how do I build in an audiobook?" I think families with kids will also be delighted by the types of titles that you can listen to and enjoy together, and I think we're going to see a lot of families super excited and engaged with this content, and they're going to get a lot of value from it. 
What do you remember about the first time you listened to an audiobook? 
David: My first memory is of a book series I was a fan of. I had read 10 books and then listened to an audiobook, and it was jarring that the narrator's voice didn't match the voice in my head. So one lesson I've taken for myself is that the narrator is supremely important. We need to surface amazing narrators so they can be part of our journey.
In the audiobooks world, we need to be thinking of the author and the narrator as almost equal partners. Because as important as it is to write the book, that narration really determines whether somebody is going to stick with a title for often eight or 10 hours. It's really predictive. So if I'm reading fiction and somebody really just allows me to get lost in the title, we know that that leads to completed listening of the book, and it benefits the author.
Oh, and I also figured out I'm a larger fan of nonfiction than fiction for now! 
Owen: I grew up in the U.K., so my first memory would probably be listening to audiobooks on BBC Radio, where they used to broadcast excerpts and—on rare occasions—broadcast the whole audiobook end to end. I see audiobooks as a wonderful way to replay one of our oldest human traits, which is to tell and pass on stories, whether that's in a novel, memoir, or even some of the nonfiction books that I listen to for work. One of the great things about the product we've built is that I'm now finding new ones that I enjoy more frequently than ever before. 
What audiobooks are you listening to right now? 
David: I'm just starting Grit: The Power of Passion and Perseverance, written and narrated by Angela Duckworth, which is very appropriate for this particular role of launching any new business vertical. For more fun I'm trying out the Millie Bobby Brown novel, Nineteen Steps. 
Owen: I recently finished Stanley Tucci's Taste, which is a memoir interspersed with stories about food and recipes. I loved the book and he's a naturally fantastic narrator. I've just started Tomorrow, and Tomorrow, and Tomorrow by Gabrielle Zevin, which was a recommendation based on my podcast listening on Spotify.