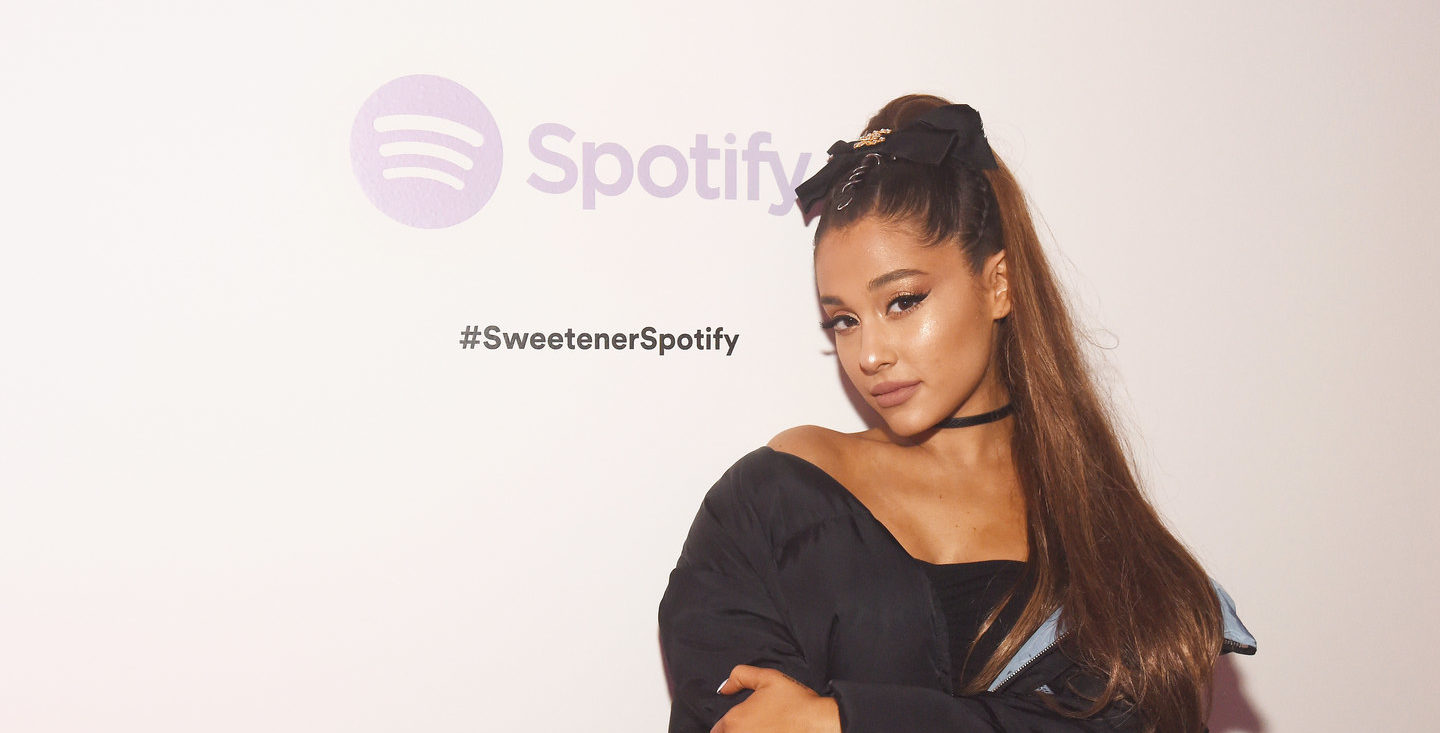 THE LIGHT IS COMING
Inside the Divine World of Spotify's Ariana Grande 'Sweetener The Experience'
Ariana Grande's album, Sweetener, presents a dream world of ethereal emotions, sights, and sounds—and Arianators everywhere have clamored to step inside. This weekend, Spotify is making that happen by bringing Sweetener to life.
Today, September 28, Ariana's interactive Sweetener The Experience activation launches on New York's Lower East Side. The experience will open to the public for two days on Saturday, September 29, and Sunday, September 30. Inside, each Sweetener track is translated into a colorful, multi-sensory moment for fans to experience room by room.
Follow along through our virtual tour of Ariana's world.
raindrops
"raindrops" introduces the cool, captivating vibe of Ariana's latest release. To reflect its soft, melancholy feel, the room features a floating altar where you can meditate beneath an illuminating cascade of angel tears.
the light is coming
Nicki Minaj joins Ariana on "the light is coming," so in honor of two inspiring queens, the twinkling room is illuminated by warm pink light. As Ariana sings, "The light is coming to give back everything the darkness stole."
R.E.M.
The palette turns muted and dreamy for "R.E.M.," matching Sweetener's soft, nude-toned cover art. Feel free to get comfortable in the massive "cloud squish zone," and even bask in the lush scent of Ariana's new fragrance, Cloud.
successful
On "successful," Ariana celebrates the triumphs of women everywhere. To capture this self-empowerment vibe, the space is surrounded with mirrors featuring inspirational messages and affirmations like "boss" and "you are beautiful." You can even write your own uplifting messages to other Arianators.
blazed
On the Pharrell-featuring "blazed," Ariana sings, "The universe is so vast to me." In this room, you can travel to space via glittering stars and a 360-degree night sky with galactic projections.
get well soon
Celebrate the special connection between Ariana and her fans with a room full of telephones. Pick up any phone to hear an inspiring message of wisdom and advice.
God is a woman
An iconic track deserves an equally awe-inspiring experience. To mimic Ariana's "God is a woman" music video, the room evokes a painterly quality with warped mirrors and surreal, space-like walls.
sweetener
The album's title track is light and uplifting, so the "sweetener" room is all effervescent, pastel eye candy. There's even a mirrored pond in the middle of the room, perfect for reflecting on just what makes life so sweet.
no tears left to cry
"no tears left to cry" will turn your world upside down—literally. Ariana's bold, feel-good dance anthem is celebrated with a fully furnished, upside-down room.
breathin
Ariana is known to open up to fans about her personal struggles, so the "breathin" room is built upon the mantra of "Just keep breathin." With soft, wispy fabrics and calming, neutral tones, the space is a welcome retreat.
better off
"better off," a slow, melancholy ballad, is an intimate reflection on being alone. Therefore, this room offers a spot for a much-needed moment of solitude among the crowds.
everytime
The "everytime" room features delicious mocktails and snacks for when you need a quick recharge.
pete davidson
As any fan knows, Ariana is head over heels for her fiancé Pete Davidson. To honor love in all forms, you can choose a love lock—inspired by Paris' Pont des Arts bridge and Boston's St Botolph's bridge—to dedicate to a loved one in the "pete davidson" room.
borderline
"borderline," about the early stages of love, finds Ariana (and guest star Missy Elliott) playing hard to get. "Just meet me at the borderline," Ariana sings. The room is a graphic, linear space with interactive features, swings, and a place for fans to meet in the middle, as the song suggests.
goodnight n go
Before fans exit the experience, the "goodnight n go" room offers a chance to bid Ariana farewell. Inside, you'll find a guest book for writing sweet messages to Ariana (she'll read them at the end of the exhibit).
Ariana Grande's "Sweetener The Experience" will be located at 138 Bowery in New York City. As soon as the exhibit was announced, our RSVP list was filled in a matter of minutes by Arianators. However, the experience will be available all weekend (September 29 & 30) through a walk up line. You can also check @Spotify's Instagram stories this weekend as more tickets may become available.