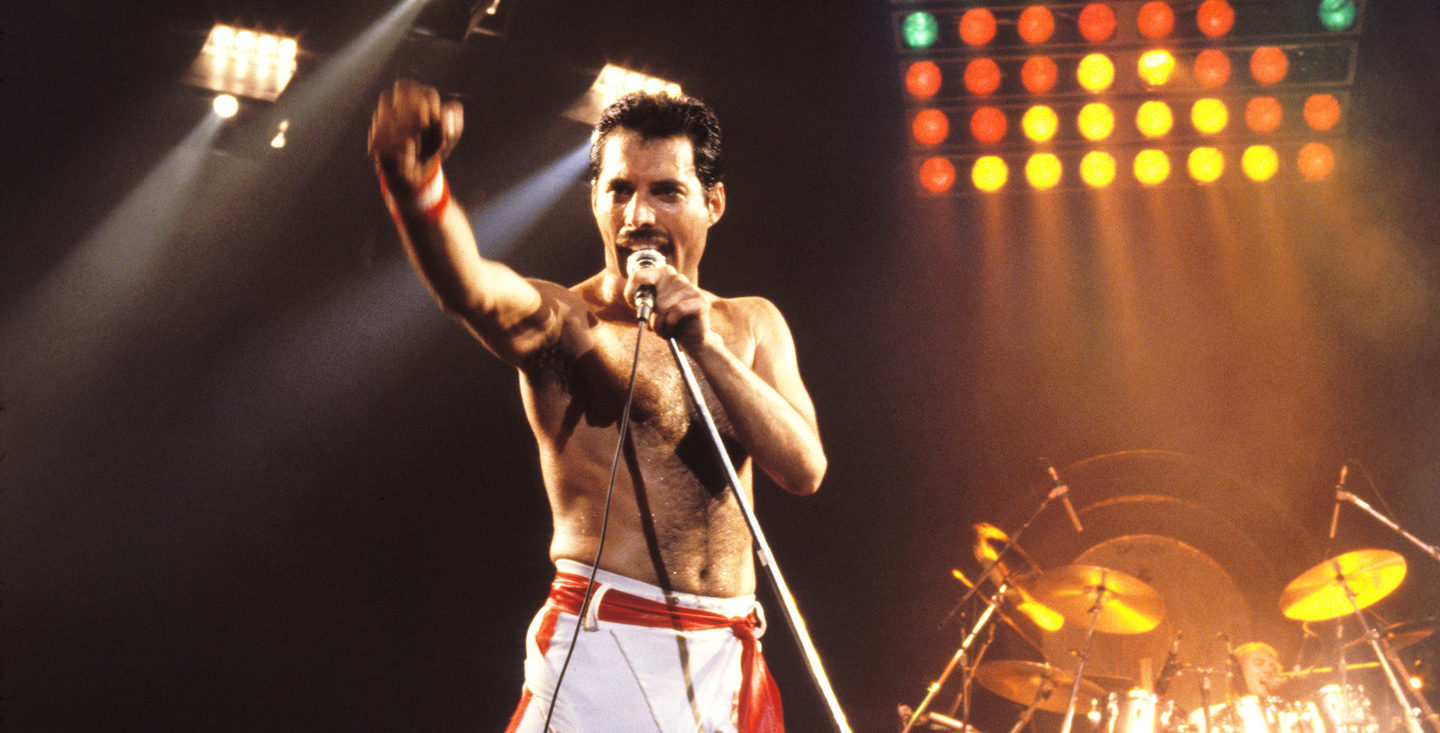 From Gaga to Grohl
5 Artists Rocked By Freddie Mercury, the Flamboyant King of Queen
He captivated the crowd in a catsuit, hitting a free and unpredictable vibrato. A master of reinvention and a flamboyant front man, Freddie Mercury's operatic displays were part concert, part theatre, part fashion show. Fans never tired of watching the king of Queen kick, jump, and prance across an arena, but it was his powerful yet deeply sensitive performance style—from soft piano ballads to wild, aerobic onstage antics—that touched them to their core.
Queen's larger-than-life rock 'n' roll has been revered and imitated for generations, and now, with the film Bohemian Rhapsody debuting October 24, we get a more intimate look at Mercury's lasting influence as a thrilling and dynamic rock singer. The new biopic digs deep into the life of the late musician, portrayed by Rami Malek, and recreates his electric stage presence (including Queen's iconic set at Live Aid in 1985).
Mercury's star power was apparent from the start. Beginning with the release of its self-titled debut in 1973, Queen developed their own distinctly campy, vaguely classical style, combining elements of prog rock, glam rock, and heavy metal. No matter the genre, Mercury's magnetic charisma and musical prowess won over fans, critics, and contemporaries. If not for his untimely death in 1991 Queen could have continued, but Mercury's legacy lives on. See how he's rocked us all: In honor of Bohemian Rhapsody and as a tribute to music royalty, take a look at five artists who've bowed down to the greatness that was—and continues to be—Freddie Mercury and Queen.
Stefanie Joanne Germanotta famously took her stage name from the song "Radio Ga Ga," and throughout her career, she's never forgotten her devotion to Queen; Lady Gaga has repeatedly borrowed from the Freddie Mercury playbook with elaborate outfits (meat dress, anyone?) and theatrical antics both onstage and off. In 2009, she described her favorite Freddie performance in Rolling Stone. "Freddie created this image of himself as rock royalty," she explained. "That performance screams, 'Watch me! I'm a legend!'"
Like Lady Gaga, Katy Perry is a pop star who loves drama—from colorful costumes to bold, unafraid lyrics, she's a singer who loves to make a splash. "Queen's track 'Killer Queen' made me discover music and helped me come into my own at the age of 15," she once told Cosmopolitan. "The way Freddie Mercury delivered his lyrics just made me feel like a confident woman; I'd say his fingerprint is all over me in general."
Early 2000s indie rock goddess Karen O and Yeah Yeah Yeahs weren't exactly subtle. The band has been on hiatus since 2013, but few can forget Karen's onstage attire, which was often daring, dramatic, and androgynous in style. Similarly, her vocals could be big and bold one moment, quiet and delicate the next. Listen to a song like "Maps," with its hard-rocking, sentimental theatrics, for proof of Freddie Mercury's influence.
While Queen combined various genres of music, hard rock—with its over-the-top instrumentation and high drama—was always at the heart of their style. Metallica, one of the biggest metal bands in the world, owes a lot to the mainstream path paved by Queen in the '70s and '80s. In addition to their many operatic stage shows (featuring lasers and multi-day setups), Metallica is known for their wild cover of Queen's 1974 metal-esque song "Stone Cold Crazy."
As drummer of Nirvana and guitarist of Foo Fighters, two of the biggest rock bands ever, Dave Grohl knows what it's like to perform for giant crowds. In his expert opinion, though, Freddie Mercury did it better than anyone else. "Every band should study Queen at Live Aid," he told NPR. "I consider [Mercury] the greatest front man of all time."
While you wait for Bohemian Rhapsody to hit theaters, stream the film's thrilling, just-released soundtrack below.