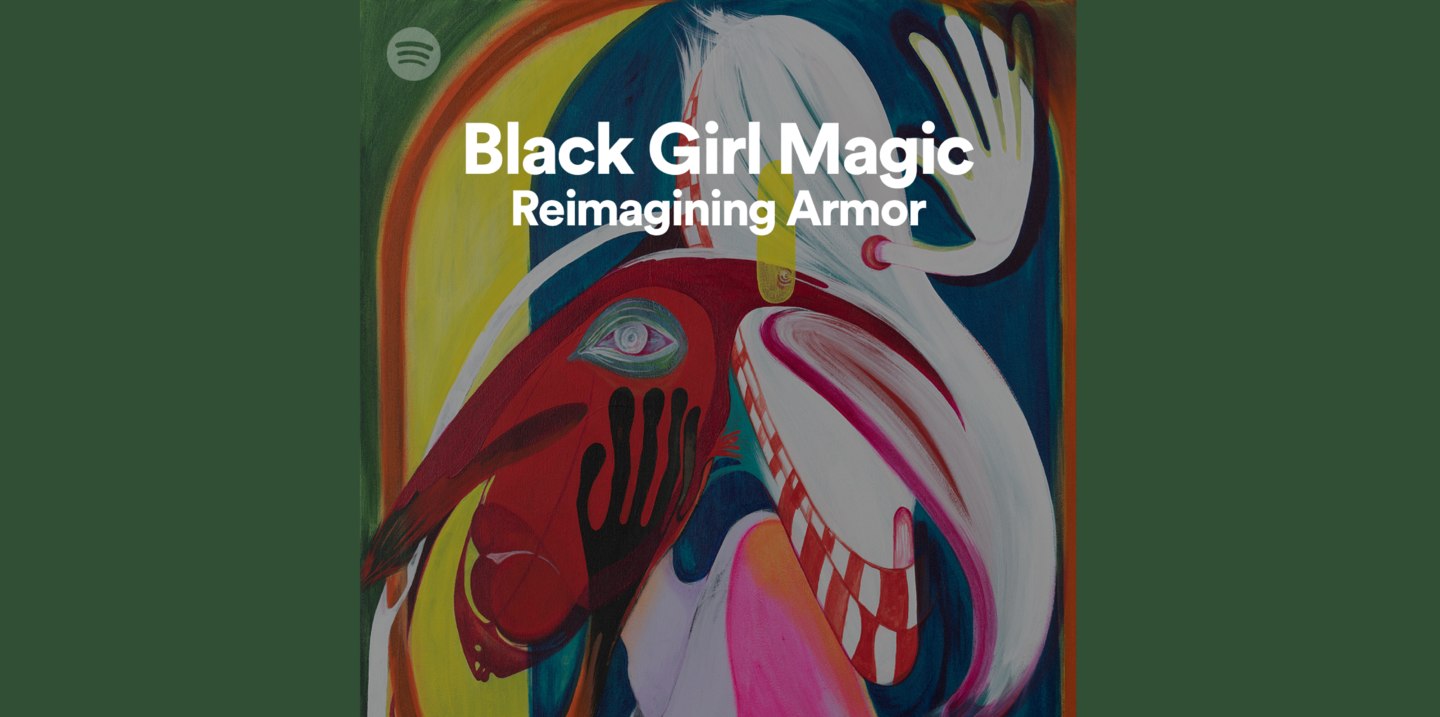 BLACK HISTORY IS HAPPENING NOW
Spotify Honors Three Black Female Artists with Curated Black Girl Magic Playlist
To celebrate the creativity and power of Black women, Spotify is turning over its Black Girl Magic playlist to three rising Black female creatives, Theresa Chromati, Sadé Clacken Joseph and Mahogany L. Browne. For the first time, the playlist will feature film, poetry, and original artwork, as well as songs selected by these artists, following their theme of "reimagining armor."
Black History Is Happening Now celebrates and amplifies the voices of Black creators beyond the month of February and throughout 2018. For the next installment of Black History Is Happening Now, Spotify has teamed up with three Black female creatives who are masters of storytelling through three different mediums – poetry, filmmaking and art. This team of Black women serve as cultural creators, artists and advocates for equity and equality. Through a collaborative process, the women developed pieces of art and content under themes of resilience, creativity, and reimagining the inner armor they carry daily as Black women. Mahogany L. Browne wrote an original audio poem, "Rainbow of Armor," Sadé Joseph created a short film, "Knight" and Theresa Chromati has created two paintings, "Ins and Outs of Armor I" and "Ins and Outs of Armor II," that are used as the playlist header and cover to Black Girl Magic.
With this iteration of the campaign, Spotify continues to intentionally use their platform to elevate underrepresented voices, with the purpose of spreading and celebrating the message that Black history is happening now.
"Thinking about what it means to be a black woman, to be the protector of so many and nothing for yourself. Myself and the other contributors thought about how armor could be beautiful too. How it served as a tool of self care; how it shines in war; how it carries our stories, resiliently. How it didn't have to be a thing of war but of love. How it didn't have to be a shredded and heavy thing but a beaming bright light. How it becomes an heirloom, from one black woman to her children." — Mahogany L. Browne
"The inspiration behind re-imagining armor came from the concept of how we, as black women, have to battle through so many obstacles throughout our day to day lives. Theresa, Mahogany and I wanted depict the resilience of black women, and how we use armor in different ways to protect and defend our minds, body, souls and family. Black women are natural bred warriors and armor symbolizes that strength that is built and woven so deeply into the pores of our melanated skin." — Sadé Clacken Joseph
With Black History is Happening Now, artists, creatives and organizations that are working to impart change for communities of color have the opportunity to tell stories and raise topics that are important to them through video, podcasts and music curation. Throughout the campaign, Spotify is paying tribute to the musicians who have paved the way and the artists who will define what's next.
Spotify will celebrate the refresh of the Black Girl Magic playlist and the three artists at a special salon dinner in Los Angeles with other Black women in creative fields to encourage collaboration between themselves.
The women of BLK @ Spotify, Spotify's employee resource group for black employees, worked closely with Spotify's creative team to identify and select the three collaborators.
About the Artists
Theresa Chromati is a Guyanese-American multimedia artist born in Baltimore, Maryland. Chromati explores black women as idealized figures that embrace empowering identifications of full figured women. Chromati emphasizes subtle gestures of intimacy within familial, romantic, and congenial relationships. As well as looking into a spectrum of experiences that exist for women within public and private spaces, exceeding the limitations traditionally imposed on them. Her work has most recently been displayed at Untitled Art Fair, Miami 2017 and featured on Art News, i-D, FADER, Cool Hunting, and Juxtapoz Magazine. She received her BFA from Pratt Institute and is currently based in Brooklyn.
Sadé Clacken Joseph is a Caribbean-American filmmaker, photographer and singer-songwriter from the Bronx, NY. Sadé is dedicated to shining a light on underrepresented groups, particularly people of color, women and members of the LGBTQIA community. From the Hebron Hills of Palestine, to the streets of South Central, the content she creates showcases diverse voices from all reaches of the globe. Through directing, writing, shooting, editing and producing, her portfolio extends across multiple forms of media. Whether it is music videos, documentaries, narrative films or promotional content, her vision, voice and sensitivity to socially conscious filmmaking shines brightly in her work.
Mahogany L. Browne was born in Oakland, California but has been based in Brooklyn, NY for over 15 years. A strong, Black woman, Browne is unapologetic in her work as a spoken word poet, author, and activist. She uses her personal experience with addiction, racism, sexism, and oppression to inspire her own brand of shameless, authentic work. Browne's spoken word performances create a platform through poetry for women and girls to feel empowered and heard. A Cave Canem fellow and Agnes Gund Fund Recipient, Browne has published several poetry collections and books, including Black Girl Magic, Kissing Caskets, Redbone and Dear Twitter: Love Letters Hashed Out Online. She has also released five LPs, including a live album, Sheroshima.