DATA DEEP DRIVE
Songs to Stream on the Ultimate U.S. Summer Road Trip
Americans have plenty to explore without packing their passports, which is why so many choose to spend the summer on the road. Whether it's driving down the coast, across the heartland, or zigzagging through national parks, a good soundtrack—or a homemade road trip playlist—can make a summer journey all the more memorable.
Music-loving road trippers across the U.S. did just that, creating over 2 million "road trip" playlists, featuring everything from sing-along tunes to classic American rock to today's top hits. And it seems that summer is truly the time to take these trips: U.S. streaming of road trip playlists increases more than 40% over the summer months. These road-trippers are connecting Spotify to their car through an AUX cable, Bluetooth connection, or vehicle dashboard, giving them access to endless tunes for their many miles along the interstate.  
To create the ultimate U.S. cross-country road trip, we looked at which songs appear most frequently on user-created road trip playlists, then mapped against the states where Spotify users are from. Our map below proves that Spotify listeners know it's all about the journey, not just the destination.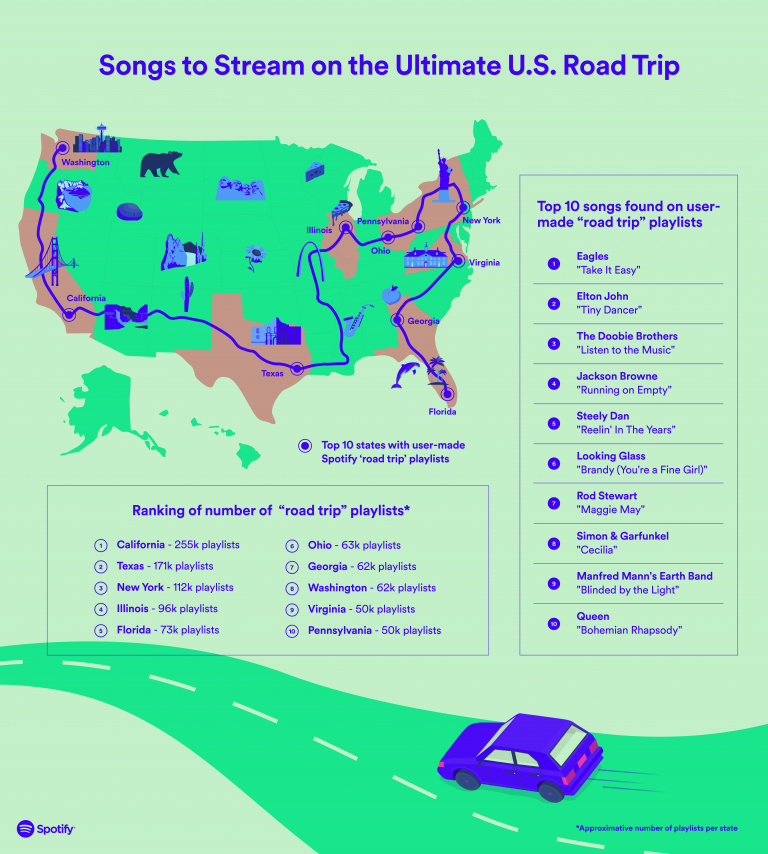 Hitting the road without time to waste? Don't worry, our very own Road Trip playlist has you covered. Or, if you're looking for a story to binge along the way, check out The Clearing.