INDUSTRY INSIGHTS
Spotify Returns to BBC Music Introducing Live 2019 As Official Partner
BBC Music Introducing Live—the three-day, all-access event to help you make it in the industry—is back. From October 31 to November 2, music professionals (established and aspiring) from around the world will come together at London's Tobacco Dock for a weekend of live performances, conversations, and advice to help launch their careers. 
Following a successful partnership in 2018, Spotify is returning to the festival to resume our pivotal role in having a relevant, cultural, and educational voice for the 15,000 up-and-coming artists, songwriters, producers, and creators in attendance.
We chatted with Bryan Johnson, Lead, Artist & Industry Partnerships at Spotify, at the start of the event to learn about the sessions Spotify will be overseeing at the festival.
You've been entrenched in the music industry from the very beginning of your career. How has your professional trajectory (and your experience as an artist) manifested itself in the work you're doing today at Spotify?
My work at Spotify naturally has the artist front and center. Experiences as both an artist and industry professional come in to play and really help me make the right informed and instinctive decisions that I believe will benefit both the artist community and Spotify. 
A key personal and professional mission has always been to ensure that Spotify and the wider industry are accessible and in reach. I'm proud to say that through partnerships such as BBC Music Introducing Live, we're able to make that happen.
BBC Music Introducing Live 2019 is underway. Why is Spotify partnering with BBC to sponsor this festival? What do you hope attendees will get out of the event?
As an official partner, we've curated plenty of relevant and interesting sessions for the attendees. We're showcasing our key UK podcasts, such as Who We Be TALKS_ , providing a platform for artists to discuss their podcasting journeys through the Why I Podcast panel, and shining a light on health and well-being through the Keeping It Together panel (which we're copresenting with Headspace).
We're also bringing our Best Advice educational series to the stage for the very first time, and providing best-in-class education and guidance on how artists and their teams can use Spotify to further their careers via the Spotify Artist Masterclass. In addition to all of this, we'll be bringing the Spotify x Soundtrap Pop-Up Studio to the UK for the very first time!
All in all, it's a well-rounded series of events that I believe will have wide appeal and be truly inspiring.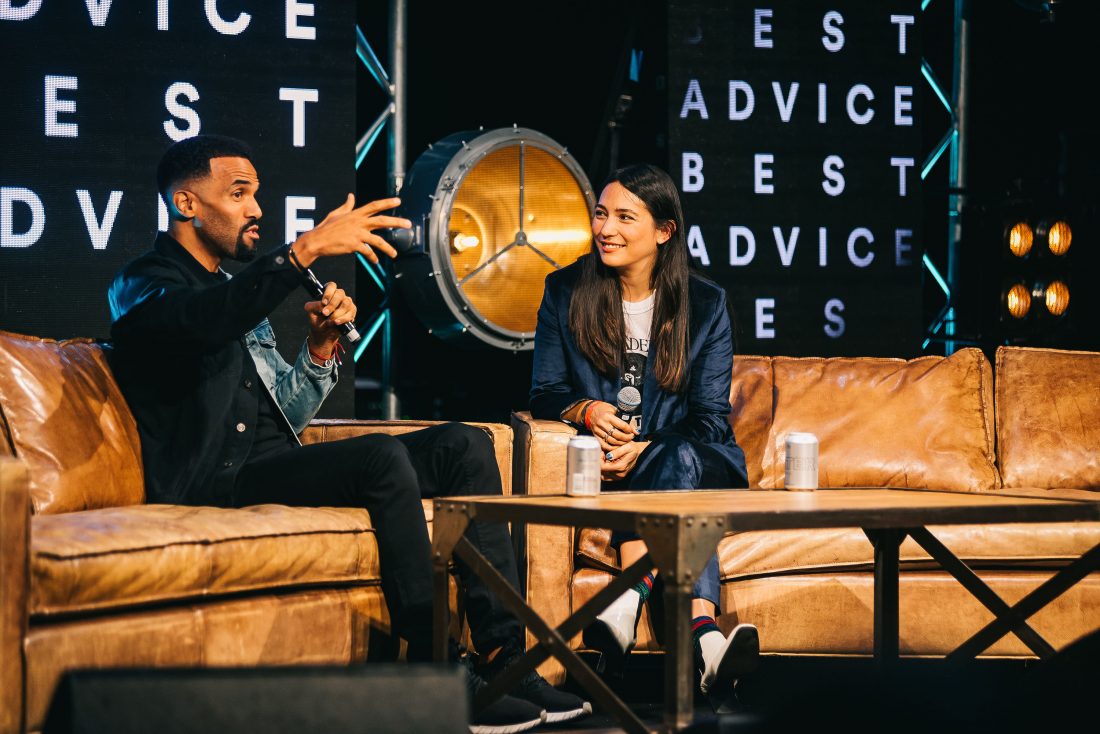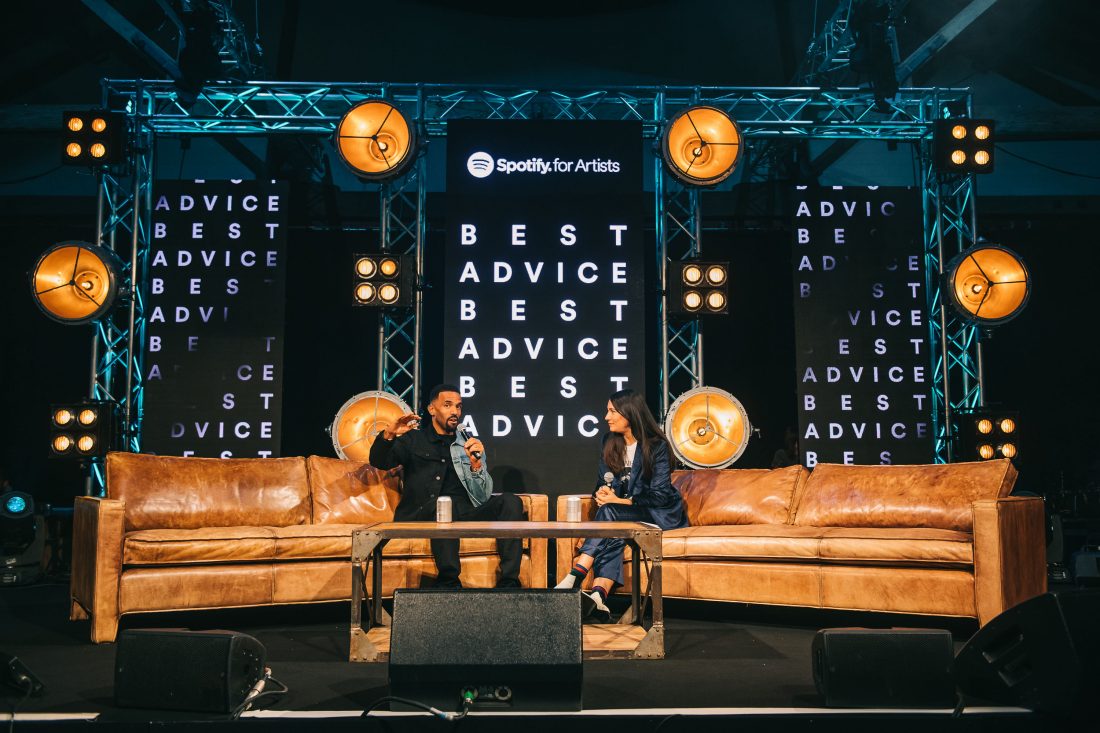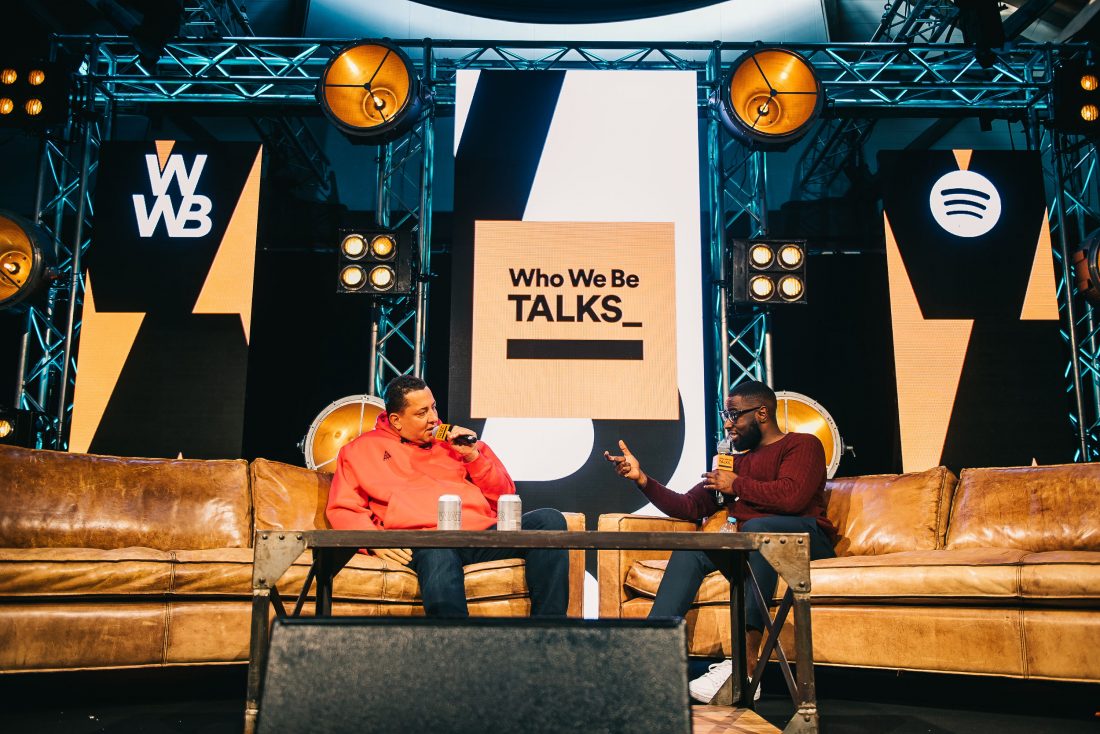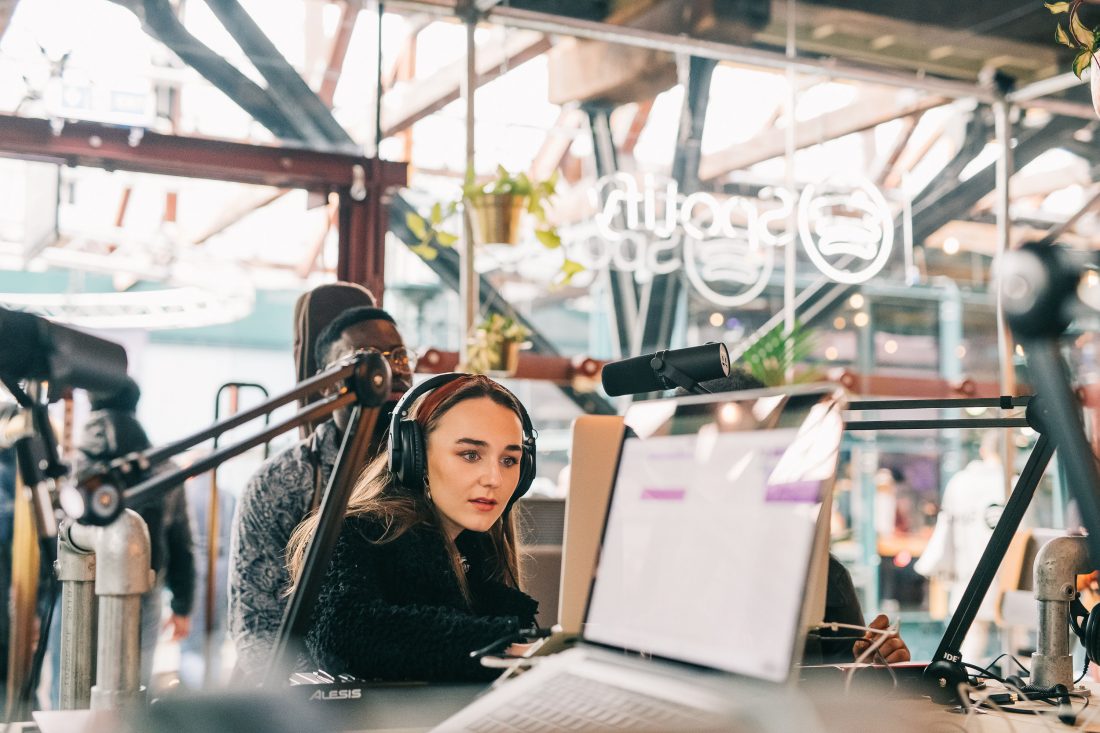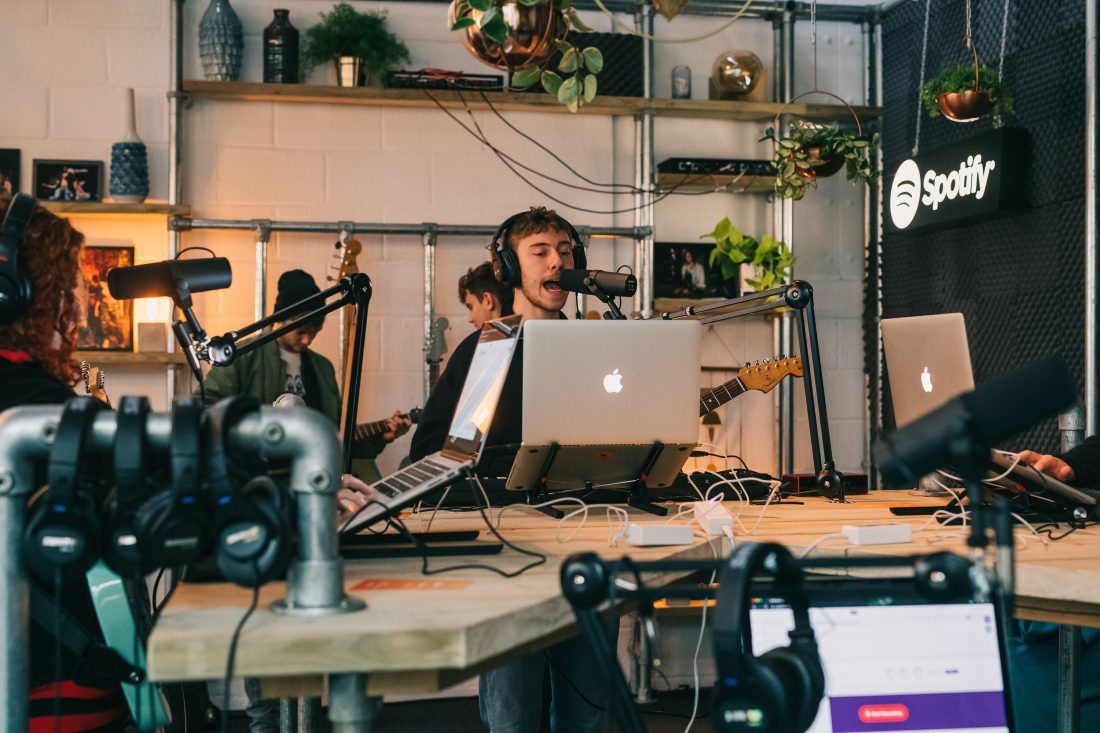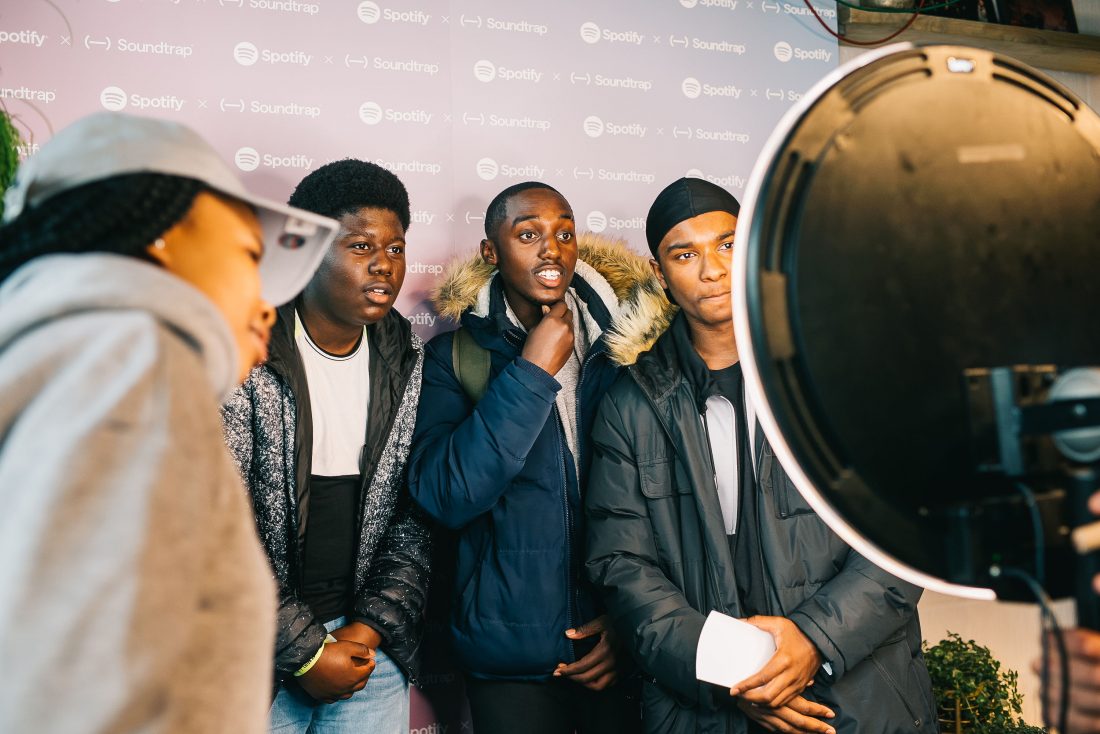 Photos from Spotify's Best Advice with Craig David, Who We Be TALKS_ with DJ Semtex and Keith Dube (3ShotsOfTequila), and the Spotify x Soundtrap Pop-Up Studio at BBC Music Introducing Live 2019
Tell us more about the Spotify Artist Masterclass workshop—what can artists expect to take away from the experience? Who will they be learning from?
The Spotify Artist Masterclass at BBC Music Introducing Live will be presented by Drew Lam from the UK & IE Music team. It's a fantastic opportunity for attendees to hear tips, tricks, and best practices on how they can build their listeners, followers, and generally raise their profile on Spotify. Drew will guide the audience through our various features, explain how our playlist ecosystem works, and how best to use the data, tools and resources that Spotify for Artists provides.
It's a popular session that we've been running across different countries for quite a few years now. In 2019 alone, we'll have reached 1,500 artists across our UK & IE Artist Masterclasses.
What excites you most about the UK & IE music scene right now?
It definitely feels like an exciting time to be making music and reaching an audience. Recently on Monday, October 28, Lewis Capaldi—an artist we've worked closely with since early 2017—saw his single hit number one in the U.S. Aitch is also riding high and is headlining our sold out Who We Be Live event in Manchester, 22nd November. Ireland in particular is bubbling up right now and producing some incredible music—we got to see many of the artists recently at our Artist Masterclass at Ireland Music Week.
As you mentioned, Spotify is also co-presenting a talk around musicians and mental health with Headspace that features artists Nina Nesbitt, Jordan Stephens and Dan Kessler. Why shine a spotlight on this topic at the festival?
As a touring and recording musician of 20+ years, I understand and have been witness to the ups and downs of life as an artist and the effects this can take on both mental and physical health. It's an important topic and one that was unfortunately brushed aside for many years. Fortunately, things have changed. We're pleased to be partnering with Headspace on this session, and very grateful to have Dan, Nina and Jordan talking through their experiences, relaying advice they've received, and looking at what more the music industry could be doing to better support its musicians.
Finally, you mentioned a live version of the Best Advice video series taking place at BBC Music Introducing Live this year. What would be your best advice for aspiring artists?
Stay true to your vision and make music that you're proud of. Everything and everyone else will come and go, but the music will be the thing that sticks around for years to come.
Take a listen to the UK's biggest hip-hop, afrobeats, and R&B playlist, Who We Be.