NEW GLOBAL HUB
Celebrate Six Months of RADAR Around the World
In March, we announced RADAR, our emerging-artist program spotlighting rising talent from around the globe—from Brazil to Japan to Germany to New Zealand and beyond. Now, six months and more than 2 billion streams later, we're excited to share the debut of our on-platform RADAR hub, home to extensive, original, and exclusive RADAR content.
The launch of this emerging-artist program has propelled the growth of RADAR artists around the world—and fans are listening. Take a look at how much they've streamed these rising artists: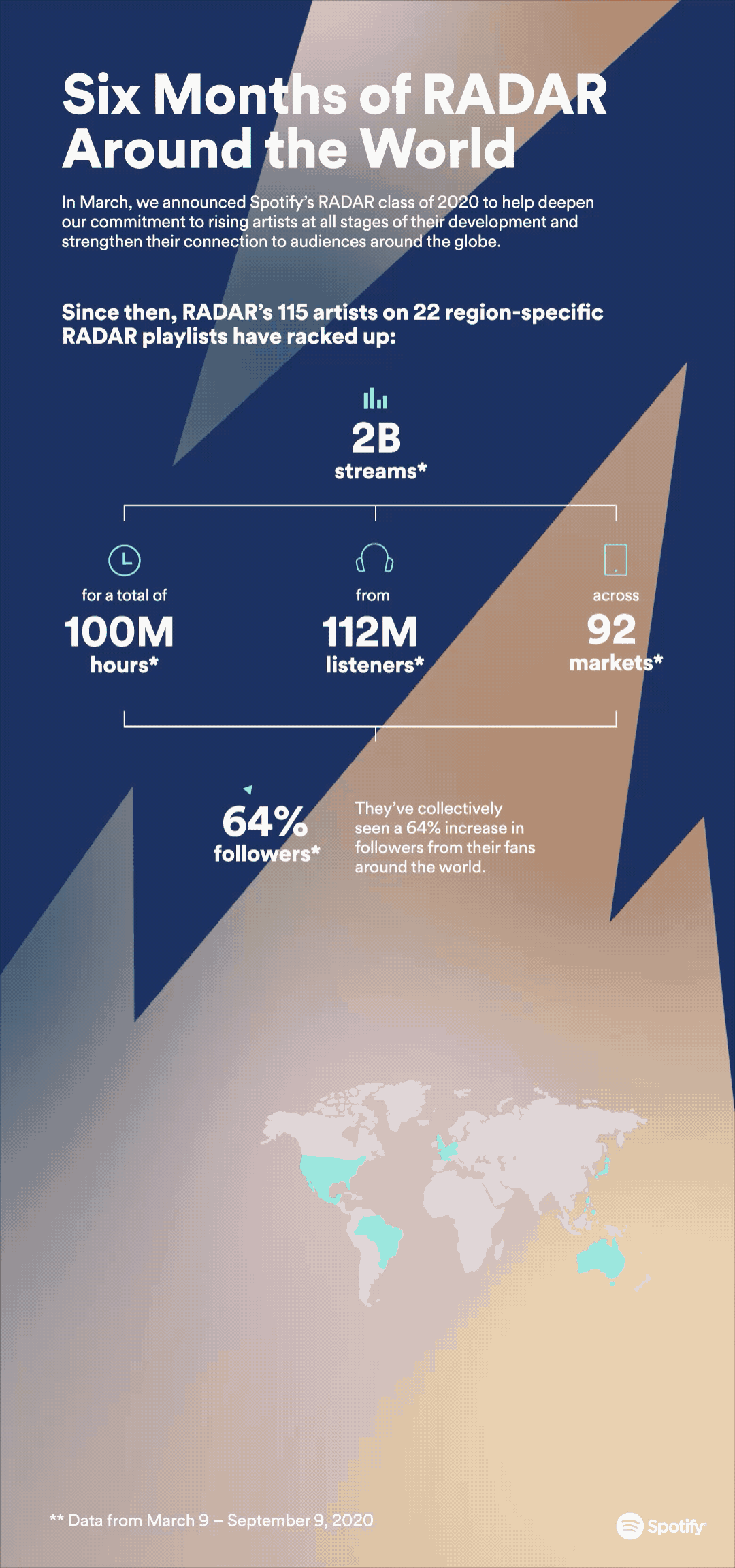 Starting today, listeners can hear their favorite RADAR artists in a whole new way. Head to the global RADAR hub to find the full artist lineup from the program, their newest releases, and a wide range of content, including 22 region- and genre-specific playlists (now featuring France, Canada, U.S. Country, and U.S. Latin) and original exclusive content. 
"The launch of the Global RADAR Hub is the perfect illustration of how our editorial teams collaborate to build up-and-coming artists from all over the world," says Ned Monahan, Spotify's Head of Global Hits.  "We hope this will be an easy new way for fans to discover artists from outside of their home countries and for artists to begin to develop a global fan base."
Simply can't get enough? Check out our new video spotlighting several RADAR artists who have seen exponential growth since March, including Alaina Castillo (U.S.), J.I The Prince of N.Y (U.S.), Young T and Bugsey (U.K.), August Wahh (PH), Lous and the Yakuza (FR), Silvana Estrada (MX), Agnes Nunes (BR), Zoe Wees (DE), Feng Suave (NL), Rina Sawayama (JP), and merci, mercy (AU). Though they hail from around the world and perform a variety of genres, you can find them all in one place on the RADAR hub.
*Update: As of May 2021, the RADAR program includes 306 Artists and 27 local playlists based in 25 markets, reaching all of Spotify's 178 live territories.