PRINCESS OF RAP
Meet Flo Milli, the Alabama Rapper Speaking to Gen Z—and Spotify's Fourth U.S. RADAR Artist
Stream rapper Flo Milli's mixtape and you'll hear simultaneously bubbly and assertive tracks covering the 21-year-old's take on money, men, self-empowerment, and jealousy. The Atlanta-based Alabama native, who grew up singing in her church choir, has been using her voice for some time. "It was mandatory for me to be in the choir," Flo told For the Record. "My mom used to sing all the time, so did my sister. I guess I was the only one who wanted to rap, though."
Today Flo was named Spotify's newest U.S. RADAR artist. Spotify created RADAR to help artists across all stages of their careers use the strength of our platform to deepen connections to their audiences. Now listeners can stream the 175 RADAR-affiliated emerging artists around the world in one palace on the RADAR Global Hub. 
As the latest RADAR artist, Flo will be featured in the RADAR playlist and create a Spotify Singles recording. She'll also receive promotional support for her upcoming releases, a full suite of marketing, and social promotion. Flo Milli's campaign will furthermore include a forthcoming mini-documentary to premiere later this year. Also out today is Flo's glamorous new single "Roaring 20s," which shows off the star power of the RADAR artist.
Flo's long-standing musical aspirations were fueled by R&B TV show 106 & Park and the work of Nicki Minaj. These propelled Flo to record her own tracks as a high schooler. Her first two, "Beef FloMix" and "In the Party," went viral among Gen Zers on social media and enabled Flo to release her first mixtape, Ho, why is you here? in 2020. It has now seen over 192 million streams on Spotify.
"Since the release of 'Beef FloMix' on Spotify in 2019, we've watched Flo Milli's exponential growth with excitement," says Ned Monahan, Spotify's Head of Global Hits. "Her magnetism is indisputable, and she's one of the most exciting new rappers in the game right now. We are beyond thrilled to partner with Flo as our next RADAR artist and can't wait to see what's next."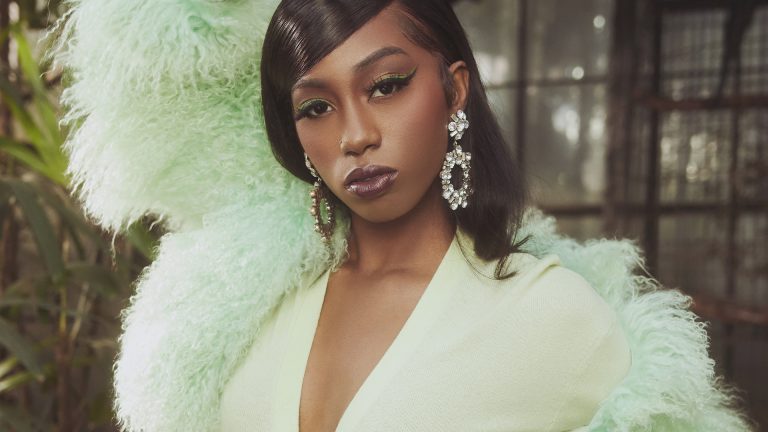 For the Record chatted with Flo about her inspirations, accomplishments, and recommendations to young women looking to do what they love. 
Both your music and fashion have been compared to that of '90s rappers. What about that decade excites or inspires you?
I think it's interesting. As I've been going in my career, I've started to discover how times were back then. I didn't, of course, grow up around that time. But I see clips all the time of the '90s and how the music industry was just different. And I do admire it because I think it's cool to see how everything has changed and how social media plays a big part into today's music industry. But I wouldn't have minded coming up in that era either. 
In the past two years, female artists have sung shamelessly about money or wealth in their songs, examples including Cardi B, Arianna Grande, and you. Why do you think it's important to bring this topic into conversation?
I believe that whatever you put out into the universe, that's what you're going to get. So if you're speaking about these things, you're conjuring them up. Who doesn't want to live a lavish lifestyle, especially when you come from nothing? 
Those things are power, and I think it's important to make it a habit to speak the things that we want and let everybody know, especially young girls, that they can have those things. You can reach your goals and you can be great. You can get anything you want if you put your mind to it. 
Tell us a little bit about your creative process. 
It took me a long time to really learn my best process for making music. It was hard trying to find my niche. So I like to have fun. I just need to be in a space where I'm alone and I've got a variety of beats. I like to be myself and free and have my own space. That's how I create. 
Your single "Beef FloMix" had success on social media before hitting the number two spot on Spotify's Viral 50 in April 2019. What changes did you observe after being featured on the playlist?
I think my streams went up even more, of course. I got more fans and just a lot of added traction towards my music and videos, everything. So I think it helped a lot. It's dope to be put on those playlists, because a lot of like youth of course have Spotify and they listen on the app, and those playlists influence them. 
What would you say to aspiring young female rappers who aren't sure where to begin?
I would encourage them to always follow what they feel strongly about. Don't let anybody come in between your opinions about your craft and what you create and build. Stick to what you think is cool, because only you know what's good. Surround yourself with people who have your best interests and never give up.
It's a unique time for everyone. How have you stayed positive in spite of everything the year has thrown at us?
I just started to learn how food can affect you and your mood. I've also been going to sleep saying positive affirmations. There's hella videos where you could just play them while you're going to sleep. And like all those affirmations go into your subconscious mind. And before you know it, you're going to have all these affirmations in your head. I would just encourage everybody to do that with everything going on in the world. 
What are you looking forward to as Spotify's current U.S. RADAR artist?
I'm looking forward to just my hard work being highlighted. My goal is to get the messages of the songs across in the best way and to keep the ball rolling the entire year. 
Stream Flo Milli's mixtape, Ho, why is you here? below.