HITS MADE HERE
Today's Top Hits Is the World's Destination for the Very Best in Music
Ed Sheeran. Ariana Grande. Kali Uchis. There's one place fans go to find a mix of music from their favorite groundbreaking artists—and that's Today's Top Hits.
Spotify's Today's Top Hits (TTH) is the world's biggest playlist. With over 28 million followers, it's also the top destination for emerging and established artists across all genres to reach millions of fans and provide them with chart-topping, show-stopping songs each day. And TTH influences more than culture—it has helped kickstart the careers of many emerging artists—like The Kid Laroi, Tate McRae, and Conan Gray—and supported music favorites like Billie Eilish, SZA, and Juice WRLD. 
Today's Top Hits is the leading global destination for popular music, supporting artists across all genres and bringing their music to a wider, global audience. As Spotify's largest, most international playlist, we identified the opportunity to position Today's Top Hits as our global music brand, complete with a distinct visual aesthetic and voice. The visual rebrand consists of a fresh, bold, colorful design, including a unique lockup with the TTH acronym, as well as a new brand tagline, "Hits Made Here." The campaign, which centers around a 60-second video, "The Hit Station," celebrates the breadth of artists and tracks that are defining culture today, including hitmakers like Billie Eilish, Travis Scott, Dua Lipa, Bad Bunny, and BLACKPINK.
"Today's Top Hits is a true reflection of music culture today, as defined by the fans," said Ned Monahan, Spotify's Head of Global Hits. "So many factors go into the process of making a song a hit, and TTH has become a key catalyst and proving ground for a song reaching its full hit potential. Whether you're emerging or established, no matter the genre—TTH gives artists the opportunity to connect with millions of fans across the globe, and fans a destination to support their favorite artist."
Check out some notable TTH moments in this new style: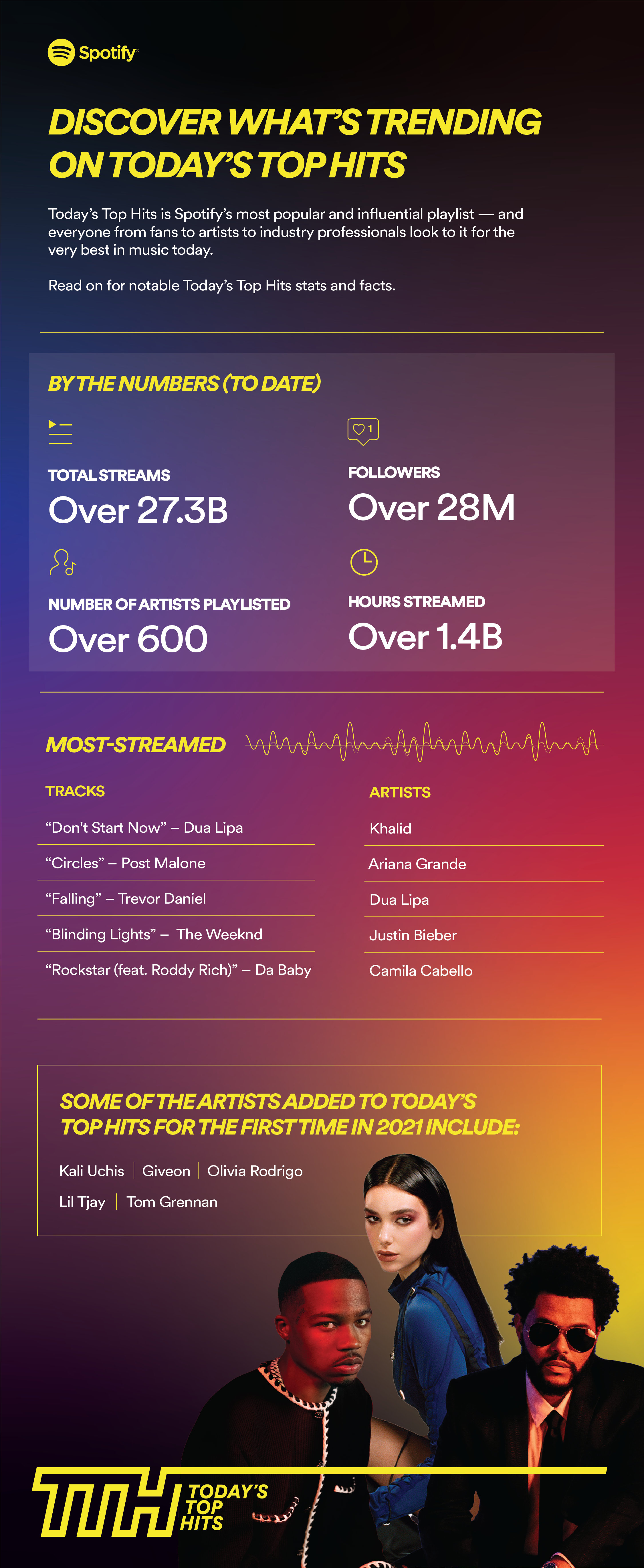 Today's Top Hits has become so influential due to its diverse curation process, which supports various genres and artists beyond the traditional confines of how popular music has been defined in the past. It showcases the latest top hits driven by fans, combined with specially curated picks from editors who analyze music culture, data, and trends. Artists, industry professionals, and fans alike look to Today's Top Hits as representative of what today's music is—and what fans are listening to. 
Get to know the world's top tracks. Stream Today's Top Hits for the very best in music today.