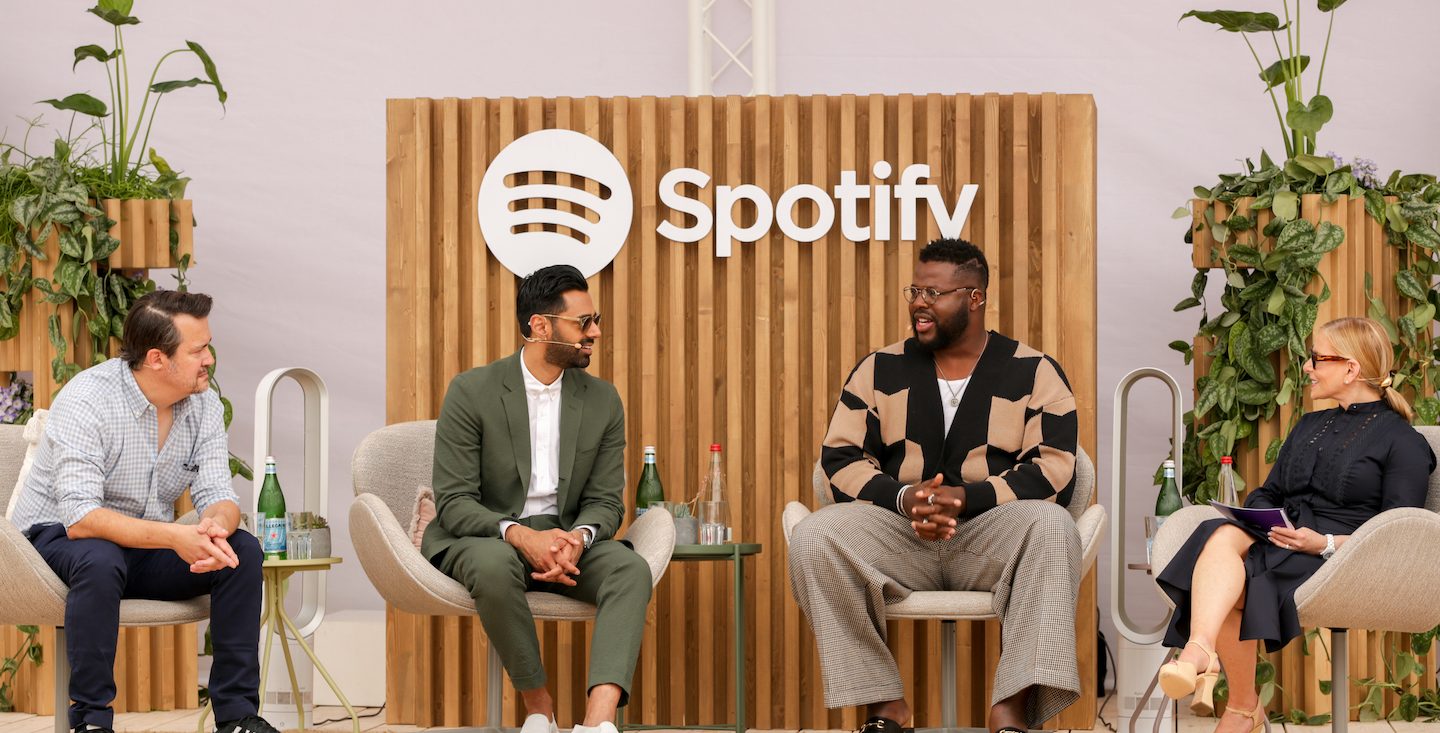 MOMENT IN THE SUN
All Eyes on Cannes Lions: Spotify Closes Out an Action-Packed Week on the Croisette
Photo credit: David M. Benett/Dave Benett/Getty Images
From engaging discussions during the day to exciting musical performances at night, Spotify Advertising brought the heat to the Croisette. Take our word for it: Our trip back to France was a hit. And before we bid au revoir, we want to relive all the festivities.
Tune in to Gen Z's listening habits
On Monday, Spotify's Global Head of Public Affairs, Dustee Jenkins, moderated the panel "Who is Gen Z Really?" with Teenager Therapy cohosts Kayla Suarez and Thomas Pham and JUV Consulting Founder and CEO Ziad Ahmed. Collectively, they unpacked findings from Spotify's annual Culture Next report and focused on how Gen Z is listening and creating on Spotify as they navigate early adulthood—and what this means for brands trying to reach them. Here are some highlights from the panel.
"With Gen Z, we want brands to be authentic and honest about their values and their fallbacks too. Gen Z can see if they're trying too hard or being fake. And that doesn't mean perfect. We aren't perfect either, but you have to tell the truth. It goes a long way with building a foundation of trust and honesty." – Kayla Suarez
"Brands talk for Gen Z. . . . I think the best way to get young people onboard is to include them in the conversation and let them have influence." – Thomas Pham
"Mental health being top genre for Gen Z—it doesn't blow my mind. It is surprising to me to meet a Gen Zer who self-identifies as happy. Especially coming out of the pandemic. Am I happy? Am I fulfilled? A lot of people came out of this with really mixed conclusions, and we had nowhere to turn for the next step . . . platforms like Spotify help us feel heard, seen, and inspired." – Ziad Ahmed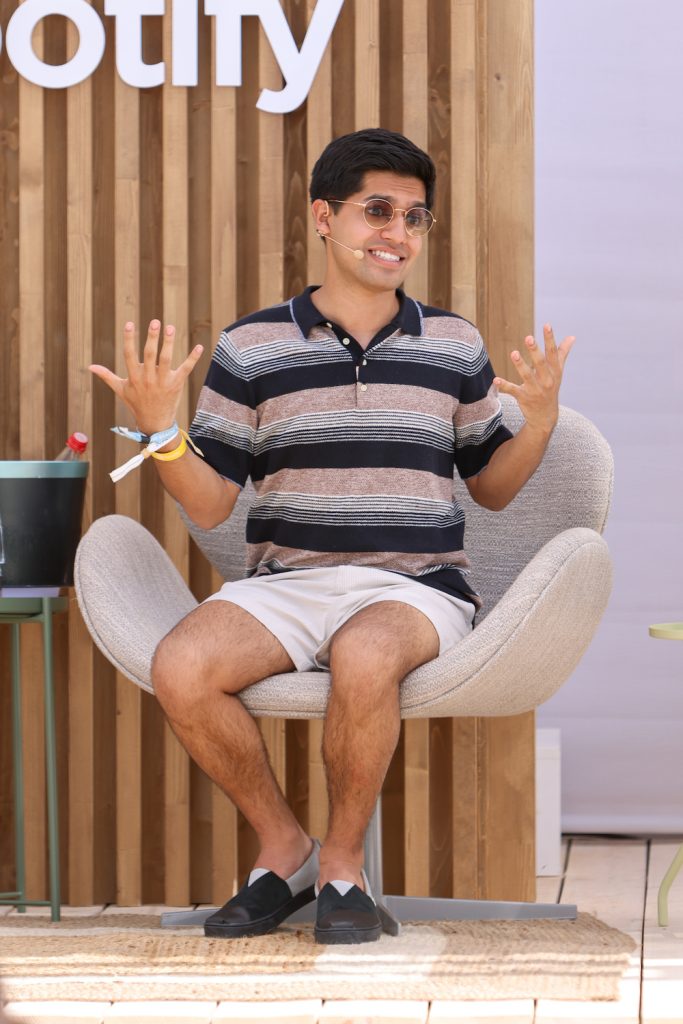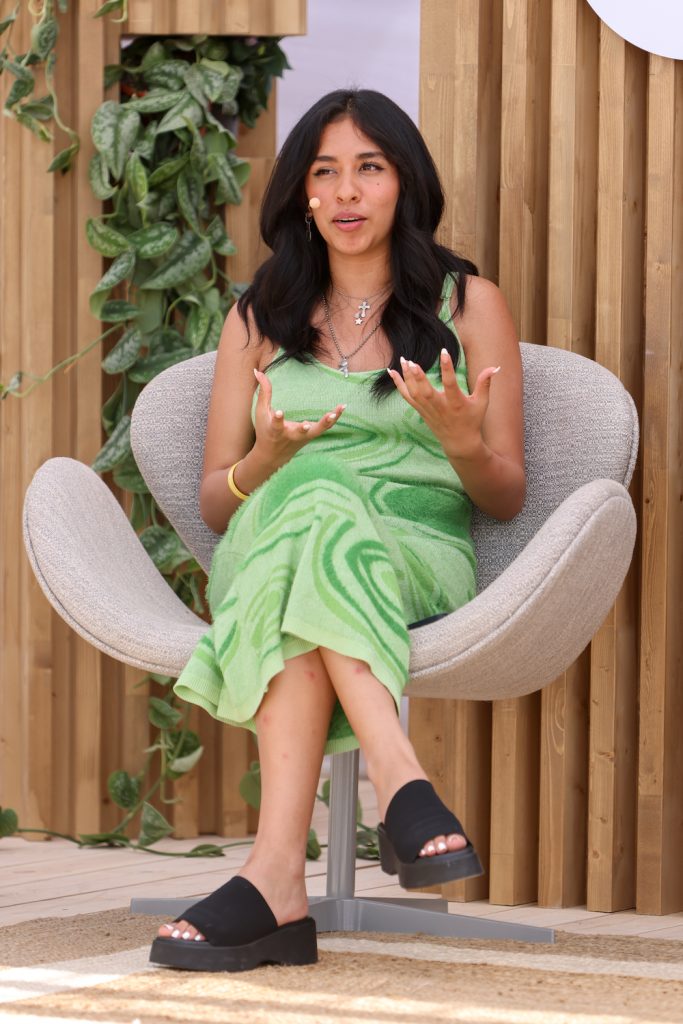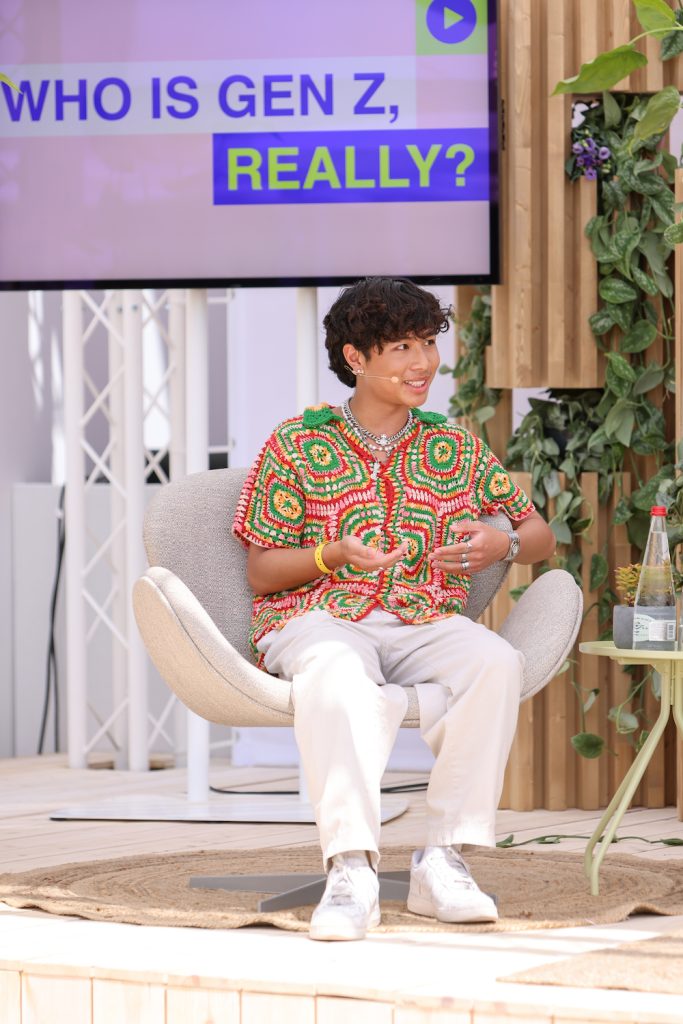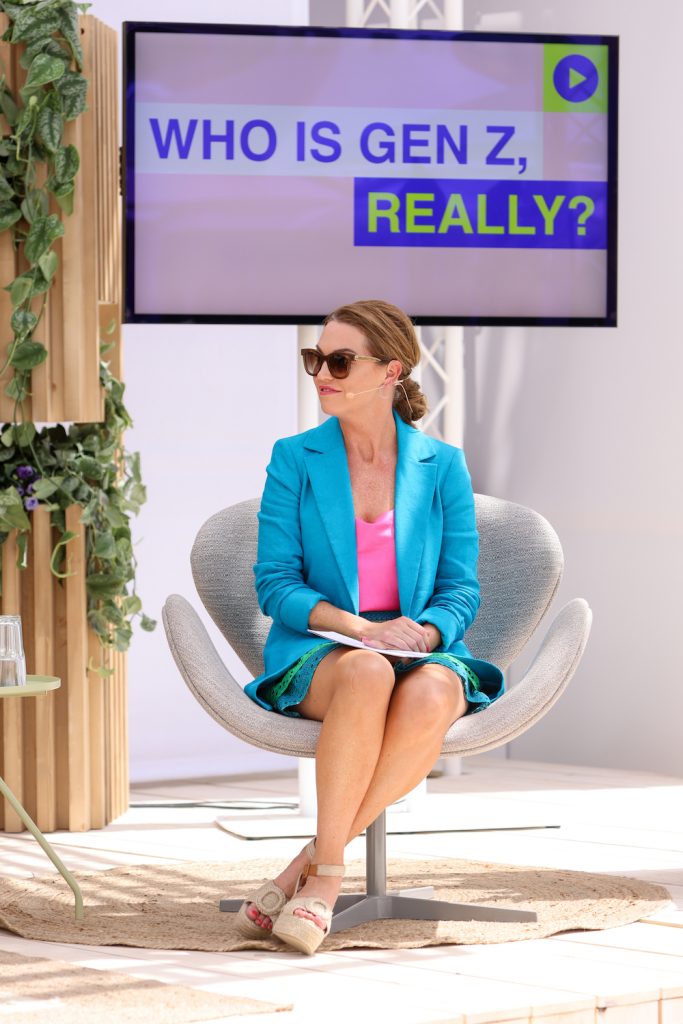 Maisie Williams and the power of authenticity
Also on Monday, Dustee sat down at Cannes' Female Quotient Lounge with Game of Thrones actress, activist, and producer Maisie Williams to talk authenticity, female empowerment, and her podcast, Frank Film Club with Maisie Williams. "Women in our industry always second-guess themselves, but you have to fight that and band together," Maisie explained during the talk. "There is a place for all women, and if you have an ambition or goal of who you want to be or what you want to do, you have to be relentless in getting yourself there." The actress also shared the artists she's currently listening to on repeat: Kate Bush and Grace Ives.
Bringing diversity front and center
On Tuesday, Jemele Hill, sports journalist, founder of the Unbothered Network on Spotify, and host of the podcast Jemele Hill is Unbothered, joined Cofounder and Vice President of the Society of Voice Arts and Sciences Joan Baker for "Representation Behind the Mic." Moderated by Spotify Vice President and Global Head of Marketing Taj Alavi, the group discussed the importance of diversity and ongoing efforts to bolster inclusivity. Here are some of the insights.
"I think outside voices are driving culture. I think when you think of the history of this country, culture has always been driven by marginalized communities." – Jemele Hill 
"There are all kinds of voices of color; not everyone has to sound stereotypical to be a Black voice." – Joan Baker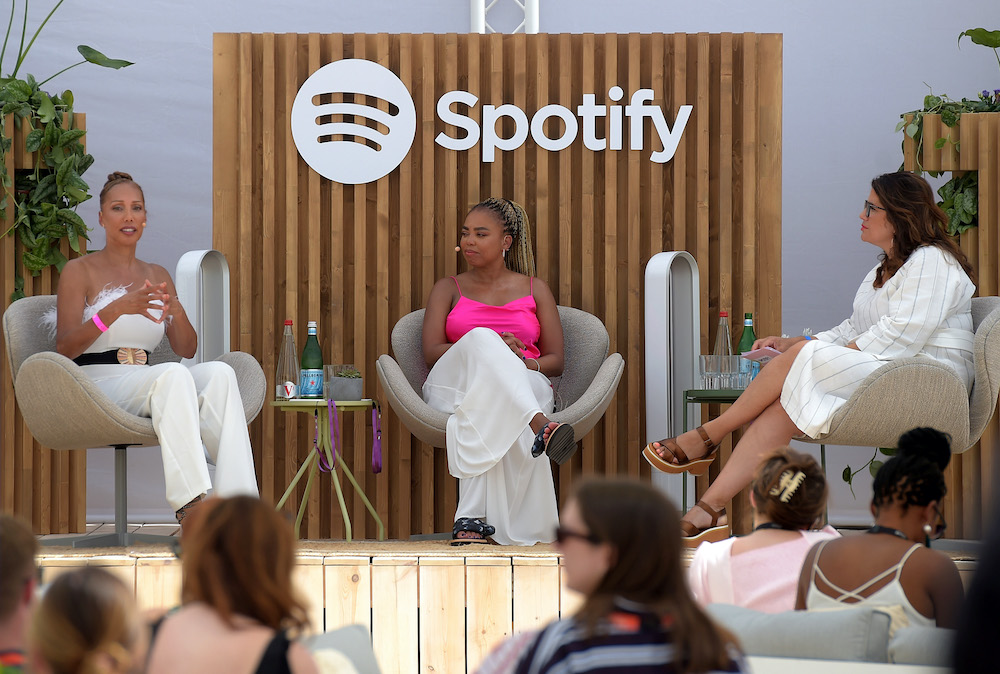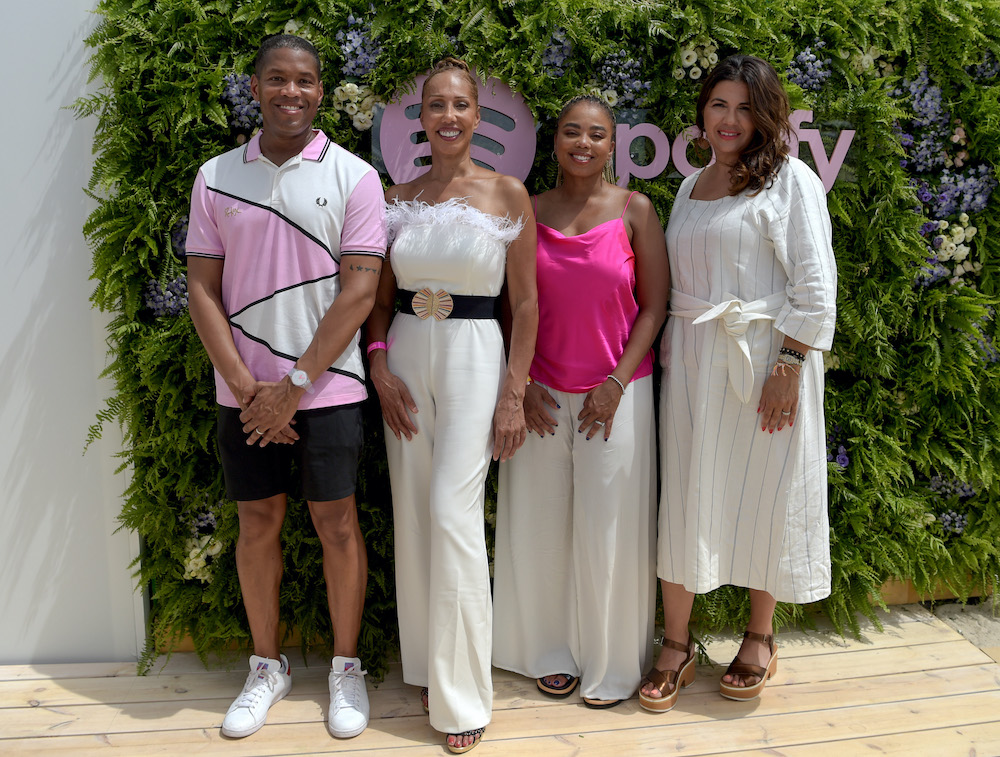 Gotham City comes to Cannes
Batman Unburied cemented its place in history as the largest Spotify Original fiction podcast global simultaneous launch of all time. So at Cannes, we helped guests "Dive Into the Batman Audio Universe."
Spotify Chief Content Officer & Advertising Business Officer Dawn Ostroff hosted a discussion featuring key cast members and creative executives of the series: Winston Duke, voice of Batman/Bruce Wayne; Hasan Minhaj, voice of the Riddler; and Peter Girardi, EVP of Alternative Programming for Warner Bros. Animation. The conversation explored why audio was the perfect platform to tell this story, how acting for an audio series differs from film or TV, and the technology they utilized to give listeners a thrilling experience. 
And fans of Batman Unburied got an extra surprise at the event: Spotify is bringing our fearless Caped Crusader back for season two, where more adventures await. 
"With audio and podcast storytelling, particularly in this format, the user just needs to use their imagination. You have to imagine what you're seeing in your mind, and it's an incredible experience, calling upon each person to be more engaged." – Dawn Ostroff
"We [Warner Bros.] do so many different kinds of projects with the DC IP, and every medium allows you to tell a different kind of story. But one horizon that we've never been able to work in is audio-only. And the scale of the stories you can tell, and the different kinds of stories—it's very exciting for us and brings a new fan base and a new appreciation of the IP that we may have not reached [previously]." – Peter Girardi
"While we were recording Batman Unburied, it really felt like we were doing TV storytelling and a video game at the same time; it felt like a live RPG."- Hasan Minaj
"It's always been joked that Bruce Wayne's superpower has been white privilege, and I had to go through this period of really imagining and setting myself free to find a way in. This man who completely distrusts the justice system so much that he decides to take it into his own hands—this feels a lot more than the diasporic Black experience that I knew." – Winston Duke 
And while these panels spiced up the day, Spotify kept the heat on the beach at night with our Spotify Beach parties. Over the course of the week, a star-studded guestlist saw performances by Marcus Mumford, DJ Pee .Wee (Anderson .Paak's alter ego), Kendrick Lamar, Dua Lipa, KAYTRANADA, Post Malone, and The Black Keys.
Check out the photos below to explore the evenings on Spotify Beach.