GET UP AND DANCE
Choreographer Bailey Sok Brings Her K-Pop-Inspired Dance Routines to Roblox's Spotify Island
Back in May, we debuted Spotify Island on Roblox to connect fans and artists in an otherworldly digital destination. Then came K-Park—which celebrates the K-Pop genre, the launch, and the culture it inspires as the first of several themed islands unveiled on Roblox. Now, we're bringing professional K-Pop choreographer Bailey Sok into the mix. 
We've partnered with Bailey to create her official Roblox avatar, and from September 8 through September 19, fans globally will be able to visit K-Park and join her for a virtual dance session. In addition to dancing alongside Bailey herself, players will also be able to engage with her avatar.
Bailey's dance career took off at a young age when multiple videos of hers on YouTube went viral. Since then, she's been dancing professionally, teaching young dancers, and choreographing routines for K-Pop groups like Red Velvet and SHINee. 
In celebration of Bailey's arrival to K-Park, we invited some of her biggest fans to Spotify's downtown LA campus where they had the opportunity to connect with Bailey in person and learn a dance routine fit for a K-Pop star. 
The class was part of a K-Park-themed event that captured the magic of this new island almost precisely as it blurred the lines of reality and the metaverse. Guests mingled on K-Park cafe's checkerboard flooring and admired the Korean Hangul signs, bright crystals, and larger-than-life foliage that seemed to be plucked directly from the digital experience. They also enjoyed traditional Korean foods while taking a virtual trip to Spotify Island on a Roblox gaming station. Then it was time to get in a formation with Bailey, who taught guests a routine set to SUNMI's "Gashina."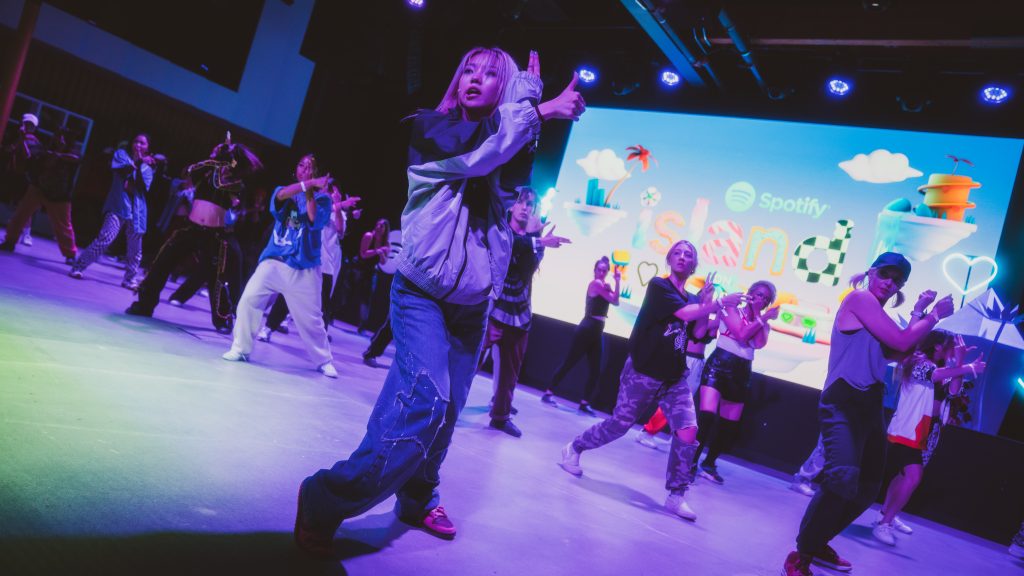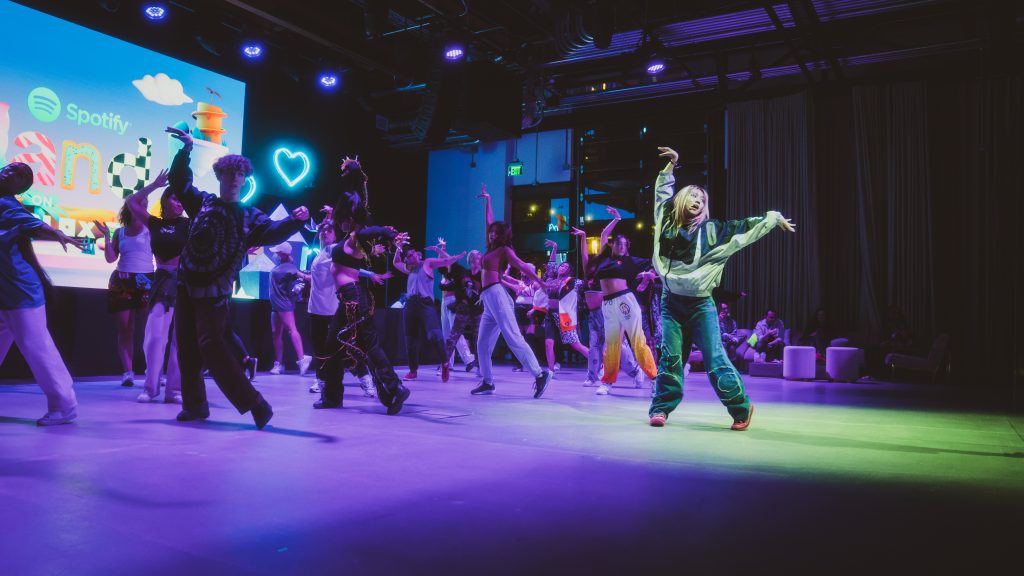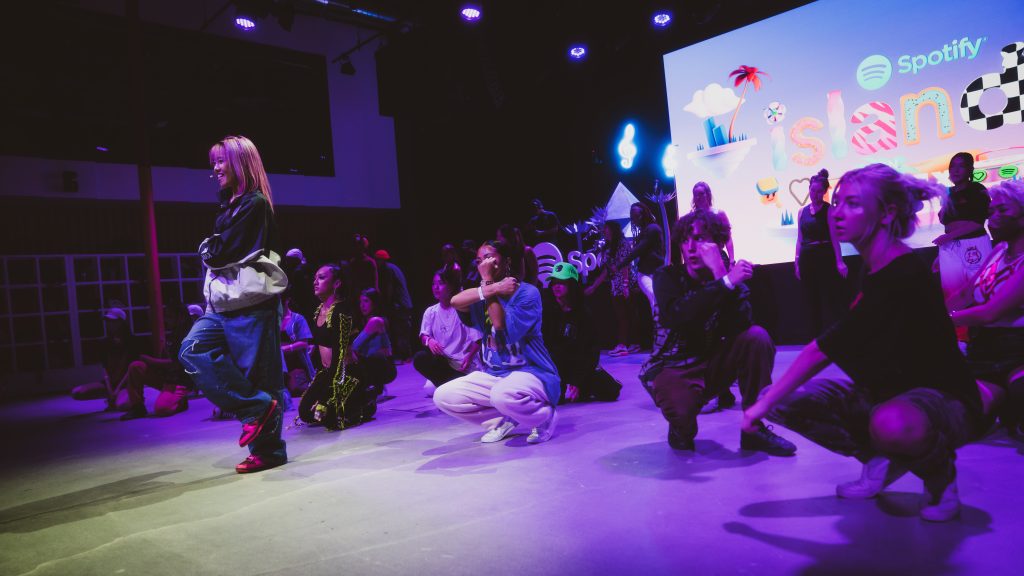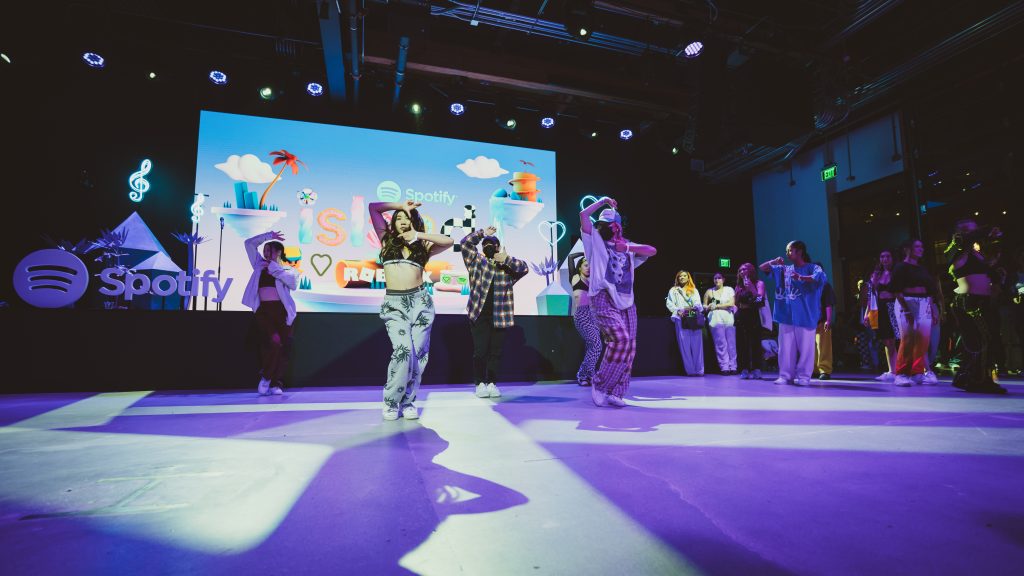 Afterward, For the Record took a break with Bailey to learn more about her career and the routines that have K-Pop fans moving all over the world. 
How did you begin dancing, and what was your journey to K-Pop?
I started dancing when I was about two-and-a-half years old. I'm the youngest of three girls, and my sisters used to dance when they were younger. So I was always surrounded by it and I naturally gravitated toward it. I started in jazz, ballet, tap—all of those styles—and then when I was about 10 years old, I transitioned into more hip-hop styles. Then I started working in the industry. 
I started choreographing for K-Pop when I was around 15 years old. It was such a crazy experience for me because I didn't really have experience choreographing [music] groups. But it was really cool to feel that connection right away of being Korean and doing this for Korean music. 
Why do you think K-Pop lends itself so well to choreography and, more recently, to viral dances? 
For me, K-Pop choreography gives the viewer a visual representation of the song, both lyrically and instrumentally. While interpretation is always up to the viewer, the official choreography adds another artistic element to the song, making it even more memorable. Every song and artist tells a different story, so I try to tap into different perspectives and creative ideas as often as I can. 
How do you approach choreography? 
My approach to choreography definitely changes depending on what I'm choreographing for. It's always a learning experience for me. For K-Pop specifically, I am learning to remove myself from it and try to do what I can to support the artist in whatever they're trying to do—whatever message they're trying to put out to the world. So it's different every time depending on the song and the vibe and even where I'm at mentally and creatively. I'm constantly trying different things and trying to use a format that feels right every time. And as long as it's authentic, it feels right.
Which piece of K-Pop choreography that you've worked on are you most proud of and why?
I think I'm most proud of "Psycho" by Red Velvet because it was the first one I ever choreographed, and that was my introduction to the entire K-Pop industry. I was 15 at the time, and I was really in the moment. I choreographed it in my bedroom and I was trying to trust myself throughout the whole process creatively. Luckily, I have really, really great mentors and really great friends who supported me through it.
What has been the best part about choreographing for K-Pop?
One of my favorite parts of choreographing for K-Pop is watching everyone's dance covers with their interpretation of a specific dance routine. Whether it's an entire dance concept video or simply dancing with friends, it's so surreal to watch choreography I've made in my bedroom flow through so many people.
What type of music inspires movement for you?
I think my movements are always inspired by what I'm going through at that time. Sometimes something really exciting happens in life, and I just need to get something out, so it'll be super upbeat. Sometimes I'm feeling really confident, and I'm just in a certain bag. And it ranges from '90s hip-hop to really chill, slow music. It can be like jazz or lo-fi or anything like that. So it's definitely a very wide range of music, especially because I grew up with all styles and always surrounded by music. It's kind of in me and I just love music, so I appreciate all of it.
What do you love most about your Korean heritage?
I'm so proud to be Korean and so proud to be an Asian American. Anything that I experience that is in step with my culture, I get so hyped and so excited about. My family and I will get together and binge-watch any K-drama. We went crazy on Itaewon Class and I've seen Parasite so many times, and I'm currently watching Pachinko. [I also love] anything K-beauty. I'm very proud and [Korean culture] is such a big part of who I am—I love to embrace it.
Looking for more of the hottest pop sounds coming out of Korea? Start streaming K-Pop ON! (온) below.