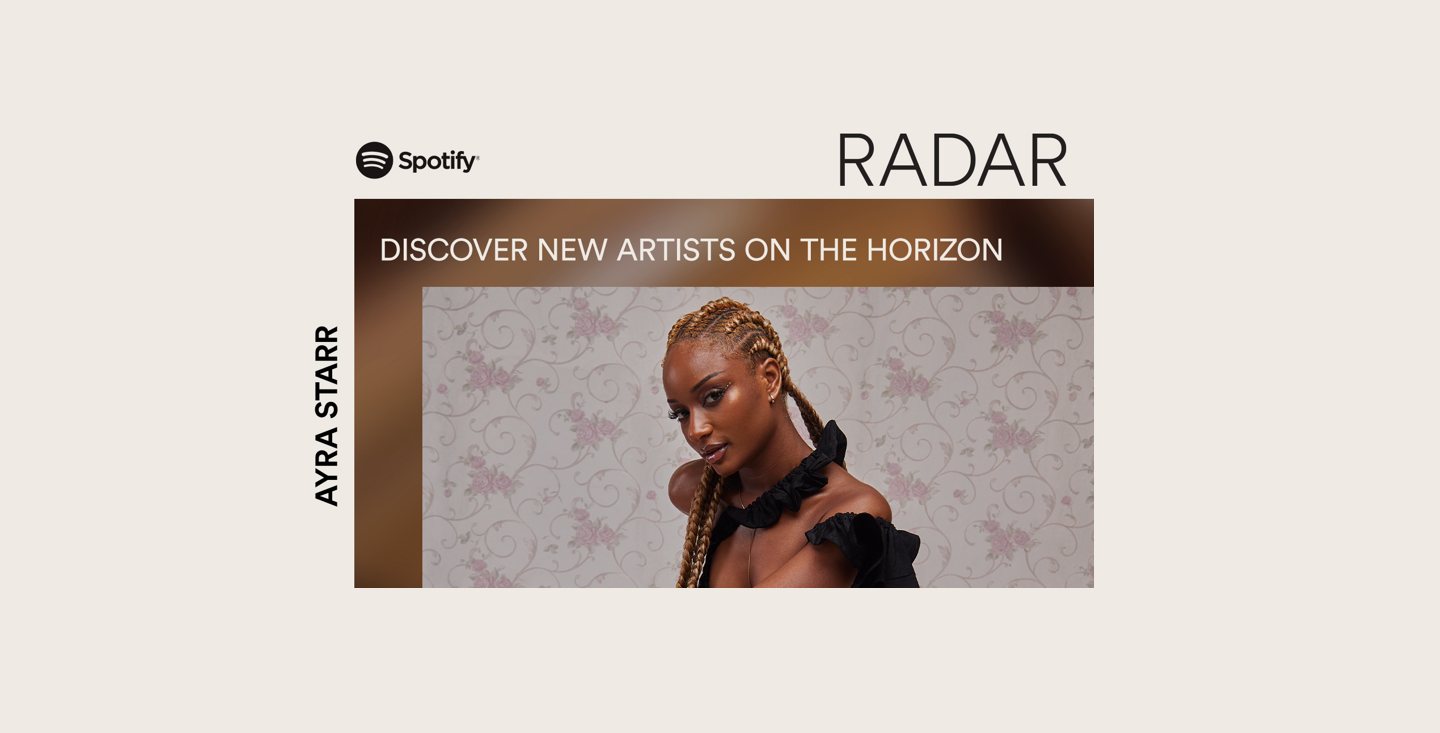 CELESTIAL SOUL
RADAR Global Artist Ayra Starr Is Ready To Bring Her Fierce Yet Soothing Brand of Afrosoul to the World
Since its launch in 2020, RADAR has served as Spotify's program to showcase emerging artists from all around the world, supporting them and taking their talents to the global musical stage. Now RADAR Global has returned with our latest featured artist, Afrosoul sensation Ayra Starr.
Born in Benin, in West Africa, Ayra was raised between its beach city, Cotonou, and the cultural hub of Lagos, Nigeria. The self-proclaimed celestial being says it's this mix of cultures that inspires her global approach to music, art, and life. It also helped that she grew up with a music-loving family and began cowriting music with her brother Dami at the age of 10.
Ayra announced herself to the world in 2021 with her self-titled five-track EP, Ayra Starr, which featured the breakout single "Away." Soon after, her critically acclaimed debut studio album 19 & Dangerous was released. Its lead single, "Bloody Samaritan," has been streamed more than 30 million times on Spotify to date. 
But the success didn't stop there. This year, the young artist has reached international audiences by collaborating with Skip Marley on his single "Jane," as well as Manny Norté, Stalk Ashley, and Tiana Major9 on "Worth My While."
And for all her hard work, Ayra is now enjoying the recognition that follows: She's the second-most-nominated artist at the Headies Awards, Africa's premier music awards, and has a 2022 BET Award nomination for Best New International Act under her belt.
For the Record sat down with Ayra to talk about music, her family, and more.
What are you looking forward to most as Spotify's latest RADAR artist?
I am really looking forward to being discovered by new people who will find different meanings in my songs. You know, different people need different things at different times of their life, and that's what music does—it helps fans connect on a deeper level. As an artist, it's such a surreal feeling to know that there are people out there discovering my music and relating to my lyrics. It's so beautiful. With RADAR, I am excited for my music to reach new audiences and to be shared on a global platform.
For new fans, how would you describe your sound?
I'd describe it as soothing but fierce yet soulful.
Who have been some of your biggest musical inspirations?
Rihanna, Lijadu Sisters, 2Baba, Nicki Minaj, and a host of others.
You have a pretty musically inclined family. How have they influenced your career?
Oh, in almost every aspect. Having a family with a musical background gave me the confidence to soar and discover my love for the art of music. They encouraged me to pursue my dreams and helped me to navigate my career early on.
Growing up between Benin and Nigeria must have brought with it some vastly different experiences from a cultural and personal standpoint. How has that played a role in your music?
There's nothing better than having a broad perspective when making music. Coming from a family that's deeply rooted in different cultures gave me the opportunity to view the world through more than one lens and contributed to my sound.
What message do you want listeners to take away from your music?
I think my music conveys the fact that I am not scared to spread my wings wide, and I would love for listeners to feel like that too. Bet on yourself and never back down. Keep going.
Do you have any advice for other emerging artists?
Know who you are, know your worth, and do you respectfully but unapologetically.
Check out Ayra Starr along with other emerging international talent on the RADAR Global playlist.