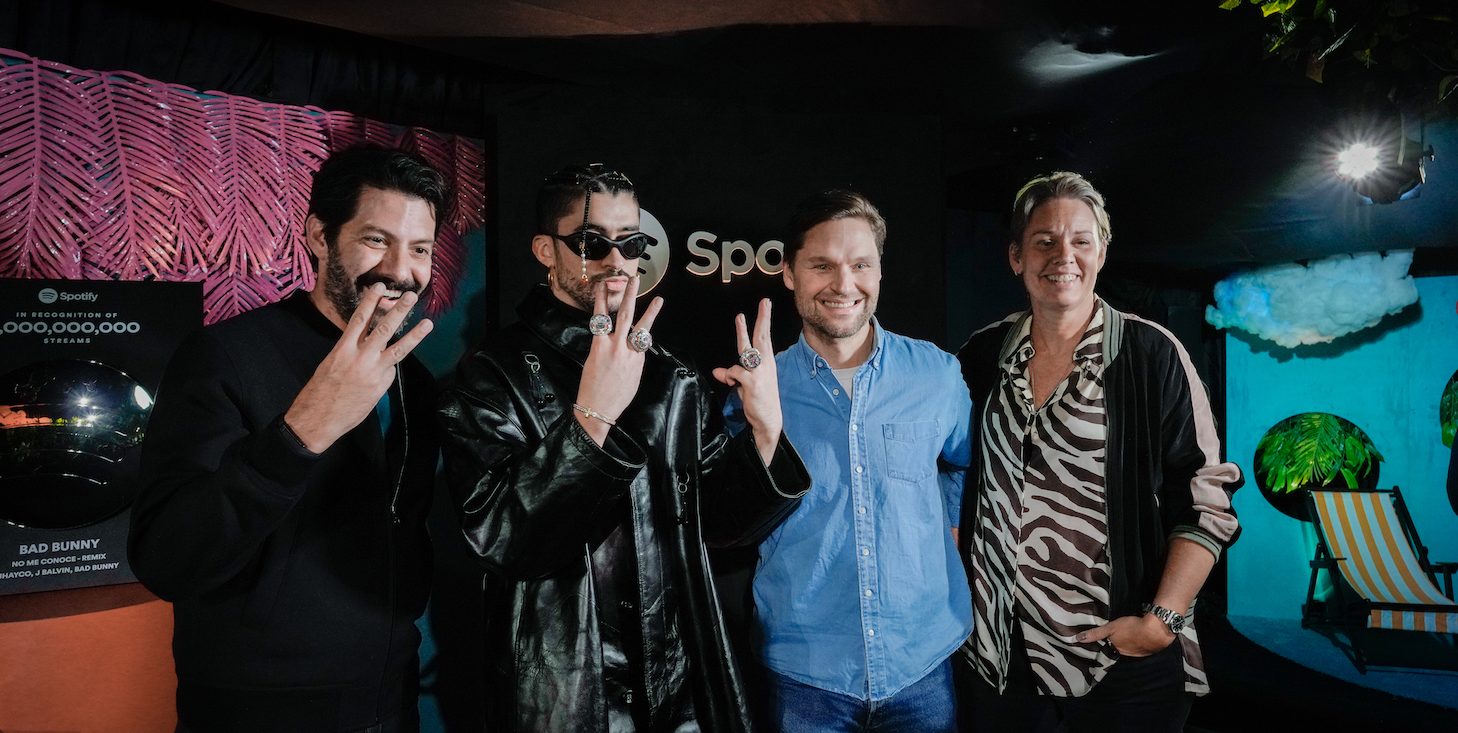 RING IT ON
Spotify Celebrates 3 Years of Record-Breaking Bad Bunny Streaming With a Mexico City Fiesta
By now, the news of Bad Bunny's record-breaking streaming success has ricocheted far and wide. The global recording artist generated over 18.5 billion streams in 2022, landing him the title of Spotify's top artist for the third year in a row—the first artist ever to claim such an accomplishment. If you ask us, that's cause for celebration. 
With Mexico leading over the past three years as the top market to stream Bad Bunny, it only seemed fitting to celebrate the artist's success with 1,000 of his biggest fans, collaborators, and supporters there. So this past weekend, Spotify and Rimas (Bad Bunny's label) joined forces to throw the ultimate after-party at Ragga Club in Mexico City to celebrate the end of his World's Hottest Tour. Artists Rauw Alejandro, paopao, Jowell & Randy, Carin Leon, Danna Paola, Kim Loaiza, Juan de Dios Pantoja, Mario Bautista, Buscabulla, and Arcángel were among some of the guests toasting the Puerto Rican native. 
Benito himself even took to the stage in a surprise special performance where he thanked everyone for streaming his music and for celebrating this incredible moment with him. He surprised the crowd with an improvised performance of his hit "Despues de la Playa," and with acoustic versions of "Neverita," "Callaita," and "El Apagon" with the backing of a Dahian El Apechao's live merengue band. 
Key to the celebration was the Ring Ceremony, where Jeremy Erlich, Spotify's Global Head of Music Content, joined Benito for a celebratory moment on behalf of Spotify. "Congratulations on the three-peat—the first time any artist is the most streamed for three years in a row," he shared. "An epic showing for a career-defining year."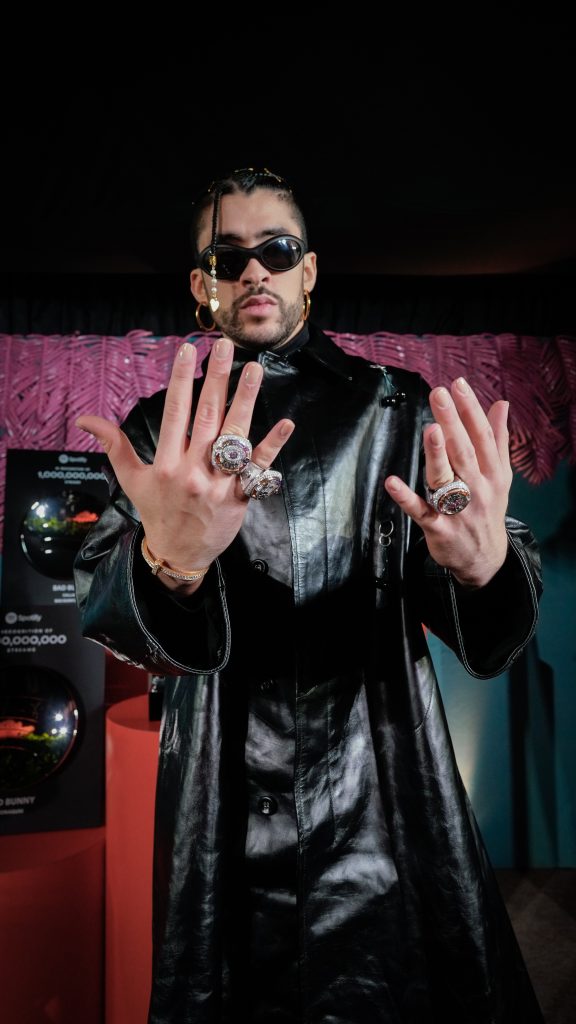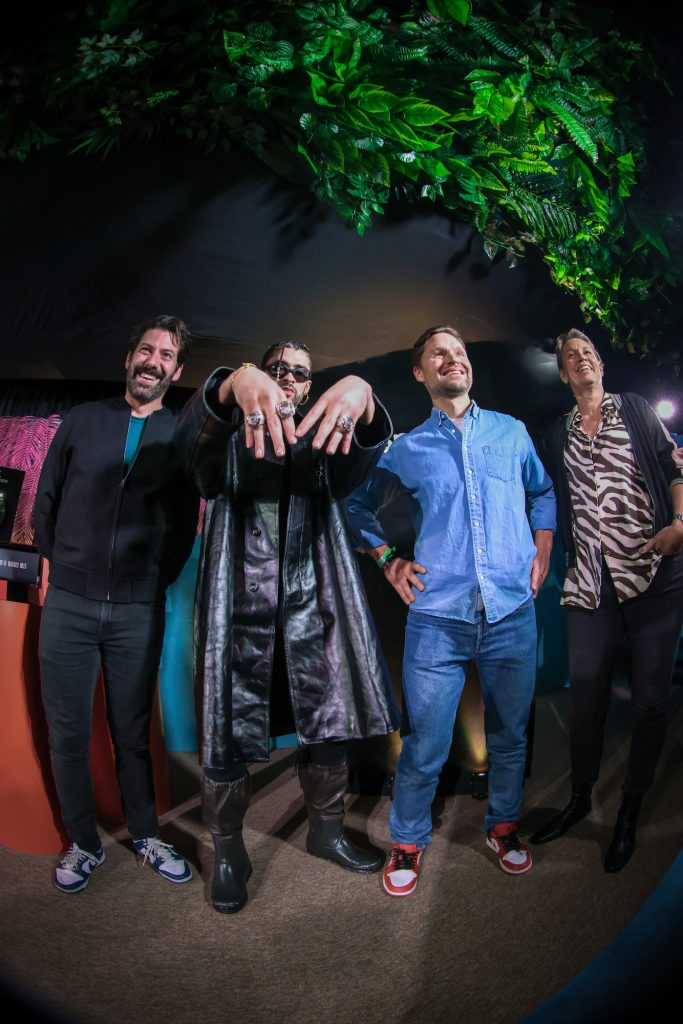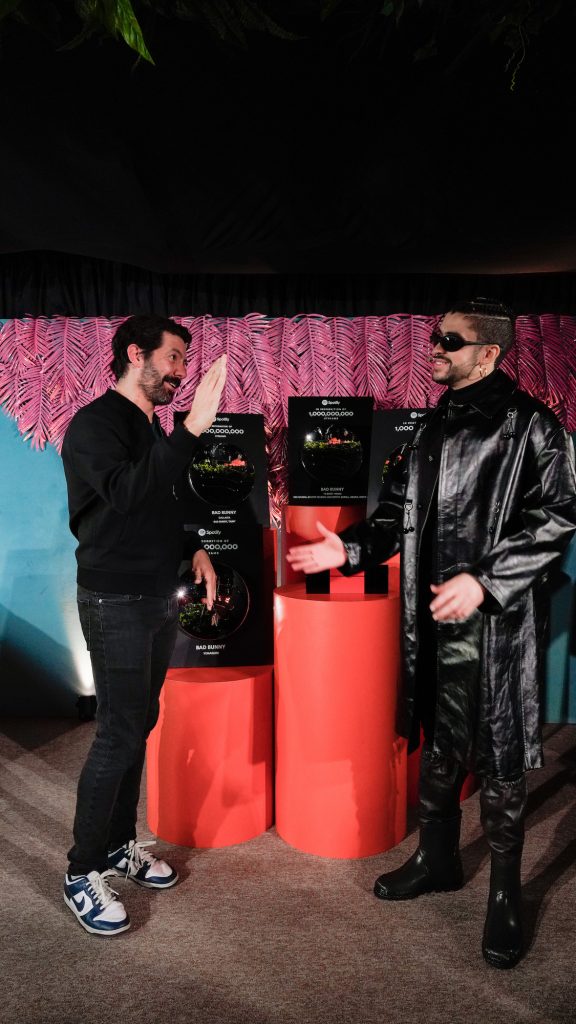 Then, Jeremy presented the artist with three championship-style rings, designed by Jason of Beverly Hills, to symbolize each year he was the top-streamed global artist on Spotify. Spotify also created five plaques, each representing a Bad Bunny track that has passed the one billion stream mark—"Yonaguni," "Callaita," "LA CANCIÓN," "Te Boté – Remix," "No Me Conoce – Remix"—and Jeremy presented some of these to him as well.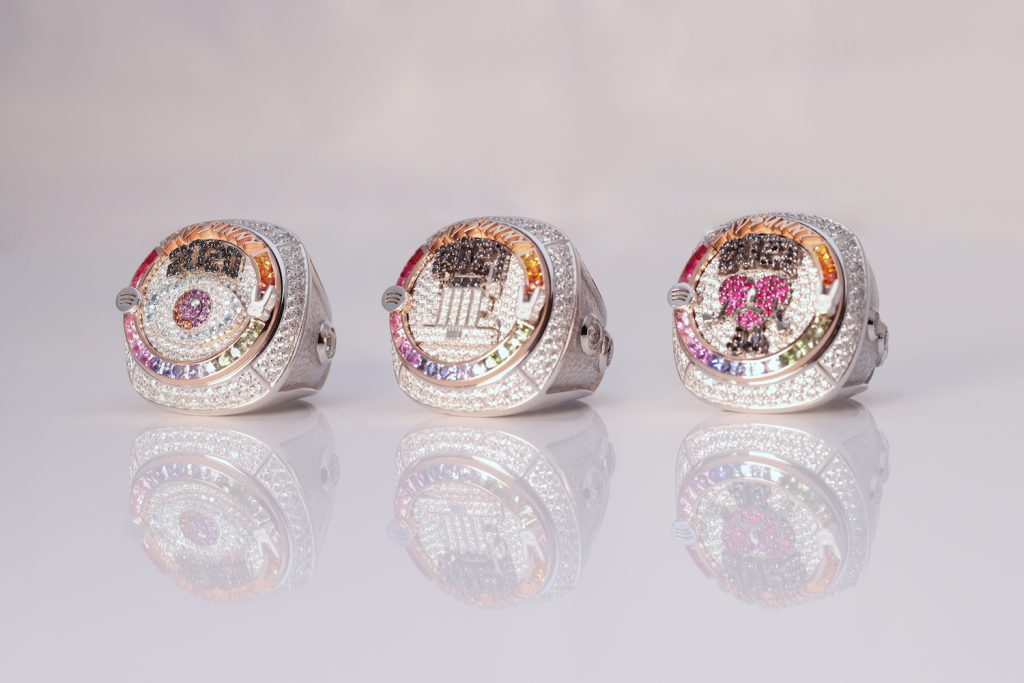 Bad Bunny's music hasn't just made an impact for the artist: It's also contributed to the growth of reggaeton and trap Latino worldwide. Reggaeton listening grew 147% from 2018-2020, and trap Latino listening grew 187% in the same timeframe. Meanwhile, newcomers are still finding and falling in love with Bad Bunny's music. Over the past 90 days, 95 million listeners played one of his tracks for the first time, with 51% of those plays occurring outside of Spanish-speaking markets. 
What's more, his fourth studio album, Un Verano Sin Ti, topped the world's most-streamed album list in 2022, and the rest of his albums continue to have staying power. His first album, X 100PRE, is still ranked in the Top 100 most-streamed albums globally, coming in at slot 68. And out of the six Latin albums in the Top 50 most-streamed albums globally this year, three of them were Bad Bunny's: Un Verano Sin Ti (#1), YHLQMDLG (#8), and EL ÚLTIMO TOUR DEL MUNDO (#21). 
Each year, Bad Bunny continues to take the world by storm, and 2022 was no different. We can't wait to see what 2023 brings for the artist.