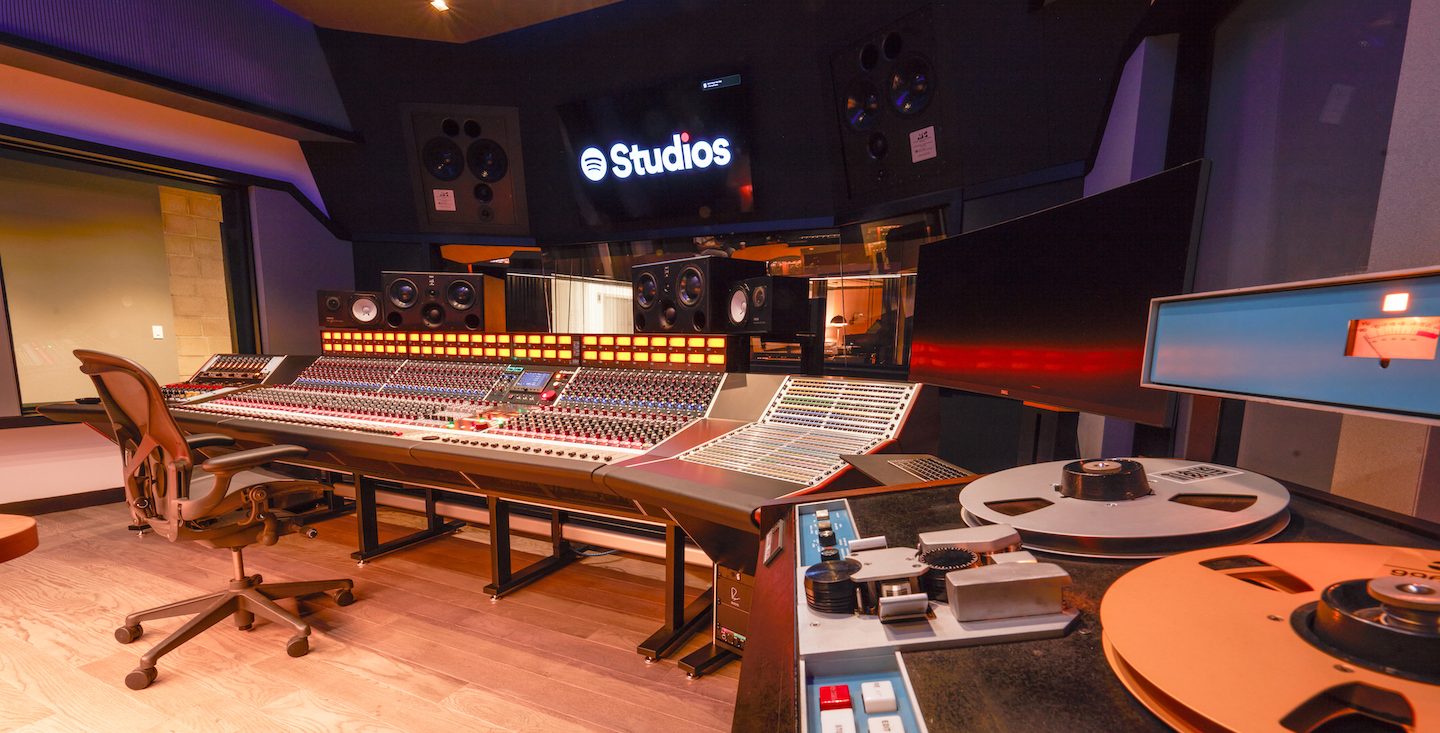 FROM STUDENTS TO SUPERSTARS
Spotify's LA Recording Studio is a Creative Hub for Artists and Podcasters
Studio photos by Brad Devins and Sean Michon
When we talk about making Spotify the preferred destination for artists, we sometimes mean it figuratively—alluding to the reach of our platform, the programs we have for up-and-coming creators, and beyond. But when it comes to our LA office, At Mateo, we also mean it literally. Our hub in Los Angeles is a state-of-the-art music- and podcast-recording facility with doors opened wide to creators for audio innovation and celebration—and there's something for every creator at every stage of their career. 
Chris D'Angelo, Spotify's Head of Production & Studio Facilities, and William Garrett, Senior Music Producer/Studio Development Lead—two of the space's biggest champions—have been thinking about how to best use the space since its inception. And now that it's open, they're realizing even more ways to make it attractive and accessible to creators well into the future. 
"When we first sat down to design the offices, we wanted to enable music, video, and audio production to happen right here at the Spotify offices in a really great environment," Chris told For the Record. "And so we really talked a lot about who would be coming in and what type of artists, what type of creators, what the employees would need to do, and what the community that we were building in would want, need, or expect from us. We spent a lot of time thinking about how each constituent would need to use it."
Read on to see how Chris, William, and the team's thoughtfulness has come to create a space where creators feel at home. 
Let's make music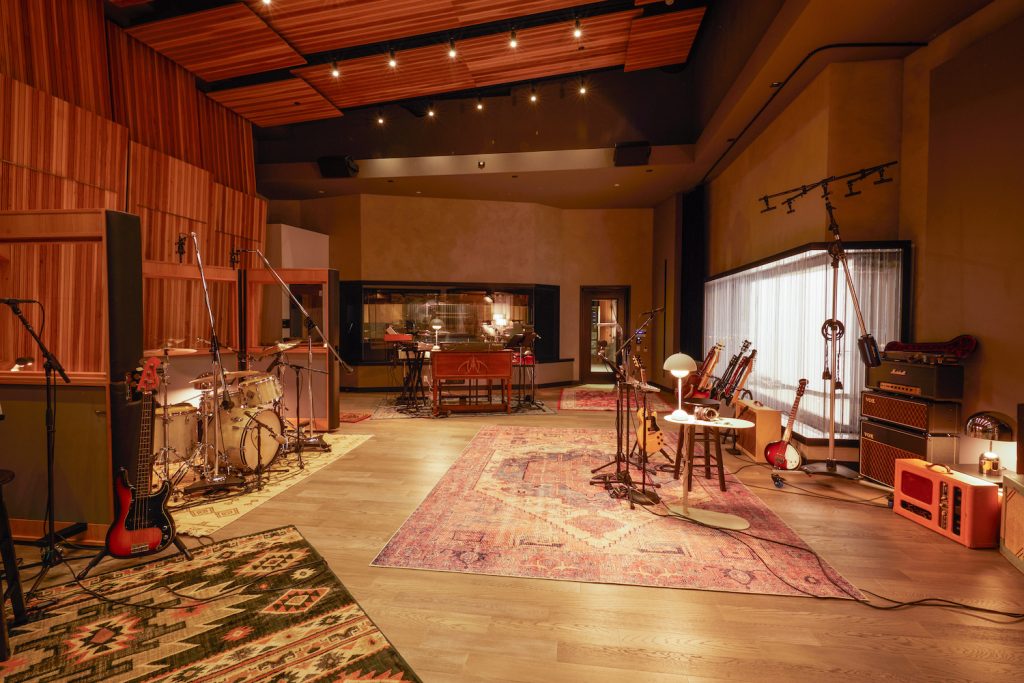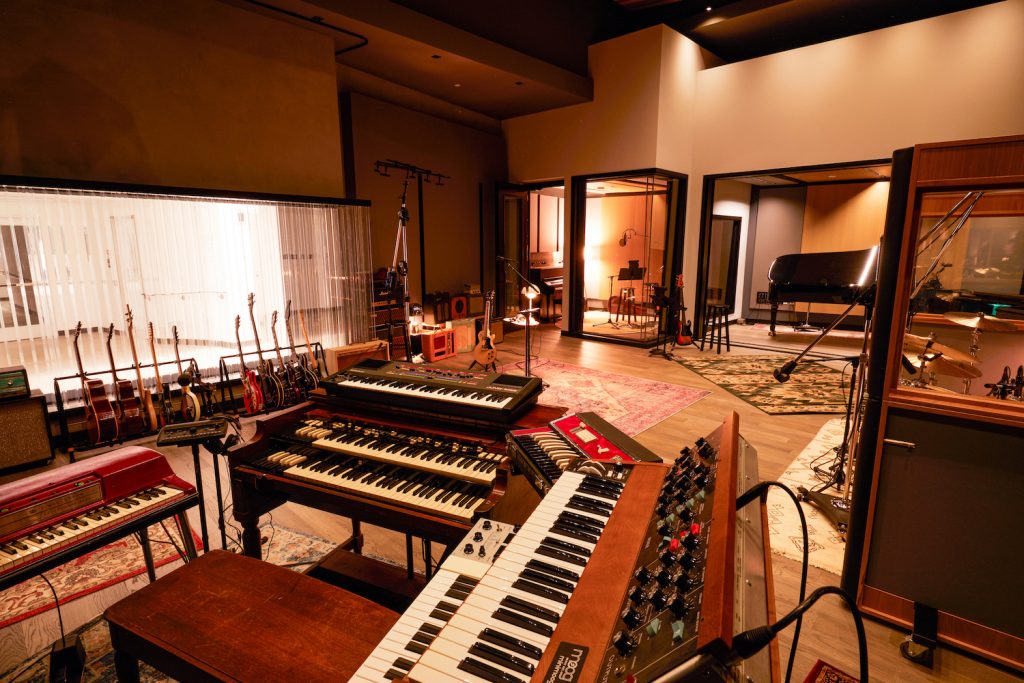 "What we put together is really a very vibey, comfortable, well-equipped recording studio," said William. "Right off the bat, we try to set everybody at ease because we have a limited time to work with these artists. They have very busy schedules. So we've not only built this beautiful space that's acoustically balanced, but we've also filled it with carefully curated instruments and recording gear." 
But these aren't just any old instruments. He means guitars dating back to the 1930s and synthesizers from the '80s, keyboards used by the likes of LA punk band Social Distortion, a bass amp from Stone Temple Pilots, and the piano that Norah Jones made the first recording of "Don't Know Why" on. It's a place that immediately takes on a hallowed feel.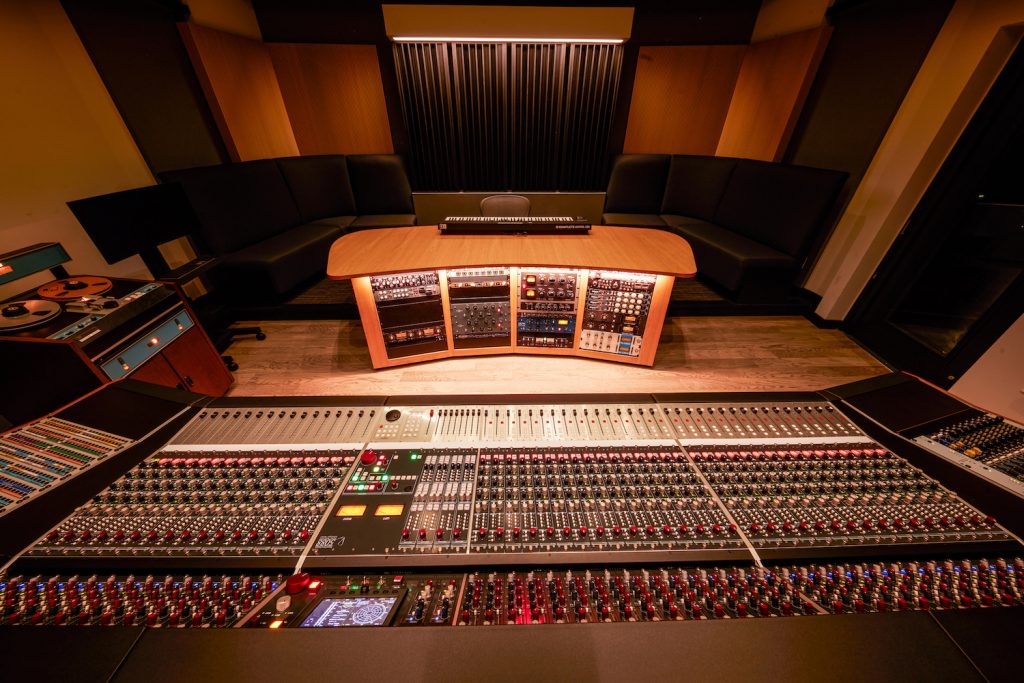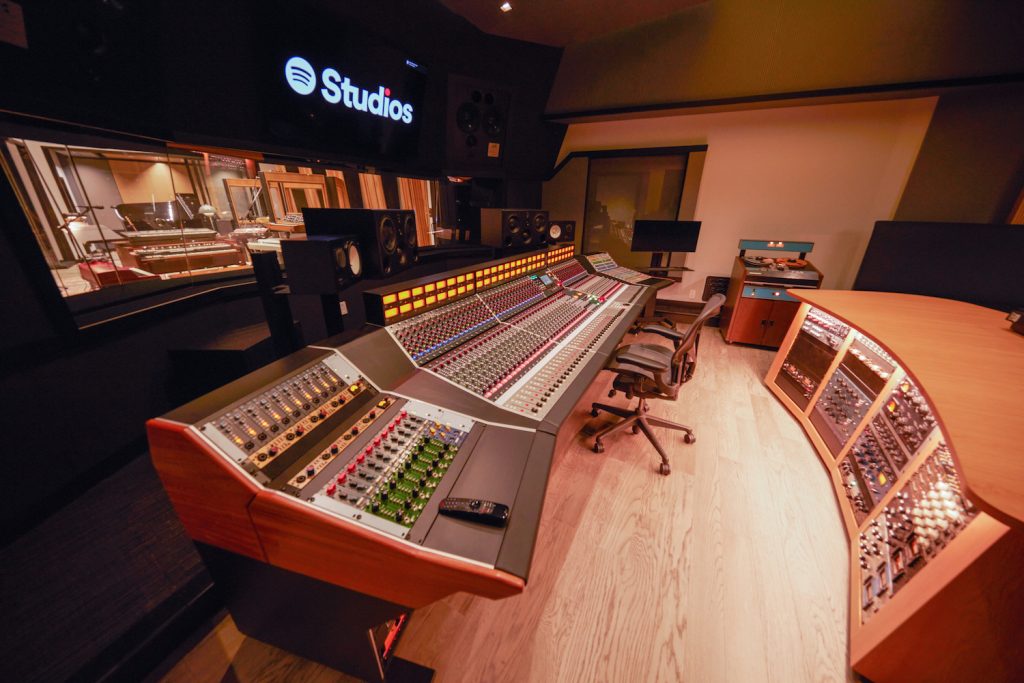 "One thing we've found is that artists are always very interested in what they use to make recordings, so they'll be very interested in a vintage guitar, some new synthesizer technology, or a vintage set of drums that has the right heads and cymbals. So all these instruments create an instant rapport and discussion with the artist with the hope to spark creativity. Because in the programs we're working on, we hope to inspire them to do something creative and new within our spaces," he said.
"We've got everything from old analog technology to brand-new digital technology. So we tried to mix all these things and not make anything genre-specific. If you're doing a live full-band recording, we can do that. If you're doing a computer-based, sample-based recording, we can do that."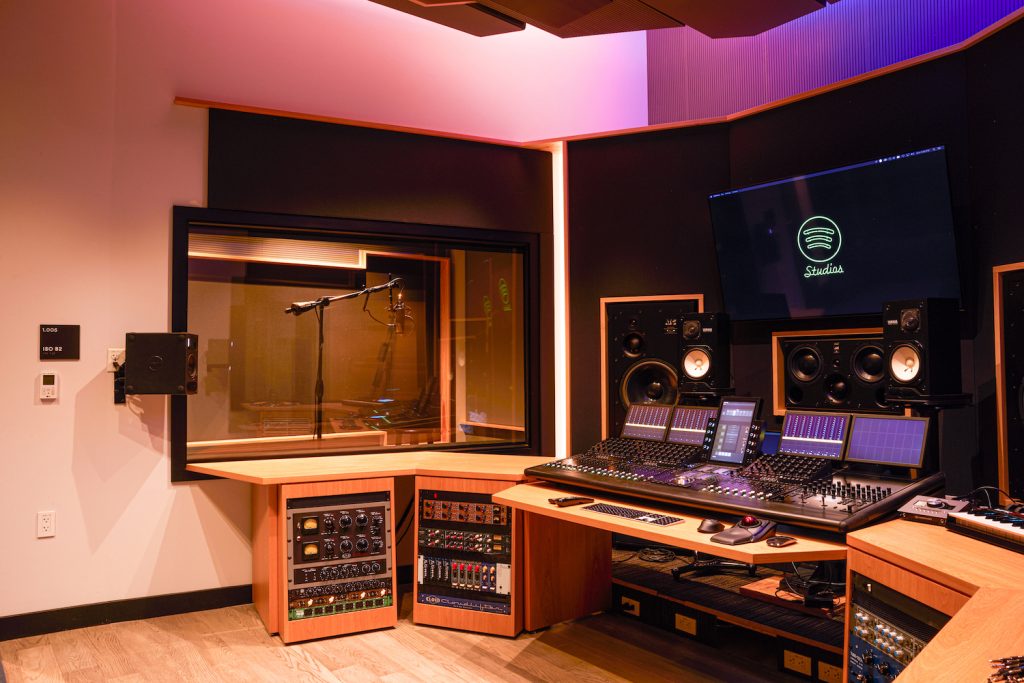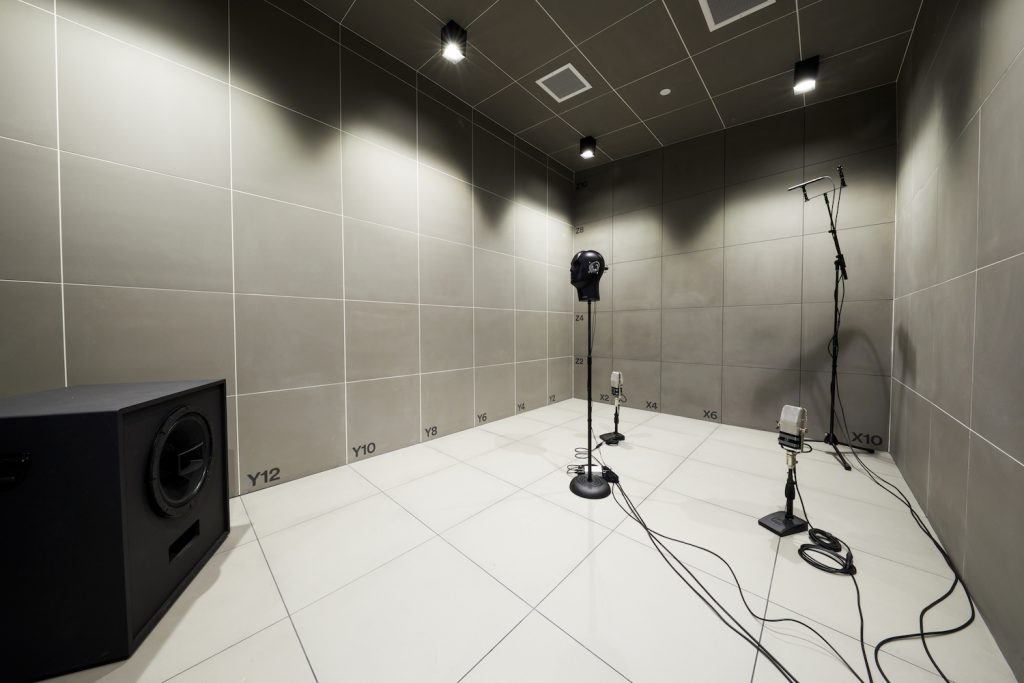 The instrumental options for the studio are endless: "We chose the gear and the instruments to apply to any sort of genre or group that would come to record there," noted William. "We just hosted Kalush Orchestra, the Ukrainian band that won Eurovision. They play the pipe flutes with a drum-machine-beatbox. We had everything they needed to create. And we hosted the series Created by Women, in which the producer, engineer, and artist are all women. So they're all working on multiple genres and we have everything they need." 
Music studio A has already seen its fair share of talent with Japanese Breakfast, the classical pianist Lang Lang, Zara Larsson, Avril Lavigne, Ethel Cain, Arooj Aftab, Del Water Gap, Bob Moses, Tom Morello, and Snail Mail. But the very first recording session was held by none other than producer and songwriter FINNEAS. "He's an amazing artist," said Chris. "He came in and he got what we were trying to do immediately. We got instant feedback that we had kind of hit it right on the head because he was like, 'Wow.' It's always very pleasing to 'wow' an artist like that."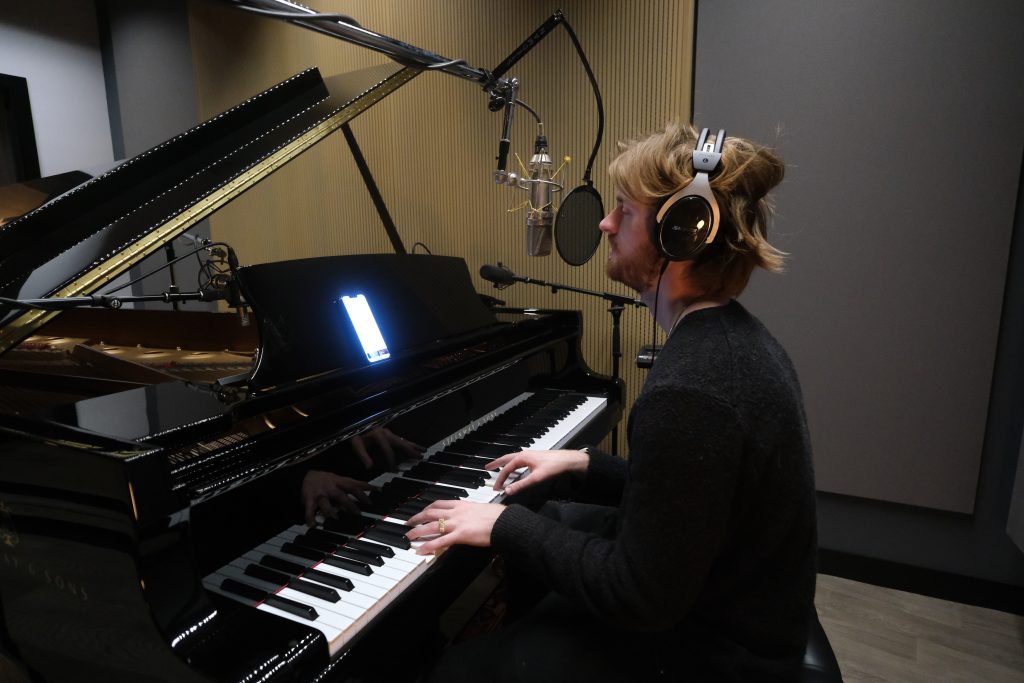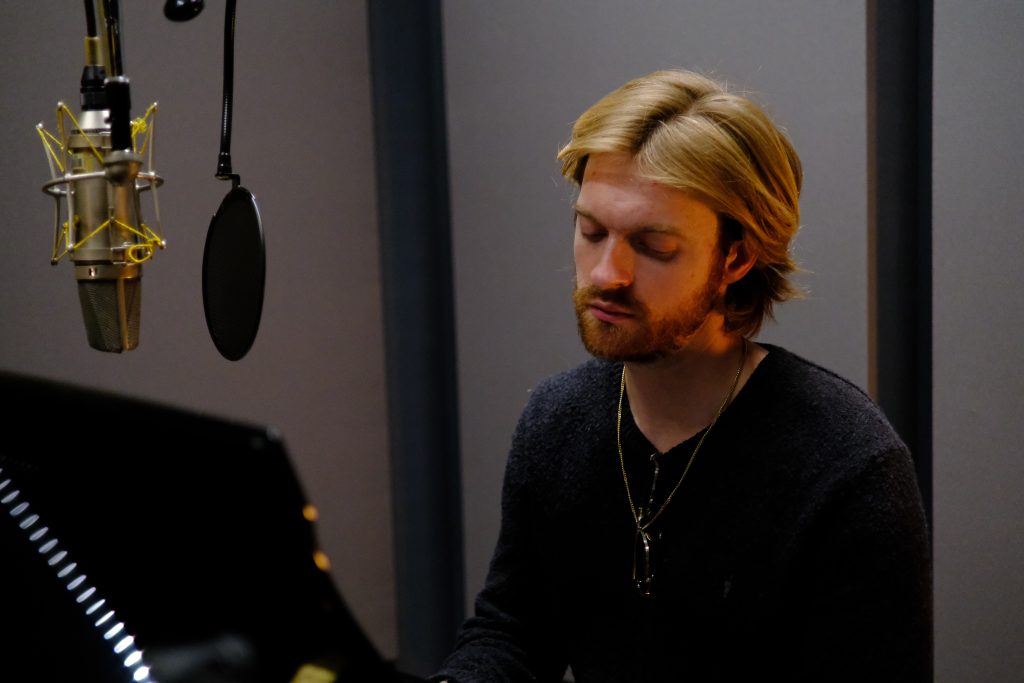 Some studio clients are less well versed in the art of recording. In conjunction with the LA school system, we hosted LA Beats, which brought approximately 250 students from 5th grade through 12th grade to the Spotify studios for a musical experience like no other. Then, the participants celebrated with a contest and artists including Lil Nas X. The kids had a great time. 
There's also plenty to do for slightly more established creators. Up-and-coming artists involved in our RADAR program as well as indie artists in our Fresh Finds program all have the chance to record their own Spotify Singles in the LA space. Each year's Best New Artist nominees also have an opportunity to record every March, and women artists can make their marks in our Created by Women or EQUAL series. And there are even more new programs for underrepresented creators coming soon.
The studio isn't the only space created—or used—with thoughtfulness. Listening rooms, green rooms, and places for breaks, snacks, and beverages have also been carefully designed. "We wanted to make spaces where artists would feel inspired to stay—maybe even longer than necessary—to spend time creating with us," said Chris.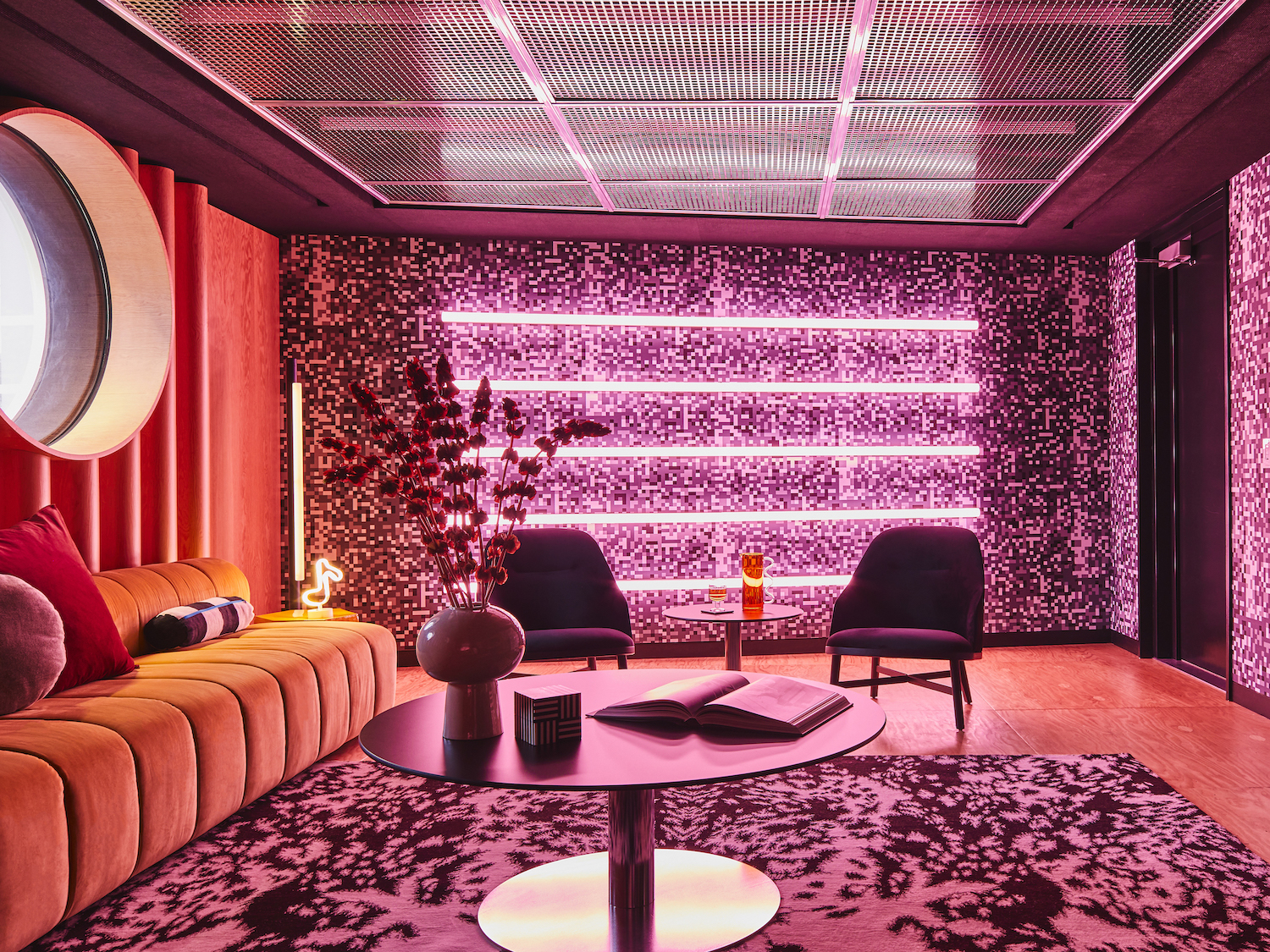 All about the talk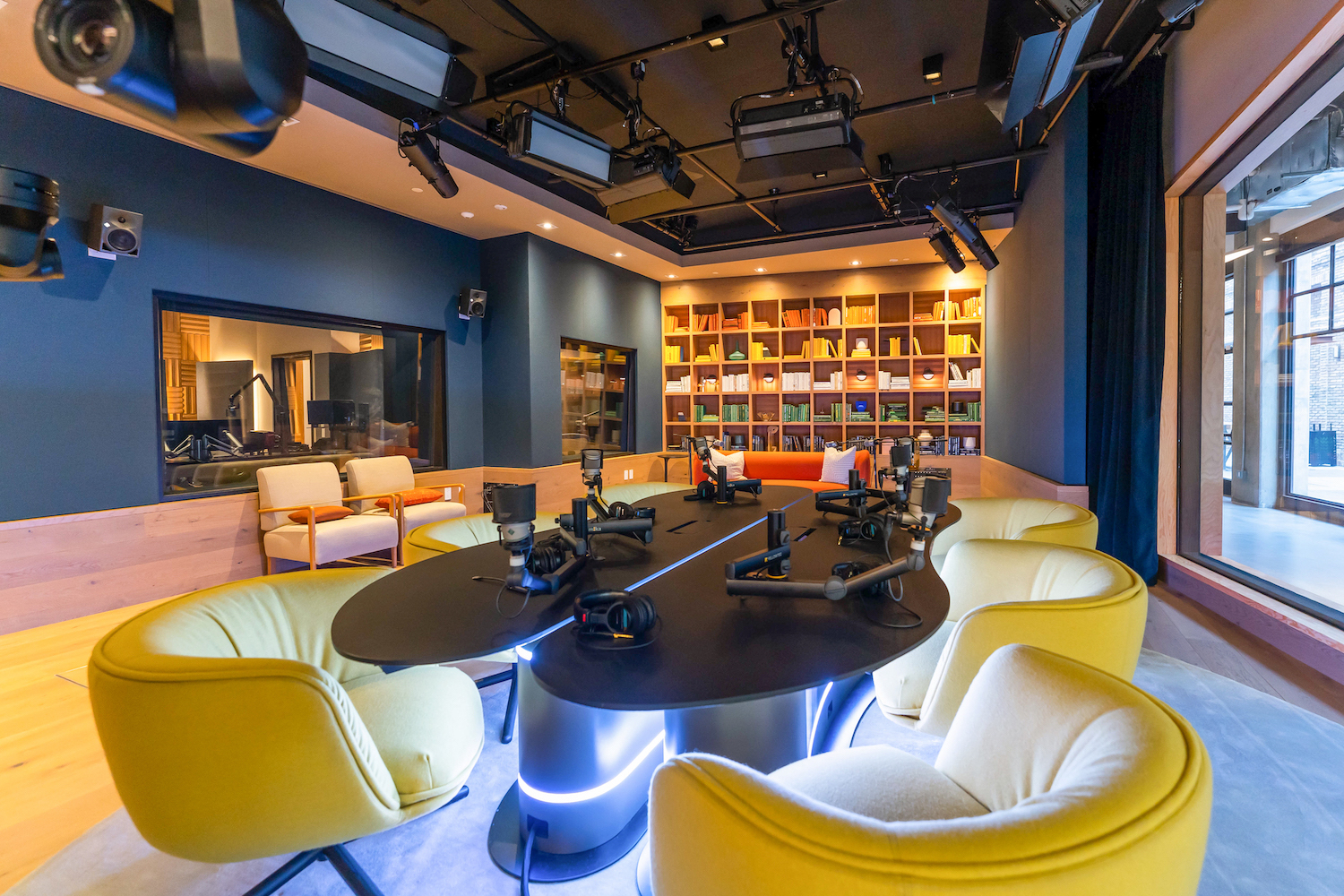 "Podcasts are a little bit different from music," says Chris. "It's not necessarily about having tools and things to play with or to inspire you, but spaces to have intimate conversations. When it comes to recording a podcast, you want the studio to disappear. You want the technology to fade away into the background. You want it just to be a couple of people, very relaxed and talking to each other as if there's no one else in the world."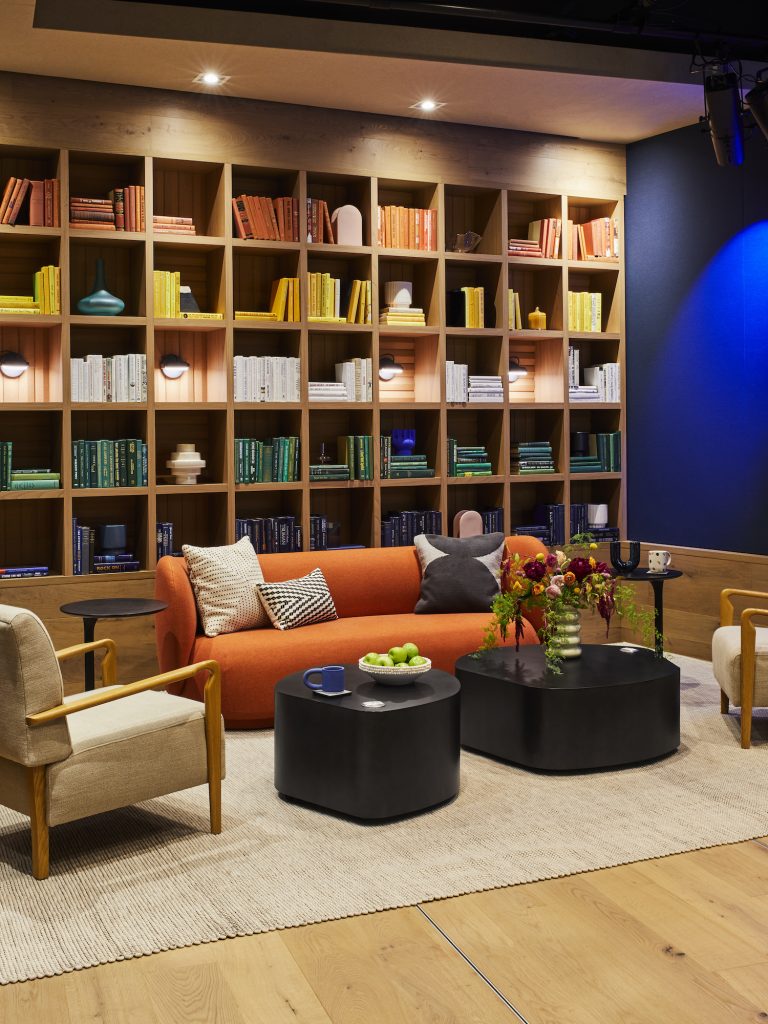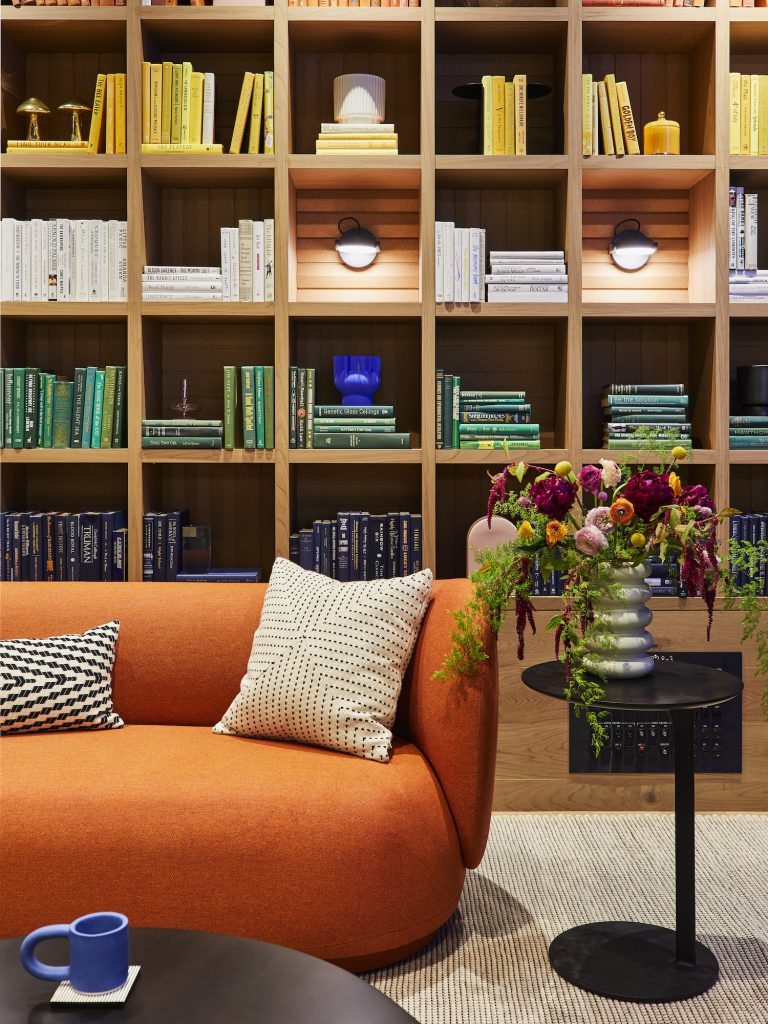 The comfortable, color-coordinated podcast recording studios host Spotify Originals like Archetypes and video podcast We Said What We Said With Rickey and Denzel, as well as The Ringer standout Higher Learning with Van Lathan and Rachel Lindsay. "The other gratifying thing is really working with some of the other programs that Spotify does like Sound Up, which is a program that really raises underrepresented voices in podcasting and lets them be heard," explained Chris. "We bring them into the studio and take them through a long-term program to learn the ropes of podcast creation."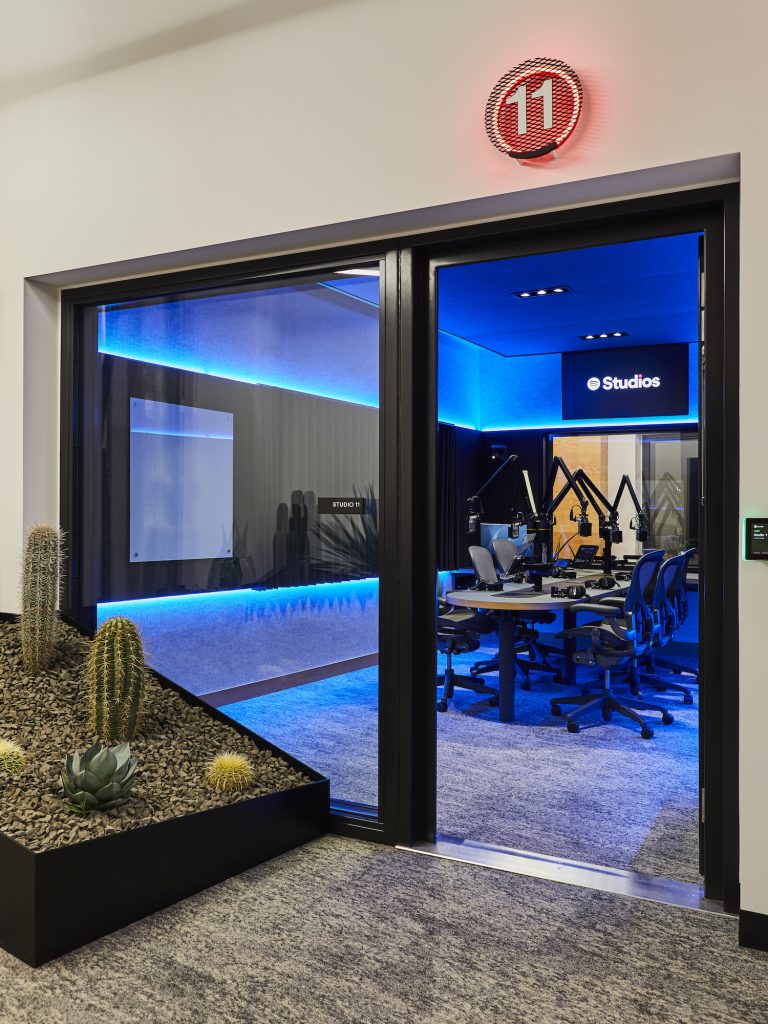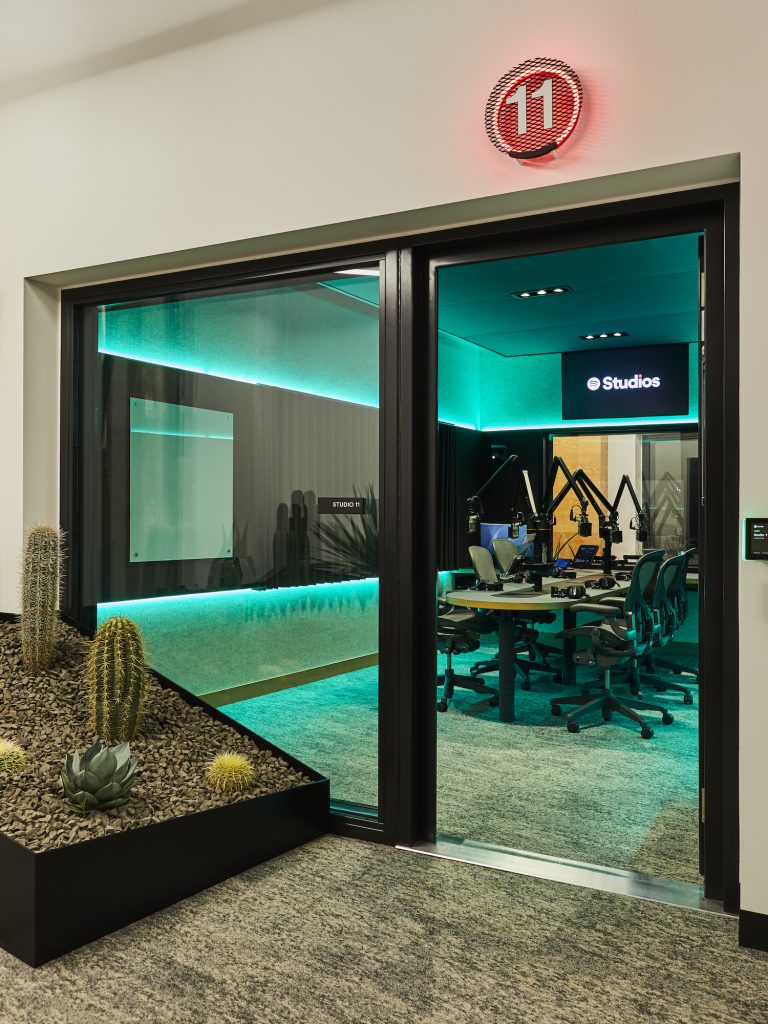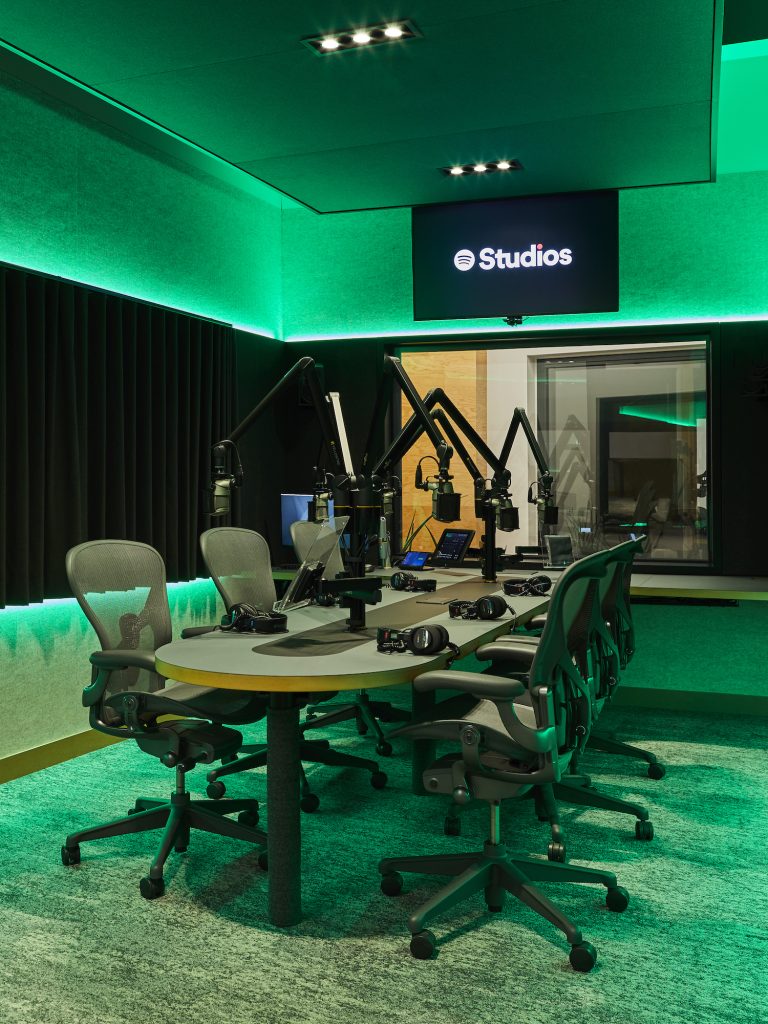 In addition to the recording studios, the office also hosts plenty of places to celebrate completed productions, as was recently the case with Jordan Peele's Quiet Part Loud. Executive Producer and Head of Fiction at Spotify Mimi O'Donnel joined the Monkeypaw Productions creator in Spotify's surround-sound screening room for a conversation on the new production's unique space as a horror podcast.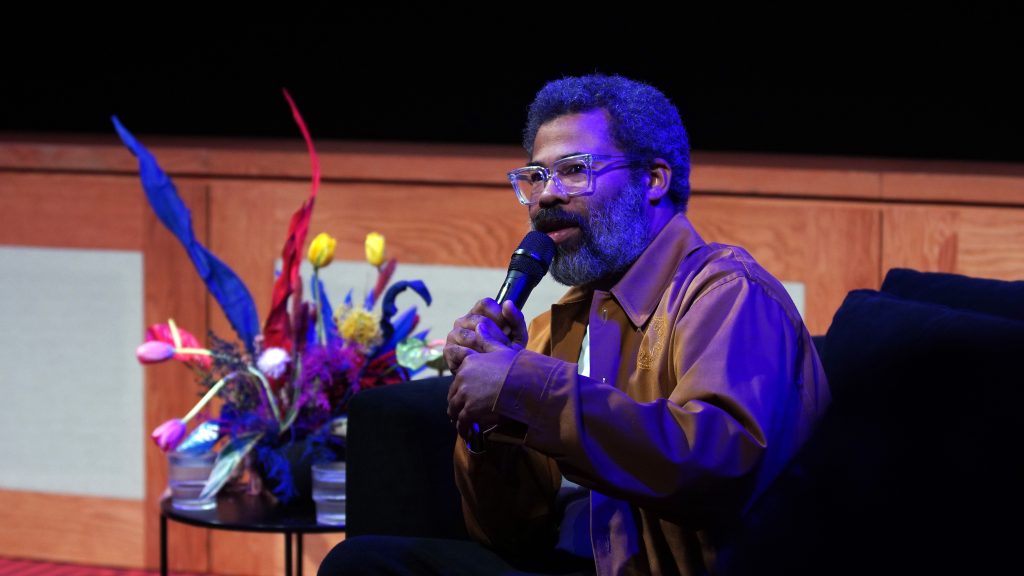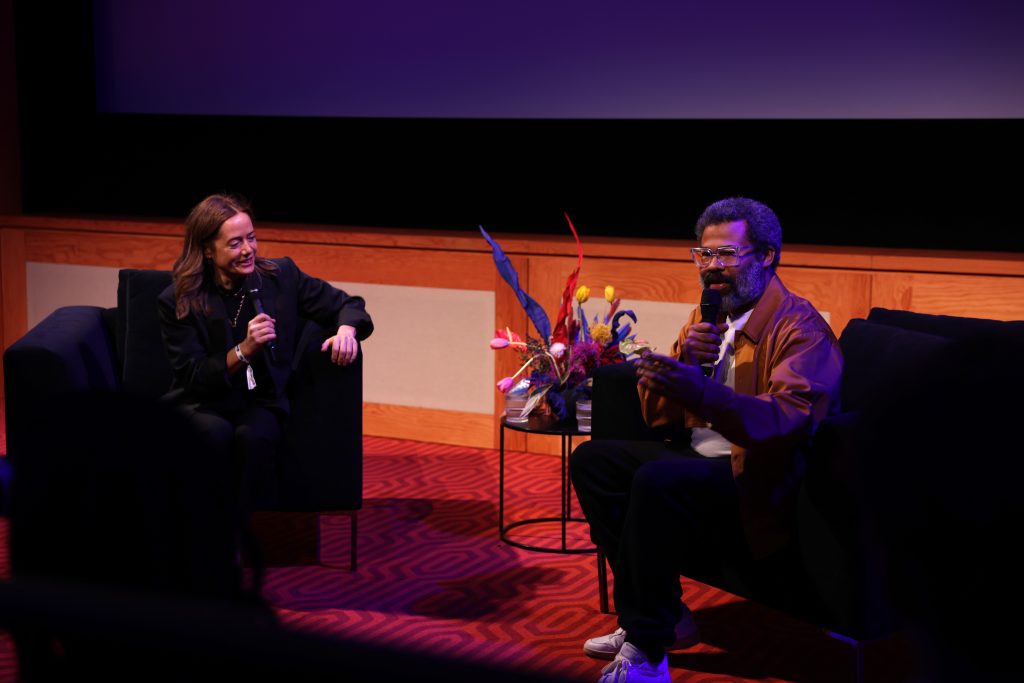 Such a conversation was precisely part of Chris' intentions for the space. "We set out to create a studio that can grow with Spotify and with the industry. Podcast studios, music studios, video studios, event spaces, screening rooms that are infinitely customizable. And each of those, in turn, needs to be as flexible as possible so that when whoever calls and says, 'Hey, this is the next generation of audiobook or music or podcast we're trying to make'—we're able to support it."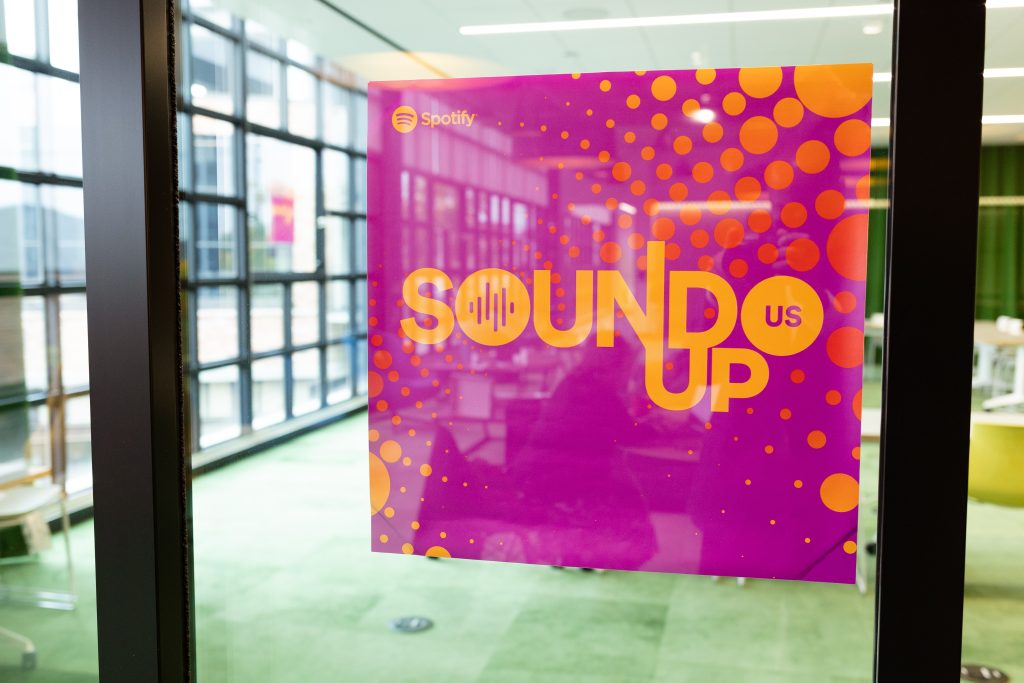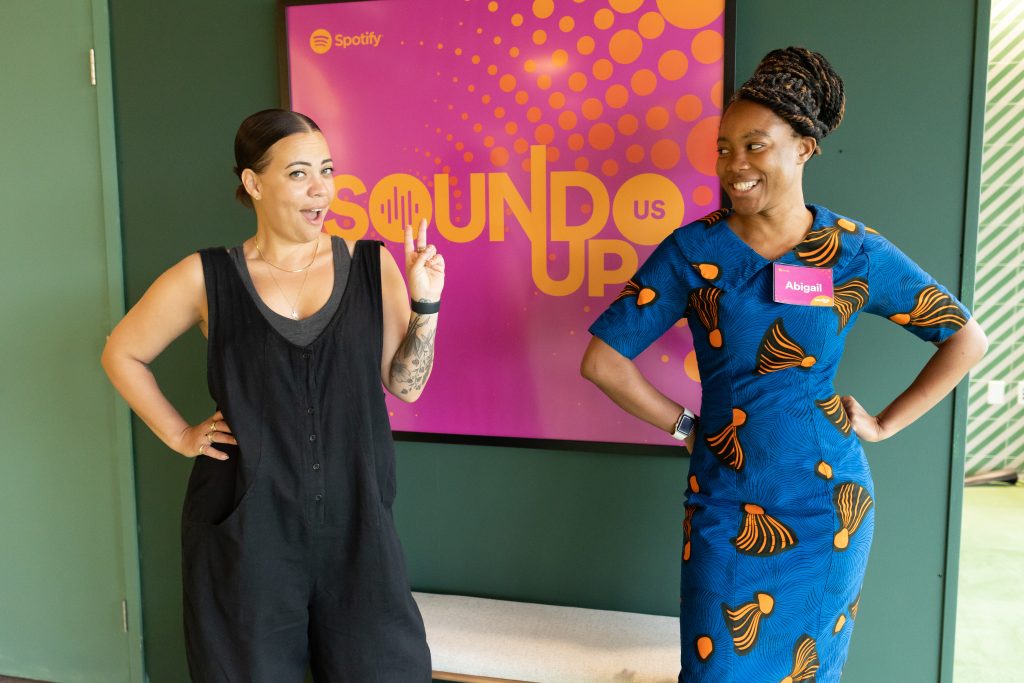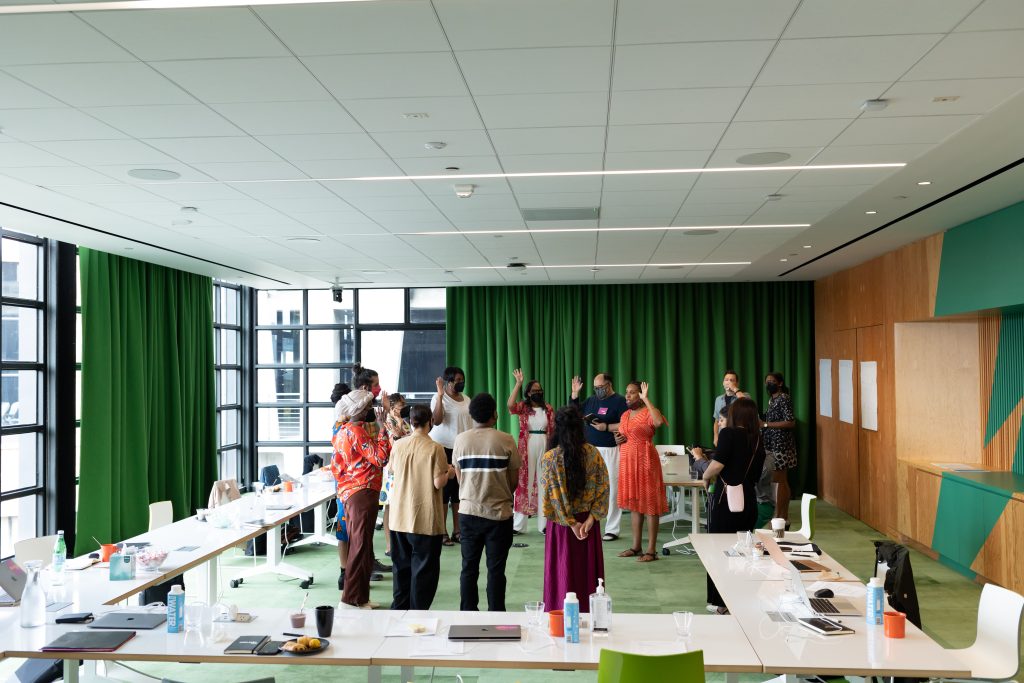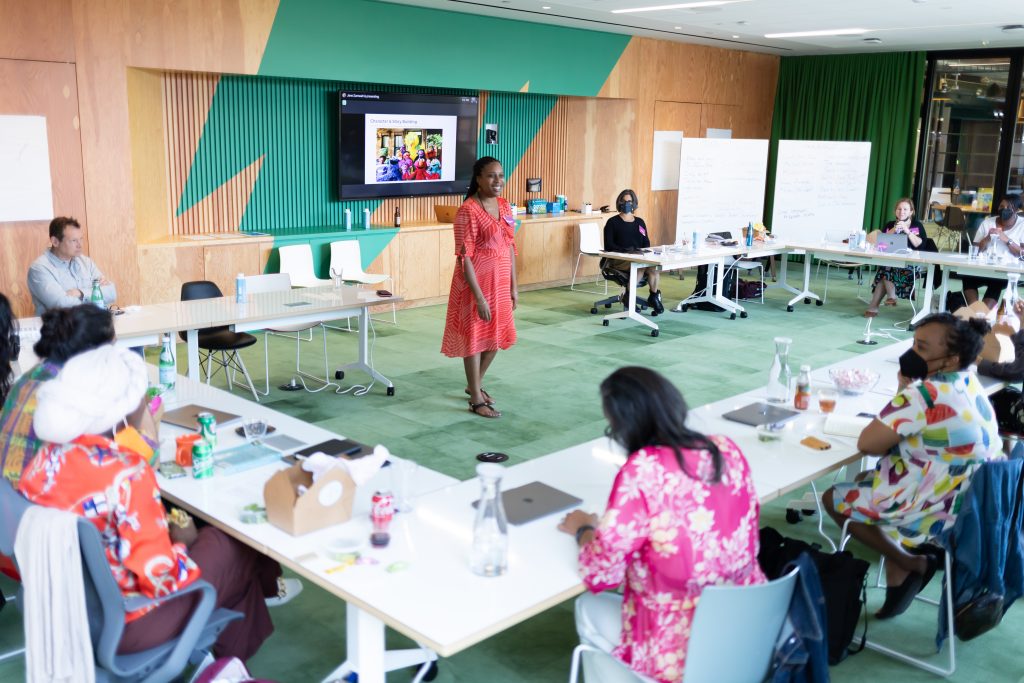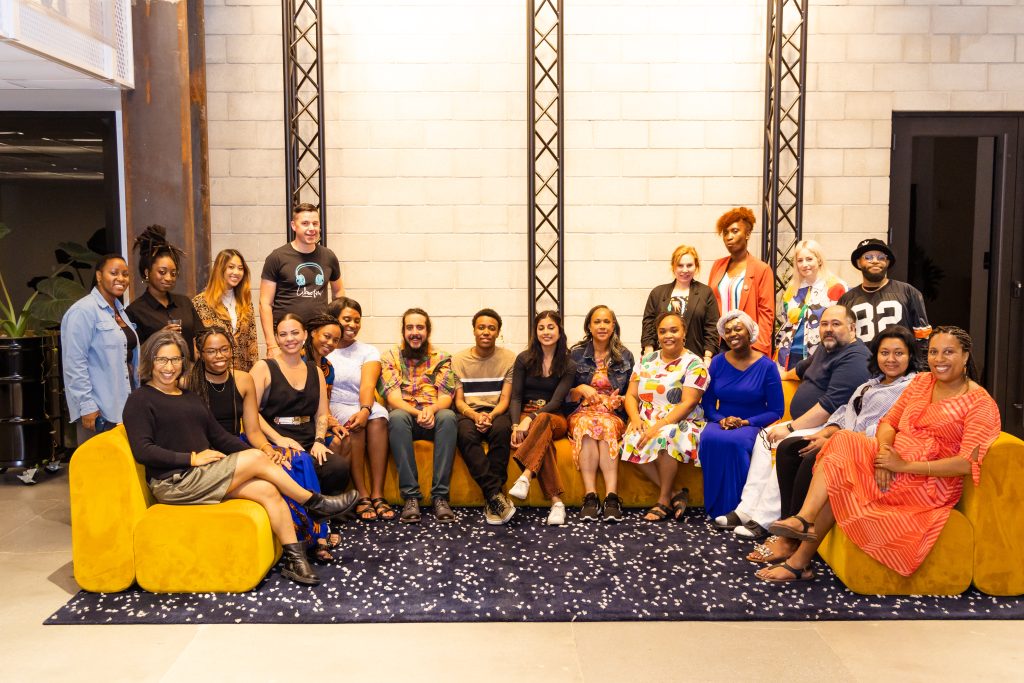 And at the end of the day, it's a space that's open to creators of all types—and will become progressively more so over time. "It's about democratization of access," Chris and William agreed. "The act of creativity is about the making and breaking of connections. So the more people that you get playing around and trying to innovate, the more we're going to start to see things that are really groundbreaking, really innovative, and really next-level ideas."
And we can't wait for it to happen here.  
Spotify At Mateo has been nominated for a TEC award in the Studio Design Project space—learn more here!