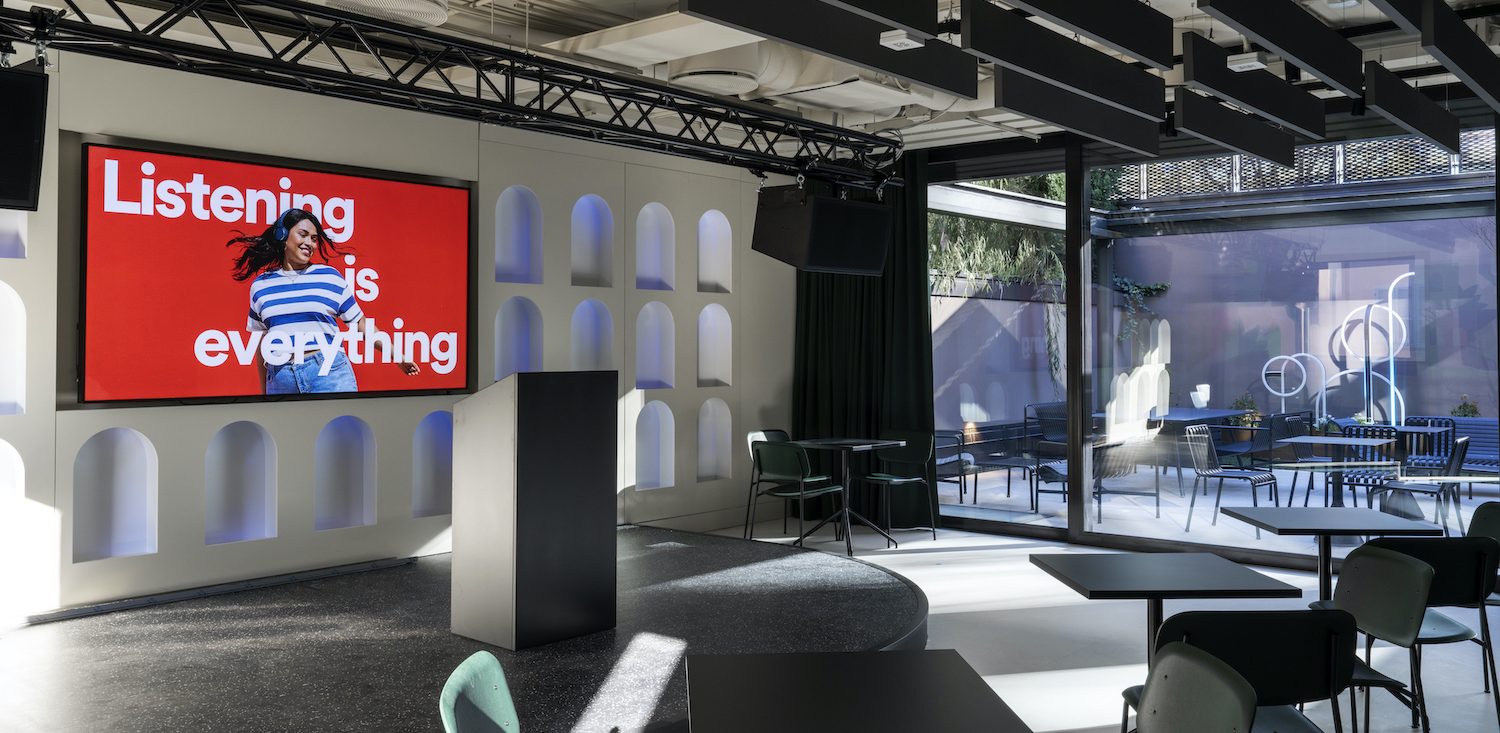 Spotify is home to the world's greatest creators—from musical artists to podcasters to, most recently, authors and editors. Our offices worldwide are a reflection of the talent and creativity found on our platform. Our latest office in Milan, Italy, which serves as our hub for the 28 countries in Southern and Eastern Europe, is no exception. 
Dubbed Casa Spotify, our Milan office is located in the city's bustling financial district. The modern new space helps us demonstrate our commitment to the creative community in the region. It will accommodate more than 100 employees representing more than 10 nationalities, and its doors are also open to employees who work from anywhere who come through the city. 
The office, a villa encompassing six floors, was imagined and precisely designed to reflect the diversity of the teams and to host various functions and operations. 
Get to know the space.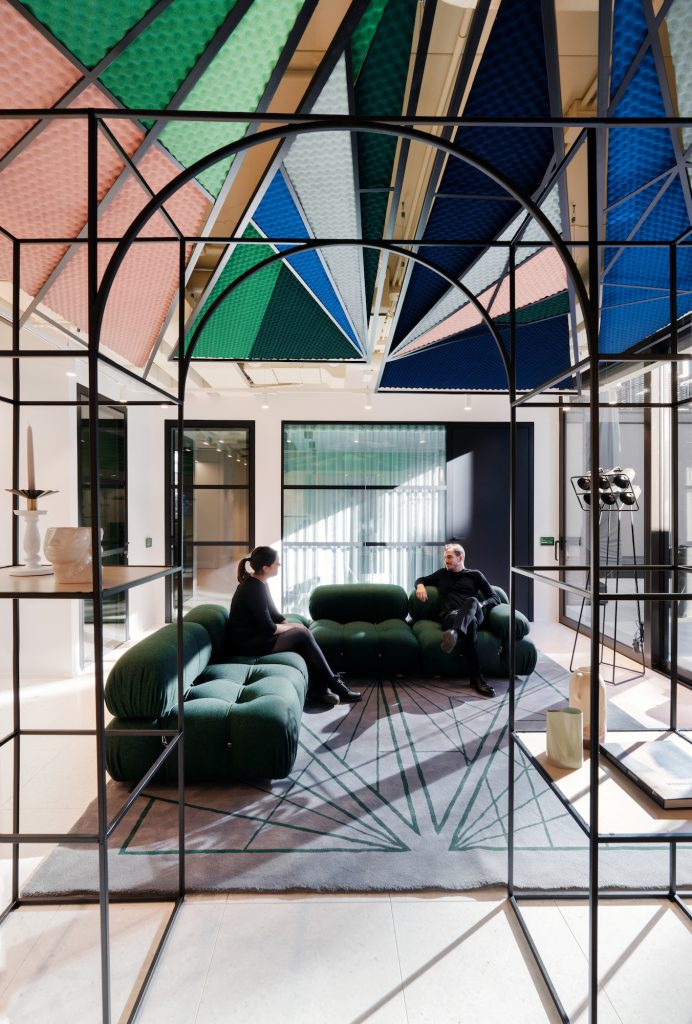 Head to reception and you'll find a colorful geometric ceiling beckoning you inside to a minimalist seating area with plush, comfortable chairs.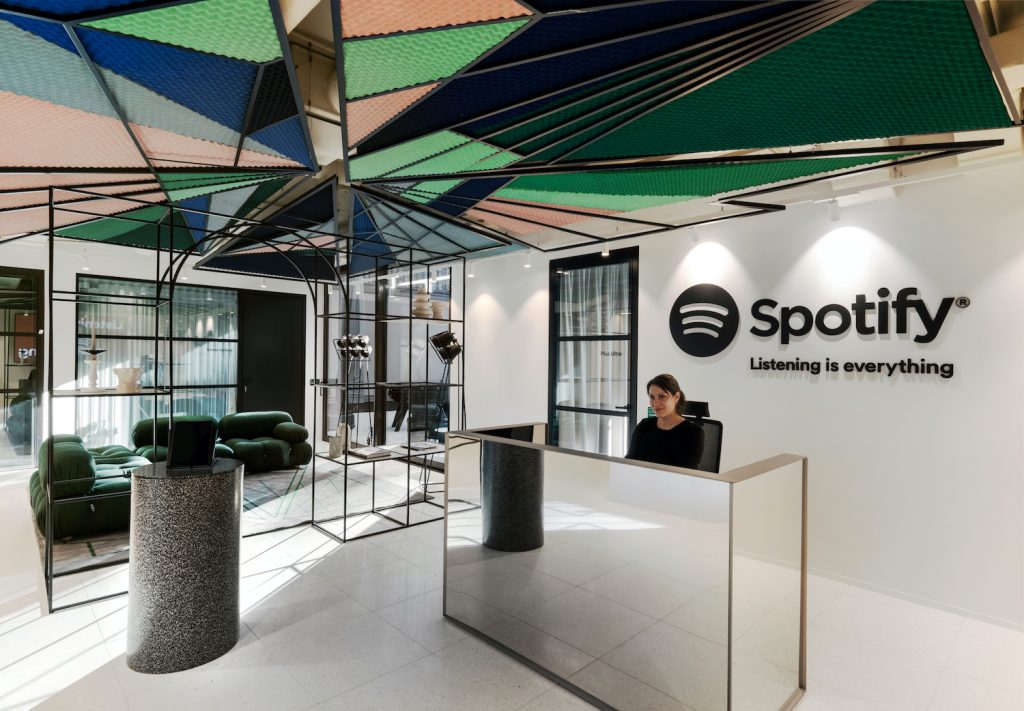 A vital part of any office space is the work areas. Whether employees are plugging away at their desks or holding a hybrid meeting in a conference room, they have plenty of distinct spaces to work from throughout the day, on any given floor. 
"Our office is a real home to all," says Federica Tremolada, Managing Director, Southern and Eastern Europe. "The rooms themselves represent the different cultural facets of the region. The meeting rooms, for example, are named after our region's playlists such as Plus Ultra or Estate Italiana,' or our podcasts such as the hugely popular XRey, the first original podcast we launched in Spain, which reveals the story of the former King Juan Carlos."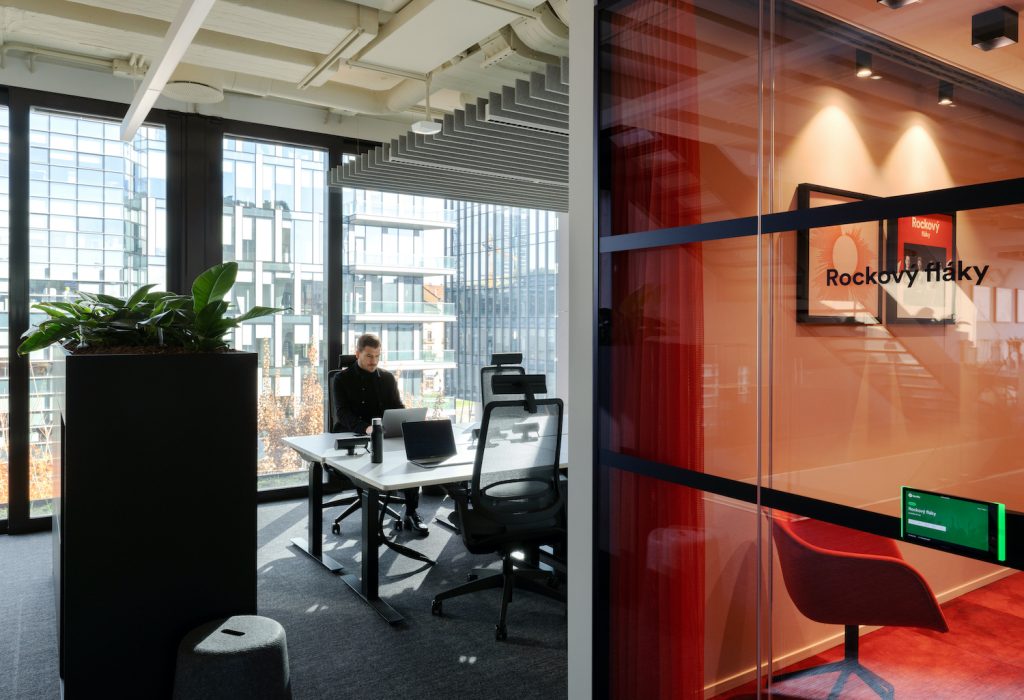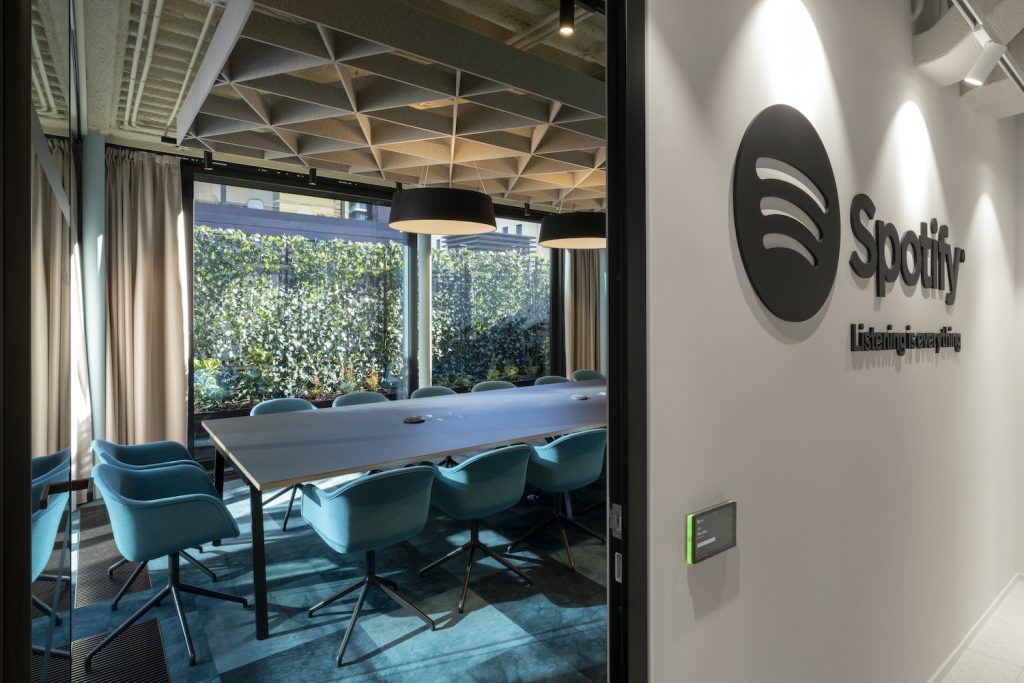 Outdoor spaces are a must in Milan. With a combination of comfortable and ergonomic seating, the terraces are perfect for taking a lunch break, working outside, or having a fika with colleagues.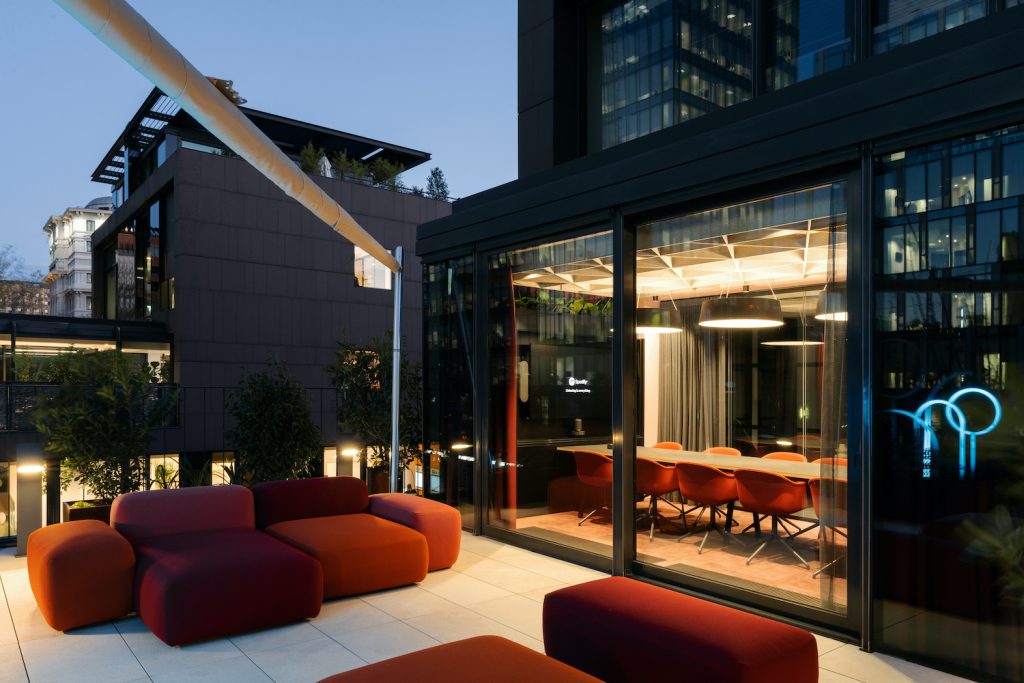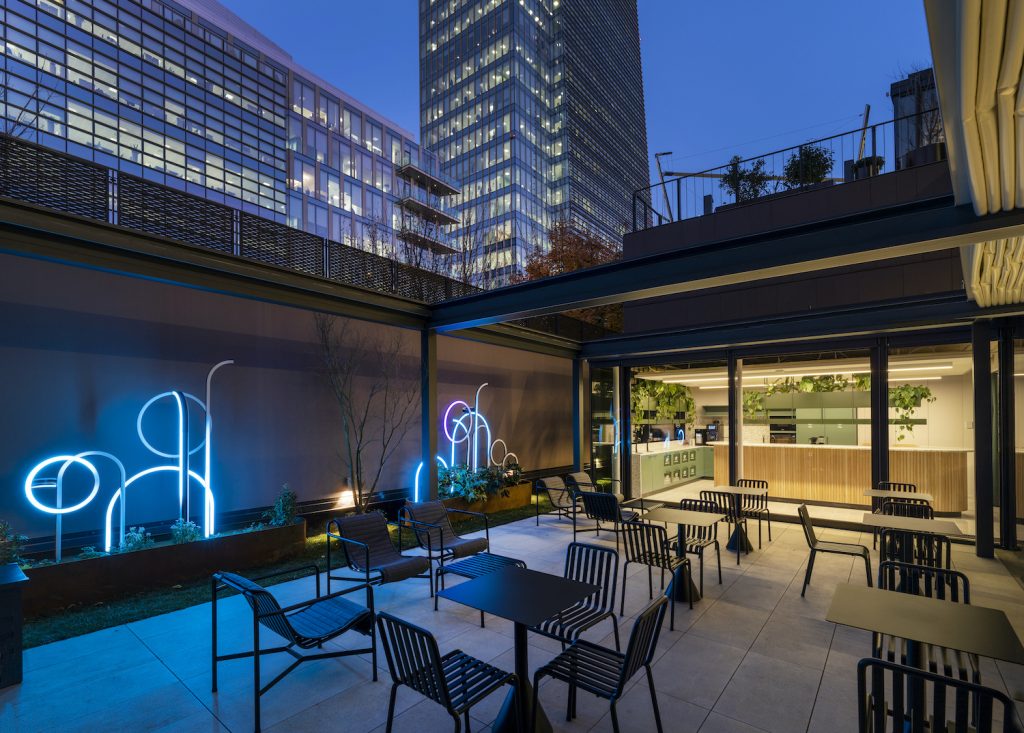 Of course, no Spotify office would be complete without a stage—whether it's for team presentations, guest speakers, or artist performances.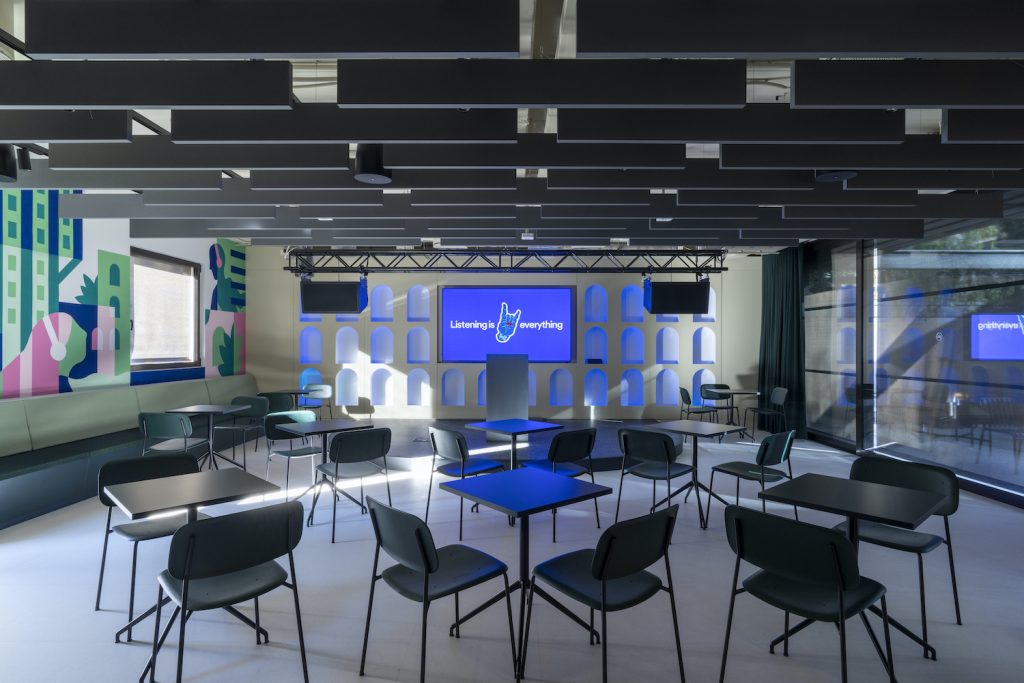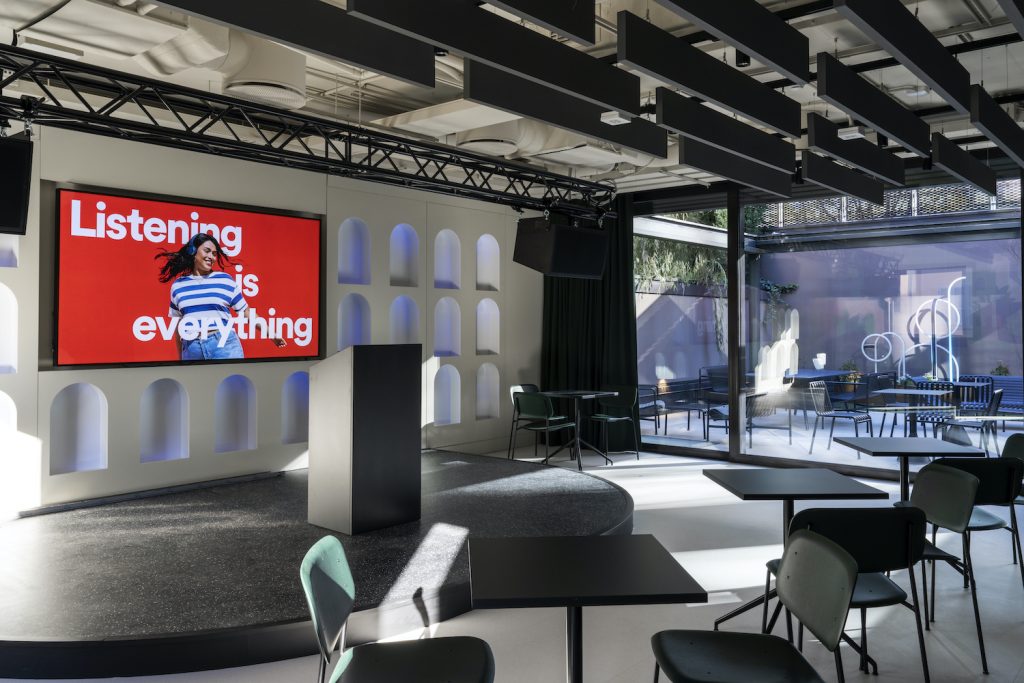 "We like to think of ourselves as a band," says Katarina Berg, Chief Human Resources Officer. "And just like a band, we work in total synergy and harmony to offer the best to our community of artists, creators, and users. Focusing on society, environment, and community will only become more important over time. Facilitated job and role mobility that gives careers growth opportunities in multiple paths will be taken for granted. Welcoming the entire Spotify community to the new space in Milan is a new way for us to allow everyone to unleash their creativity!"
We inaugurated our new hub this week with Federica and Katarina as well as Head of Enterprise Sales Southern Europe Alberto Mazzieri, Head of Studios for Southern and Eastern Europe Eduardo Alonso, and Head of Music for Southern and Eastern Europe Melanie Parejo. 
And no Spotify event would be complete without an artist on stage. Francesca Michielin—singer, songwriter, creator, TV host, and podcaster—shared her take on society and diversity and inclusion, and how these topics are reflected in the second season of the Spotify Original Maschiacci. And finally, attendees heard music from the Italian singer-songwriter, producer, and RADAR Italy artist Sans Soucis, one of the most prominent international voices coming out of the program.
At the event, we also celebrated milestones from the region in recent years, including our EQUAL, Sound Up, and RADAR programs. We were able to acknowledge Spain's Quevedo and Nathy Peluso, who have both been global RADAR artists; Poland's celebration of its first year of RADAR; and Italy's not one, but two years of the program. And Annalisa (Italy), Aleyna Tilki (Turkey), and Sara James and Hania Rani (Poland) have all represented their countries and worked toward gender equality as EQUAL ambassadors. 
Federica summed up the overall feeling of the day, and of the office, best: "Milan is the city that is the perfect mirror of the Spotify culture: international, inclusive, open, and constantly growing."