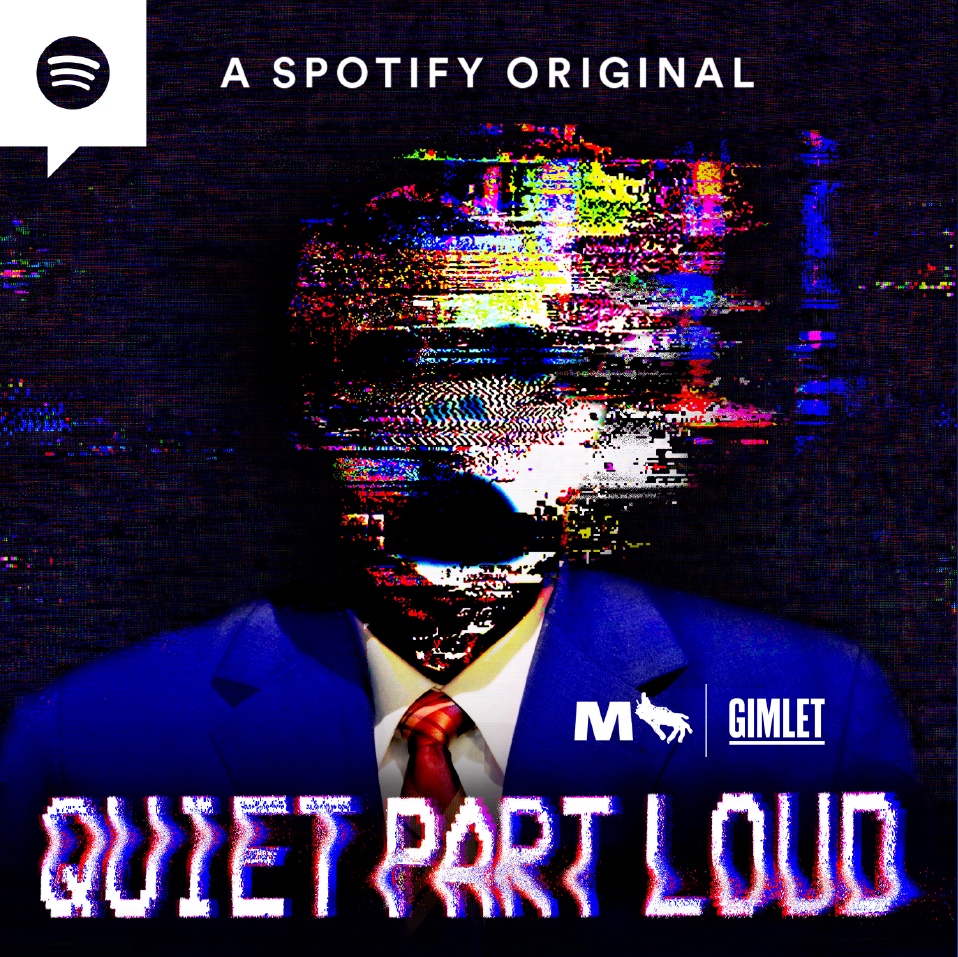 MORE THAN A WHISPER
The Creative Process Behind Jordan Peele's Hit Spotify Audio Series 'Quiet Part Loud'
Jordan Peele's Monkeypaw Productions may be best known for its blockbuster horror films Get Out, Us, and Nope, which all deliver incisive takes on the societal and cultural issues that exist in the world. But late last year, the studio forged a new path when it partnered with Spotify for the release of its first scripted audio series, Quiet Part Loud. 
With an all-star cast featuring Tracy Letts, Christina Hendricks, Taran Killam, and Arian Moayed, Quiet Part Loud follows the likes of Case 63 and Batman Unburied as the latest Spotify Original scripted audio series. And thanks to its captivating story and immersive sound design, it has also found instant success.
The 12-part audio horror fable centers around main character Rick Eagan (Letts), a demagogue who uses his platform to spread political misinformation, and follows the terrifying effect falsehoods can have on the public. Serving as an examination of the fear, animosity, and divisiveness in American society, Quiet Part Loud was a hit upon its premiere, debuting as the top podcast in the U.S., as well as the top fiction podcast in the U.K. and Sweden. 
Providing a deeper look into the creation of the series, Executive Producer Geoff Foster sat down with For the Record to discuss Quiet Part Loud's creative approach and inspirations.
What attracted Jordan Peele, you, and the Monkeypaw team to the idea of creating a fictional audio series in the horror genre?
Jordan and Monkeypaw are always excited by new ways to innovate and evolve as storytellers—we are always pushing ourselves to try new things and break old habits. The horror potential in scripted audio was undeniable. It's a very personal medium because you are almost always alone when you are listening to a podcast. 
So despite the limitations of not having visuals, it felt like this intimate setting that was ripe for a new brand of horror. I think we were also intrigued by the historical precedent set by Orson Welles and the War of the Worlds radio broadcast in the 1930s, and eager to see what kind of potential was maybe yet to be unlocked for a 21st-century audience. There were obviously many brilliant creative minds already working in audio, but we wanted to see what we could bring to the table to push the medium even further. 
What's the biggest or most unexpected difference between creating an audio series and making a movie?
The biggest difference is that without visuals, "action" becomes very difficult. This was definitely something that became more and more evident as we tinkered with the story in the writing phase and again in post-production. There are two big action set pieces in our series, in Episodes 8 and 12, and those two episodes definitely consumed the most time and attention. 
Even if you want to do something relatively simple like have someone pick a lock or get punched in the face, it's pretty tricky. You can always use a narrator, but that feels like a crutch. Or you can have the character himself saying, "Time to pick this lock now," or "Why did you punch me in the face?" But that feels inorganic and contrived. 
So this distinction really impacts so many choices in the story phase, and often many you might not have thought of. From a horror perspective, it also takes away a lot of your tools in the toolbox. Rather, the scares need to come from the anticipation and dread that precedes a threat. You need to live in the first 70-80 minutes of Jaws before you really see the shark.
How do you think the audio-focused format of podcasts provides a new way of storytelling?
I think once you get over the limitations of this format—the lack of visuals, the lack of gorgeous movie stars, etc.—you begin to see that this type of storytelling has unique advantages. It's this strange hybrid that is probably most similar to a stage play. You have a captive, focused audience that hangs onto every word and places a real premium on great dialogue. But unlike a play, it's also similar to TV and film in its pacing, editing, and story structure. 
There's also something very freeing in not having to worry about budget or locations or camera setups or special effects or set design. You can be on the surface of the moon one second and on a submarine at the bottom of the ocean the next. You can travel around the world or back in time. There are no limits on any of that. As long as you can create a recognizable soundscape and are diligent about that, you can tell stories that would be otherwise unproducible in film and TV.
Amazing sound design is a hallmark of any great horror film. Do those same techniques work for an audio series like Quiet Part Loud, or did it require a different approach?
Well, there are definitely many similarities. Music plays a similar role in setting mood and tone while also priming the audience for scares. And the sound design process for determining what The Blank in Quiet Part Loud sounds like was similar to figuring out what Jean Jacket sounds like in Nope. 
But in this medium, the sound design is also doing the work of the camera. It is establishing POV and situating the audience in every scene. It is also doing all the transitions from scene to scene that establishing shots normally do. For a horror show like ours, the sound design is also responsible for the jump scares—and experimenting with how those could work was one of the most fun processes while we were making Quiet Part Loud. 
Will there be more podcasts in the future for Monkeypaw Productions?
Yes! We definitely want to do more. This is just the beginning.
Ready to experience the suspense of Quiet Part Loud? Stream all 12 episodes now.