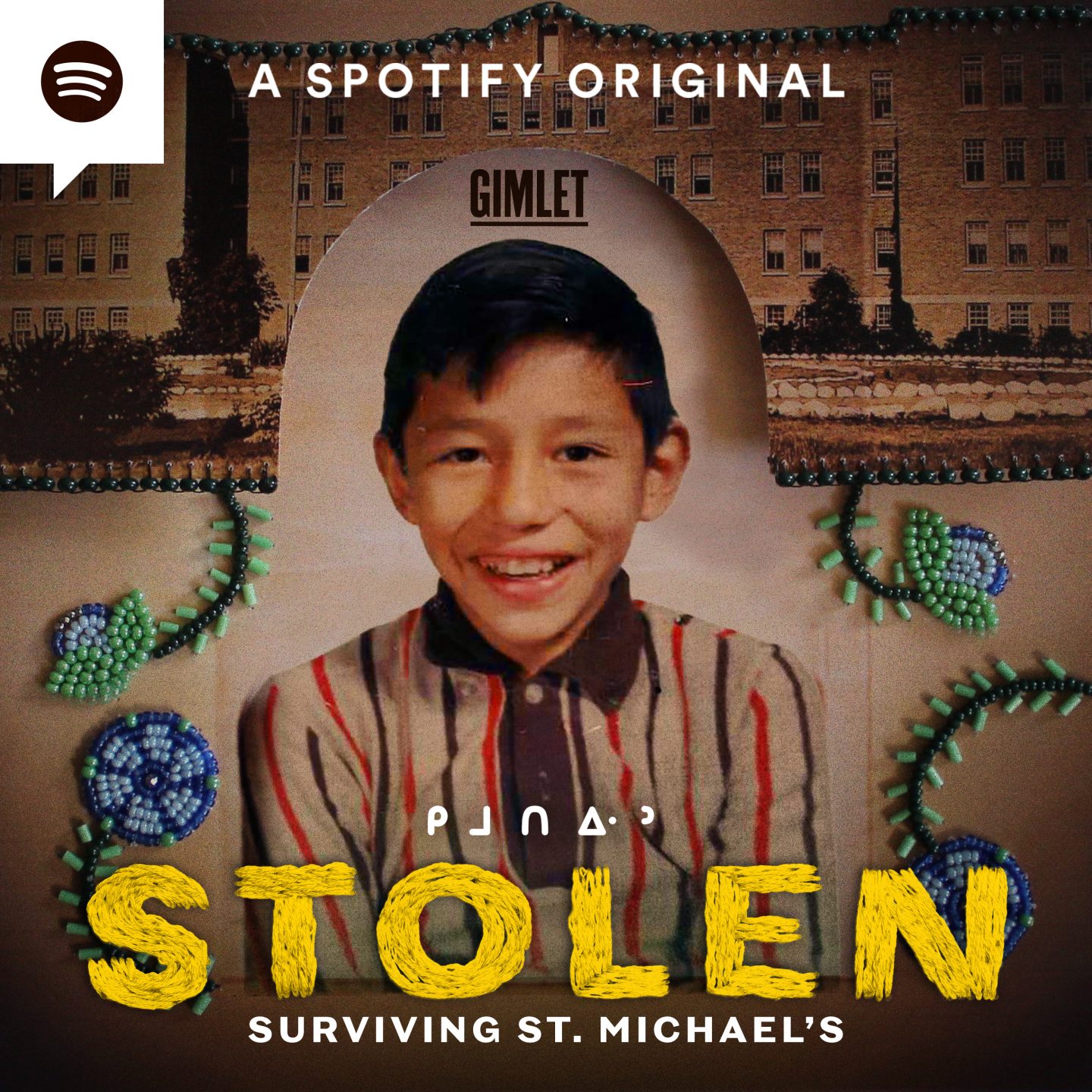 DEEP INVESTIGATION
'Stolen: Surviving St. Michael's Wins duPont-Columbia Award for Journalism
Journalist Connie Walker often tackles projects that hit close to home, but none compares to the second season of her Gimlet and Spotify Original podcast, Stolen: Surviving St. Michael's. Throughout the eight-episode journey, the Okanese First Nation (Cree) investigative reporter takes a look into her father's harrowing experiences at a Canadian residential school in the 1960s. She uncovers deep abuses at the hands of school administrators that led to childhood death and adulthood trauma—outcomes that were not unique to St. Michael's.   
Connie's deeply personal telling of this harrowing story has made a profound impact on investigative journalism. On February 6, Connie and the Stolen team won an Alfred I. duPont-Columbia University Award for the series. This prestigious award honors the best in broadcast, documentary, and on-line reporting as selected by peers and fellow journalists. Stolen is the first Spotify or Gimlet podcast to receive a duPont.
For the Record caught up with Connie a few days after the award ceremony to hear more. 
What was your reaction to finding out you won a duPont?
I was thrilled. And also kind of in disbelief. It's such an incredible award, and just to have that type of recognition for our podcast, it was just so unbelievable and thrilling. I'm still pinching myself. 
Looking back on the season, were there any elements of investigating, recording, or editing that stood out as notable to you?
This is a very different story for me, perhaps because it's such a personal story. As journalists, we're often advised not to make yourself part of the story—it's kind of a taboo thing. And so that was really a big challenge for me personally, to include so much of my personal story and my father's family story in the podcast. But it also felt like the perfect format for doing that, you know? A serialized investigative podcast allowed us to really explore all the nuance and context that's so important in understanding not just residential schools but stories about Indigenous people in general. 
Surviving St. Michael's started out as this really personal story about my father and his experience at a residential school—I never imagined it would end up as one of the most comprehensive investigations into a single residential school. And what we were able to uncover in our investigation was staggering. One thought I had as it was happening was, "This should have happened earlier." The window for accountability is shrinking, and the window for survivors is shrinking as well. Coming out of this, I feel the urgency to keep on telling these stories. 
The jury commended the series for "its consistent focus in pursuing the truth." What are your hope
s
for mainstream media and its future focus on the realities Indigenous people faced and still face?
I started my career over 20 years ago when there was really very little interest in our communities and very little understanding of the importance of our stories. And to be at this point where now I'm supported to share these stories on Gimlet and Spotify—with the big audiences and the ability to take some of these big risks with our storytelling—it kind of feels to me like a dream come true and something that I just want to continue for as long as I can. There's been a huge shift in the last 5 to 10 years, not just in terms of an understanding of how important our stories are, but also that Indigenous people should be the ones to tell them. And obviously we all want to keep going. We know there are so many more stories. 
Podcasting is becoming an increasingly accessible medium to historically marginalized creators. What would you like to see more of coming out of Indigenous communities? 
I think it's fantastic that podcasting is now a platform for us to share these really important journalistic and investigative stories. What I personally would love to see more of is a better representation of the diversity of our experiences. Obviously, as an investigative journalist, I'm going to take on a certain kind of story in a podcast like Stolen, but Indigenous people have so much beauty and humor, and an incredible culture, and so many things to share. I feel like it's never been easier to share some of those parts of our culture and that diversity that exists in our experiences. But I'd love to see more of that—more laughter, more celebration, more sharing of the beauty and strength of our culture.  
What are you up to next?
We're already hard at work on Season 3 of Stolen! We've already done a few recording trips. Our team is really excited to keep going. Like I said, there are so many stories from our community that need to be told, and I'm excited to shed a spotlight on more of them. 
Catch the first episode of the duPont-winning series below.