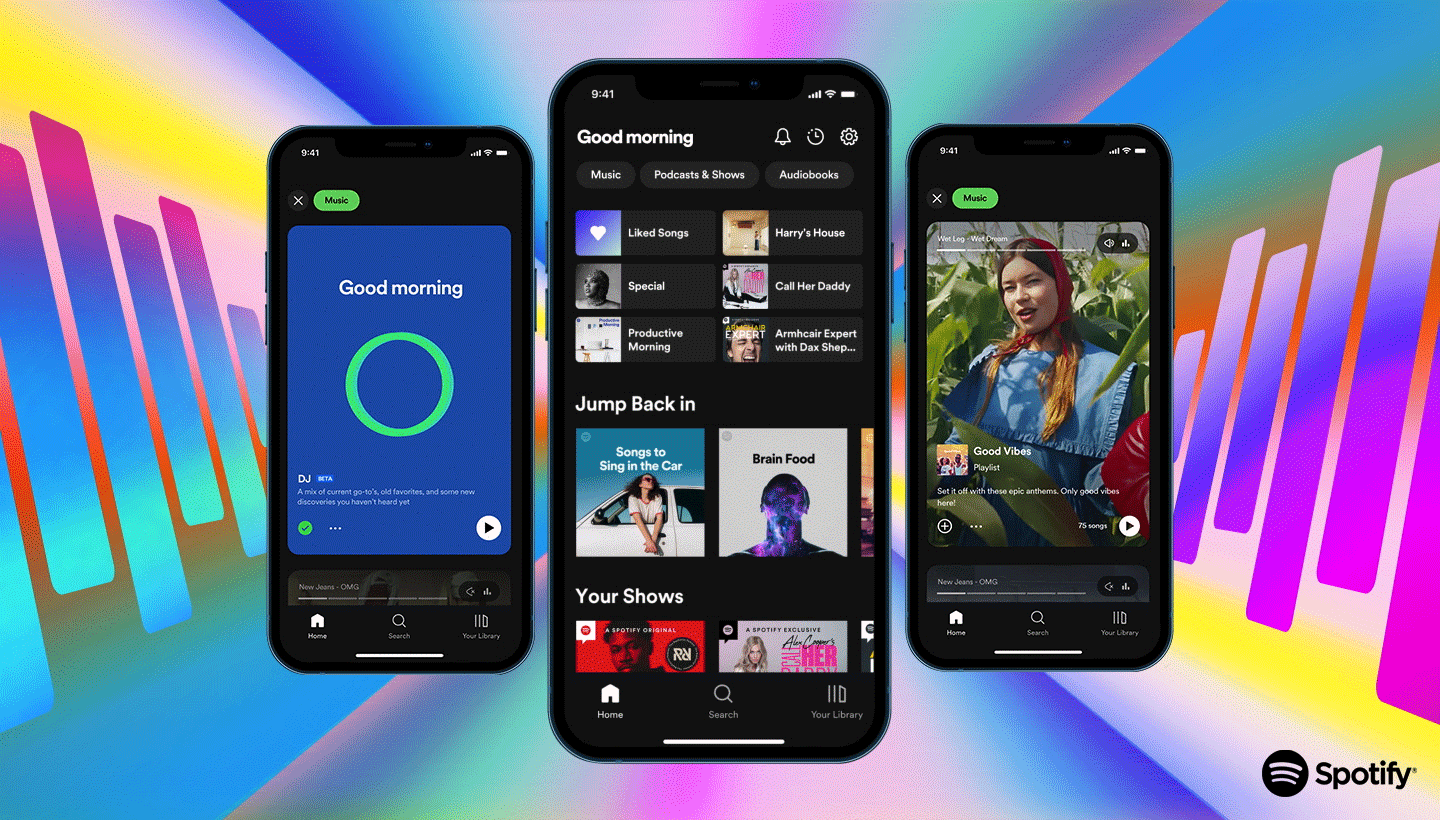 STREAM ON
Preview Music, Podcasts, and Audiobooks on Spotify Home
There's so much to listen to on Spotify, and so little time. We know you don't want to spend precious hours on titles and tracks you might not enjoy. Beginning today, when you open up Home on the Spotify app, you'll find personalized, curated previews of the songs, podcasts, and audiobooks you might enjoy. Quickly dive into what speaks (or sings) to you, or save it for later when you need that perfect soundtrack. 
As shared during Stream On, previews make for a whole new way to sample and discover whatever you might be in the mood for, all on your Home screen. And they build on the dedicated feeds for Music, Podcasts & Shows, and Audiobooks that we introduced last year. 
Our data shows that more listeners become committed fans after previewing what they're about to listen to, making this feature simply the latest update in our larger mission to create even deeper connections between artists and fans. 

The music feed
The music feed contains personalized recommendations for singles, albums, and playlists. At the top of the feed, you'll see some selected mixes you might like. (If you're a Premium user in the U.S. and Canada, you'll also see DJ.) When available, animated song canvases will accompany audio previews, providing you with a peak into an artist's creative world. 
The Podcasts & Shows feed
Just like music, the podcast feed contains personalized recommendations for new and familiar episodes and shows. At the top of the feed, you'll have quick access to your shows. Automatically generated previews will showcase what's in store. For podcasts, real-time transcriptions allow you to easily preview an episode or chapter even with the sound off. Video podcast previews let you watch and listen to the conversation.
The audiobooks feed
The audiobooks feed contains personalized audiobook recommendations. At the top, you'll have quick access to your purchased or saved audiobooks. And to give you a taste big enough to help you make the perfect call on a purchase, the audio preview may be up to five minutes long.
After previewing, you can: 
Save, download, or share with just one tap:

Simply tap the Plus (+) icon to save your recommendations to Your Episodes or Your Library. Then, download or queue by tapping the three dots at the bottom of the preview. 

Play from the start:

Press Play to listen to a track, album, playlist, or episode from the start. For podcasts, tap "continue listening" to play the rest of the preview from where it began.

Dive even deeper:

Tapping a recommendation will take you to the playlist, album, or single to explore even more related audio. 
Spotify is the first platform to enable truly seamless previews across music, podcasts, and audiobooks—and they're now beginning to roll out to Premium and Free users globally across iOS and Android. Music and podcast previews are available in all markets where podcasts are available globally. Audiobooks previews are currently available in the U.S., the U.K., Ireland, Australia, and New Zealand.