LIGHTS. CAMERA. ACTION
Oscars Music Director Rickey Minor Reveals His All-Time Favorite Nominated Songs
On Sunday night, movie fans around the world will tune in to the 95th Academy Awards—aka the Oscars—to celebrate Hollywood's exceptional talent. Once the show begins, it's the musical numbers that help create the magical atmosphere the event is known for. 
This year's musical director for the show is Rickey Minor, who previously worked on tours for the likes of Whitney Houston, Beyonce, and Ray Charles, and also served as the musical director and bandleader for The Tonight Show with Jay Leno. Rickey's job for the Oscars is to plan out the music that will play throughout the show, and then work with the house orchestra to bring it all to life.
Ahead of the big night, we teamed up with Rickey on a special Oscars-themed playlist. From classics like Whitney Houston's "I Will Always Love You" to Encanto's "The Family Madrigal," this playlist is not only a collection of Rickey's favorite Oscar past nominees, but also a look back at the show's rich musical history.
For the Record recently sat down with Rickey to discuss his work leading up to the Oscars, this year's nominees, and what excites him most about working on this iconic show. 
What do you work on in the lead up to the Oscars?
There's a lot of music to prepare. It's upward of 170 pieces, so my team and I have to get through it all in two days of pre-recordings and rehearsals. And then we get in, perform sound check, and it's time to go. But it's all exciting.
Thankfully, this is a show with a rich, 95-year legacy. You don't have to rewrite the book. You just have to come in and infuse a different perspective. This is my third time doing the show, and so I look at the years before and bring that inspiration to this year's incredible films. When it comes to the music, I think a lot about ways to be more inclusive—not just with different eras, but also with different countries and genres—because all of us make up this world. So my thought is that if you're in South America or Europe, how cool would it be to hear a cue that references a movie from your part of the globe?
How is working on the Oscars different from working on a tour, a TV show, or other projects?
The pressure is bigger because there's a lot riding on it. Generally speaking, for all of us working on the show, we have one chance to get it right. And when an article goes out, or a book goes out, or a record goes out, this is what will be remembered as our best work. It requires a mix of paying attention to detail, but also letting go. If it feels right, it's right. If it feels wrong, it's wrong.
There might be times when my team and I debate whether a certain decision might be too on the nose. Like, is it patronizing to introduce someone from another part of the world with music from their country? But I just try to approach it with respect and offer a sense of representation. Because if we don't support each other and celebrate our differences, they're not there.  
How does the music featured during the Oscars help to set the tone for the entire show?
Music is life. Life is music. We speak in rhythm, we walk in rhythm, and our hearts beat in rhythm. And so, with the Oscars, the tone of the show really starts with the music. Yes, it's all about the films, but it's also all about the great music from these films that takes you back. And so, having these iconic musical moments helps everyone feel the moment—the joy, sadness, and triumph.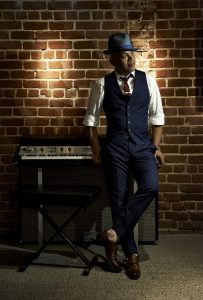 Can you tell us about your creative process?
When I start a process like this, I listen with my eyes closed so I can really get a sense of what the music makes me feel and then decide whether or not it's an emotional moment I want to include.  
The show has to have a lot of different styles and diversity in the music, but it also has to have a flow. So there'll be a time where I have a very romantic moment, and it's lush and beautiful, and then I'll drop into some hip-hop. Then I'll jump right out of that into classical. I'll go wherever the flow feels right. 
If you have someone that's an iconic artist, then you're going to want something grand and beautiful, and to give them their due and give them time to walk out. There's no rush to get them there. And I have to keep in mind not only the television audience, but the audience in the building. It's really a chess game.
When it comes to the music from this year's Oscar nominees, is there anything that stands out to you?
I was inspired by a lot of it. Just looking at the songs alone, "Naatu Naatu" from RRR was a very exciting and fun number, and it made me feel proud of the inclusion that we have, and that we're looking at art from a different way. Same thing with Rihanna's "Lift Me Up" from Black Panther: Wakanda Forever. I mean, just put her in front of a microphone and I'm good. Then there's "Applause" from Tell It Like A Woman, which was written by Diane Warren. I've known her my entire musical life and it makes me proud to see her receive an honorary Oscar. I also loved "This Is a Life," from Everything Everywhere All At Once. 
Really, I feel like the winner because I get to do all five of these songs as well. 
Each year, as the show starts, what do you find you're most excited about?
I have to be honest, every moment is amazing. Once the show starts, there's a lot that I have to stay on top of and I'm watching so that I don't lose track. There's so much going on in the headset in between the director and the shots and the cues coming in. But I really just want to be present for every single moment and not miss a thing. I love seeing all the emotions, like the joy people express during their speeches. And sometimes I have to pull myself out because I have to say I'm on it, but I'm still so in it.
What's your takeaway for fans? 
I say, get dressed up and get ready to party. Put your dancing shoes on, because we're giving you all that energy. And make sure you have some tissues, because there are going to be some tears. Tears from the winners—and tears from everyone else.