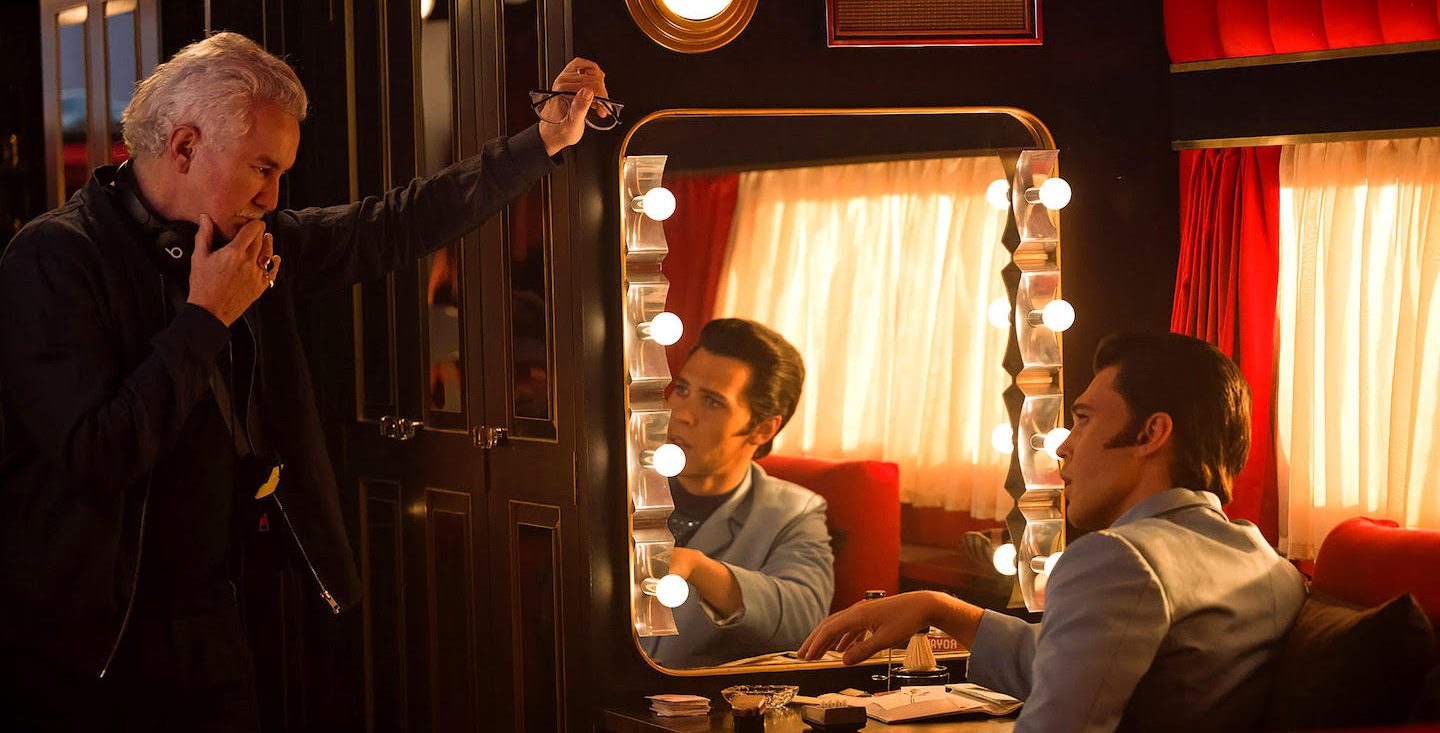 KING OF ROCK & ROLL
'Elvis' Director Baz Luhrmann and Actor Austin Butler Talk Movie Soundtrack and Song Inspiration
The star power that Elvis Presley brought to the stage is undeniable. With a shake of the hips and the strum of a guitar, the Memphis performer dazzled fans and captivated the world.
But there are so many other elements, relationships, and more that defined the rock star's life offstage. Director, screenwriter, and producer Baz Luhrmann's 2022 film Elvis brings that side to light—with the show-stopping and dazzling flair the Australian director is known for. Austin Butler stepped into the role of Elvis, spending years homing in on every aspect of the King of Rock and Roll's persona. 
The film was a hit, quickly cementing itself as one of the biggest movies of the year and one of the highest-grossing music biopics of all time. Elvis has already received multiple awards—and eight nominations for the 2023 Academy Awards, including one for Best Picture and Best Actor.
And the film prompted fans to flock to Spotify as well.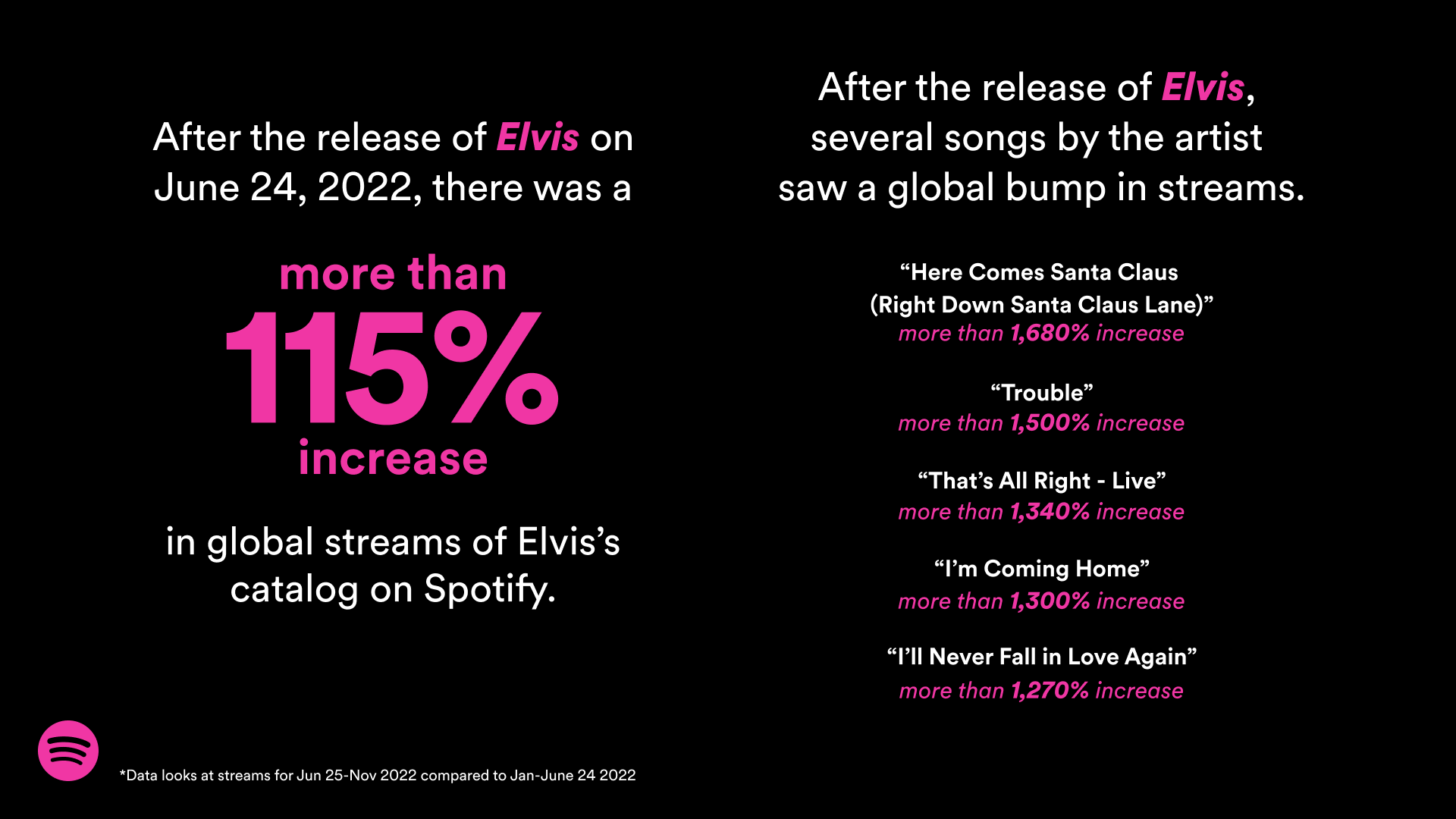 In a film that follows a musician as prominent as Elvis, it's critical to get the music right. With their new, exclusive playlist on Spotify, Baz and Austin are giving fans a behind-the-scenes look at the music that influenced the movie. 
"One of the things that really motivated us to do the story of Elvis was the simple fact that 'Without Black music, there'd be no Elvis' and the direct influence that music had on him," Baz told For the Record. "In particular, his genuine friendship with B.B. King came to light in some of our research, and his mother, Gladys, was a huge Sister Rosetta Tharpe fan—she used to play her music all the time. This playlist has just a smattering of these artists." 
The award-winning director and actor pair recently sat down together to talk about the film, their playlist, and how music played a role both on and off the set. 
Baz Luhrmann
:
So Austin, how did you go about preparing for the role of Elvis, specifically in regards to music and singing?
Austin Butler: Well, I never sang in front of anybody before this role, so I had to find my way into his humanity. I worked with a number of different singing coaches for the year and a half leading up to filming. The thing you quickly realize is that Elvis's voice changed a lot over the course of his career. Not only his speaking voice, but also his singing voice. So I had to figure out how to lock into the different vocal mannerisms of those different time periods in his life. It was an immense amount of research and work, and involved me following my own curiosity and finding how he's saying a specific word. And I just worked on that as much as I could. 
Baz: I remember you used to walk around listening to Elvis. How many of his songs do you reckon you had on your playlist? 
Austin: First, I just listened to every one of his songs chronologically so that I could see and hear the journey that he went on throughout his entire career. You hear over time how his influences affected the way he sings. I also started to curate playlists for each time period, because we were filming out of sequence. Then the night before, I would listen to the time period that corresponded to whatever we were shooting the next day. I was even listening to those key recordings in makeup and hair as I was getting ready. So I have many, many Elvis playlists. 
Baz: We also had access to a lot of Elvis content that other people haven't heard. Were there pieces or recordings that inspired you? 
Austin: Yeah. For me, it was those recordings—whether they were songs, or as we've talked about before, Anita Wood recording him on the phone when he didn't know it—that reveal these moments of intimacy and give a glimpse into the unguarded version of Elvis. 
One of those is when he's singing, "Are You Lonesome Tonight?" As a way to amuse himself and to amuse the audience, he would often sing these lines that people weren't expecting. So, in this version of "Are You Lonesome Tonight?" he says, "Do you gaze at your bald head and wish you had hair?" and the story is that this man in the front row stood up and took off his toupee and waved it around, and Elvis just burst out laughing. Then, as he's laughing, you can hear I think Cissy Houston in the background, who's singing the high note. And she keeps singing, and at one point he can't help but laugh, and he goes, "You singing baby or something?" I just love that moment.
Baz: One of the things we decided was to make sure we weren't just endlessly playing Elvis songs on set as we were rehearsing. We wanted to have a contemporary mood and feel, so that when we did shoot, we could use the other songs and it felt fresh and emotional. One of the tasks we set ourselves was what kind of songs might suit certain scenes. Is that the way you remember it? 
Austin: Yeah, there were times where we were listening to Elvis and there were other times we were listening to those artists that have influenced Elvis, and then there were times where, as you've said, it was about the feeling. 
Baz: I'm gonna ask you why you think we used "Anarchy in the U.K." by the Sex Pistols as a kind of gear-up before we then went to you singing for that scene? 
Austin: I think it was the feeling of anarchy and the feeling of rebellion. The fact that Elvis was the original punk rocker. So it was giving the energy to the audience and the entire crew of what that felt like at the time. Because sometimes you'll hear those recordings and especially because of the way that they were recorded, you can't fully grasp what that felt like in the room. 
Baz: In a way, we say he's the original punk, but really, the other point is that punk was trying to get back to being Elvis. It's worth holding up the original Elvis Presley album from 1956 and The Clash's London Calling. Just to see that what punk was trying to do was a reaction to how sappy music had become, and they were trying to get back to the raw energy that was Elvis Presley. 
And the other song that comes to mind vibe-wise is David Essex's "Rock On." I think we played that when Elvis gets out of the truck and he's walking into Lauderdale Courts. And do you know why we played this? It's because I think in Elvis's head he was playing the coolest country and western guy around. He didn't care what they thought, he was rolling.
Austin: And he says "blue suede shoes" in the song, which is great, and "James Dean" as well. There are a lot of influences in this song. You know, I'd never heard the song before that day, and so as I was getting out of the truck, that was the first time I heard this David Essex track, and you can't help but walk a certain way when you hear it. It gives you swagger. 
Another song that always tugs at the sorrow in my heart is Max Richter's "On the Nature of Daylight." Before we were going to do the scene in the closet after Gladys passed away, you guys asked what song I want to be playing, just around the set, and this is the first song that came to my mind. So that was what was playing leading up to when action was called. It just has a way of cutting through any of my conscious mind and getting right to the sorrow in my heart. 
Baz: It's very interesting because that was your choice, but I allowed the camera and the mood of the set to be very influenced by that music. 
Listen to all the songs that inspired Baz and Austin during the making of Elvis, including the tracks mentioned in their chat, in their curated playlist below.
Main Photo Courtesy of Warner Bros. Pictures.