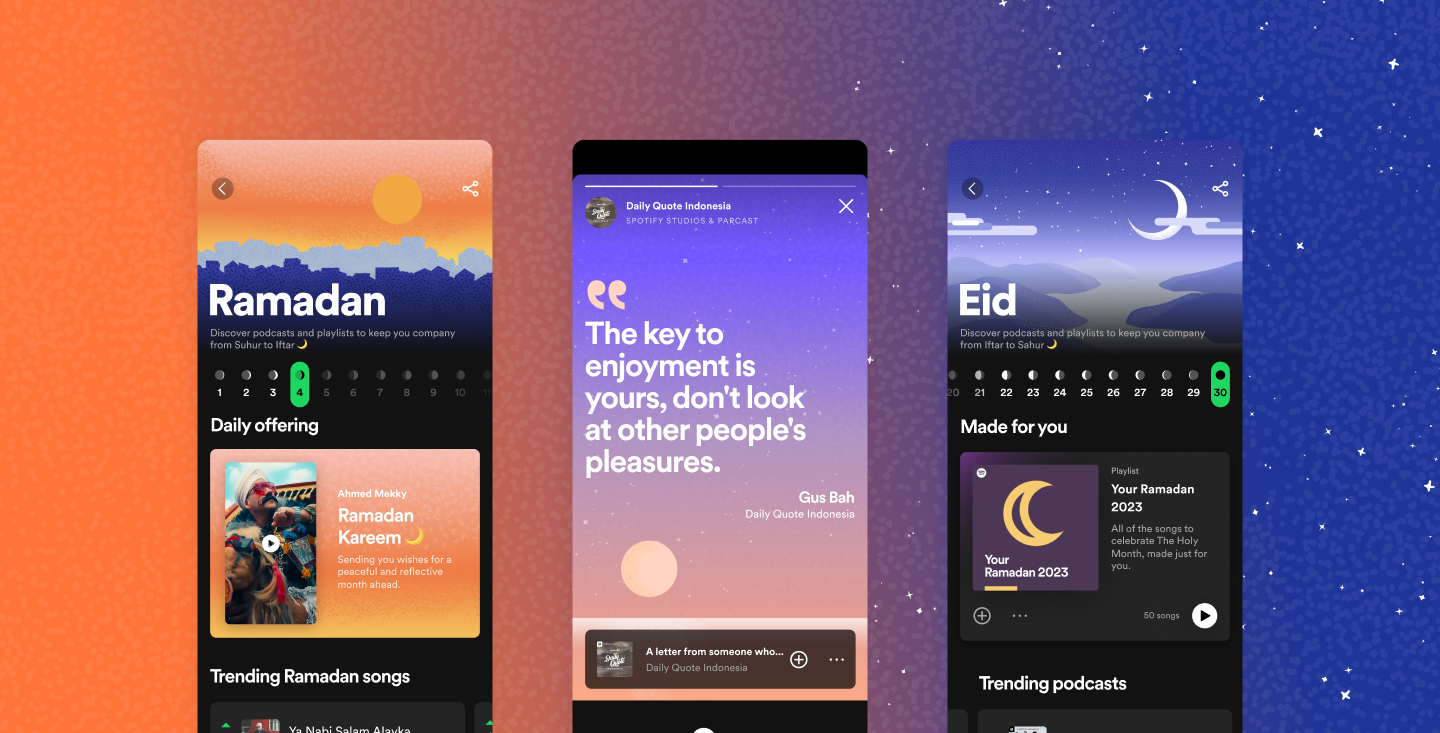 RAMADAN MUBARAK
Spotify Celebrates the Holy Month of Ramadan With a New Personalized and Curated Experience
This week marks the start of Ramadan, a month of spiritual rejuvenation, humility, and togetherness. As families and communities around the globe come together to observe, learn, pray, and celebrate, they can also turn to Spotify for meaningful music, podcasts, and talk content.
Those observing Ramadan have previously enjoyed curated Spotify playlists and podcasts that remained static throughout the month. This year, we've built a dynamic new experience for Ramadan. 
"We're designing an experience on the platform that allows our listeners to take a more active role in discoverability as well as to foster more meaningful connections with artists and podcasters they love on Spotify," said Gautam Talwar, Managing Director for Spotify Asia Pacific. "We are proud to deliver this supercharged Ramadan experience to our listeners during this important cultural moment to soundtrack their moods and moments across the Holy Month."
When eligible listeners open the Spotify app, they'll find new highlights, podcast quotes, clips, and music and podcast releases every day, plus a new topical theme each week. Listeners will also find personalized content on the "Your Ramadan 2023" playlist and see the music and talk content that's trending in their countries, and podcasters are constantly developing and publishing new Ramadan-related episodes. 
"Ramadan has now become a time for podcast creators to think of special programming for their audiences. We are seeing more and more podcasters release series that are the ultimate companions to everyone observing," shared Rhea Chedid, Senior Podcast Manager at Spotify. "Everything from shows about cooking and the history of Ramadan traditions and Islam, to audio scripted series that entertain and podcasts that review your favorite Ramadan television series, we are really witnessing creators think deeply about how they can better the lives of listeners through audio during this time."
Nick Dahl, a Senior Product Manager, is one of the Spotifiers behind creating the Ramadan experience. We talked to Nick to learn more about what listeners can expect within the unique and personalized app destination.
What makes this Ramadan experience different from what Spotify's done in the past?
In previous years, our editorial teams have curated playlists, podcasts, and talk content for our users during Ramadan, and this year we are taking it to another level. We are spotlighting content that changes each day, creating personalized playlists with songs picked just for listeners, and highlighting trending content that people are listening to in their region. We also made readings from the Quran easily accessible, and listeners can also find exclusive clips and greetings from their favorite artists and celebrities wishing them a blessed Ramadan.
Do you have a favorite element of the experience? 
A personal favorite are the daily offerings that change each day in the Ramadan hub. They highlight locally relevant stories about fasting, self-reflection, and wellness while also showcasing new releases from some of the most popular local creators in our markets.
Another impactful aspect is that our recommendations vary depending on where you're located and what time of day it is. For listeners observing in Egypt, some popular music playlists they'll find include Ramadaniyat, Titrat Ramadan, and Chill-oud. And they can easily access some of the most popular Ramadan-related podcasts, like Al Rassol, 1001 Nights, and Sukoun. Meanwhile, for fans in Indonesia, Refleksi Diri, OTW Ramadan, and Ketupat Lebaran are three popular music playlists we're serving. Someone looking for podcast content can tune into shows like PODKESMAS, RAPOT, Podcast Ancur, Kita dan Waktu, and GJLS, each of which has Ramadan-specific episodes.
Why is it important to build app experiences like this?
We want our fans and creators around the world to feel that Spotify is part of every moment, from Ramadan to regular daily listening. To do this, we've built product experiences that celebrate local culture with our users. Each market is different from another, and each user has unique needs when it comes to their listening habits. That's why we invest heavily in personalization and machine learning. We are able to create not just one version of Spotify, but rather 500 million different versions of our product tailored to each and every listener around the world. 
Ramadan is observed by more than 1.6 billion people around the world and we want to build a better, more localized product experience that celebrates our listeners' cultures. Our long-term ambition is to become their number one choice as an audio companion throughout the fasting period—from dawn to dusk—and to celebrate the end of Ramadan with Eid.
Discover the Ramadan experience by downloading the latest version of Spotify on your mobile, and then search for "Ramadan."  The experience is rolling out over the coming days on Android and iOS.