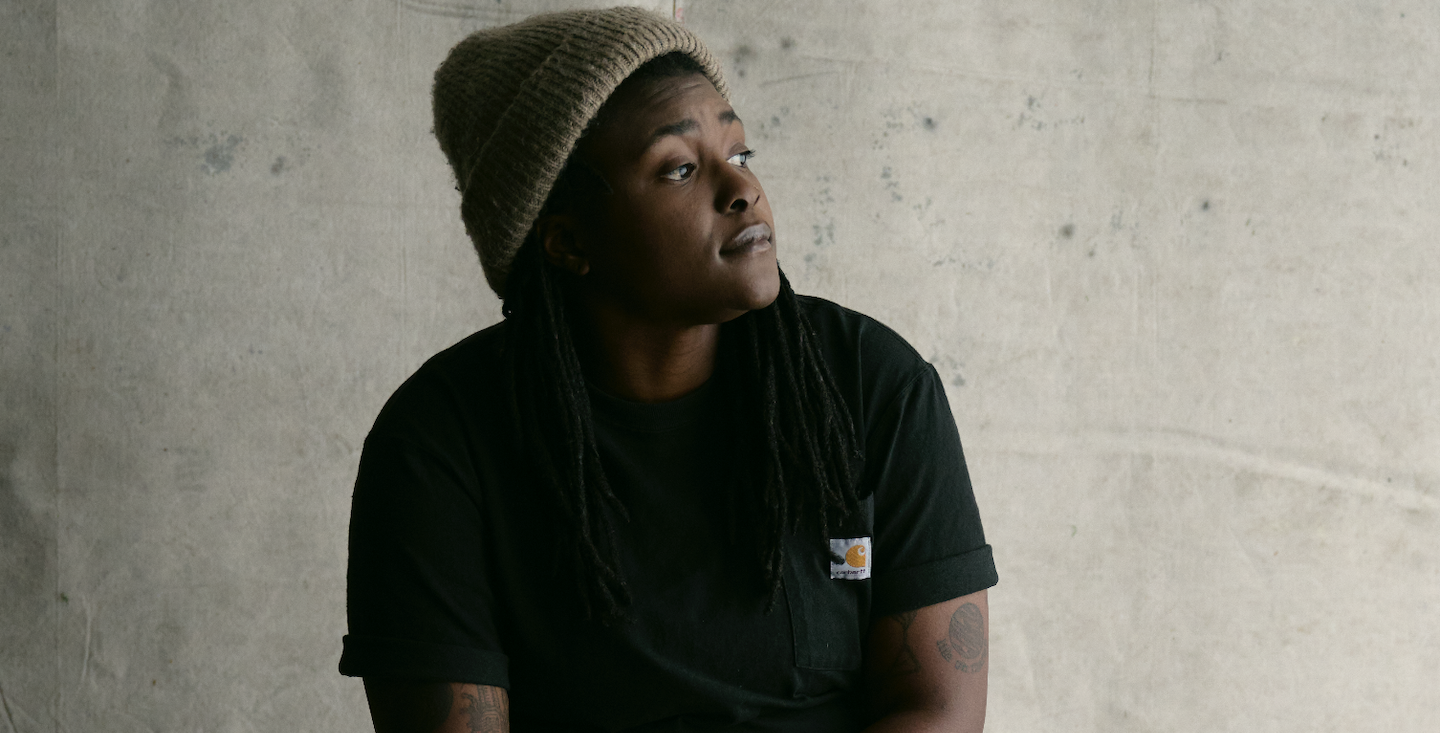 HOW THEY GLOW
GLOW Artist Joy Oladokun Embraces the Beauty in the Unexpected
Joy Oladokun is one of those self-proclaimed "rare birds" who didn't set out to become a professional musician. The fact that Joy now gets to write, record, and perform music for themself and other Black queers like them is still nothing less than magic. "Maybe it's my religious trauma, but I feel this responsibility as an artist—and not in a heavy way, in a truthful way—that if I'm going to ask people to listen to me, I want to say things that matter," the 31-year-old, Nashville-based songwriter told For the Record. "I want to make work that builds a bridge."
While living in LA after college, Joy found a job singing background vocals for a rock artist, and from there began to write music for low-budget videographers. The work snowballed into a viral gig, and eventually, a publishing deal. A few albums, plenty of singles, and an enviable number of high profile collaborations later, Joy is now preparing to release a new album and then go on tour with collaborator Noah Kahan. To top it off, she was just named Spotify's latest GLOW artist. 
GLOW is our global music program celebrating and amplifying LGBTQIA+ artists and creators. We'll support Joy on-platform with a dedicated hub and flagship GLOW playlist, and off-platform via billboards and other takeovers. The visibility, to her, is crucial—online as well as in real life. 
"Nashville reminds me of the small town that I grew up in, in rural Arizona. And it's really interesting being so Black and so queer in a place that, at least on the outside, wants to pretend that you don't exist. I think that there's this real ownership and identity for me that has happened here. Yes, it's a country music town, and I'm not a country musician, but I feel just as at home writing songs and making music here."
Joy always believed in the power of storytelling and songwriting, and now, they have the opportunity and the audience to tell their own stories. 
"As a songwriter, I got to a place where I could have written a song for an Ariana Grande or a Carrie Underwood and that could have been gratifying. But I also was looking around the playing field and not seeing anybody like me and not seeing anybody telling stories like mine in a way that I resonated with," they said. "There are obviously queer artists, there are obviously Black queer artists—thank God for Lil Nas X—but I think for the kids who grew up watching too much Star Wars and listening to Paul Simon and geeking out to the harmonies in Crosby, Stills, and Nash records, and also lying on the floor and listening to Linkin Park's Meteora because it's the best thing ever, I think I fill that gap. And I get to remind people that Blackness and queerness and womanhood and gender are not monoliths."
Listen to her tracks "sunday" or "jordan" and you might just hear a 21st-century Tracy Chapman with hints of Bob Marley, Phil Collins, and Peter Gabriel. "They used a lot of West African music and rhythms in what they did. My family is from Nigeria and West Africa, and their music feels like home. They reached out and created a bridge, musically, between a synth and a talking drum."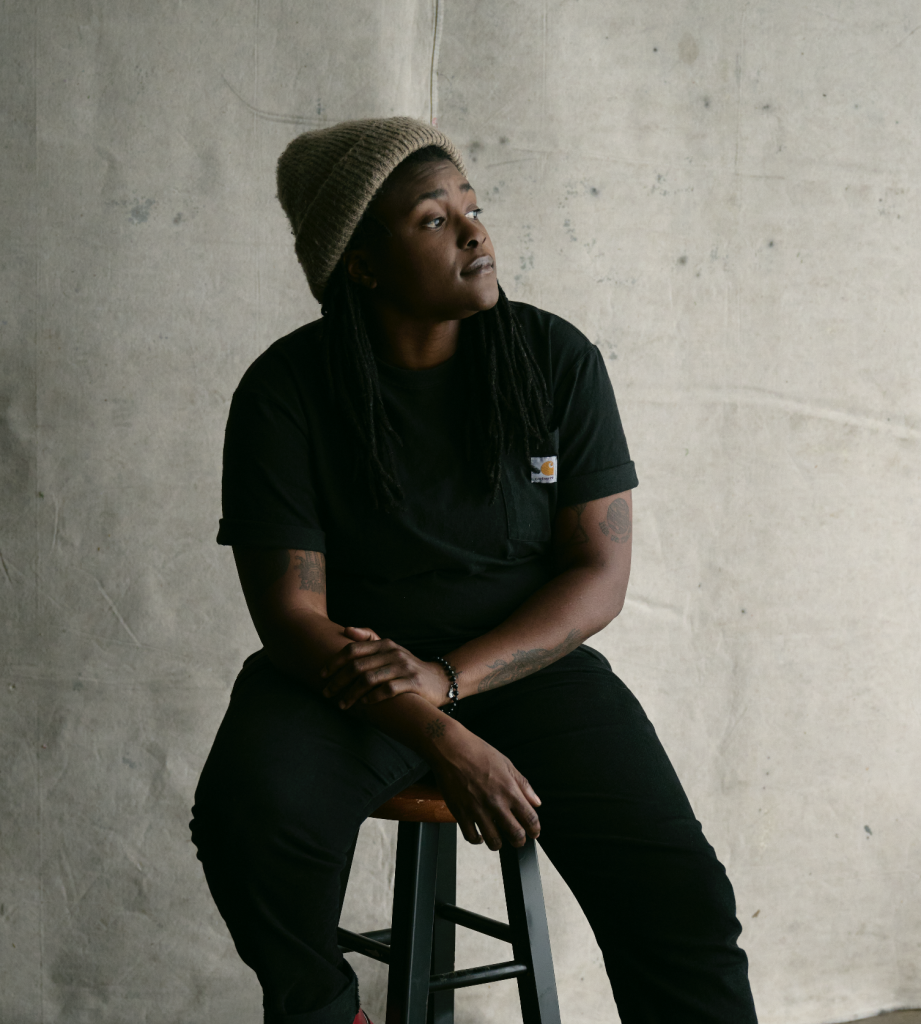 Jimi Hendrix, Green Day, Nirvana, Paramore, and Metallica also made a big impact on the artist as a young person. "Music is the weirdest thing we do. We just make noise out into the void, hoping it connects with somebody. I can listen to a Johnny Cash record and be like, 'I relate to this.' But if Johnny Cash and I sat down to dinner, it would just be awkward." 
Maybe, but there's also a broad range of artists Joy has already been able to work and record with, including Manchester Orchestra, Mt. Joy, Noah Kahan, and Chris Stapleton. "When Chris said he would sing 'Sweet Symphony' with me, I think I said, 'Are you sure?'" Joy has a photo of herself crying after listening to their track together for the first time. "Everyone has been so cool and so open to this sort of weird world that I'm building." 
Joy refers to their work and live shows as a sandbox at a playground—a place where lesbians dressed like truck drivers stand and sing their songs next to actual truck drivers. But it's not always a day in the sun. "I did this benefit concert in Tennessee because there's been a lot of anti-LGBTQ legislation here. And we were like, 'Hey, queer people live here! Imagine.'" One of the songs on the new record is about how nobody came to Joy's eighth birthday party, but when it comes to the mood, "It sounds as if Radiohead and the Beach Boys had a baby. So I have a serious, innate desire to make beauty out of difficulty."
Joy aims to keep her diverse fan base in mind and deeply values creating art that allows anyone to come to the table to find themselves. 
"I want queer people to listen to my music and feel empowered to take up all the space that God made them to take up," they said. "I want people to feel like they can be sad or frustrated at the state of the world, or the way they're spoken to, and feel like they still have people who care about them and advocate for them. And I think music does that." 
Listen to the singles from Joy's upcoming album, Proof of Life, and look out for the release on April 28.