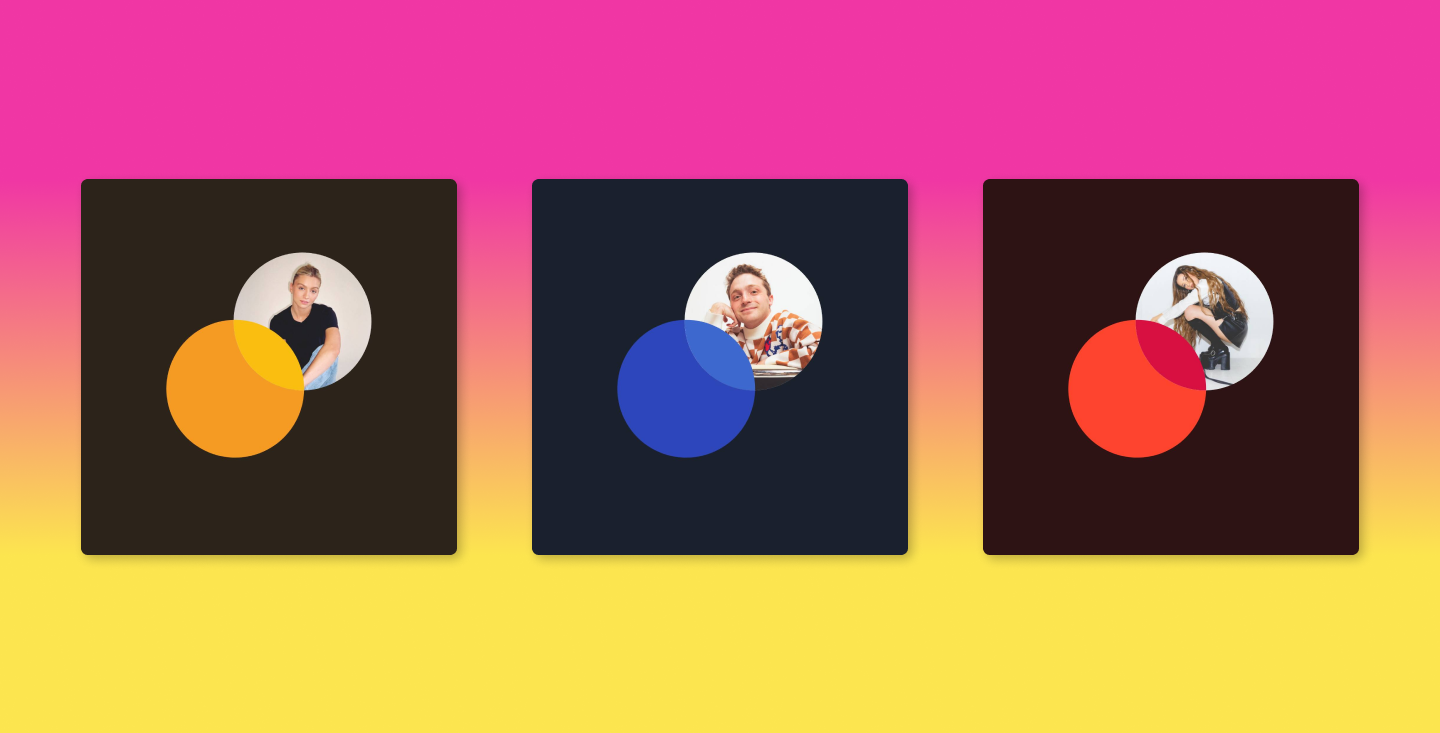 MIX IT UP
Listeners Can Now Blend With Their Favorite Creators on Spotify
Back in 2021 we introduced Blend as a new way for listeners to connect with their friends and family through music. Then, we gave fans the opportunity to deepen their connection with some of their favorite artists, including BTS, boygenius, Charli XCX, Diplo, JO1, Kacey Musgraves, Lauv, Megan Thee Stallion, and Miley Cyrus, through their Blend playlist.
And now, we're expanding the Blend family to give listeners the ability to connect with their favorite creators through their own personalized playlists. 
Kicking off the new expansion of Blends, Spotify is letting users combine their musical tastes with Jake Shane, Anna Sitar, and Pokimane.
Want to know how to Blend with these social stars? Simply click the link in their name above and then let Spotify do the rest. We'll merge your musical taste with your favorite creator's into one shared playlist made just for you and give you a taste match score to see just how similar your tastes are. 
For the Record caught up with Jake Shane, known for his history reenactments and love of Taylor Swift, to talk about Blend, his music taste, and what celebs he's matched with. 
How would you describe your music taste? 
My music taste is a combination of really passionate songwriting and iconic pop stars. I'm clinically obsessed with Taylor Swift, but have always been a huge fan of artists like Lady Gaga, Amy Winehouse, and Lily Allen as well. 
Have you matched with any artists or celebs? 
Yes, I've matched with Kacey Musgraves. We have a 76% taste match! 
Why are you excited to be able to Blend with your fans and community? 
My community knows how important music is in my life. Since the beginning, I've shared songs with my followers that resonate with how I'm feeling, so being able to connect with them on that level is really exciting and important to me. 
Do you have any stories of creating a Blend with a friend with a really different music taste than you? 
One time, my roommates and I were having a dinner party and the playlist shuffled from Norah Jones to Juice WRLD. 
Tell us a story of a way music brought you together with another person. 
My two roommates and I really became close over our love for Taylor Swift. During the pandemic, life was full of uncertainties, but Taylor's music and our shared love for her was always a stable force. It was the one thing we never got tired of talking about.
You often make updates to your 23 playlist on Spotify—how do you discover new music? 
I get a lot of my music recommendations from the internet and my community. I also browse Spotify's New Music Friday and Discover Weekly playlists religiously.  
When you're in your feels, what do you like to listen to?
Ryan Beatty's new album, Calico.
Find out how Jake Shane's music taste compares to yours. Create a Blend now. And find a full list of all available creator Blends here.