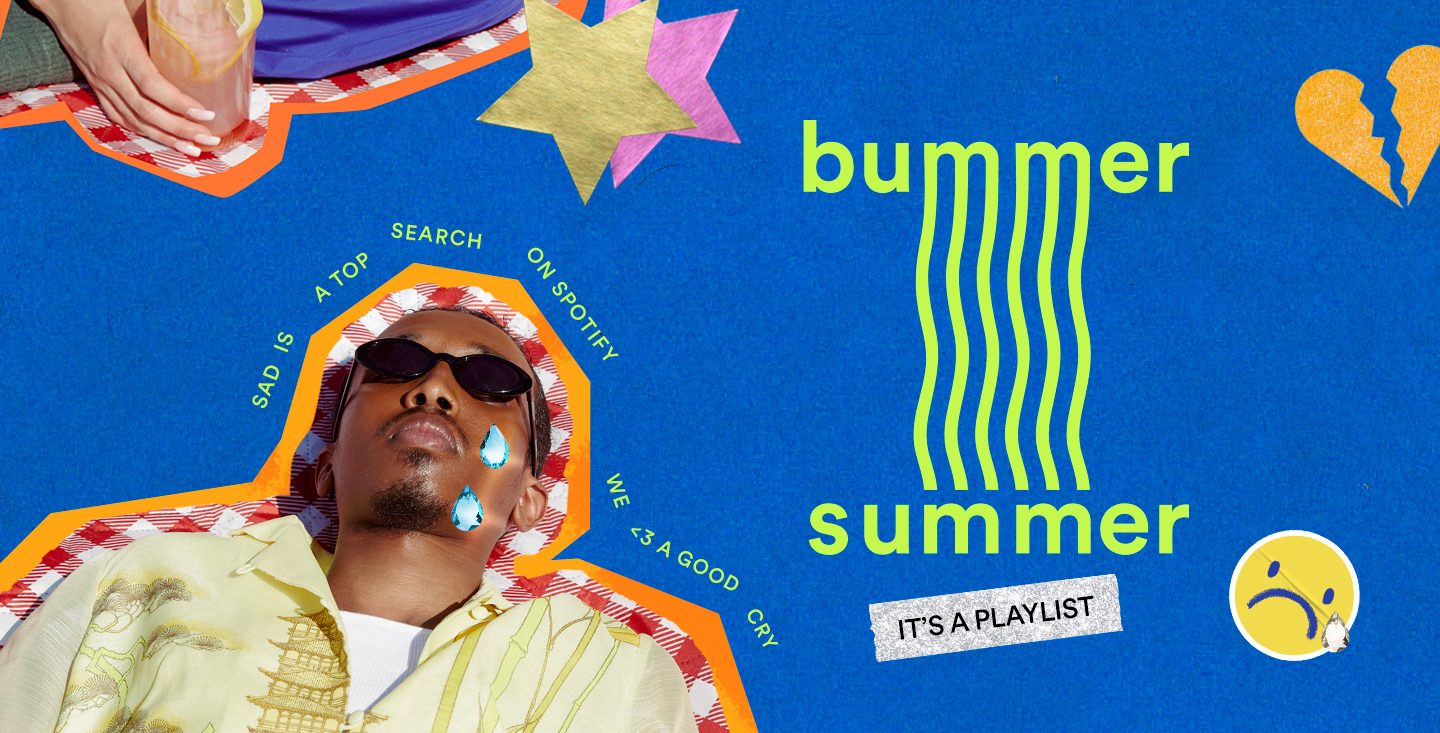 SOLSTICE SOLACE
bummer summer Is Spotify's New Playlist for Gen Z Listeners To Tap Into Their Feels
Lana Del Rey's "Summertime Sadness" stuck in your head? You're not alone. On Spotify this summer, sad songs are getting us in our feels, thanks to our listeners who are unapologetically expressing their emotions. "Sad" is the most-searched term for Gen Z listeners on Spotify globally, and they're tuning into our sad playlists—including pop-infused sad hour, R&B-inspired All The Feels, rap-heavy tear drop, sad sierreño, sad girl country, and sad girl starter pack—more than any other age group.  
To match the vibe in the U.S. and Canada, we launched bummer summer, the ultimate lineup of moody jams and soul-filling songs. Complete with tracks from d4vd, Frank Ocean, Phoebe Bridgers, Lana Del Rey, Big Thief, and Billie Eilish, the playlist echoes the honesty and transparency that Gen Zs emulate in their lives and listening—and harnesses the ability of emotive, lyrical music to enhance any mood.   
"There's something really unique about this generation," says Krista Scozzari, Spotify North American Marketing Lead. "They embrace their feelings so much. They're really flipping the stigma of vulnerability. Gen Z has brought a raw, authentic new reality to expressing their emotions, and we're seeing that in how they listen. We wanted to celebrate this powerful thing they're doing."
Gen Z listeners are seeking tracks that evoke feelings of nostalgia, wistfulness, and wanting—songs that feel like a warm embrace. "It's important to note that not everything sounds like Billie Eilish's 'What Was I made For?'" says Lizzy Szabo, Spotify Senior Editor for Indie Music. "Though that was one of the breakout sad songs of the summer—probably the biggest—and was given a lot of extra context from being in the Barbie movie. It really took this feeling of nostalgia and met it with current issues and feelings."  
Lizzy notes that subgenres like indie pop, sad rap, and sad sierreño have all boomed in the past year, with standout artists including Phoebe Bridgers (bonus points for her work with boygenius), Joji, Alex G, Haley Heynderickx, Ivan Cornejo, and Junior H. She's also seeing a rise in catalog listening for the broody sounds of Cigarettes After Sex, TV Girl, Lana Del Rey, Mitski, and Radiohead. "Artists have a way of putting things better than we ever could, so it's a way for people to lean in and just fully embrace their emotions and the experiences they're going through," she says. 
"Sad music can help us to release, express, channel, or purge our emotions," says Dr. Michael Bonshor, PhD, music psychology expert. "It often has slower speeds, which slows down our breathing and heart rate when we listen so that we feel more relaxed and tranquil. In addition to hearing slower speeds, hearing music with sad lyrics creates a sense of personal connection with the artists who wrote them—it validates that our human experiences are shared."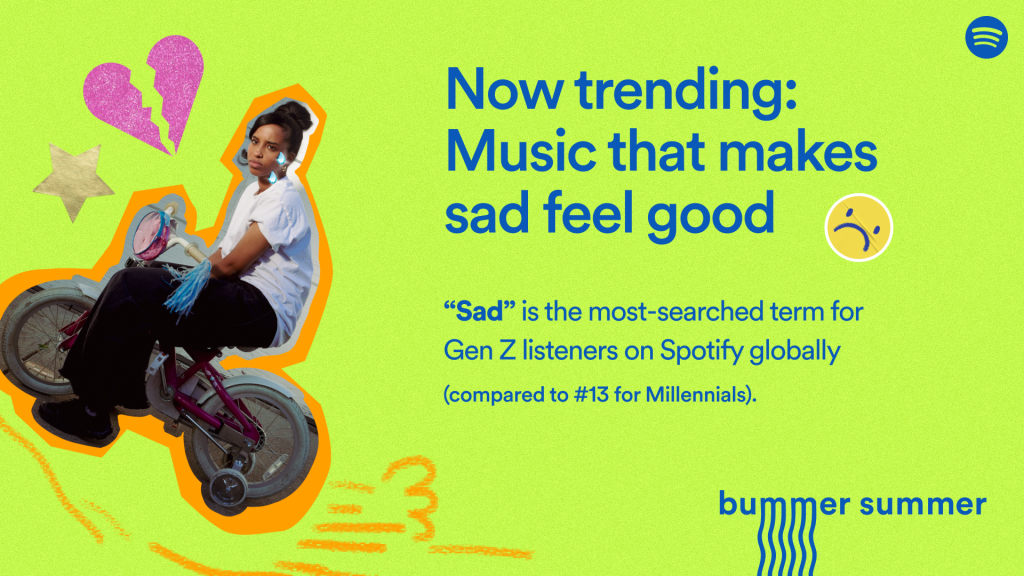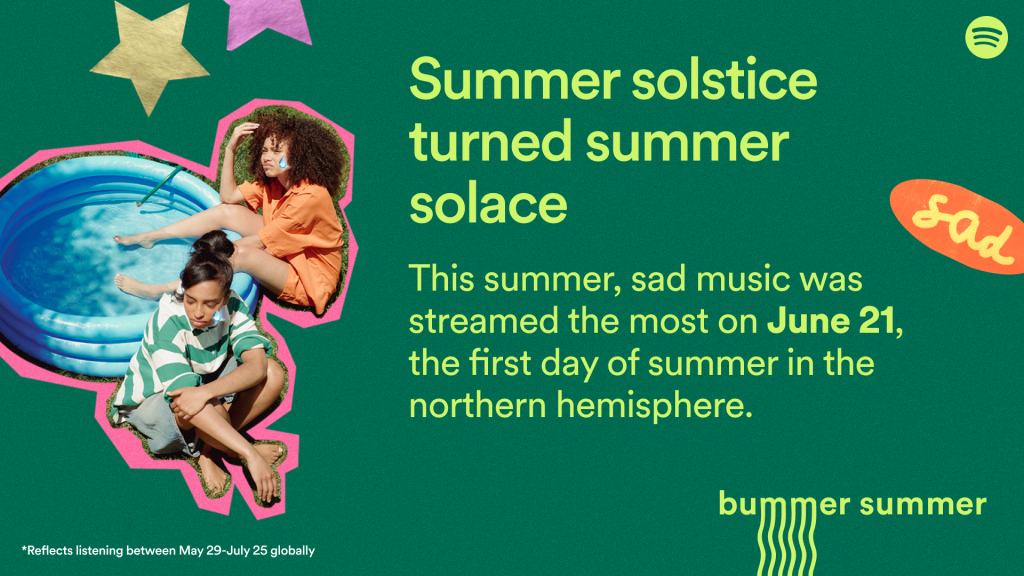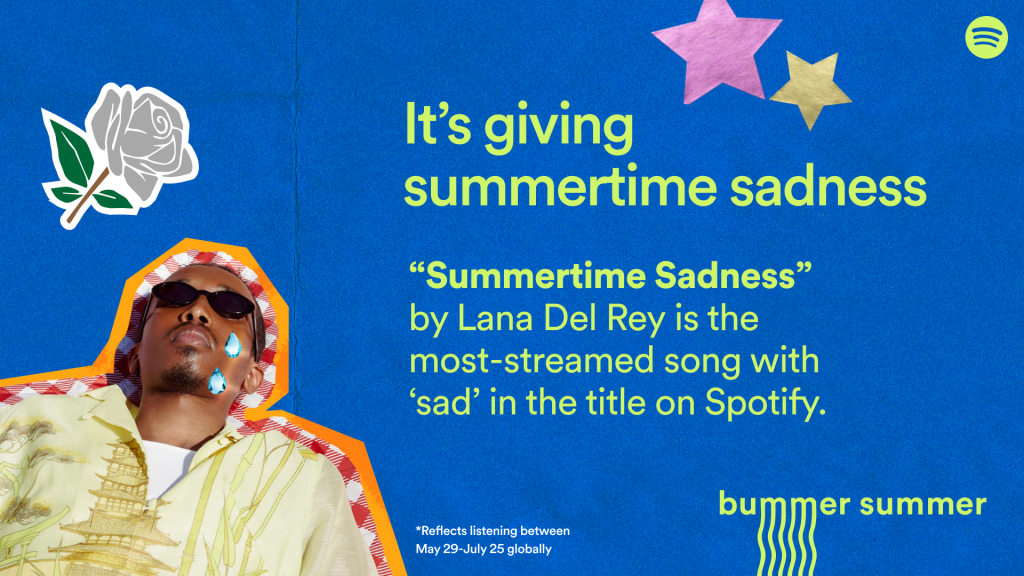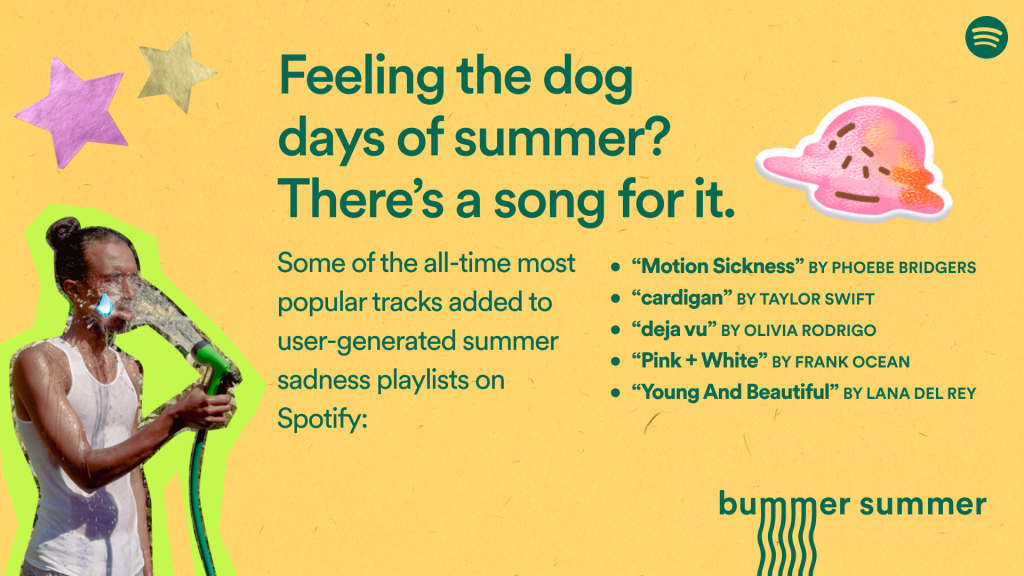 Bringing bummer summer to life 
We're also bringing the bummer summer playlist to life through social media and IRL experiences. "With this campaign, we really wanted to celebrate how sharing sad music helps us feel more connected," says Krista. "Our listeners want to feel seen and heard, and to help normalize their feelings and humanity, hopefully helps them feel all that." 
The team paid special attention to the look of the campaign, trying to capture the messiness of that feeling after you've had a good cry. They landed on a scrapbook-looking approach that puts a "sad" twist on iconic summer visuals—think tears filling the kiddie pool, or a scoop of ice cream falling off your cone and onto the pavement. 
In Houston, Texas, we created a fountain of tears shaped like d4vd, the artist behind some of Gen Z's favorite angsty music. Starting August 21, fans can visit Buffalo Bayou Park in the singer-songwriter's hometown for the ultimate homage to sad songs that have the power to make us feel good.
"When I'm making music, I try to keep in mind that our current generation is often misunderstood and that people don't always know where they fit in," says singer-songwriter David Burke, the voice behind d4vd. "I don't think music is just about changing the listener's mood anymore, I think it's a way to share a mood or feelings with the artist. I try to give my listeners the most intimate feelings that I'm going through and see who else is feeling the same way. I want to make sure that people are feeling less alone in the world, because they have me and my music to relate to. That's what we're hoping that all of the songs on the playlist will do."
"d4vd is one of the most notable artists of the year," says Lizzy. "From his breakout hit late last year to 'here with me,' he has melodic, very downtempo lo-fi pop songs. They have mega-relatable lyrics."
Relatability is a key element across not only our bummer summer campaign, but Spotify's year-round brand identity as a whole. Krista notes that for bummer summer, the tongue-in-cheek tone and low-key vibe help emphasize the impact behind sad songs to fans and prospective users.
"When I think about bummer summer, I recognize that it's not just about listening to sad music when you're sad, but listening to sad music when you're feeling any sort of emotion," says Krista. "Sad music is something that feels better than anything else sometimes. There's this really powerful way that the lyrics and the tempo of the music just allow you to really reflect, to feel your feelings. It's powerful for people no matter what mood they're in."