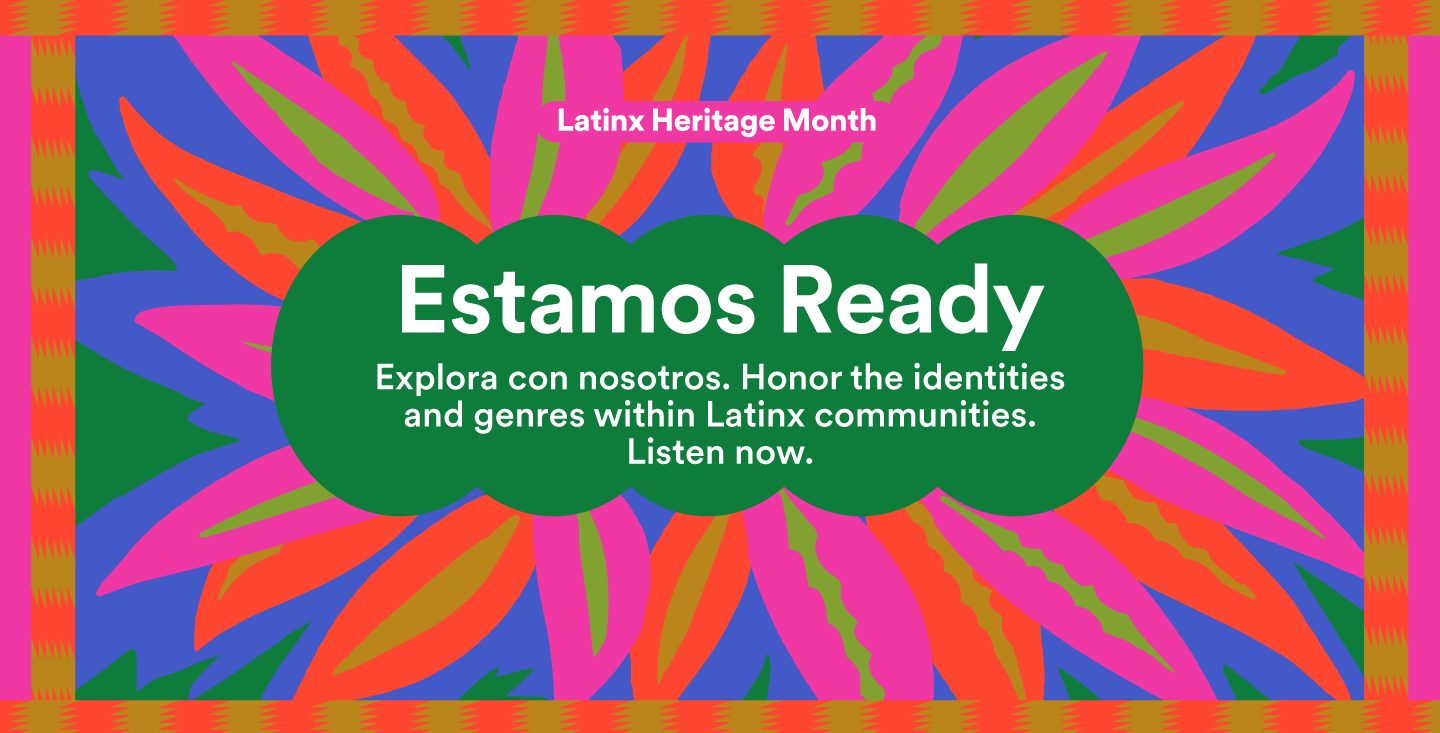 ¡CHAMBAS!
Celebrate Latinx Heritage Month on Spotify With Our 'Estamos Ready' Campaign
Latinx culture continues to set the tone around the world, as evidenced by the rise of genres like Música Mexicana, corridos, and urbano. September 15 through October 15 marks Latinx Heritage Month, and we're celebrating with our "Estamos Ready" campaign, honoring the stories, the diversity, and the power of Latinx creators and fans. 
On our dedicated Latinx Heritage Month hub, listeners can discover top playlists, including Hyphenated, Mixto, Fuego, and Los Que Mandan, as well as podcasts, like I.E In Friends, Gay & Afraid with Eric Sedeño, The Super Secret Bestie Club, and Fool Coverage with Manny MUA and Laura Lee.
We also wanted to explore the impact of Latin music in the U.S., so we took a look at Spotify listener data from every U.S. state. We discovered that Peso Pluma and Bad Bunny are lighting up the Latin streaming charts, with each standing as the most popular artist in 31 states and 15 states, respectively. Meanwhile, Música Mexicana (26 states), Trap Latino (12 states), and urbano (10 states) represent the most popular genres.
Top 10 U.S. States With the Highest Percentage of Latin Music Streams on Spotify

(June 15–September 15)
Texas

California

Florida

Nevada

Arizona

New Mexico

Illinois

New Jersey

Georgia

Utah
Over the past few years, Latin music on Spotify has also seen rapid growth in some surprising states. Between September 2020 and September 2023, Latin music streams in North Dakota surged an impressive 370%, followed by a 284% bump in Minnesota and a 253% increase in Mississippi. Indiana, the home state of Latinx star Omar Apollo, has seen its Latin music streams grow by 182%.
In addition to our data discoveries, For the Record also chatted with Omar, along with artists Kali Uchis, DannyLux, Elena Rose, and Prince Royce, to find out more about their favorite aspects of Latinx culture. 
How does your culture bring joy to your music?
Prince Royce: I've been visiting the Dominican Republic since I was very young, and I think in general, there is a lot of life in the culture. They are always dancing, which comes with genres like merengue and bachata. Dominicans love to party. My family, for example, will come up with any excuse for a barbeque, a birthday party, a baby shower, or a get together, and that definitely reflects a lot in my music. 
Omar Apollo: When I first started doing shows, it was all really young Latino kids in the crowd. I was probably like 19 when I started touring. I am from Indiana, and there wasn't much of a diaspora of Latino kids. Going around the world showed me there was somewhere that people can find community in the music, celebrate how we grew up, and share the same stories. It's beautiful. 
Explain your Latinx accent in one sentence.
DannyLux: I think my accent is more of a Mexicali accent from Baja California, because I basically grew up there. Whenever I go to another part of Mexico they tell me that I have a different accent.
Prince Royce: Definitely a very New York/Spanglish accent.
Elena Rose: My accent in one sentence has to be: Caraqueña/Boriqua/Hialeah from Miami. Venezolana because of my parents, so Caracas is there. Puerto Rico because that is where I lived as a kid. And I stayed in Hialeah for almost six years so yeah, I have the Miami right there—the 305, baby!
What is one thing from your culture that you want to share with the rest of the world?
Kali Uchis: One thing I would share with everybody about my culture is definitely our food. I feel like everybody loves food, everybody should have a good arepa, a good Colombian hot dog. All of our snacks, the salty and the sweet combinations, everybody should try it!
Elena Rose: I really like burning palo santo wood. I think it's been more popular in recent years. And I really like ginger, honey, and lemon tea. That just recently saved me from a very bad cold!
Omar Apollo: It would probably be chilaquiles because I love chilaquiles and I think everyone should have chilaquiles. I am not sure if other Latino communities make chilaquiles, but the ones that my mom makes . . . anyone would go crazy for them!
What's your favorite Spanish word (or phrase) that's original to your culture? 
Omar Apollo: It's probably chambear, which means "to work." You know, the girls are always working—they are clocked in, they're ready to go. You can say "chambas," "estamos en una chamba," "ando chambeando," whatever you want to say. That's my favorite; I say it all the time. 
Kali Uchis: I think my favorite Latin phrases have always been "sin miedo," but also "sana, sana, colita de rana."
DannyLux: My favorite phrase is that "everything happens for a reason," and I always live thinking about that, and I know it has a lot of truth.
Celebrate Latinx Heritage Month by discovering the hottest sounds on our Fuego mixtape.