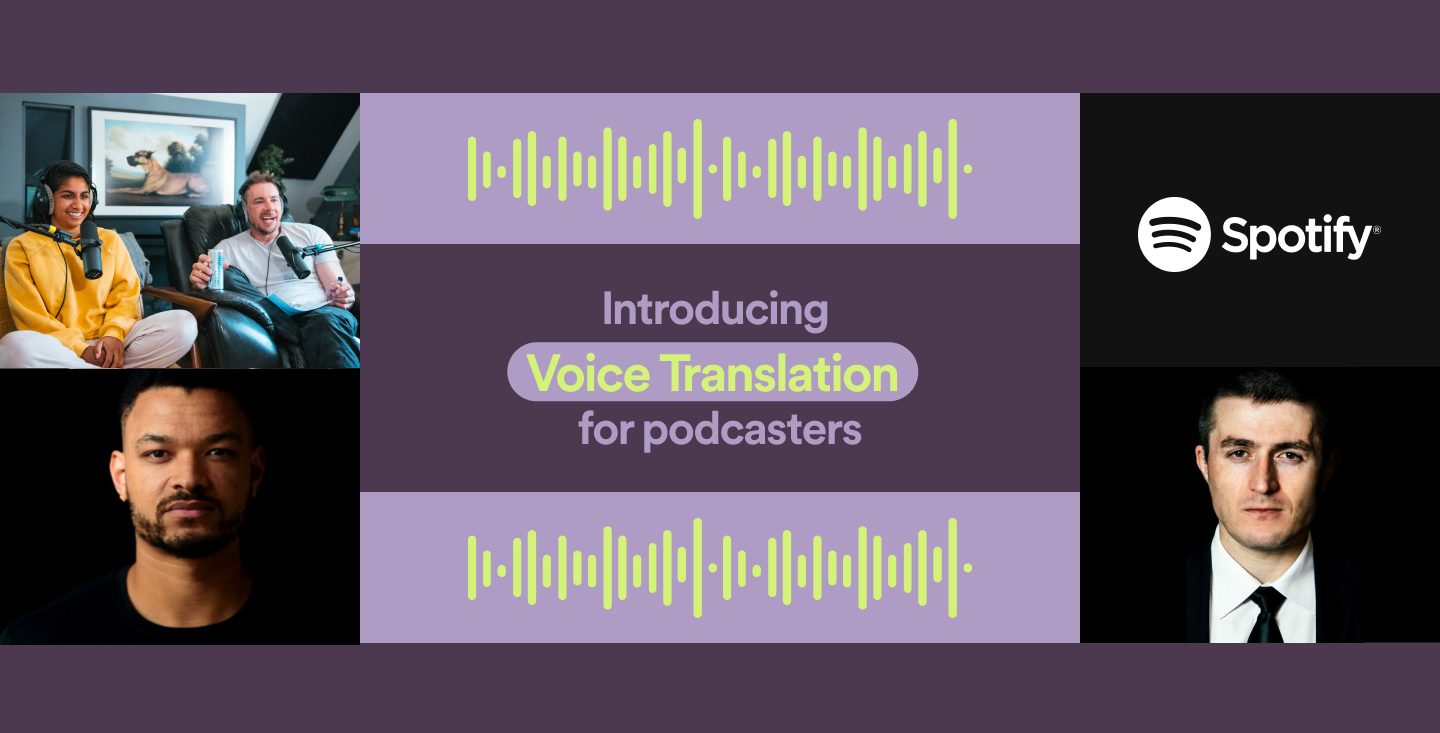 STORIES FOR THE WORLD
Spotify's AI Voice Translation Pilot Means Your Favorite Podcasters Might Be Heard in Your Native Language
Across cultures, countries, and communities, the stories we share bring us together. And more often than not, it is the voices of the speakers that lend as much weight to the stories as the narratives themselves. For more than 15 years, Spotify's global platform has empowered creators of all walks to share their work with audiences around the world. At its core, this has been made possible through technology that's leveraged the power of audio to overcome barriers to access, borders, and distance. But with recent advancements, we've been wondering: Are there more ways we can bridge the language gap so that these voices can be heard worldwide?
Today, we're excited to pilot Voice Translation for podcasts, a groundbreaking feature powered by AI that translates podcasts into additional languages—all in the podcaster's voice. 

This Spotify-developed tool leverages the latest innovations—one of which is OpenAI's newly released voice generation technology—to match the original speaker's style, making for a more authentic listening experience that sounds more personal and natural than traditional dubbing. A podcast episode originally recorded in English can now be available in other languages while keeping the speaker's distinctive speech characteristics.  
As part of the pilot, we've worked closely with podcasters Dax Shepard, Monica Padman, Lex Fridman, Bill Simmons, and Steven Bartlett to generate AI-powered voice translations in other languages—including Spanish, French, and German—for a select number of catalog episodes and future episode releases. We're also looking forward to including other shows, such as Dax Shepard's eff won with DRS, The Rewatchables from The Ringer, and Trevor Noah's new original podcast, which launches later this year.
"By matching the creator's own voice, Voice Translation gives listeners around the world the power to discover and be inspired by new podcasters in a more authentic way than ever before," says Ziad Sultan, VP of Personalization. "We believe that a thoughtful approach to AI can help build deeper connections between listeners and creators, a key component of Spotify's mission to unlock the potential of human creativity."
Voice-translated episodes from pilot creators will be available worldwide to Premium and Free users. We're starting by releasing an initial bundle of translated episodes in Spanish, with French and German rolling out in the coming days and weeks:
Lex Fridman Podcast

– "Interview with Yuval Noah Harari"

Armchair Expert

– "Kristen Bell, by the grace of god, returns"

The Diary of a CEO with Steven Bartlett

– "Interview with Dr. Mindy Pelz"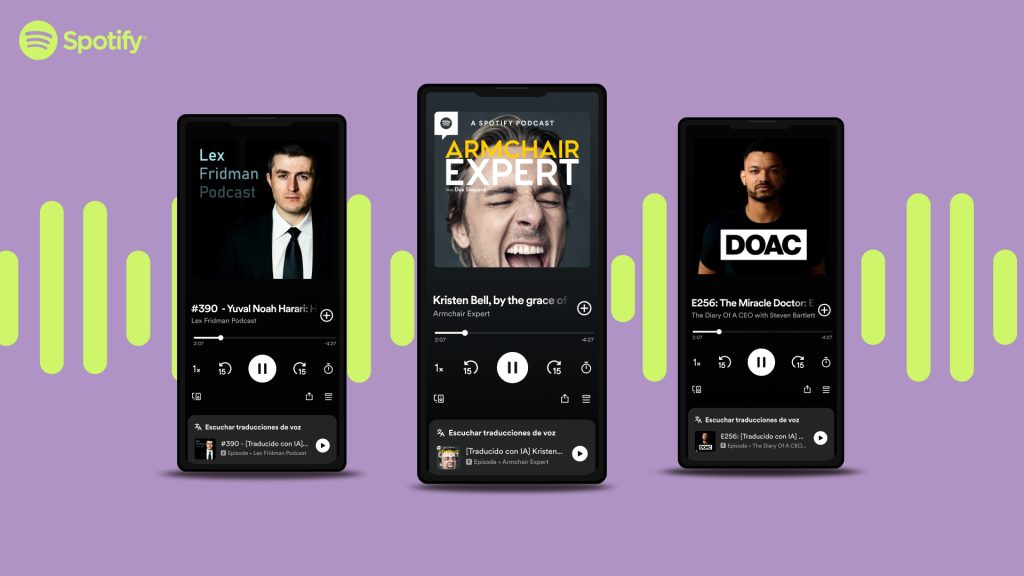 We'll start rolling these out to users on the Now Playing View of supported episodes starting today. Can't wait and want to hear the episodes right away? Head to the dedicated Voice Translations Hub, which we'll update with even more voice-translated episodes over the coming weeks and months.
Today is just the beginning. We're excited to empower creators to bring their storytelling to more listeners across the world. The creator and audience feedback from the pilot will provide important insights for future expansion, iterations, and innovations. As the number of people (100M+) regularly listening to podcasts on Spotify continues to grow, we'll continue exploring new ways to overcome barriers to storytelling.
Stay tuned to Spotify for Podcasters as we aim to expand access for more creators and languages.