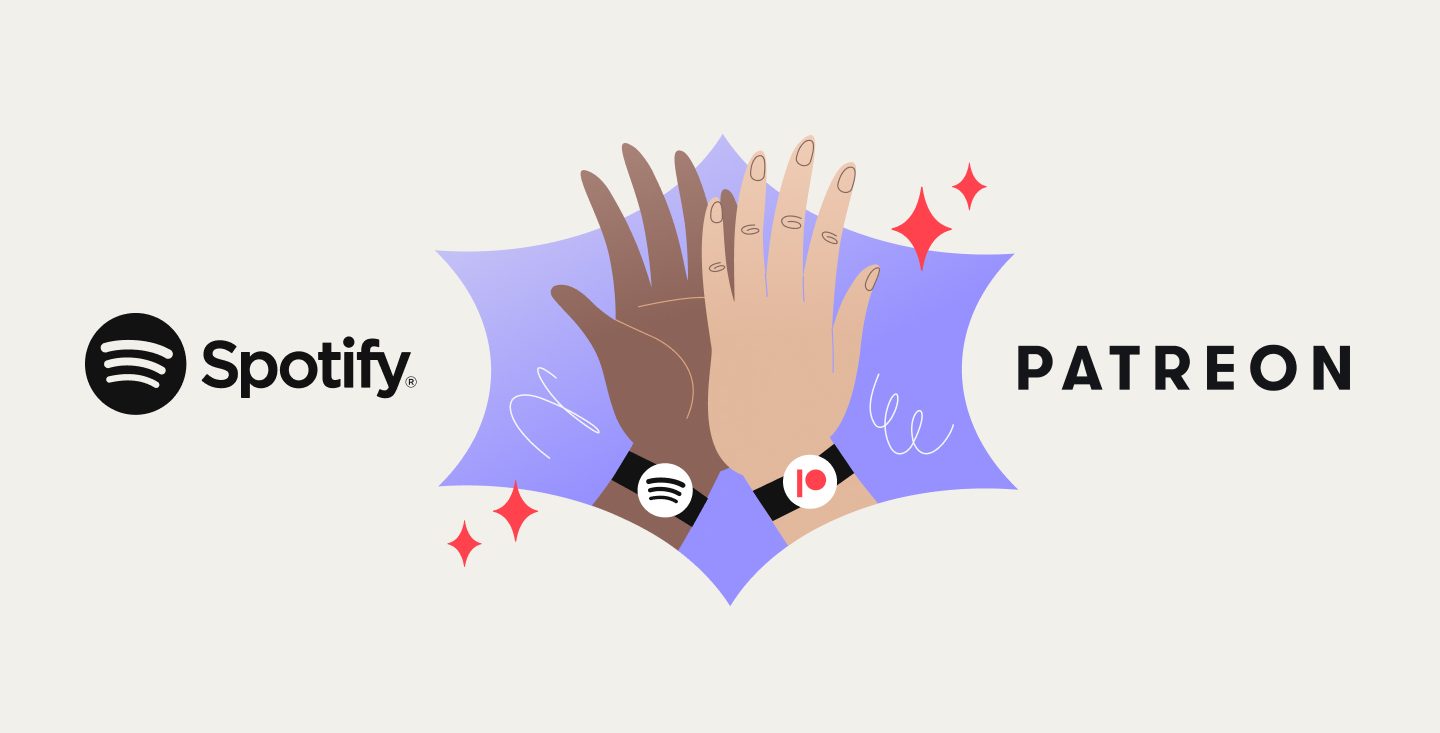 TIME TO DIVE IN
Connect Patreon to Spotify and Stream Your Favorite Podcasts in One Place
You can't get enough of your favorite podcasts—and your favorite creators can't get enough of your listening, either. Many podcasters have turned to Patreon to add an income stream by sharing paid content directly to fans. Starting today, you can connect your Spotify and Patreon accounts to access patron-exclusive podcasts right where you're already listening to your favorite audio content. 
This news builds on our March announcement that we'd be partnering with Patreon to enable creators to publish their subscriber feeds to Spotify via the Spotify Open Access API. After months of testing, we're excited to share that this partnership is now available for all creators. 
"Spotify's partnership with Patreon underscores our commitment to give creators more power and choice, and provide listeners with access to different types of content," says Gustav Söderström, Co-President and Chief Product and Technology Officer at Spotify. "Many podcasters use Patreon to connect with their fans, and for the first time ever, they can link their accounts so fans can access and listen to these shows on Spotify. This partnership gives podcasters a new opportunity to reach Spotify's global audience, over 551M users, to increase their income and grow their show."
Patreon is our latest partner in a growing list of publishers and platforms that offer subscriber-only content powered by Spotify Open Access. With just a few clicks, podcast creators on Patreon can add Spotify distribution to their podcast to grow their audiences while retaining full control over their subscriber bases, their content, and their revenue. We're also testing a new feature that will help creators promote their subscription on Spotify by putting a banner at the top of their free show page that points users to their paid offerings. This makes it easier for existing subscribers to consume the content they've paid for, and for potential subscribers to find out about subscription options. This feature will be available to creators leveraging one of Spotify's integrated platforms, including Patreon, Supporting Cast, and Supercast, among many others.
"We are incredibly excited about this partnership with Spotify, where creators can seamlessly integrate Patreon's industry-leading podcast-membership tools to grow their business, host their listener community, and directly engage with their most passionate listeners," says Julian Gutman, Chief Product Officer at Patreon. "The partnership between Patreon and Spotify represents shared values and a vision of a new future for internet creators. While some platforms focus on building closed systems that push creators and their fans further apart, Spotify and Patreon are building a more open ecosystem that delivers greater value to everyone, particularly creators and fans."
For the Record sat down with Spotify Product Manager Ben Peskoe and Patreon Product Manager Eric Fong to hear more about the integration. 
What have we seen from creators and their fans in the months since our integration announcement?
Ben: We've heard excitement from both creators and their fans! If someone primarily listens to podcasts on Spotify and subscribes to a podcast on Patreon, they previously wouldn't have been able to listen to that podcast's member-only content on Spotify. Instead, they would have needed to switch apps just for this one podcast. This solves a major pain point for both groups: Now Spotify users can listen to all their favorite content in one place, and Patreon podcasters can grow their audiences on Spotify. People are happy to now be able to use Spotify for all of their podcast listening.
Eric: Plus, creators are always excited to meet fans where they are, and making their Patreon-exclusive podcasts available to their fans on one of the best podcast-listening platforms out there is one way to do it. We know fans love having a single app where they can listen to both their free and paid podcasts.
We conducted a beta test with select creators. What are the early results of that testing that we're bringing to this launch?
Eric: One of the key learnings was around helping creators promote and onboard new members to their Patreon through Spotify. In collaboration with Spotify, we've built out ways that easily allow a creator to promote their paid podcast on their free podcast on Spotify, and we've made this experience easy for new members to discover and listen to a creator on Spotify while signing up on Patreon and enjoying the community there.
Why was it important for Spotify and Patreon to integrate? 
Ben: For creators, the integration with Patreon empowers podcasters to decide which monetization solution works best for them, and it broadens the distribution of their member-only content. At Spotify, we want to support as many business models as possible so creators have options for how they want to build their business, and that includes creators using third-party tools to generate revenue. That's why we started Spotify Open Access in 2021. 
For listeners, we want to ensure they have access to everything they might possibly want to listen to, including podcasts from creators around the world, video podcasts, and beyond. 
Eric: For Patreon, we want to help creators distribute their content to their fans however they want, and Spotify is one of the most desired distribution platforms for podcasts. For Spotify, it's an opportunity to bring some amazing, Patreon-exclusive podcasts onto their platform and offer creators more control over their business and more ways to monetize.
How does this integration enable creators to better live off their art?
Eric: This strengthens the direct connection between creators and their most valuable fans. Creators can provide more to their members by offering more listening options. And they're getting broader exposure to potential fans through Spotify. It's important that we partner with platforms that put creators first. Spotify is one of those companies, and their thoughtful investment in this integration from day one is a testament to that commitment.
Ben: We're helping creators better build their communities and build thriving businesses. With Patreon's inclusion in Spotify Open Access, creators can maintain full control of their subscription and membership list when they publish to Spotify, and they don't need to use a different subscription solution for each platform where people consume their content. Plus, the new banner on the creator's show page will build awareness for the creator's paid offering, and help creators generate more subscribers. 
Ben, what Patreon creator are you excited to subscribe to so you can listen to bonus content on Spotify? 
Ben: I'm a big fan of Partially Examined Life, which is, as they say, "a philosophy podcast by some guys who were, at one point, set on doing philosophy for a living but then thought better of it." They do an awesome job covering famous (and not-so-famous) works of philosophy in a way that is both deeply informative and funny. Their first 100 episodes or so are for subscribers only, so it will be fun to go back through their archive to brush up on stuff I learned about in college, or more likely, I never read in the first place.