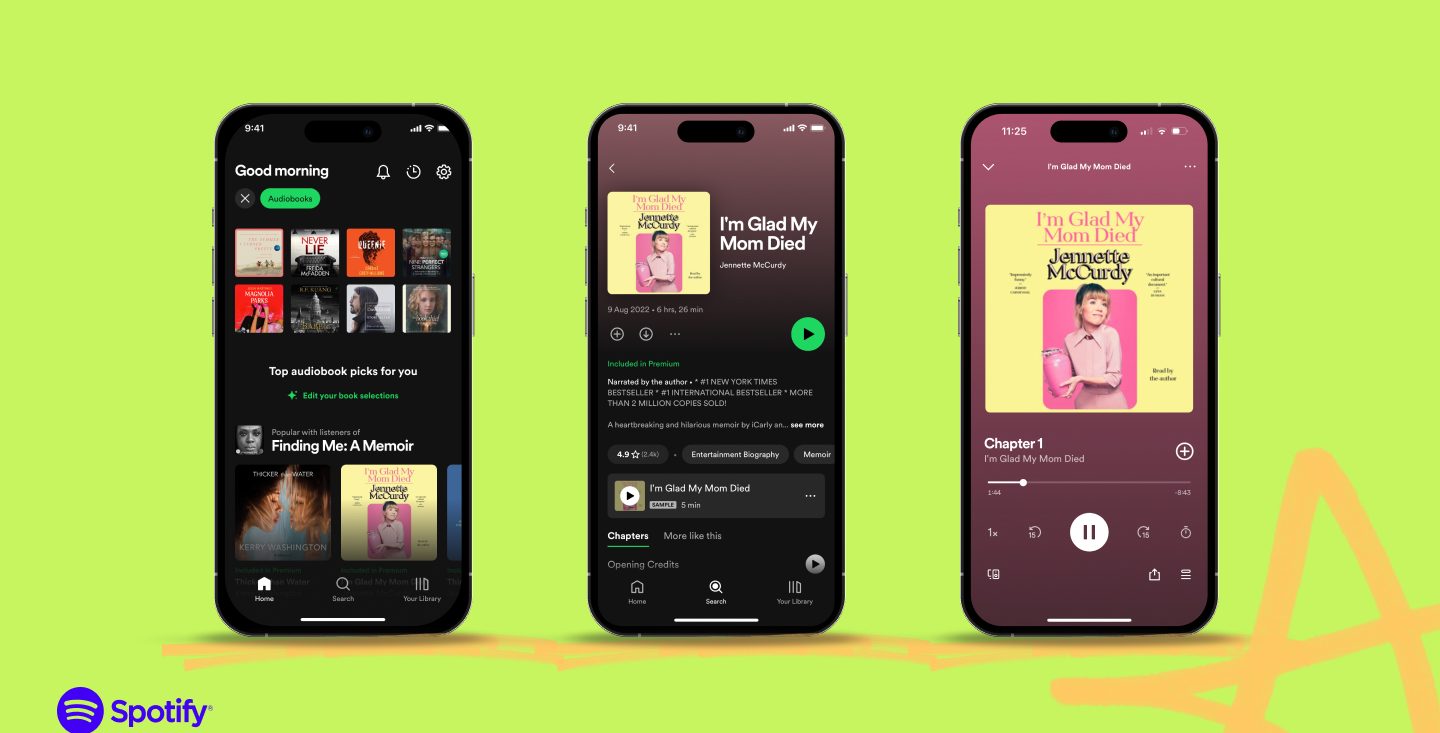 CHAPTER BY CHAPTER
Five Reasons To Listen to Audiobooks on Spotify
Looking to finally finish those books on your bedside table? Audiobooks offer a refreshing way to get around to all the titles you're simply too busy to read, even on the go. Not only that, but audiobooks also provide a new way to experience stories you already love and are an immersive and efficient way to discover new favorites. Here are five more reasons you should add audiobooks to your literary diet: 
There's ample research showing that reading is beneficial to people of all ages. And

studies have shown

that memory retention and learning when listening to audiobooks may be the same as reading a print book (and sometimes better than an e-book).

Audiobooks may bring some of the benefits of reading into your life, including by potentially

reducing stress

,

improving mood

,

sharpening intellect

, or

supporting empathy and creativity

.

Bringing music, podcasts, and audiobooks together on a single platform like Spotify means listeners can find a content ecosystem around their favorite creators, authors, and stories. For example, fans of

Stephen King

,

Neil Gaiman

, or

Jenny Han

can now listen to much of their favorite authors' catalogs on Spotify

and

hear any number of analyses from literary podcasts,

and

find playlists inspired by their stories.

Listeners will be able to take their audiobooks wherever they go; Spotify works on over 2,000 devices from more than 200 brands. Plan managers can also download audiobooks for offline listening. So taking an audiobook with you is as easy as putting your phone and headphones into your pocket—and something you can do even while multitasking.

With our automatic bookmarking feature and

Spotify Sleep Timer

, you won't lose your place or need to spend hours rewinding. 
Eligible Spotify Premium users in the U.K. and Australia can now look forward to 15 hours of audiobook listening per month on any audiobook marked "Included in Premium." Learn all about it.