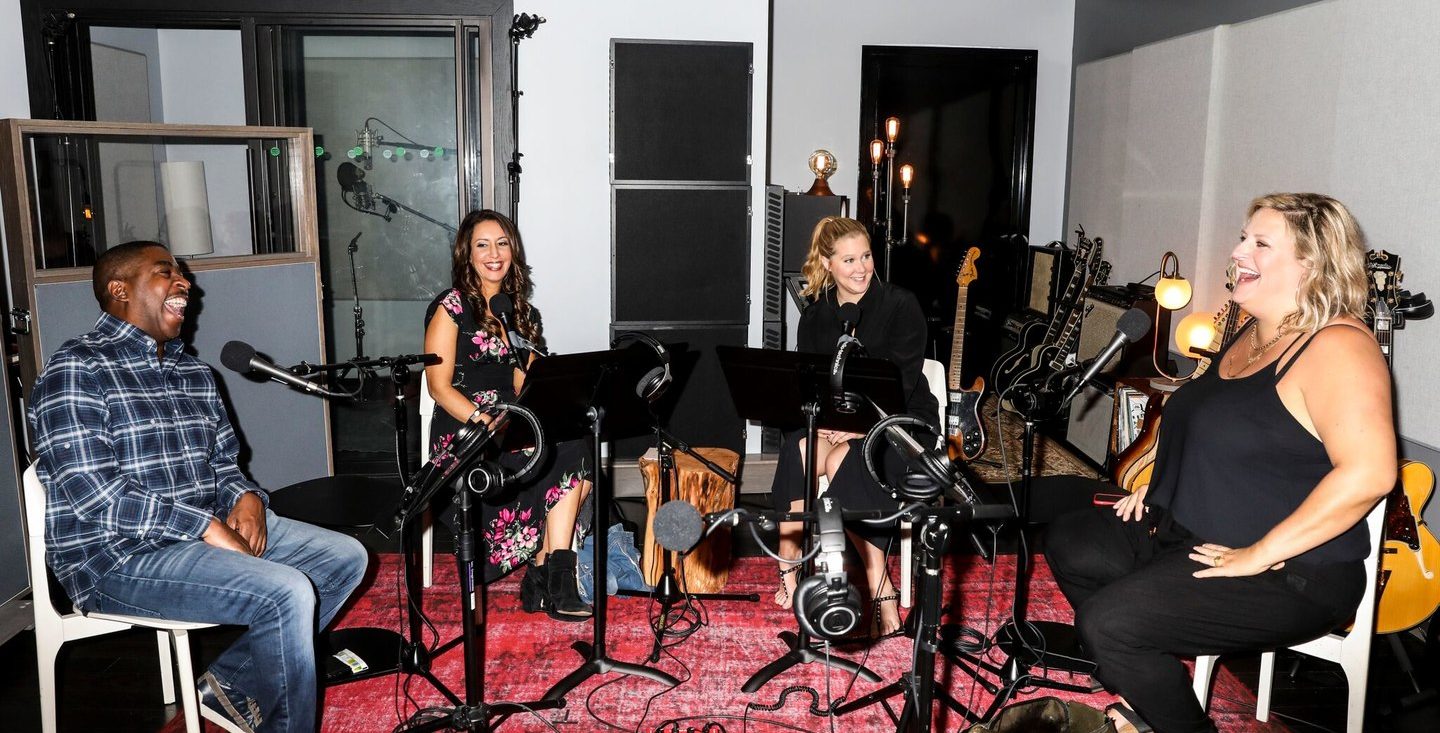 LISTEN HERE
It's *F%$#^&!* Funny: Catch Season 2 of Spotify Original Podcast 'Amy Schumer Presents: 3 Girls, 1 Keith'
She's, ahem, unfiltered, so imagine how candid Amy Schumer gets when she broadcasts from the comfort of her own apartment. The second season of 3 Girls, 1 Keith, the writer-comedian's podcast, launches exclusively on Spotify on October 23—and Amy's back with more guest stars, more overshares, and more laughs (theirs and yours).
What began as an inside joke between four best friends—Amy plus fellow comedians Rachel Feinstein, Bridget Everett, and Keith Robinson—about the idea of broadcasting their hangouts has turned into a candid take on politics, world events, and of course the intimate personal anecdotes Amy is known for. Season 1, ICYMI (hint: catch up now), tackled personal bias to parachute pants. For this season, drinking, sex, worthless people, and J. Lo are all on the agenda … nothing is off-limits.
In 3 Girls, 1 Keith's second season, Amy and company go there, discussing their "death plans" (including using the deceased's ashes as bath salts), shoplifting, and other taboos. They also grill a variety of special guests, including supermodel Ashley Graham, comedian Dave Attell, actress-comedian-writer Wanda Sykes, and human rights powerhouse Amanda Nyugen. Amy's dad, Gordon Schumer, even makes a cameo, dishing about the time he ditched his future wife and her parents to get "tied up" by another girl.
Fans can look forward to more of last season's segments, like "Pound it or Pass," when the hosts debated whether or not they would hook up with a given celebrity (yes, Amy's dad does participate), and "Why is Keith a Bad Person?" … which is fairly self-explanatory.
Keep an eye (and an ear) out for new episodes coming exclusively to Spotify every week this month. Pro tip: Listen in public at your own risk. Audible laughter is pretty much inevitable.
Watch the trailer here: