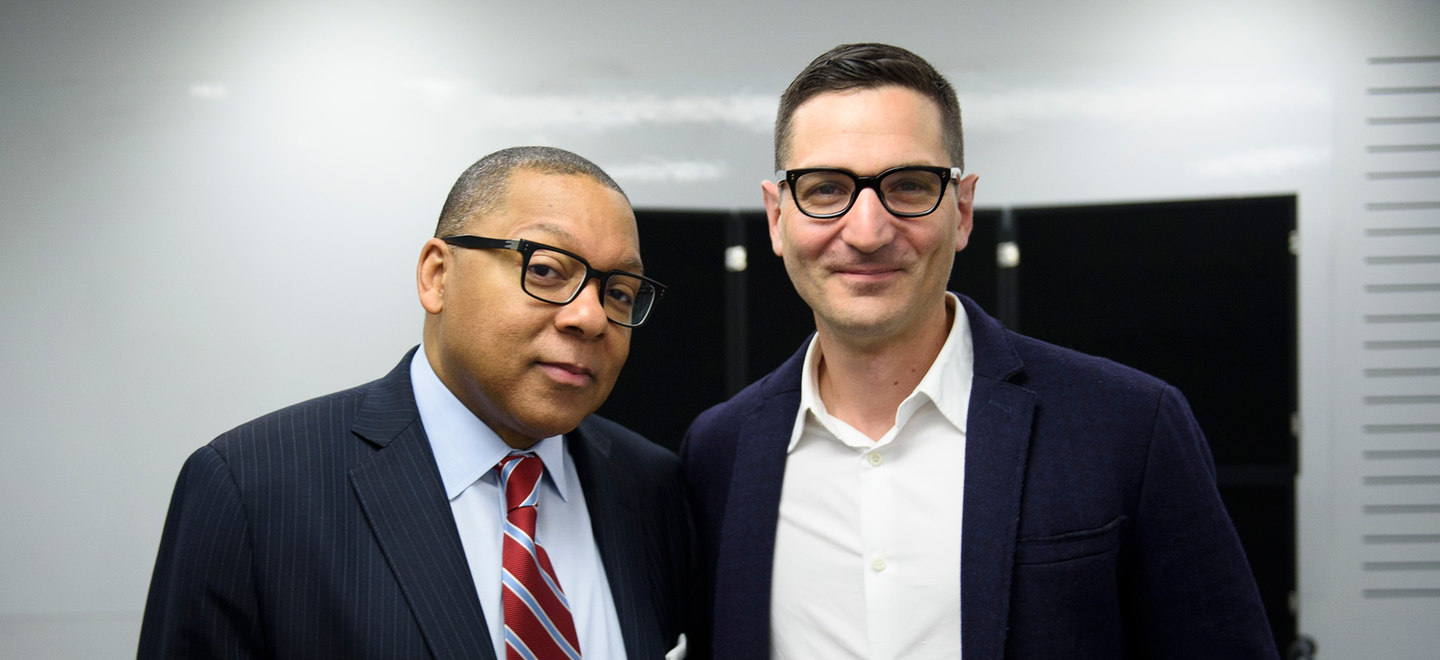 HOW I BUILT THIS PODCAST
Interviewing the Interviewer: Guy Raz on His New Spotify Podcast Series
Guy Raz. You know him from NPR's super popular TED Radio Hour and How I Built This. Now everyone's favorite podcast interviewer has a brand new series on Spotify.
The exclusive Spotify Originals series, called "The Rewind With Guy Raz," takes you inside the minds of today's biggest music stars, including David Guetta, Kelly Clarkson, and Shawn Mendes. The acclaimed host unpacks what they love. What they fear. The ways fame forever transformed their lives—all packed into this revealing limited podcast series.
In a fun twist, we turned the tables on Raz and interviewed the interviewer on why he's so excited about "The Rewind."
What do you most want people to know about "The Rewind With Guy Raz"?
Most people listen to an artist or go see a concert and they think of the performer in that very moment. But who was Kelly Clarkson, or Charlie Puth, or Wynton Marsalis before they got onto that stage? What was Shawn Mendes like in middle school? At some point they were all just like you and me. Maybe they had a better voice or they could dance a little bit better but, for the most part, they led normal lives. And while you may think you know who that artist is from their videos or an interview, "The Rewind" takes a deeper dive into their journeys to becoming superstars.
What lessons do you bring from your years of co-directing and hosting NPR podcasts to Spotify's "The Rewind"?
Over the past two decades of interviewing, I've learned that by coming to the table without any expectations, with a spirit of generosity, and a sense of empathy, most people want to talk about their stories. With "The Rewind," it's no different. Their names may be up in lights, they may be some of the most famous people in the world, but they are human. They have stories. They have anxieties. They have dreams. And they have fears. This show is a journey into those worlds. It is a chance to understand what motivates these artists and how fame has changed their lives.
Where do you record "The Rewind's" interviews, and how is it built for human connection and storytelling?
Some of my interviews are done face-to-face in Los Angeles or occasionally in New York. When I do those interviews right next to the artists, we're usually sitting just a few inches apart. It usually takes 10 or 15 minutes before they are comfortable, and before they are prepared to fully surrender to the process. I want the person I'm interviewing to feel comfortable and safe because I find that in those circumstances they will often reveal more about who they are than in a controlled and managed environment. Some of my interviews can last as long as two hours and, oftentimes, by the end of it, both of us are wiped out.
What do you enjoy most about exposing your listeners to these journeys of inspiring musicians?
Human stories are the most compelling stories for obvious reasons. Even if you are not religious, just check out the Bible and you will find some of the most dramatic narratives ever told. Love, hate, kindness, jealousy, deception, rebirth … all of those story motifs are right there. It's not surprising. Human lives are full of drama, and triumph, and failure and success. All of us—myself included—can find parts of ourselves in stories. It's why I do what I do, because my job is to help people unearth the stories hidden inside of them.
What does this new podcast say about your evolution as a career storyteller and content creator—in a time when content platforms is also changing?
Most of my programs are listened to by people in their 20s, 30s, 40s, and even 50s. On the radio, my listeners can be as old as 100. What excites me about the Spotify audience, and the artists I'm interviewing, is that I think we have a real chance of reaching much younger listeners—for example, teenagers and preteens who love this music but may not know a whole lot about the person singing the song.
I also think that nowadays, artists have very few opportunities to tell their stories in depth. FM radio and music magazines are no longer a place where in-depth interviews are featured. So for many listeners, particularly younger listeners, the stories you hear from your favorite artists will be revelatory.
Check out the first episode with David Guetta here: