Who Let the Dogs Out?
Spotify Has the Pawfect Playlist for You And Your Pet
There is something uniquely special about the relationship we humans have with our pets—it's one filled with unconditional love, licks, snuggles, and cuddles. It's hard to put into words the emotion these animals give us—other than pure happiness. So it's only natural that we want to make them feel good, too, and many pet owners believe they do exactly that with music. 
We dug our paws into the subject and conducted a study on how pet owners use music with their pets. We found that 71% of pet owners surveyed play music for their pets, and that's not all. Check out the rest of the furry (read: fun) facts we unearthed from pet owners in five countries across the globe.

Click here to download the infographic. 
The results are interesting because it shows that, more often than not, humans also think about their pets' emotional well-being, with 70% of animal parents considering the emotional wellness of their pets daily. Plus, 8 in 10 people believe their pets like music, and around 46% of people feel that music is a stress reliever for their furry friends.  
That being said, we created a unique experience to help you craft the pawfect algorithmically generated playlist for you and your pet to enjoy together. Head to spotify.com/pets for a playlist you can share with your dog, cat, iguana, hamster, or bird.
Here's how:
Step 1: Pick your pet.
You can choose from a dog, cat, iguana, hamster, or bird.
Step 2: Tell us more about your pet.
From relaxed vs. energetic to shy vs. friendly, select which trait most aligns with your pet's personality—it will help us pick the playlist vibe.
Step 3: Add a name and photo.
The playlist cover will feature your pet's name and photo so you can keep the memory forever, and you'll also receive a personalized share card!
Step 4: Listen and share.
Once complete, grab your iguana and get listening, dancing, or singing. Then, feel free to share (and compare) your card on social using #SpotifyPets.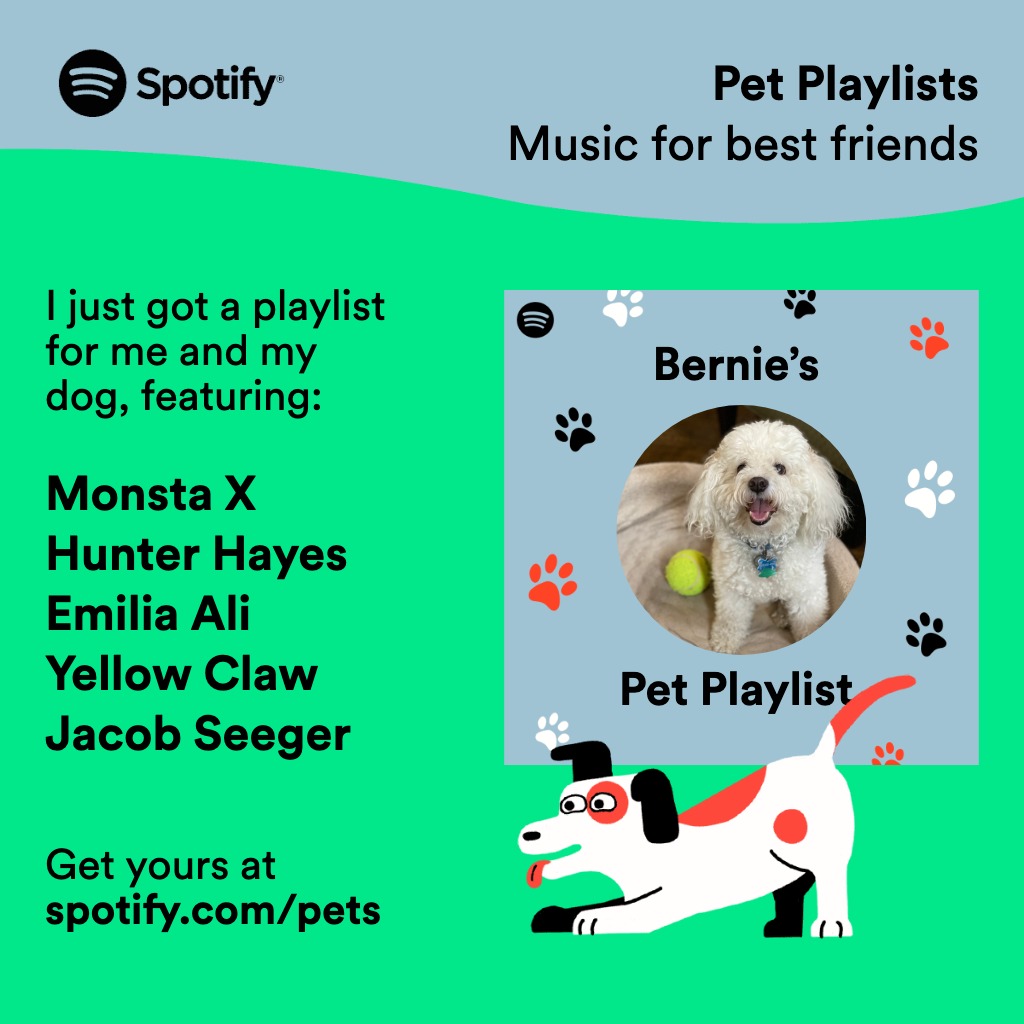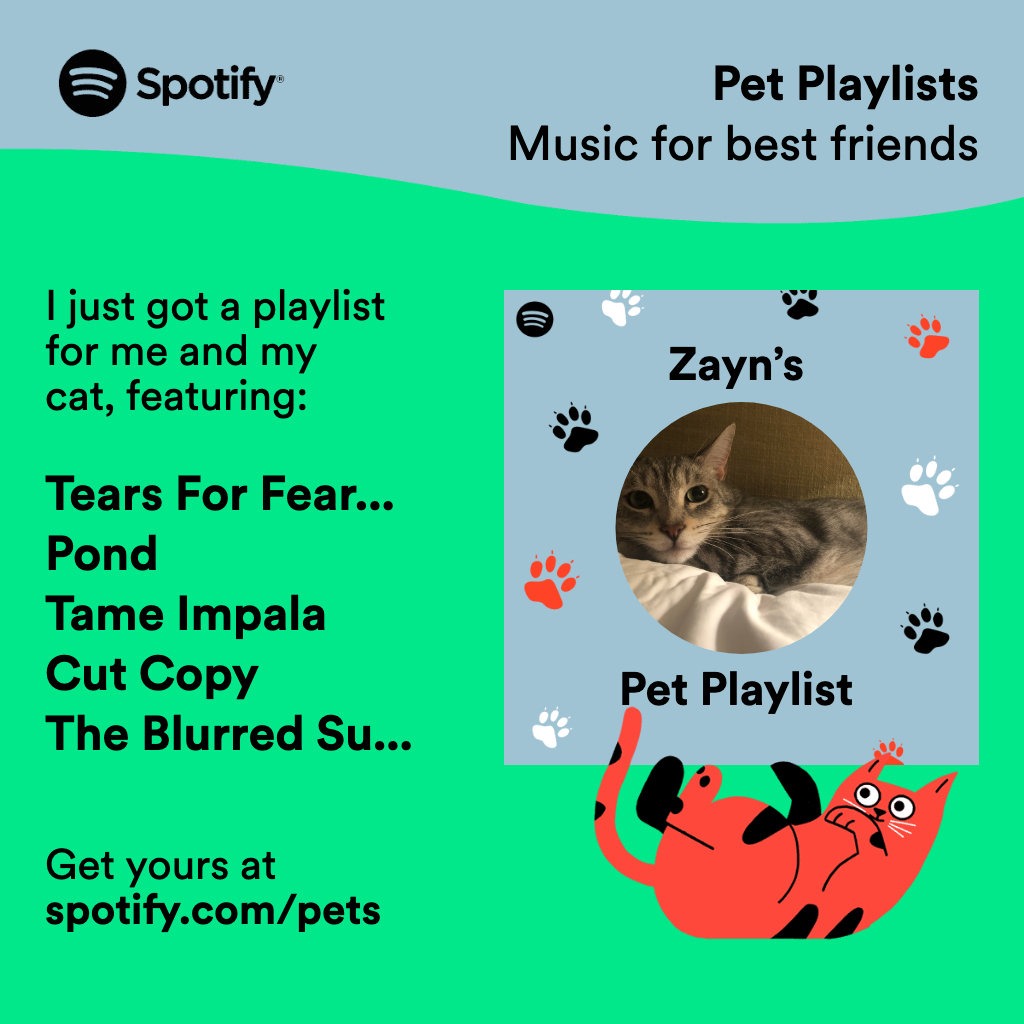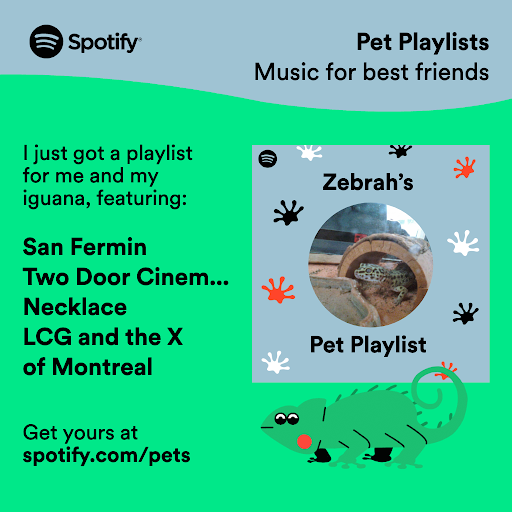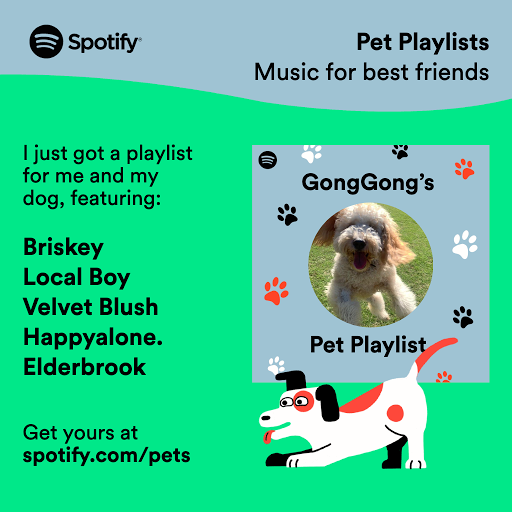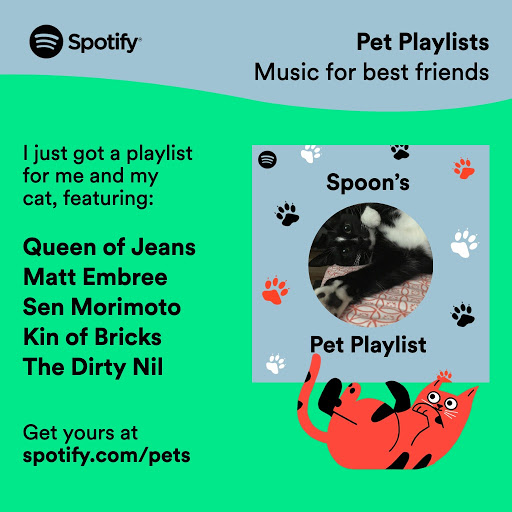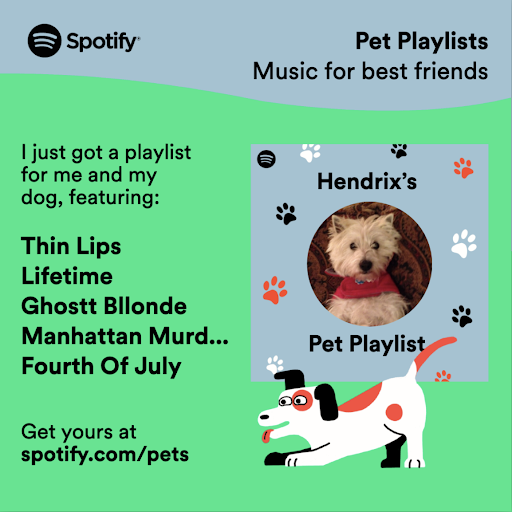 Create your playlist now at spotify.com/pets and get those tails wagging and wings flapping.
Update as of April 2022: You can now make a Pets Playlist directly in the Spotify app. Check out our most recent Pets story (with new data!) for more.