THAT'S A WRAP
The Trends That Shaped Streaming in 2020
It goes without saying: 2020 was a year unlike any other. One that, despite its unique challenges, inspired creativity with so many people finding ways to come together with resiliency as a community. 2020 has also sounded differently—and throughout it all, audio has acted as a companion, strengthening our connections with the world around us and giving us hope.
Spotify's Wrapped is here once again to help us look back on the year. For many of us, music and podcasts helped get us through, which is what makes 2020 Wrapped so special—through ups and downs, people kept streaming, and audio never missed a beat.
So, what did the world listen to in 2020?
Most Streamed Artists Globally
Puerto Rican rapper Bad Bunny claims the top spot with more than 8.3 billion streams this year from fans around the globe. His album YHLQMDLG—released in late February and featuring collaborations with Sech, Anuel AA, and Daddy Yankee—is the number one streamed album as well. Following Bad Bunny is Drake and Latin star J Balvin. The fourth most-streamed artist is the late rapper Juice WRLD, followed by The Weeknd.
Billie Eilish continues her reign as Spotify's most-streamed female artist for the second year in a row, followed by Taylor Swift and Ariana Grande in spots two and three. Coming in as the fourth and fifth most-streamed female artists are Dua Lipa and Halsey. 
Most Streamed Songs Globally
The most-streamed song of the year is The Weeknd's "Blinding Lights," which held out strong after being the second most-streamed song of the summer with almost 1.6 billion streams this year. In the second and third spots, respectively, are Australian ex-busker Tones And I's viral 2019 earworm "Dance Monkey" and Roddy Ricch's "The Box." The fourth most-streamed song is the catchy "Roses – Imanbek Remix" by Imanbek and SAINt JHN, followed by "Don't Start Now" by Dua Lipa.
Most Streamed Albums Globally
The most-streamed album of 2020 is Bad Bunny's YHLQMDLG with over 3.3 billion streams, followed by The Weeknd's After Hours and Post Malone's Hollywood's Bleeding. Rounding out the list of most-streamed albums you'll find Harry Styles' Fine Line and Dua Lipa's Future Nostalgia. 
Most Popular Podcasts Globally
More and more podcasts came to Spotify in 2020, and with over 1.9 million titles, there's now something for everyone. That includes The Joe Rogan Experience, which holds the number one spot for most popular podcast of the year. Filling in spots two and three are TED Talks Daily and The Daily, showing that listeners were staying in the know as usual. Coming in at number four is a new series from a well known voice: The Michelle Obama Podcast. The fifth most popular podcast is the comedy/advice show Call Her Daddy.
Most Popular Podcast Genres Globally
Podcasts on Spotify cover a range of topics that cater to the varied interests of our listeners. What genres were people drawn to in 2020? Taking spot number one is Society & Culture, a genre that includes both spooky stories and foodie content. Next in line is Comedy, which is no surprise as many are looking for more ways to laugh this year. Spot three is reserved for Lifestyle & Health, demonstrating that listeners love turning to podcasts for wellness. Arts & Entertainment ranks fourth and Education ranks fifth, proving that people are turning to podcasts for both a break and a time for learning.  
2020 Global Streaming Trends
This year we also looked beyond the individual artists, songs, albums, and podcasts and dove into the trends that shaped streaming—the things that made it sound so different.
As people started to social distance, we saw an increase in nostalgia-themed playlists and work-from-home-themed playlists, and in listeners listening to wellness podcasts like Unlocking Us with Brené Brown and Get Sleepy: Sleep meditation and stories.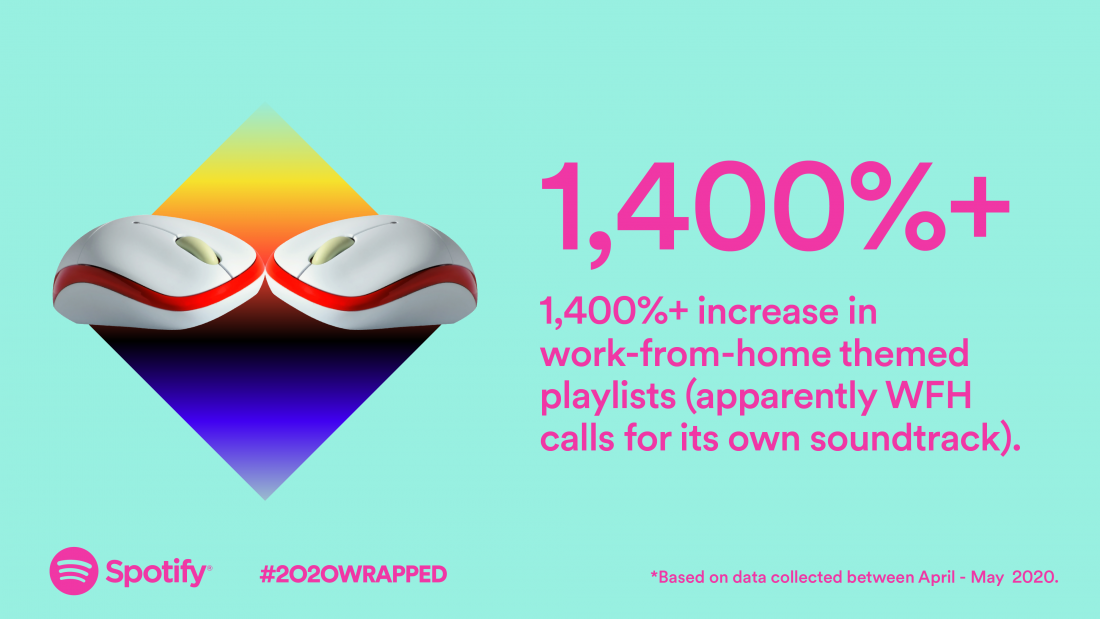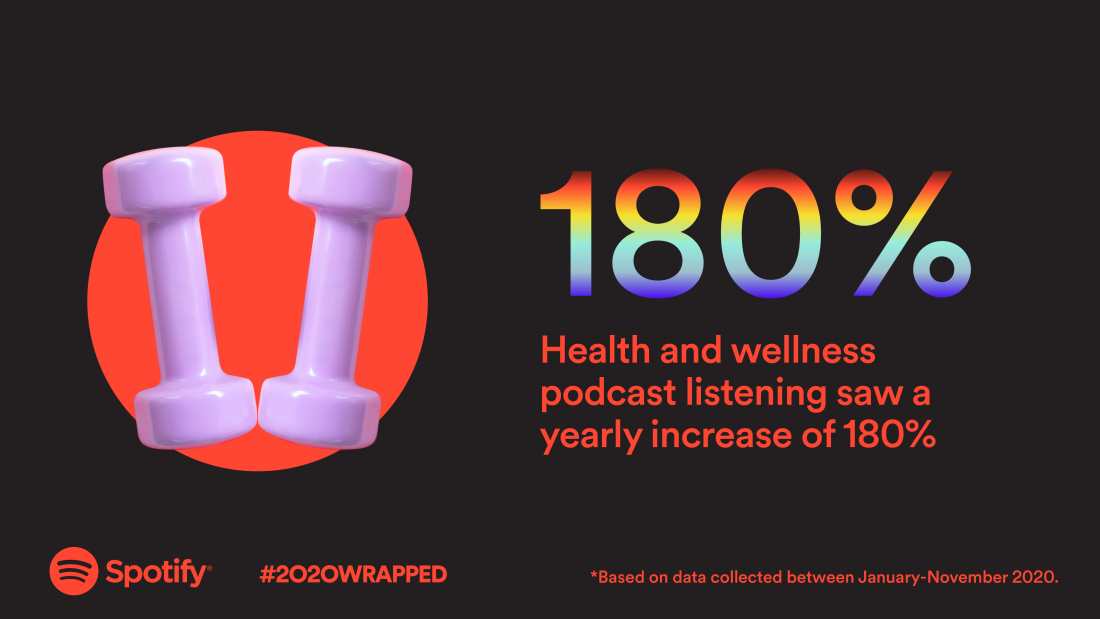 We also saw changes in how people were streaming. We noticed an uptick in people streaming from home (by way of the playlists they created), as well as the amount of people streaming from gaming consoles.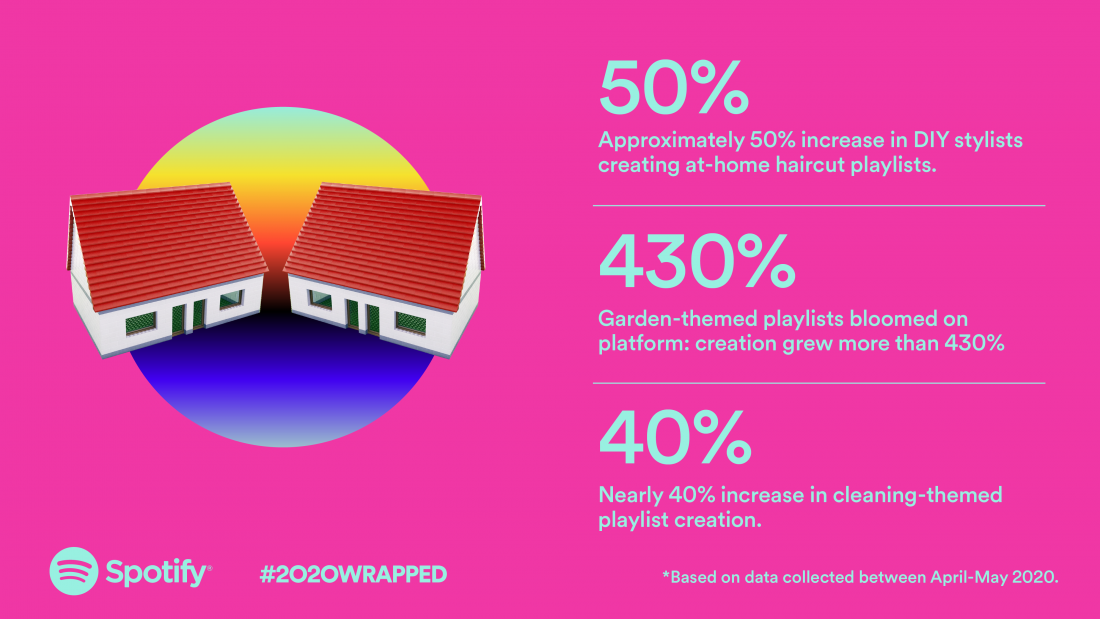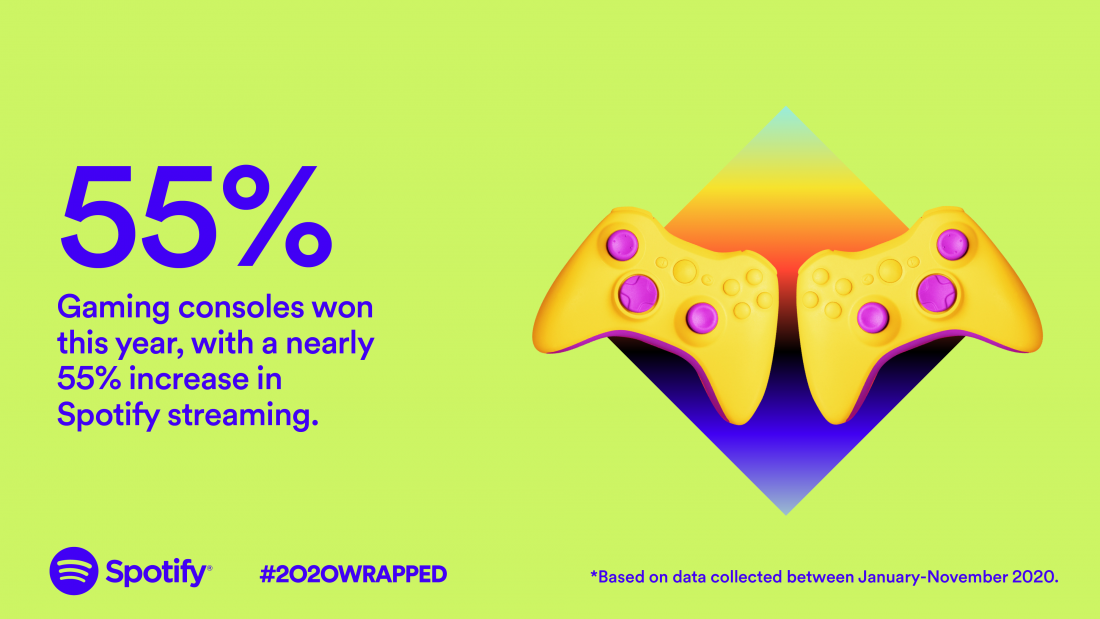 This was also a year that called for the amplification of Black voices across songs, playlists, and podcasts as people around the world took to the streets to say that Black Lives Matter.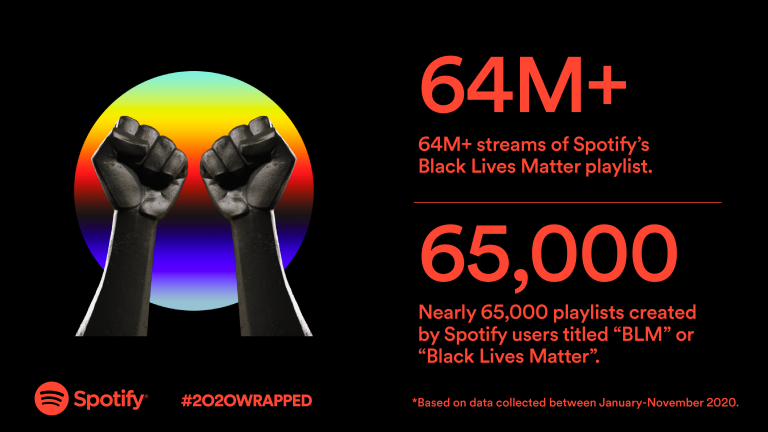 2020 was also full of discovery as more and more people listened to podcasts for the first time.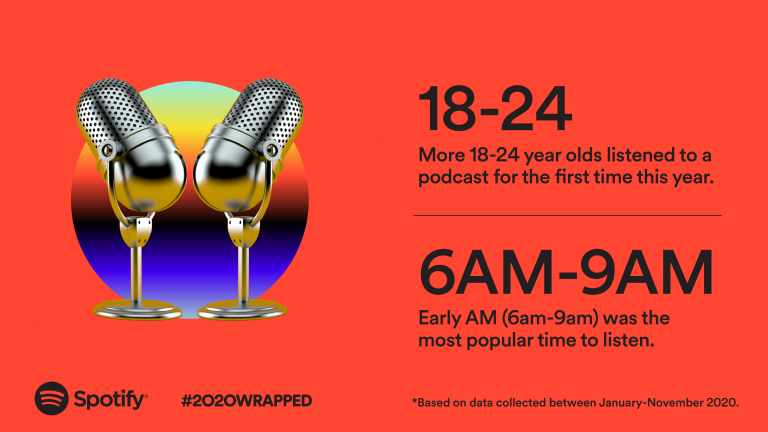 Can't get enough of the trends and chart-toppers? Check out our lists of the most-streamed artists, songs, albums, groups, podcasts, and more below—and don't forget to check out the Wrapped microsite in the coming days to see your personal favorites and receive a playlist based on your tastes.
So without further ado . . .
Spotify 2020 Wrapped Global Top Lists: 
Most Streamed Artists Globally
Most Streamed Female Artists Globally
Most Streamed Albums Globally
Most Streamed Songs Globally
Most Popular Podcasts Globally
Most Popular Podcast Genres Globally
Ready to give these most-streamed songs and podcasts a listen? Check out the Top Artists of 2020 Playlist and find even more Wrapped in our Media Kit.