if i could make it go quiet
Spotify's Latest U.S. RADAR Artist girl in red Turns the Volume Up Ahead of Her First Album Release
Marie Ulven, the 22-year-old Norwegian singer-songwriter better known as girl in red, was walking her dog Luna in her Oslo neighborhood when a group of teenage girls started singing at her. Marie started dancing while continuing to walk—they were singing her 2018 song "i wanna be your girlfriend," one of her two standout tracks that have now accumulated over 150 million streams on Spotify. "I'm in love with you!" one called. 
Since the release of "i wanna be your girlfriend" and "we fell in love in october," girl in red has continued putting out melodic, dreamy tracks about mental health and romance at a rapid pace, with several singles and two EPs over the last two years. Fans have flocked to her Spotify profile by way of social media, where she's become something of a queer icon. Her music has landed on several Spotify playlists, including Lorem, Bedroom Pop, New Music Friday, and Out Now. And now, as Spotify's fifth U.S. RADAR artist, girl in red will also be discoverable to new fans through the genre- and globe-crossing emerging artists program. 
Spotify created RADAR to help artists across all stages of their careers use the strength of our platform to deepen connections to their audiences. As Spotify's latest RADAR artist, girl in red will be featured in the RADAR playlist, create a Spotify Singles recording, and release a forthcoming biographical mini documentary. She'll also receive promotional support for her upcoming releases, including today's billboards in NYC and Oslo, plus a full suite of marketing  and social promotion.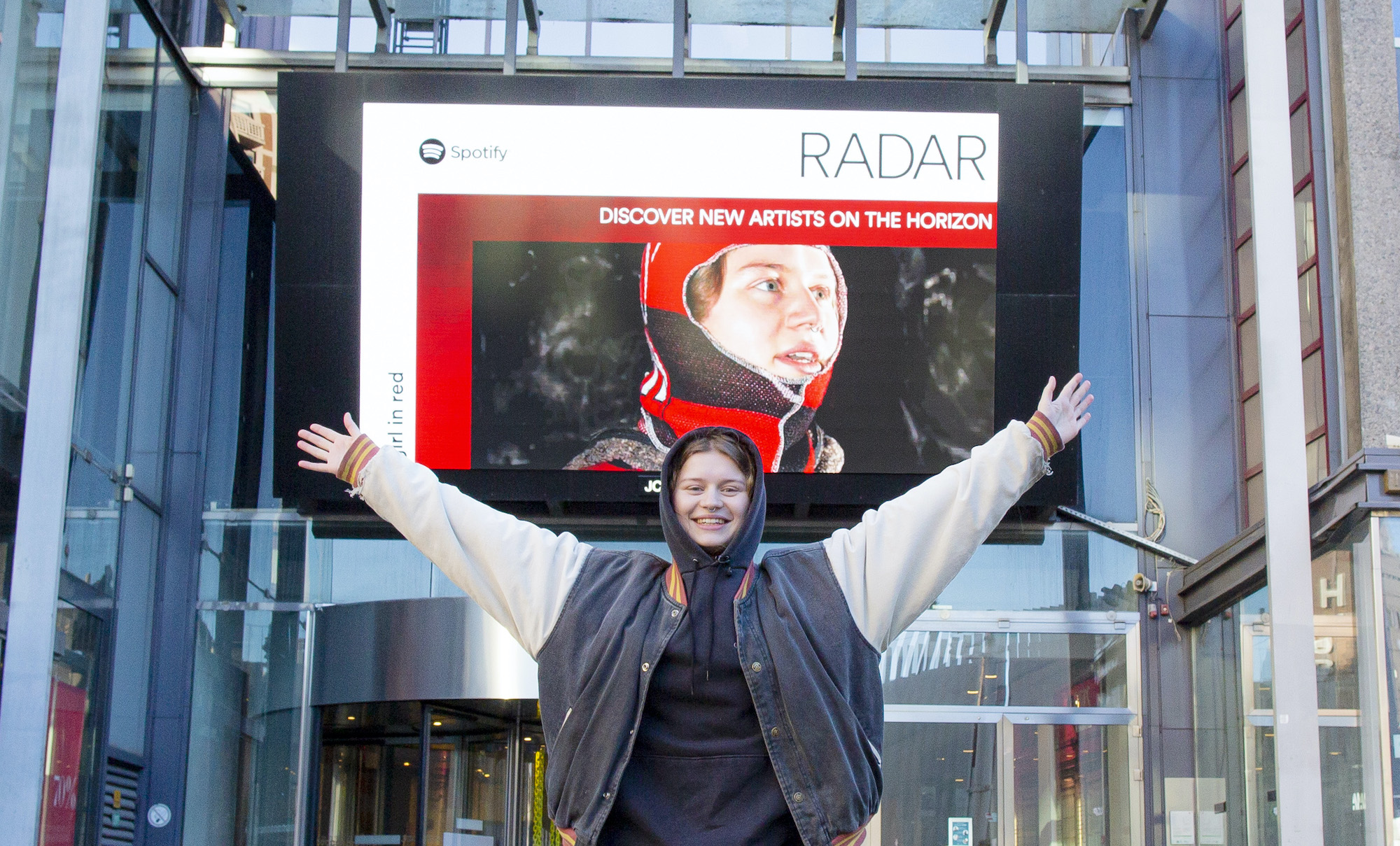 "We've been closely watching girl in red's steady ascent over the past few years—she's built a tight-knit community of devoted fans in a remarkably organic way, based on her self-assured songwriting and deeply personal lyrics—all as an independent artist," says Ned Monahan, Spotify's Head of Global Hits. "We're beyond excited for her debut full-length, and look forward to helping with her global ascent via RADAR."
girl in red's RADAR spotlight comes at an opportune time. As she announced today, girl in red will release her first full-length studio album, if i could make it go quiet, on April 30. After several years of bedroom production, the songwriter is now looking forward to the beginnings of a lifelong career in music. "I've had a little bit of a realization making this record. I just gained so much respect for people who've dropped their eighth studio album. I want to be like that artist—one day—who has eight records because they just love making music." 
For the Record caught up with Marie after a busy day in which she reviewed the music video for her newest single (and FINNEAS collaboration), "Serotonin." Read on to hear her thoughts on dabbling in rap, covering Maggie Rogers for Spotify's Studio Oyster program, and Spotify Canvases.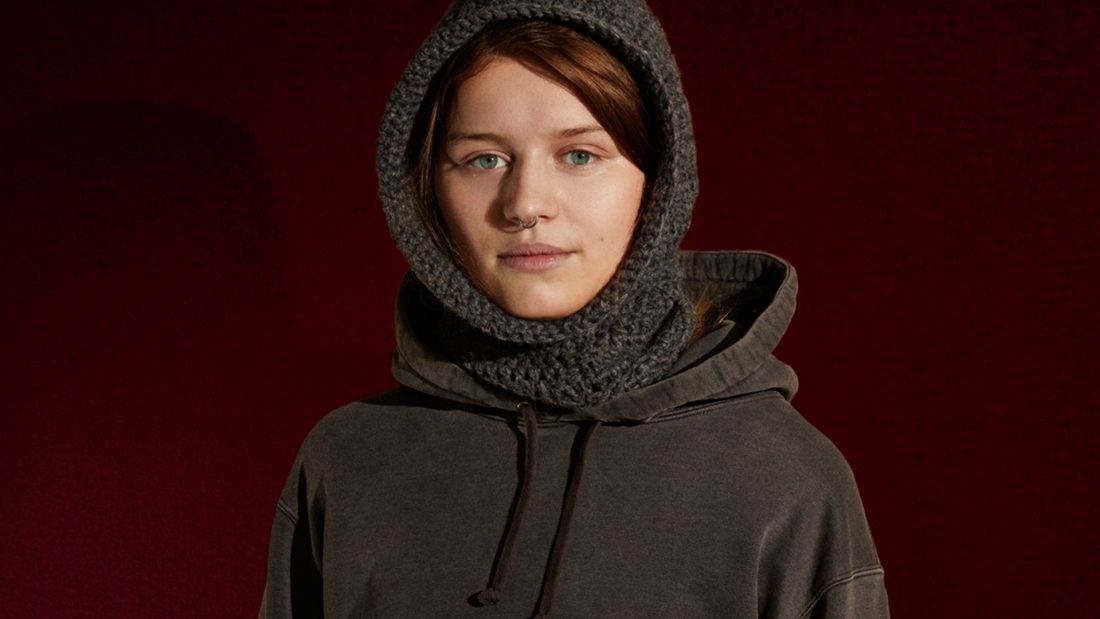 if i could make it go quiet will be your first studio album. How did constructing an album differ from singles and EPs? 
It was a lot more intense. Previously, I was just in my room and working on things sort of sporadically, whenever I had inspiration. But now I've gone three weeks straight—every single day, from 9 a.m. to 6 p.m. in the studio—and that's been really different because I have to deliver, musically, in a whole other way. So that was a really good experience for me and also really draining and exhausting. I've never made an album before, so I didn't really know what I was going into either. But I feel like I've realized, "Oh, I want to do this for the rest of my life, and this is the grind."
What do you think fans will get out of being able to hear the full story of the album at once? 
There's not really one cohesive story here, like a good "start-to-finish" type of thing. It's more, as the title says, "if I could make everything go quiet…" and then I'm just pouring everything into that concept of just trying to understand myself a little bit. 
I hope people like it and that they understand that I'm trying to convey something. And that they feel like I've grown and that it feels like a step up, because it really feels like that to me. My end goal in my life is to be a better musician, to be the best musician I can be. So maybe I hope they feel like, yes, she's on her way.
The first song on the album, "Serotonin," which is also a single out today, includes a collaboration with producer FINNEAS where you'll be rapping. What was experimenting with this style like? Do you see yourself doing more of it?
I think so, because I thought it was really fun. That rapping thing was all coming from me. No one was like "Yo Marie, what if you try rapping, what if you, like, get on those trap beats?" So I definitely think I want to go a little bit into that direction, but in my own way. Like Ed Sheeran, he raps but like it's still Ed Sheerhan, you know what I mean? 
You recorded a cover of Maggie Rogers's "Say It" for a Spotify Studio Oyster single, so you're no stranger to Spotify's efforts to amplify artists. What was that experience like?
That experience was really intense because you only have two days, and you've got to figure out, "How do I want to make this into my version, how can I tell this in my own way?" But then you've also got to do all the recordings and produce it and stuff. So it was a very stressful experience, but I felt that being in the studio and having to perform musically under pressure is really exciting and something I want to do more of. Plus the Spotify studio in Stockholm was really cool and really nice. And also Maggie responded to it and she said she loved it and I just thought that was so cool because I think she's a great musician and definitely someone I look up to. 
What are some Spotify tools you have used to help you connect with fans?
Spotify for Artists—that's one of my favorite apps, I just love seeing where people are listening. And there's Spotify Canvases. I have some really fun ideas for my album that I want to do for the Canvases. And honestly, I feel like I should be a little bit more active on my Canvases because one of my favorite artists, Billie Eilish, she's constantly updating her Canvas and that's fun, because you can continue to tell a story through a Canvas and it doesn't need to be a static thing. 
What are you looking forward to as Spotify's next U.S. RADAR artist? And what comes next?
Taking over the world! That's what I'm looking forward to. Having my music in people's ears— that's like the coolest thing ever. RADAR, then world domination! 
I'm not going to be able to tour. So therefore I just want to spend that time as efficiently as possible slamming down new tunes in the studio. I don't want to be touring this record for five years and then be like, yeah, I forgot how to write music. So I'm going to have to stimulate this muscle, you know, I have to work out. Overall, I'm definitely going to be making music videos and talking about my album for probably some time and just squeezing all the lemon juice out of this new record. 
Stream girl in red's new single, "Serotonin," out today.