AT FULL VOLUME
Get to Know Some of the Women Featured in Spotify's New EQUAL Music Program
This past March, in celebration of International Women's Day, Spotify unveiled our new EQUAL hub—our most recent commitment to fostering equity for women in music globally. Today, we're taking that promise one step further with the launch of our EQUAL Global Music Program.
According to the USC Annenberg study funded by Spotify on representation of women in the music industry, only one in five artists on the charts are women. Yet we know how integral women artists' influence has been on Spotify and the music industry at large. To begin to upend this disparity, we must amplify the work of women creators by extending our resources and generating more opportunities for these artists, which we're doing by creating a global, cohesive, branded experience with the EQUAL Global Music Program. We want to do our part: We know that when we give more power to creators, more people listen—and that music shapes the future. So, we're turning up the volume.
Look out for 35 EQUAL local playlists spanning artists from 50+ countries—from Japan to Argentina, from Malaysia to the UK—as well as our "best-of" flagship EQUAL Global Playlist containing music from EQUAL artists from all around the world. Each month, one artist will be featured on the cover of their respective local playlist, in addition to receiving essential organic and on-platform promotion in their home country and beyond.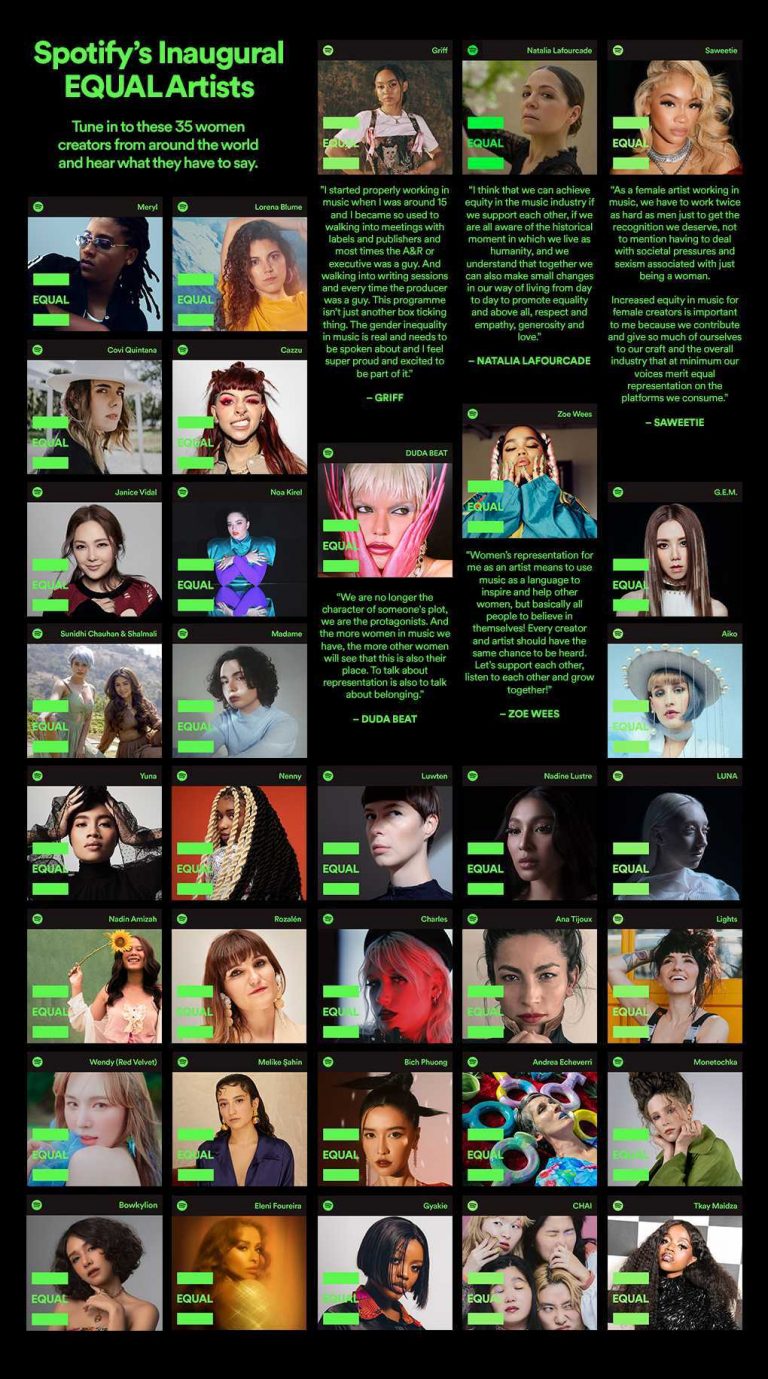 We're also excited to unveil our Created By Women Playlist to launch within the EQUAL hub, a first-of-its-kind offering featuring 40 songs written, produced, and performed 100% exclusively by women songwriters, producers, and artists from around the world. We're also relaunching our EQUAL Directory (formerly EQL Directory). This partnership with SoundGirls allows women of all experiences and gender-nonconforming creators to create a profile and claim their space in the community of women changing the game in audio. Finally, we're creating an EQUAL Board, or a network of organizations joining forces with Spotify to empower women globally. These organizations include She's the Music (U.S.), Girls Rock Australia Network (Australia), shesaid.so (Italy), MEWEM Europa (Europe), Girl Connected (Canada), Music Women (Germany), and Girls Rock Camp (Brazil).
Can't wait to hit "play?" We asked some of our EQUAL playlist editors to tell us about some of the inaugural EQUAL artists and why they're so excited to spotlight them and their work. 
"We believe many can relate to Zoe and her song 'Girls Like Us,' which is about the feeling of insecurity and not fitting in. But above all, it is an empowering anthem and therefore a great fit for our EQUAL launch. At age 18, Zoe Wees has not only proven to be a very honest and emotional songwriter, she also has a powerful voice and is winning fans over, far beyond Germany."
"Saweetie's own music, as well as her collaborations with Ariana Grande, Bebe Rexha, and Gwen Stefani in recent months, has made it clear that she is a dynamic and versatile force with which to be reckoned. She represents a new class of women artists on the rise who are contributing to building equity in the industry, and her dominance as a woman in her genre speaks to our hypothesis with the EQUAL program that all types of listeners want to listen to women." 
"What makes Griff an artist that everyone should hear is her unique and boundless ability to create her own world through her music as a singer, songwriter, producer, art director, and fashion designer, as well as her raw and timeless vocals that capture the emotions of her generation."
"Natalia Lafourcade has become one of the greatest exponents of Latin music. During the last five years of her career, Natalia has focused on honoring Latin American folk music, magnifying our roots and taking it to places where it has never been before. Listening to Natalia is a sublime experience: In addition to being an exceptional composer, she's also a great performer—a voice steeped in romanticism and nostalgia that sings love stories to shake and move our soul."
"DUDA BEAT is a strong female artist who has no fear of creating her own space and original sound. She brings this pop-leaning, sophisticated, and very Brazilian-sounding sonority and aesthetics that excite and challenge her listeners. Her music is a perfect expression of contemporary Brazil: very connected to its roots, culture, and origins while at the same time super in touch with modern trends and constantly pushing itself into new directions."
Nenny – Portugal
"Portugal is a small market, so EQUAL is a great showcase for its female artists, and Nenny has the potential to go global. She's a good example of the mark that Portuguese Afrodescendants are leaving in today's music, and a singer-rapper with street cred in the male-dominated world of Portuguese hip-hop. Nenny appears to be an Afroportuguese Rihanna showing a strong, unique personality through her lyrics (self-affirmative, proud of her heritage, and also socially conscious) and great flair in her singing."
"Bowkylion is a born artist; she writes all her own music and produces it as well. Her signature pop tunes and meaningful lyrics prove that music is universal. Bowkylion is one artist everyone should hear because she was the most-streamed female artist in Spotify Thailand 2020, edging out many top international and local acts, and it's a great opportunity to introduce her to the rest of the world."
"'Be the change that you want to see!' is the message behind this CHAI song, which we thought was a great fit for the EQUAL program. Their neo-kawaii [new cute] songs, along with the overall positive messages they portray throughout their music, are the main reasons why they should be heard by everyone."
"In a country where there isn't much opportunity for female musicians, Gyakie is braving the odds and changing the status quo, breaking charts both locally and globally that even her male counterparts have not reached. Her unique blend of traditional Ghanaian highlife with Afropop and R&B, coupled with simple yet relatable lyrics, makes Gyakie an exciting artist to fall in love with."
"Tkay is one of the most exciting and dynamic artists to come out of Australia in recent years and is a great example of an artist who is pushing musical boundaries and forging their own path. Tkay's music is full of individualism, confidence, creativity, honesty, and empowerment—all qualities that we want to encourage and celebrate through EQUAL in Australia. Tkay is consistently taking us by surprise with the way she fuses elements of hip-hop, R&B, indie, electronic, pop, and everything in between and beyond in her music. Her powerhouse vocals are a guide through colourful tracks that both move and challenge listeners." 
Wendy – South Korea
"With her recent solo EP out, Wendy proves to be a strong artist from Korea with her talent that resonates globally. As one of K-Pop's most influential artists, Wendy's voice is powerful yet healing, strong yet sophisticated. Listeners and fans will not only hear but also feel her sense of empathy, warmth and gratitude through her voice and artwork. Through EQUAL, we hope more listeners worldwide can discover Wendy and truly feel the warmth she exudes."
Find all these amazing artists and more on the EQUAL Global Playlist.