CATCHY BEATS
Dance Along to Spotify's Most-Streamed Editorial Playlist in Latin America: Mansión Reggaetón
The catchy sounds of reggaetón have seen unprecedented growth in recent years, and the genre's popularity now expands far beyond its birthplace of Puerto Rico. Those who demand proof need look no further than Spotify's number-one-streamed artist of 2020, rapper Bad Bunny, who racked up more than 8.3 billion streams last year.
The beats of reggaetón have made waves around the world, but the genre still holds a particular place in the hearts of listeners in Latin America. Mansión Reggaetón, Spotify's flagship playlist for the genre, is now the most-streamed Spotify editorial playlist in the region. Since its creation two years ago, the playlist has amassed over 3.6 million followers.
The playlist is a one-stop destination for the most-talked-about artists of the genre. Listeners will find music from big stars like KAROL G and Myke Towers, as well as newcomers like Maria Becerra and Boza. Mansión Reggaetón is notably popular with a younger audience—more than 40% of its streams come from listeners between the ages of 18 and 24 years old.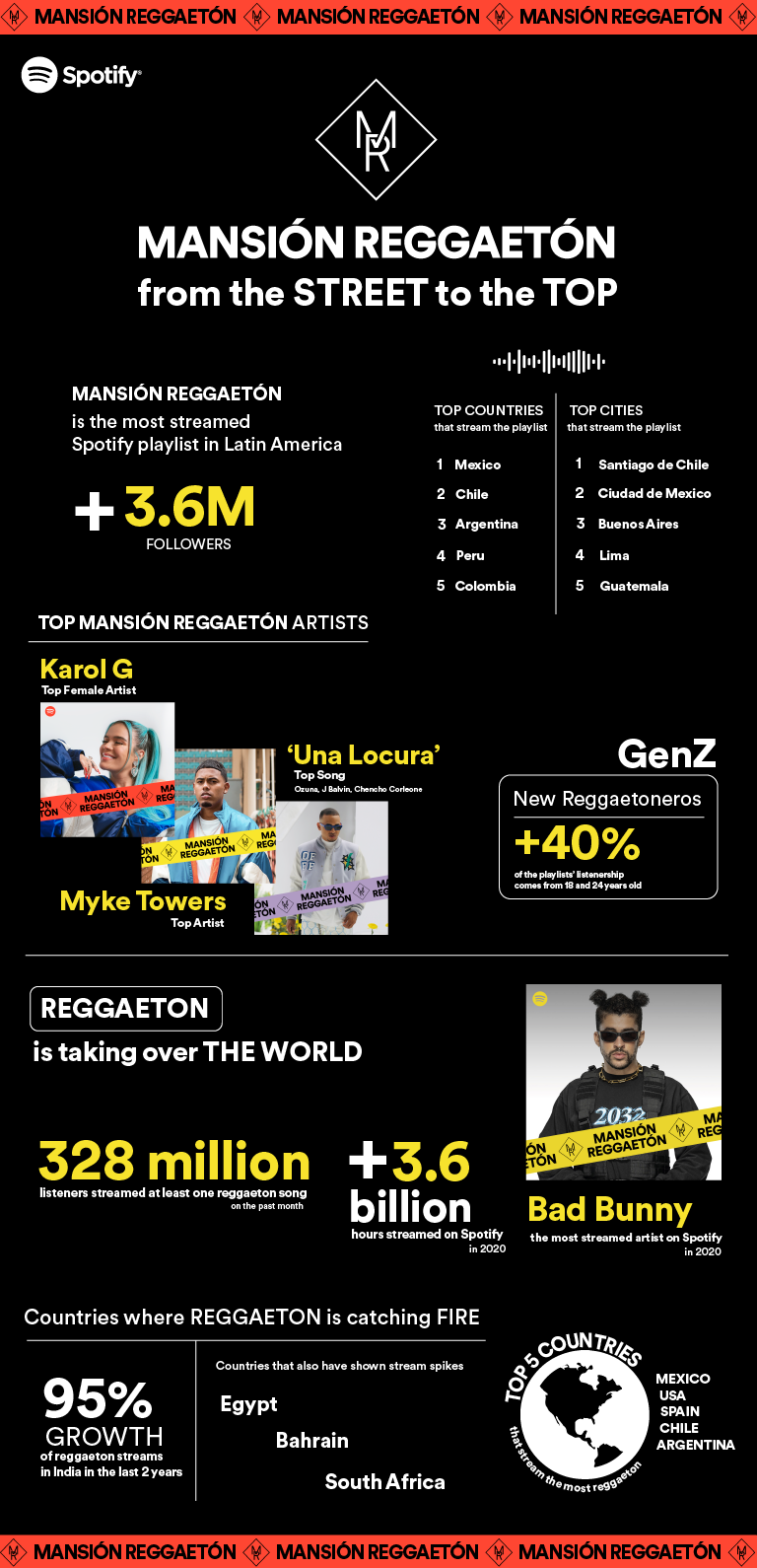 In celebration of the playlist's success, Spotify unveiled a new visual design. The vibrant artwork aptly represents reggaetón's bold sounds and includes the tagline "from the STREET to the TOP," representing how the top hits in the genre find their home in the playlist.  
The beats of reggaetón have become a true representation and cultural symbol of Latin America, and the Mansión Reggaetón playlist is helping to expand the genre's footprint to listeners around the globe. While Mexico is the country that currently streams reggaetón the most, the U.S. ranks second, and Spain follows. In the last two years, India has seen a 95% growth of reggaetón streams, and countries like Egypt and Bahrain have also experienced listening spikes in the genre. 
In 2020 alone, listeners clocked 3.6 billion hours of reggaetón on Spotify. That translates to 412,000 years' worth of listening. This year, fans—whether they're in Santiago de Chile or Cairo—show no signs of slowing down. 
Listen to the Mansión Reggaetón playlist below to get started on your reggaetón journey.