BLIND DATE
Popular German Podcast 'Talk-O-Mat' Brings Its Unique Format to the U.S. With 'Can We Be Friends?'
What happens when you put two unprepared celebrity strangers in a room together and ask them to talk about random topics? The result is great entertainment—and a lot of surprising moments.
This concept is the premise behind Talk-O-Mat, a popular German Spotify Original podcast. In each episode, two celebrities arrive at a studio without any idea of whom they will be talking to or what questions they will be asked. The discussion topics are randomly determined by an artificial intelligence system named Talk-O-Mat. 
The unique format of the show made it a hit with listeners in Germany, and the podcast is set to kick off its fifth season in June. And recently, the series saw such success that a new version of the podcast called Can We Be Friends? just launched in the U.S. The English version involves blindfolds for the guests and a friendly AI system who goes by Ruby. Some unexpected pairings that listeners will find for season one include Chelsea Handler and Bobby Berk, Ray-J and Tabitha Brown, and Margaret Cho and Adam Rippon. In this version of the podcast, the conversation between the celebs is analyzed by Ruby, and she ultimately determines if the duo would make for suitable friends outside of the studio.
To dig into this creative and unlikely podcast format, For the Record interviewed the man behind the original German concept, Daniel K. Nikolaou. Daniel is an executive producer at Spotify and the cocreator of the Talk-O-Mat series. What's it been like for him to see the show flourish and expand beyond the German border? Learn that, and more, below.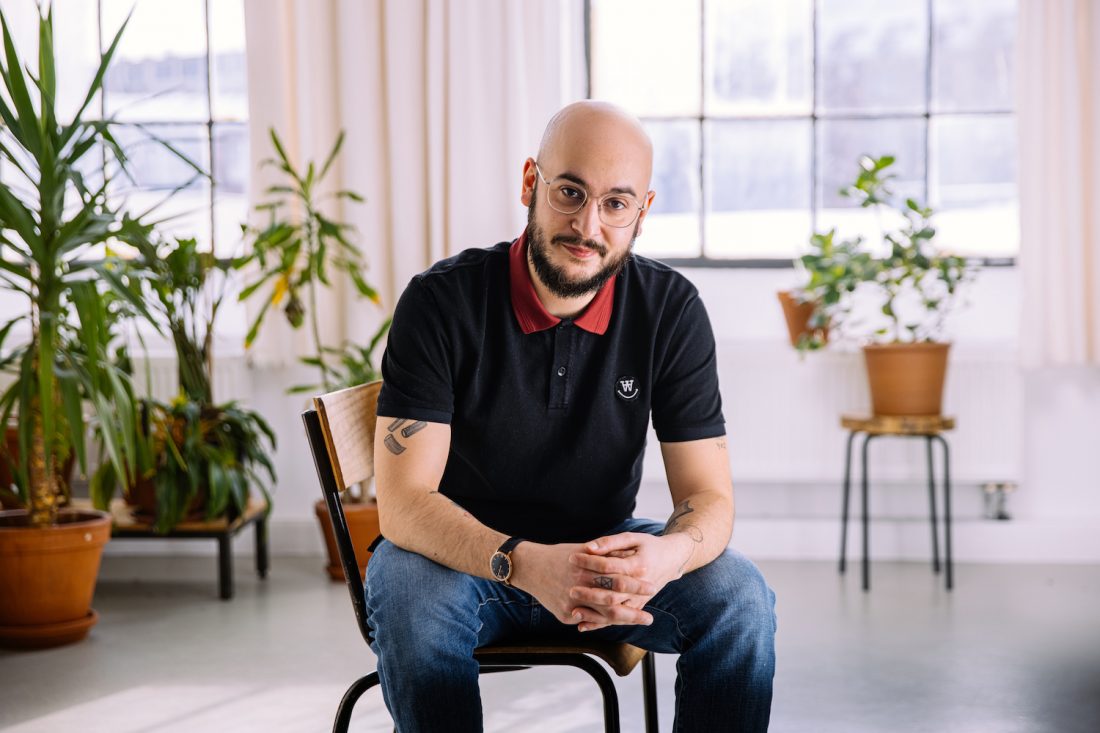 How did you come up with this unique format for a podcast?
Spotify is in such a unique position to tell artist stories and shed light on creators in a new way—especially with podcasts. When we created Talk-O-Mat back in 2017, that idea was at the center of the show development. We really wanted to create something that helped fans connect with the artists they love in a different way and allow them to get to know another side of them, a side that they don't get to show on TV or on social media. 
Why do you think this podcast format is so interesting and engaging for listeners?
I believe that what makes the show so exciting is that listeners really feel the thrill of the artists that are in the studio. You can almost literally hear the tension in the room. It's such an exciting moment and encounter for the listeners, the artists, and the creators.
You're about to embark on season 5. How has the show changed or evolved over the past 50+ episodes?
I've always found the more unlikely pairings the most fun. Hearing how two people who at first sight might not have that much in common and then witnessing how they do start to connect is always special to me. We also definitely learned a lot about the way people connect with each other, more specifically, what kind of topics or questions make them connect faster or on a deeper level. A secret that I'm not ready to reveal yet…
Do you have a favorite episode/celeb pairing from a past episode?
One of my favorite episodes is the one featuring Fynn Kliemann and Chilly Gonzales because Fynn is such a big fan of Chilly and was completely blown away. I also still love our very first episode with rapper Maeckes and model Micaela Schäfer. It was such a quirky pairing, and the birth of a very dumb running joke that led to a lot of celebrities talking about yogurt in countless episodes.
This show is now being adapted into an English version for U.S. audiences as Can We Be Friends? What was your reaction when you heard the news? 
I couldn't be prouder! I've always believed that the concept of the show had potential for other markets because it's so pure and fresh. I'm very excited to see how the U.S. audience responds to it! 
What are some opportunities for this show format now that it's being brought to a new market and audience? 
I'm very excited to see original audio intellectual property not only traveling from the U.S. to other markets, as it is with most content and media, but the other way around. I think that the cross-border adaptation of audio IP to local cultures will open a lot of new creative opportunities and pathways for the future.
Whether you're interested in the German format or the American version, either podcast will provide you with laughs. Check them out below.