GOLDEN AGE OF AUDIO
This International Podcast Day, Let Us Help You Find Your Perfect Pod
Creators worldwide have been busy this year chasing audio inspiration—and in the process have added nearly 1.5 million podcast titles to Spotify over the past year. So this International Podcast Day, there's quite a lot to celebrate.
Leading the storytelling charge are Taiwan, Colombia, Japan, Spain, Peru, India, Turkey, the Philippines, France, Poland, Argentina, Italy, and the Netherlands. These 13 markets showed the largest growth in their catalog offerings in the last year, with new podcasts across all sorts of genres, topics, and themes. 
And this global audio boom shows no signs of slowing down, which is exciting news for listeners, who have more options than ever to fit their tastes. But our growing catalog also poses a challenge for newbies and audio experts alike as they try to narrow down the next track or even the first episode to add to their queue.
So to celebrate International Podcast Day this year, we're making the choice simple with our Find the One experience. Answer a handful of questions and let us help you find your perfect podcast match. The experience is available to listeners in the U.S., the U.K., Germany, and Australia and gives recommendations inspired by your Spotify listening habits.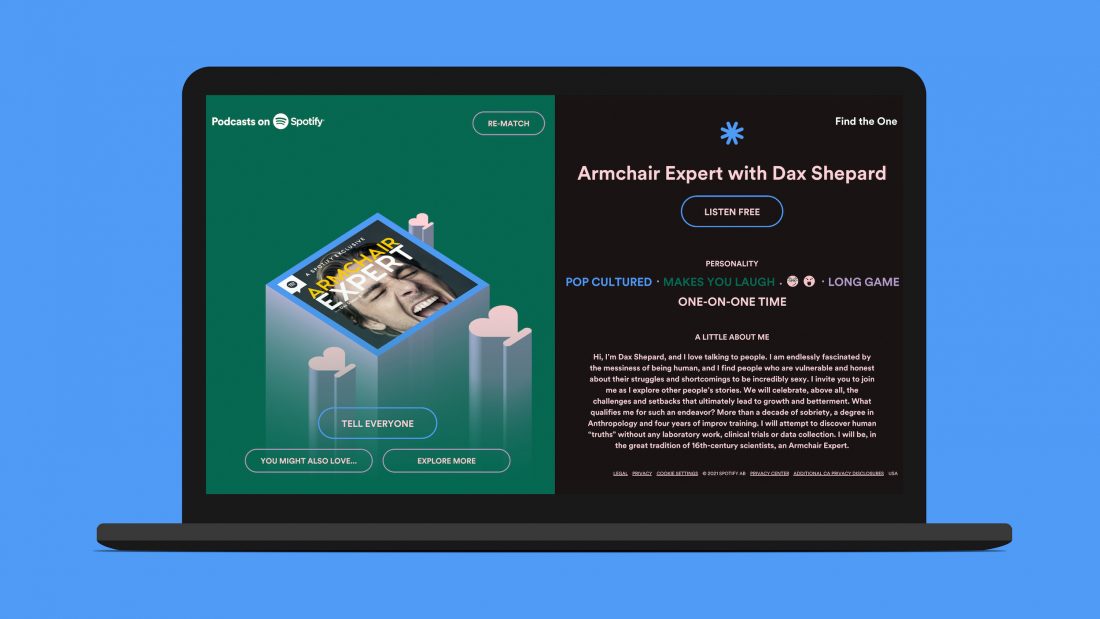 But that's not the only way to discover new podcasts tailored to your tastes. Though each user is unique, we have found that some listeners who share a favorite artist also share a favorite podcast. We followed the data . . . and found some of the shows hitting all the right notes.
Many fans of snappy rhymes and rhythm are drawn to . . . horoscopes, gaming, and comedy.
For plenty of listeners, pop melodies and talk shows go hand-in-hand.
Rock 'n rollers are hard to pin down.
Country fans are hooked on the world around them.
Plus, we noticed a few patterns across our listeners.
Plenty of BTS and Queen superfans stick to their favorite genre and prefer podcasts about their number one artist.
Certain Swifties and Kacey Musgrave lovers are all about true crime and Brené Brown.
These are just a few of the most popular podcasts among some of our artists' listeners. For those in search of something new, Spotify also has plenty of podcasts to enjoy this season, so be sure to mark your calendars.
Launching this week:
Bonus: Today at 6 PM EST, Spotify Greenroom will close the day with listeners' favorite podcasts with hosts Gigi Robinson and Jayson Buford. Sign up for Greenroom to tune in and follow your favorite shows here.
Now it's time to find your next favorite show. Celebrate International Podcast Day by exploring the "Find the One" experience for a personalized podcast recommendation.